Best June VST Plugin Deals 2022 | Top Rated Audio Plugin Deals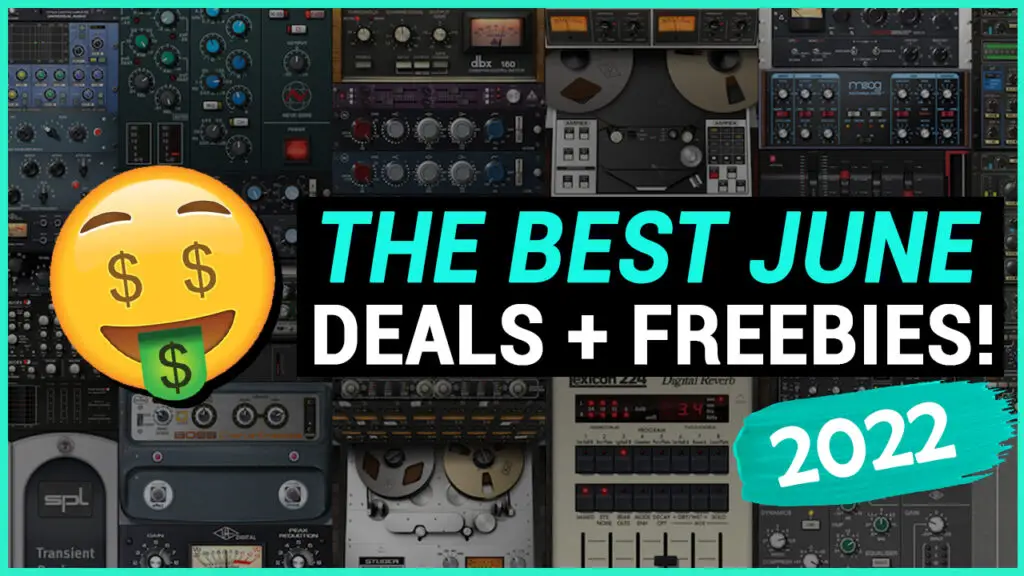 June 2022 is here, and this is the last chance to grab these insane deals! 🤑
Spring is without a doubt one of the best times of the year to buy plugins, as many of the top plugin companies run some HUGE deals. So don't miss out!
Below are the very best June deals in 2022. If you've got a bit of cash to spare, these are some of the craziest June discounts / deals we've ever seen!
This list mainly consists of audio plugins, but we've include some sample pack deals and other audio product deals as well. Enjoy!
---
Best June VST Plugin Deals 2022
Top Rated for 6th July 2022 ✔️
Elevate your sound with 15 powerful plugins for one INSANE price. Whether you're just getting started or a seasoned pro, this bundle has something for everyone.
This bundle includes:
iZotope RX Elements
iZotope Ozone Elements
iZotope Neutron Elements
iZotope Nectar Elements
iZotope Trash 2
iZotope VocalSynth 2
iZotope R4 by Exponential Audio (Exponential Audio)
iZotope NIMBUS by Exponential Audio (Exponential Audio)
Native Instruments MASSIVE
Brainworx bx_digital V3
Brainworx bx_subsynth
Brainworx bx_console N
Brainworx bx_stereomaker
Brainworx bx_delay 2500
Native Instruments GUITAR RIG 6 LE
For the amount of incredible, versatile plugins you get in this bundle, this deal is an absolute steal. Don't miss out!
---
iZotope are one of the most renowned plugin companies in the world.
Their massive range of acclaimed plugins (synths, FX and more) are some of the most powerful, versatile tools out there – so this sale is an absolute no-brainer for any producer!
The iZotope Elements Suite combines 4 powerful, award-winning audio technologies in one package: RX Elements, Neutron Elements, Nectar Elements, and Ozone Elements.
Buy now for only £20 / $20 in this exclusive sale.
---
SoundSpot plugins are insanely popular, highly acclaimed audio tools perfect for a range of music genres. Pick up this exclusive, limited-time Vocal Production Bundle which contains 5 of SoundSpot's unmissable FX plugins.
---
🎵 Looking to distribute your music to Spotify, Apple Music, TikTok and more?
Use Ditto Music to get your music heard while keeping 100% of your royalties!
Click this link and use our discount code for 50% off at checkout:
OUR DISCOUNT CODE: SPHERE50
---
This April WAVES are currently running a huge sale on their most popular plugins, including VST synths and effects.
WAVES Audio are the creators of some of the best VST effects and instruments ever created, and this year they're offering up to 87% off some of their products.
Our Top Picks
🔥 J37 Tape (88% off) – With a variety of user-adjustable controls including Tape Speed, Bias, Noise, Saturation, Wow and Flutter, the Waves: Abbey Road J37 faithfully recreates the inimitable sonic signature of the original machine.
Abbey Road TG Mastering Chain (80% off) – A modular mastering chain plugin modeled after the EMI TG12410 Transfer Console used in all Abbey Road's mastering suites since the early '70s to this day.
C6 Multiband Compressor (87% off) – C6 gives you all the multiband compression and dynamic equalization you need to control, tame, and shape your sound.
---
Baby Audio are a plugin company that have gained a lot of attention in the last couple of years with the release of their Smooth Operator dynamic processor plugin as well as their popular reverb plugin Spaced Out.
Their complete plugin bundle is currently 66% off which is fantastic value for what you get, there are also some huge discounts on their individual plugins as well.
If you're just looking to buy one plugin, I'd personally recommend Spaced Out, which is an incredibly versatile, unique sounding plugin with a ton of creative options and parameters (currently $39).
Click here to view this bundle.
---
GhostHack just dropped their enormous 2021 sample pack bundle: "The Ultimate Producer Bundle 2021".
This bundle contains a whopping 24 sample packs, over 14,600 individual sound resources, covering a vast range of genres and production styles.
I can personally attest to the sound quality and sonic diversity of GhostHack samples, these guys are the real deal. It's immediately clear a lot of detail and care has gone into each sample, and this bundle would be an incredible addition to any producers sample arsenal.
Plus, at 92% off, this sample collection is an absolute no brainer.
---
More Top Rated Plugin Deals
---
---
---
---
---
---
---