Best Black Friday VST Plugin Deals 2022 | Top Rated Audio Plugin Deals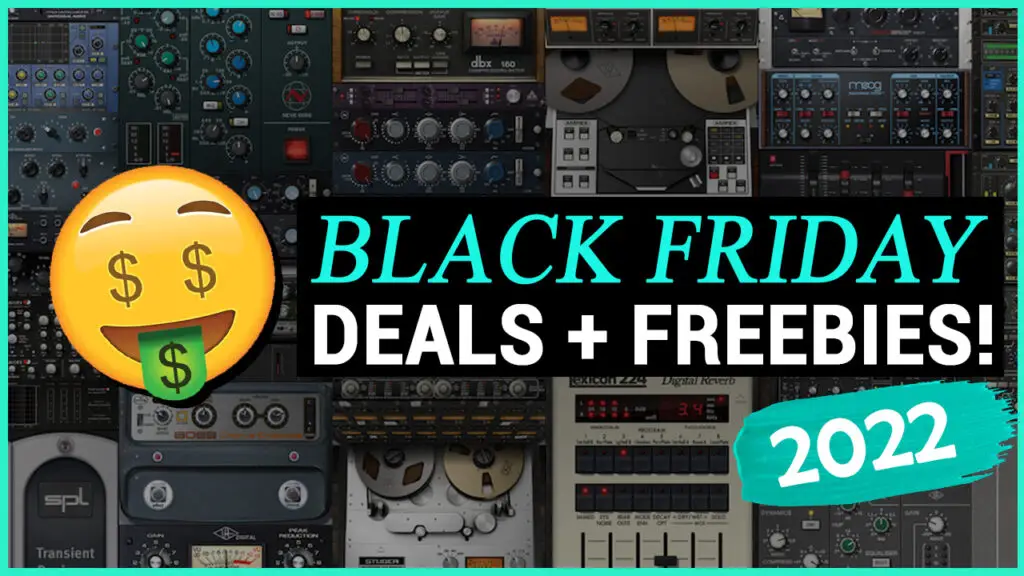 Black Friday 2022 is here, and this is the last chance to grab these insane deals! 🤑
This is without a doubt THE best times of the year to buy plugins, as many of the top plugin companies run some HUGE deals. So don't miss out!
Below are the very best Black Friday deals in 2022. If you've got a bit of cash to spare, these are some of the craziest Black Friday discounts / deals we've ever seen!
This list mainly consists of audio plugins, but we've include some sample pack deals and other audio product deals as well. Enjoy!
---
Best Black Friday VST Plugin Deals 2022
Top Rated for 20th November 2023 ✔️
"The Soundtoys 5 bundle is a must have in my plugin arsenal." – Zedd
For years, SoundToys have been the gold standard of plugin releases, specialising in high-quality, incredibly powerful effect plugins.
This Black Friday, EVERY SoundToys plugin is on sale! Save up to 73% off some of the worlds most revered music software products.
---
This Black Friday, Arturia are offering 50% off their 2 most popular plugin bundles: V collection 9 and FX Collection 3.
If you're a plugin fan you may have heard about these incredible collections before.
V Collection is essentially a gigantic selection of classic analog synthesizers and other iconic pieces of hardware.
It includes 28 faithful synth emulations and over 10,000 individual presets, making it an incredible tool not only for finding sonic inspiration, but also for recreating the vintage character and tone of some of these retro synthesizers.
Even with the 50% off it's still one of the most expensive plugins on this list. However, if you're interested this is definitely the cheapest it's ever going to be, and you definitely get more than your money's worth as well.
Arturia are also offering 50% off FX Collection 3. This is a collection of effect plugins, such as vintage analog-modelled compressors, EQ's, futuristic delays and reverbs and just about any effect processing plugin you can think of.
---
Celebrate Black Friday with audio pioneers SSL and save up to 91% off their fully-featured professional reverb FlexVerb, their go-to processor for electric, acoustic, and bass guitars, Guitarstrip, and the Band Bundle of Vocalstrip, Drumstrip and Guitarstrip available for Black Friday only! Includes exclusives!
---
In anticipation of the forthcoming Black Friday sales, enjoy massive savings on essential Softube products such as Tape, Weiss Deess, Parallels, Amp Room upgrades, and loads more! Exclusive prices from €22 / $22!
---
This MONSTER bundle contains all of W.A. Production's most frightening plugins: Screamo, Make Me Scream, Satyrus, Venom, and Outlaw, all together for a ghoulishly low price.
Use these terrifying tools to get your music sounding loud, powerful, thick, and crunchy — TREAT yourself to this amazing bundle and add these TRICKS to your production toolkit!
---
With Loopmasters' KHORDS & Bass Master plugins, it's never been easier to get mix-ready tones straight into your tracks. Save up to 73% on the instruments and expansions in our exclusive sale this Black Friday!
---
Grab four of Eventide's most coveted plugins – innovative equaliser SplitEQ, unique multi-effect Physion 2, micro-pitch-shifting classic H3000 Factory, and the other-worldly take on reverb Blackhole – all in one exclusive bundle with 73% off, only in our sale!
---
🎵 Looking to distribute your music to Spotify, Apple Music, TikTok and more?
Use Ditto Music to get your music heard while keeping 100% of your royalties!
Click this link and use our discount code for 50% off at checkout:
OUR DISCOUNT CODE: SPHERE50
---
This Black Friday WAVES are currently running a huge sale on their most popular plugins, including VST synths and effects.
WAVES Audio are the creators of some of the best VST effects and instruments ever created, and this year they're offering up to 87% off some of their products.
Our Top Picks
🔥 J37 Tape (88% off) – With a variety of user-adjustable controls including Tape Speed, Bias, Noise, Saturation, Wow and Flutter, the Waves: Abbey Road J37 faithfully recreates the inimitable sonic signature of the original machine.
Abbey Road TG Mastering Chain (80% off) – A modular mastering chain plugin modeled after the EMI TG12410 Transfer Console used in all Abbey Road's mastering suites since the early '70s to this day.
C6 Multiband Compressor (87% off) – C6 gives you all the multiband compression and dynamic equalization you need to control, tame, and shape your sound.
---
Baby Audio are a plugin company that have gained a lot of attention in the last couple of years with the release of their Smooth Operator dynamic processor plugin as well as their popular reverb plugin Spaced Out.
Their complete plugin bundle is currently 66% off which is fantastic value for what you get, there are also some huge discounts on their individual plugins as well.
If you're just looking to buy one plugin, I'd personally recommend Spaced Out, which is an incredibly versatile, unique sounding plugin with a ton of creative options and parameters (currently $39).
Click here to view this bundle.
---
GhostHack just dropped their enormous 2021 sample pack bundle: "The Ultimate Producer Bundle 2021".
This bundle contains a whopping 24 sample packs, over 14,600 individual sound resources, covering a vast range of genres and production styles.
I can personally attest to the sound quality and sonic diversity of GhostHack samples, these guys are the real deal. It's immediately clear a lot of detail and care has gone into each sample, and this bundle would be an incredible addition to any producers sample arsenal.
Plus, at 92% off, this sample collection is an absolute no brainer.
---