The 8 Best FREE Filter VST Plugins (2022)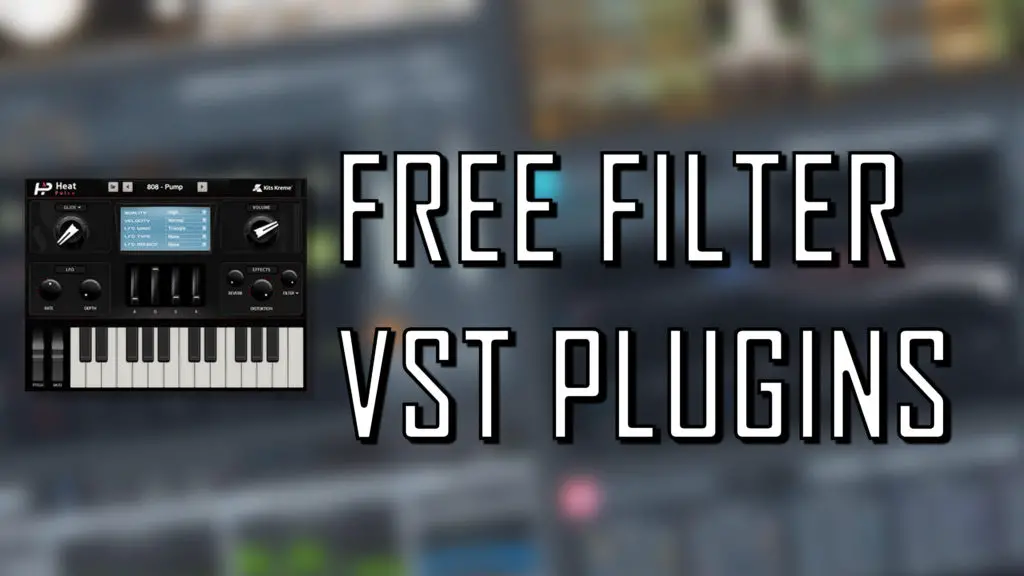 "What are the best free filter VST plugins out there in 2022?"
Filters are an incredibly useful technique to manipulate and automate the timbre of a sound, and this production method is found in a huge, diverse range of genres. From indie, to hardcore EDM, to lofi hip hop, filters are used to shape the sonic output and emotive quality of sounds within a track.
To put it simply, a filter gets rid of some frequencies within a soundwave, alters the harmonic content of a signal, which results in a change of timbre.
There are an almost infinite amount of possible response curves that a filter can have, and the most common types used in synths are:
• Low Pass – This response curve eliminates all frequencies above a specified frequency, allowing low frequencies to "pass".
• High Pass – This response curve eliminates all frequencies below a specified frequency, allowing high frequencies to "pass".
• Band Pass – This response curve eliminates all frequencies that are NOT within a specified frequency band.
• Notch / Band Reject – This response curve eliminates only frequencies that are within a specified band.
• Comb Filter – This eliminates frequencies not found within a series of chosen frequency notches.
There are many incredibly powerful filter VST plugins available, and all DAWs will come with one or two decent filter tools.
However, if you're not ready to reach for your wallet just yet, there are a great selection of free filter plugins that are capable of creating fantastic-sounding filter curves similar to commercial plugins.
Below are the best free filter VST plugins in 2022, that will give you professional filter options without ever spending a penny.
---
The Best Free Filter VST Plugins in 2022 (+ Download Links)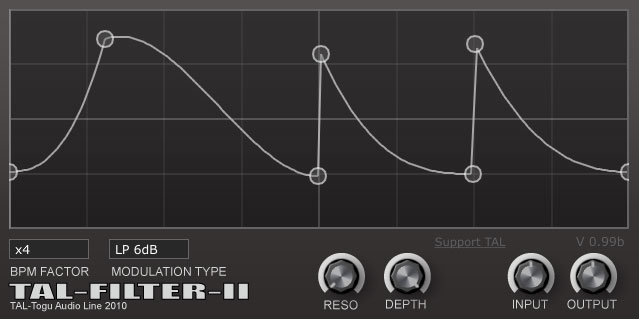 TAL have been one of my favourite audio software companies for years now, primarily due to their unbelievably high quality FREE plugins. TAL-Filter-2 is an excellent free filter plugin that allows you to sync to the tempo of your DAW to create unique modulated filter effects. Quite a few free filter VST plugins do not have this option, so this is a cool added bonus.
The interface consists of a fairly simple, intuitive graphic editor that helps you visualize your filter curves. Along the bottom you are given different filter options and pan / volume modulation possibilities.
This plugin includes 4 filters from the iconic TAL-NoiseMaker VST synth plugin: LP 24 dB, LP 18dB, LP 12dB, LP 6dB, HP 12 dB, BP 12dB, N 12 dB.
TAL-Filter2 allows you to saturate your sounds by raising the input volume with the input control (only if you use a filter as modulation type). 
Available for both Mac/Windows and 32-bit/64-bit.
---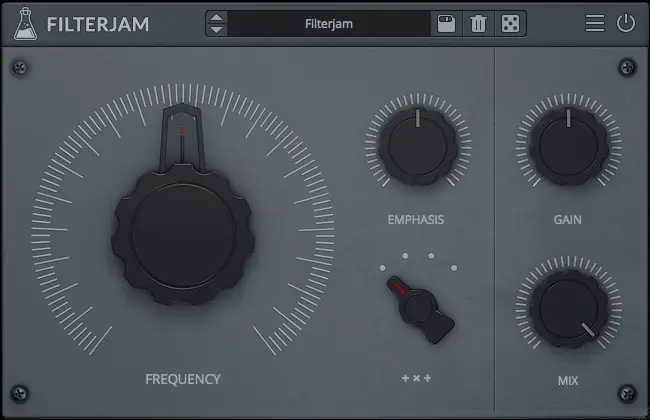 Filterjam is a weird and wonderful multi-band resonant filter capable to creating interesting, ringmod-like filter effects. The input signal is divided into 4 bands which are then summed or multiplied together according to the selected mode.
This free filter VST plugin is surprisingly versatile, and can create both harsh, saturated effects or gentle, understated filters. It can add brightness or depth to your chosen sounds, or can also completely mangle acoustic sources.
Due to the simple, stripped-back nature of this plugin, it is also incredibly light on CPU.
Available for both Mac/Windows and 32-bit/64-bit.
---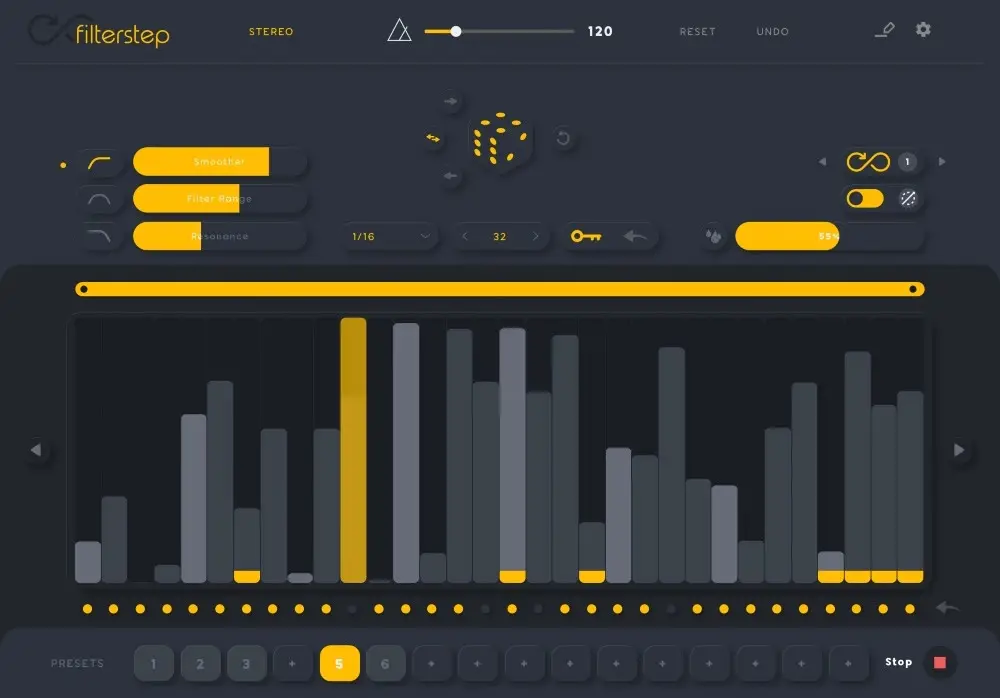 Filterstep is a innovative, modern motion filter plugin which provides various filtered effects with an almost limitless level of sonic detail and exploration. It allows you to easily craft and manipulate unique, highly creative textures within a simple, easy-to-understand engine.
This free filter VST plugin syncs to the tempo of your DAW, and can generate filter grooves in real-time.
Filterstep has potential for all kinds of intricate, filtered, rhythmic movement.
---

Fat Filter is an analogue modelled filter plugin, which results in noticeably smoother transitions, whilst being incredibly light on CPU.
As you can see, this filter plugin is extremely basic, and the interface only consists of a cut-off, resonance and an on/off high-pass option. If you're looking for a free filter beginner plugin with a little more versatility and customization, I'd recommend the TAL-Filter2 or Filterstep. However, if you want a light-weight, simple plugin capable of multiple loadings, Fat Filter is definitely worth checking out.
Available for both Mac/Windows and 32-bit/64-bit.
---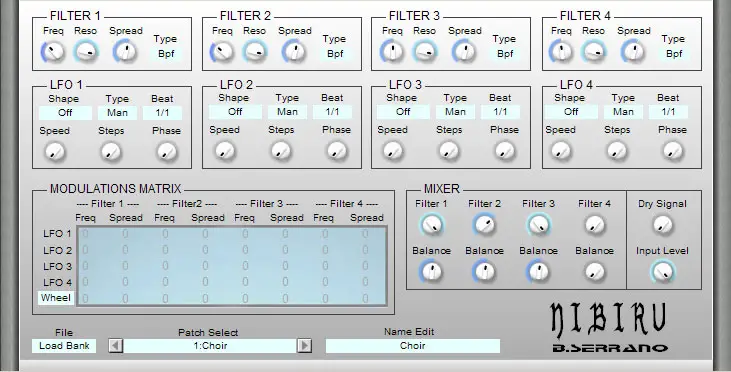 This free filter VST plugin consists of 4 parallel band-pass filters with available frequency, resonance and spread parameters. It also includes 4 host syncable LFO's that a routable to frequency and spread.
There is also a modulation matrix, and 4 parallel multi-mode filters (LP, HP, BP, Notch).
This plugin definitely has a learning curve, and beginner producers may want to opt for a more streamlined filter plugin. However, if you're willing to experiment and learn a range of advanced filter options, this free plugin should definitely be on your radar.
Available for Windows only and 32-bit only.
---

HY-Filter3 is a multi-mode filter plugin with 2 filter modes: SVF and Reso.
This plugin has an absolutely HUGE amount of features for a free filter plugin, and even includes a randomizer option and EQ parameters.
HY-Filter3 gives you a stunning amount of control over your filter curves, and is perfect for detailed, advanced automation. It also comes with a great bank of filter presets to play around with. Highly recommend.
Available for both Mac/Windows and 32-bit/64-bit.
---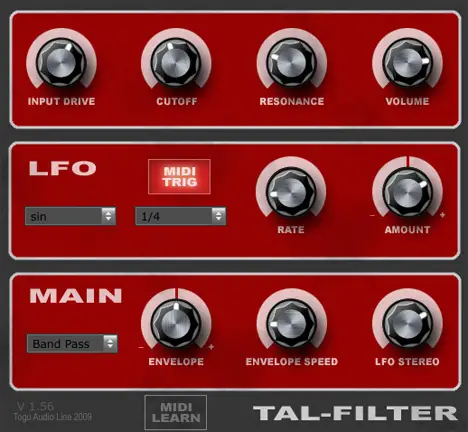 Despite the sequel being at the top of this list, I thought it only made sense to include the original TAL-Filter. This plugin is a multi-mode filter device with a clean analog sound with self-oscillation capabilities.
It contains four fantastic filter modes: high pass, band pass and low pass.
The main reason I included both TAL-Filter2 and it's predecessor is the fact that the original plugin actually contains a few parameters and options not included in the "revamped" version. This includes various LFO options such as waveforms: Sinus, Triangle, Saw, Square, S&H, Noise.
Available for both Mac/Windows and 32-bit/64-bit.
---

Naive LPF is a resonant low/high-pass filter VST plugin with a classic, authentic style. The engine includes a separate envelope follower for each of the 6 channels and full automation, MIDI CC and even joystick control of all parameters.
This filter has been developed to closely model the way some real world analog circuits work, as opposed to some other techniques which, while well adapted to the math processing power of a computer, just don't seem to render the same organic feel.
Available for Windows only and 32-bit only.
---

---
Best Free Filter VST Plugins 2022: Similar Articles
The 8 Best Free VST Instrument Plugins (2022)
Top 8 House sample packs (100% Royalty Free 2022)
The 8 Best Free Compression VST Plugins (2022)