The 8 Best Free Compression VST Plugins (2022)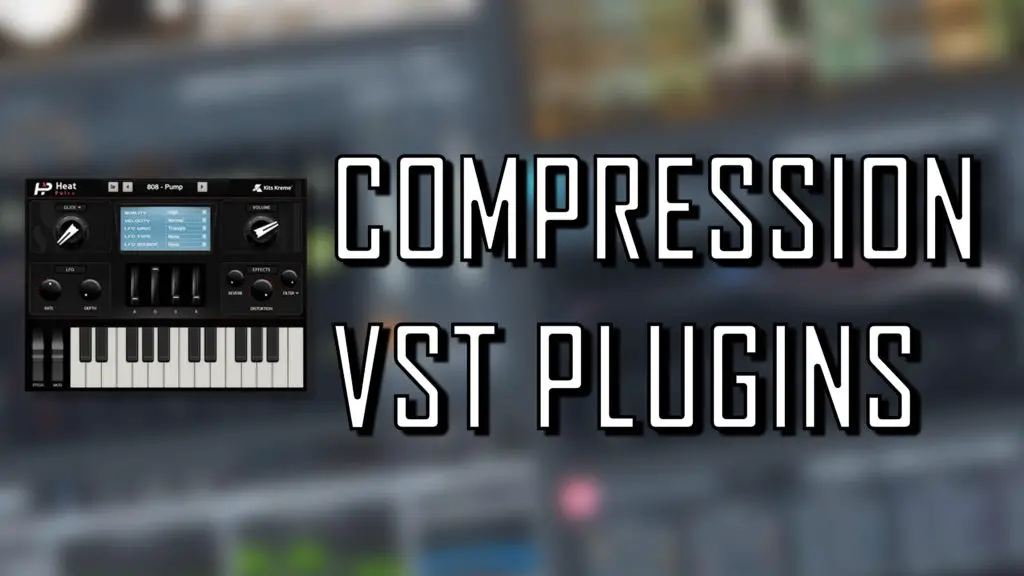 "What are the best free compression plugins?"
Compression is an absolutely essential part of mixing. To put it simply, compression automatically levels out the peaks of your track, making the waveform more even and with less "spikes" in volume.
It can easily turn a dull, unbalanced mix into a professional-sounding masterpiece. However, if you don't know what you're doing, poor compression can completely ruin a track.
When I first started out with music production, effects like equalisation and reverb seemed very intuitive and easy to grasp, whereas learning and understanding compression definitely had a steeper learning curve.
But compression cannot be skipped over. It is a crucial building block of mixing, and you need to put in the work to fully understand how powerful this production tool really is.
The Best Free Compression Plugins
There are many incredibly powerful compression VST plugins available, and all DAWs will come with one or two decent compression tools.
However, if you're not ready to reach for your wallet just yet, there are a great selection of free compression plugins that are capable of adding fantastic-sounding compression similar to the commercial plugins.
Below are the best free compression VST plugins in 2022, that will give you professional compression without ever spending a penny.
Click here for our guide to the top 100 FREE VST plugins of all time.
---

---
The Best Free Compression Plugins in 2022 (+ Download Links)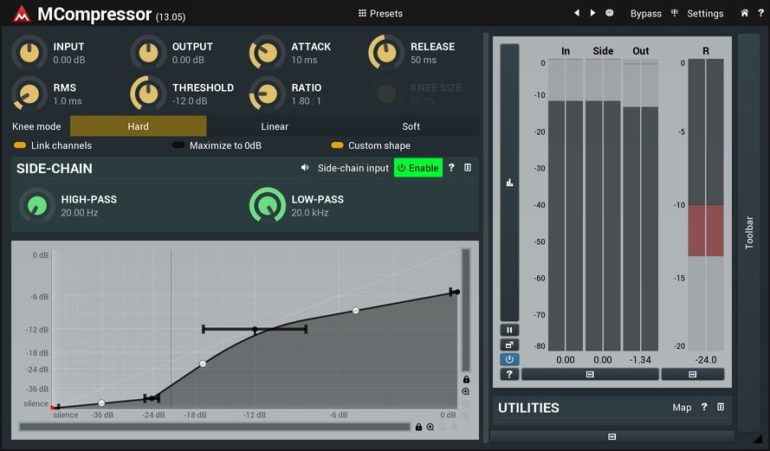 Windows / Mac
Mono / Stereo
8-channel surround processing
MCompressor is a fantastic free compression plugin.
For a free compression plugin, Melda's Mcompressor is highly versatile, allowing you to customize the shape of the compression. This can result in various smoothing effects and other interesting compression results.
This plugin has many nifty features included, such as the actual source level indication inside the shape graph. Some of these features are definitely geared more towards advanced producers, so beginners may want to begin learning and understanding compression on a simpler tool.
This is an excellent tool for producers looking to get creative with their compression effects.
---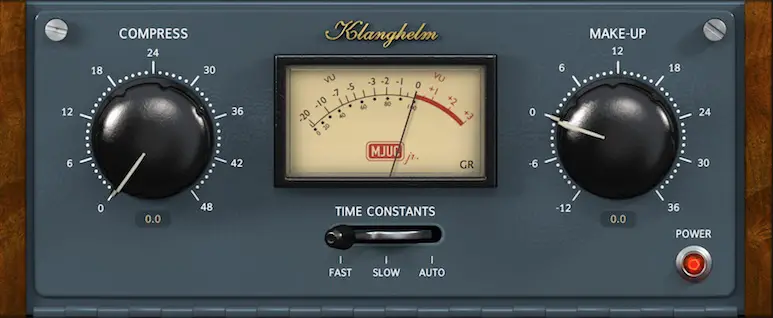 Windows / Mac
Mono / Stereo
Fast, slow and auto time constants option
Klanghlem's "MJUC Jr." is the freeware version of their incredibly popular compression plugin – the MJUC.
This simplistic VST plugin can produce smoothed, natural-sounding compression that is reminiscent of the early days of compression, and modern, heavier compression effects.
This is a very good choice for beginner producers, as the options, while they are fairy limited, are very digestible and intuitive. Using this plugin, you should have a good grasp of how to use compression in no time.
---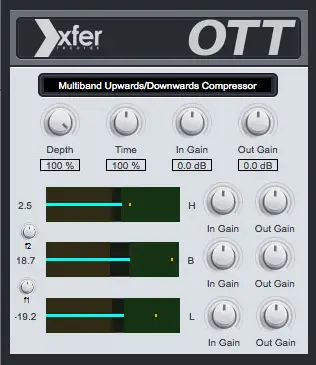 Windows / Mac
Mono / Stereo
Very light on CPU
OTT is a surprisingly powerful multi-band upwards/downward compression plugin .
If you are a dubstep, EDM or bass house producer, this free compression plugin is a no-brainer. It is very popular with producers in these "heavier" styles of music production, as it has a noticeably aggressive style of compression.
The interface is very clean and simplistic, so just like the MJUC Jr, is a great choice for beginners to begin learning the ins and outs of compression.
---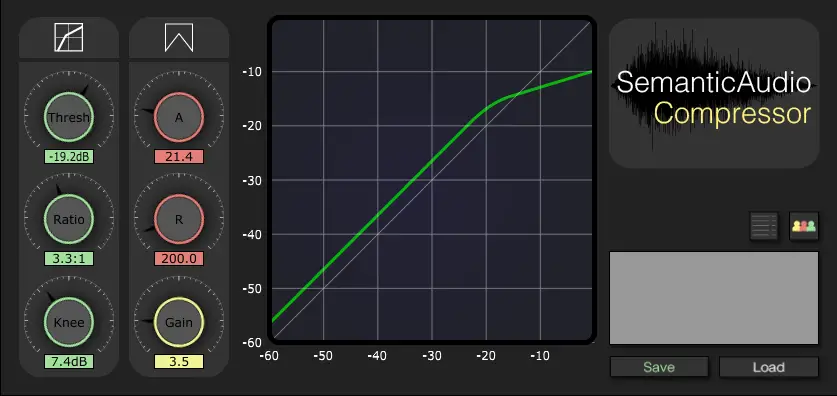 Windows / Mac
Mono / Stereo
Open Source
SAFE plugins by Semantic Audio is a series of free VST plugins, including overdrive, compression, reverb and EQ.
The interface contains a graph that shows the threshold settings, allowing you to visualise the levels of your compression effect.
SAFE plugins come with many searchable presets, such as warm, bright, fuzzy etc. The presets are categorized in layman's terms, so it's a very easy and intuitive process to add and adjust compression settings.
---

Windows / Mac
Mono / Stereo
New version also contains external sidechain input
Rough Rider is easily one of the most popular free compression plugins of all time, and for good reason.
For a free download, the quality is very rounded and professional sounding. The interface is also very easy to use and makes compressing your sounds a quick and uncomplicated process.
The new and updated version (Rough Rider 3) includes an external sidechain input and the ability to turn off the built-in "warming" filter.
---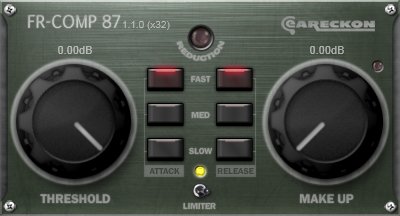 Windows / Mac
Mono / Stereo
Download includes 5 other free plugins
This plugin comes as part of a free set of 6 plugins called the Free87 series.
Like some of the other compression plugins on this list, this bundle contains free, limited versions of the full, paid product, so some of the controls of the paid version are not included
The bundle contains individual compression, equalizer, gate and limiter plugins, which are extremely simple and easy to use.
The free compression plugin in this bundle has a threshold and make-up knob, and a few attack and release options as well. While very fundamental in design, it is a great plugin for beginners.
---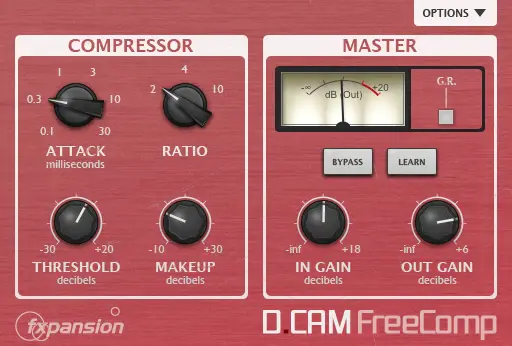 Windows / Mac
Mono / Stereo
Must sign up to FXpansion website to download free plugin
DCAM FreeComp is a free plugin for premium circuit-modelled compression.
It is exceptional at creative sculpting and taming peaks in individual tracks. This free compression tool definitely rivals other commerical compression plugins in terms of sound quality and design.
DCAM FreeComp is the freeware version the DCAM Dynamics compression suite.
---

Windows only
Mono / Stereo
Equalizer section 
NastyVCS by Variety of Sound is a versatile, highly customizable compression plugin.
It offers a dedicated input stage featuring crunchy pre-amp saturation and a brickwall safety limiter in the output stage. Everything is set up to work in zero latency and so be available for hassle free tracking and mixing.
Please note this product is not currently available for Mac.
---

---