6 Best Mics for Rappers / Rap Vocals (2022 Top Picks)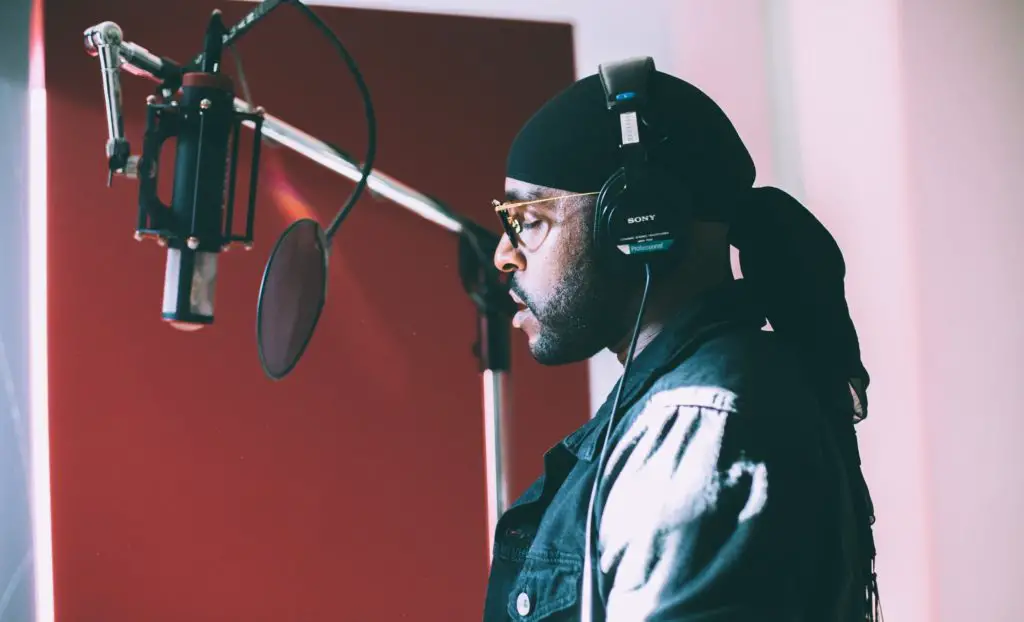 "What is the best mic for recording rap vocals in a home studio?"
There's nothing worse than finding a great, underground rap track but the vocals sound muffled and underwhelming. Recording rap vocals that sound crisp, clear and accurately reflect the power and emotion of the vocal performance is critical in rap/hip hop music. If the vocals don't sound professional, it can completely kill an otherwise incredible track.
Many beginner producers will start recording vocals on a mic worth under $100. At the end of the day, there's nothing wrong with this if you're using it to find your feet and to learn the process of recording vocals.
But if you're at all serious about producing and recording rap vocals, you need a mic that can produce professional, high quality audio.
What to consider
When choosing a vocal mic in general, there are three main factors you should consider:
1. Transducer Type: The most common transducer types are Condenser & Dynamic mics.
Condenser mics have a wider frequency response and higher level of sensitivity.
Dynamic can process more than condenser mics and have a lower frequency response.
2. Polar pattern: This is the direction of sound that is processed by the mic. For mics used for vocal recording, you should mainly consider cardioid mics. In simple terms, a cardioid microphone is most sensitive to sound coming from the front. Other types, such as omni or figure 8 mics, process sound from multiple directions at once.
3. Diaphragm size: Look for higher diaphragm sizes, as they have higher levels of sensitivity – perfect for vocals.
Don't worry, I've considered all these options when choosing the mics in the list below, but it's good to note the technical reasons these mics are the best for recording rap vocals.
The best mic for recording rap vocals on the budget?
From interacting with our readers, I understand if you're reading this you're probably not looking for an extremely high end studio mic worth thousands of dollars.
Because of this, I've made sure every mic on this list costs under $750. I've also chosen mics in a range of price ranges within this limit.
So here is my list of the best mics for rappers / recording rap vocals you'll find on the market.
---

---
Best Mics for Rappers / Recording Rap Vocals 2022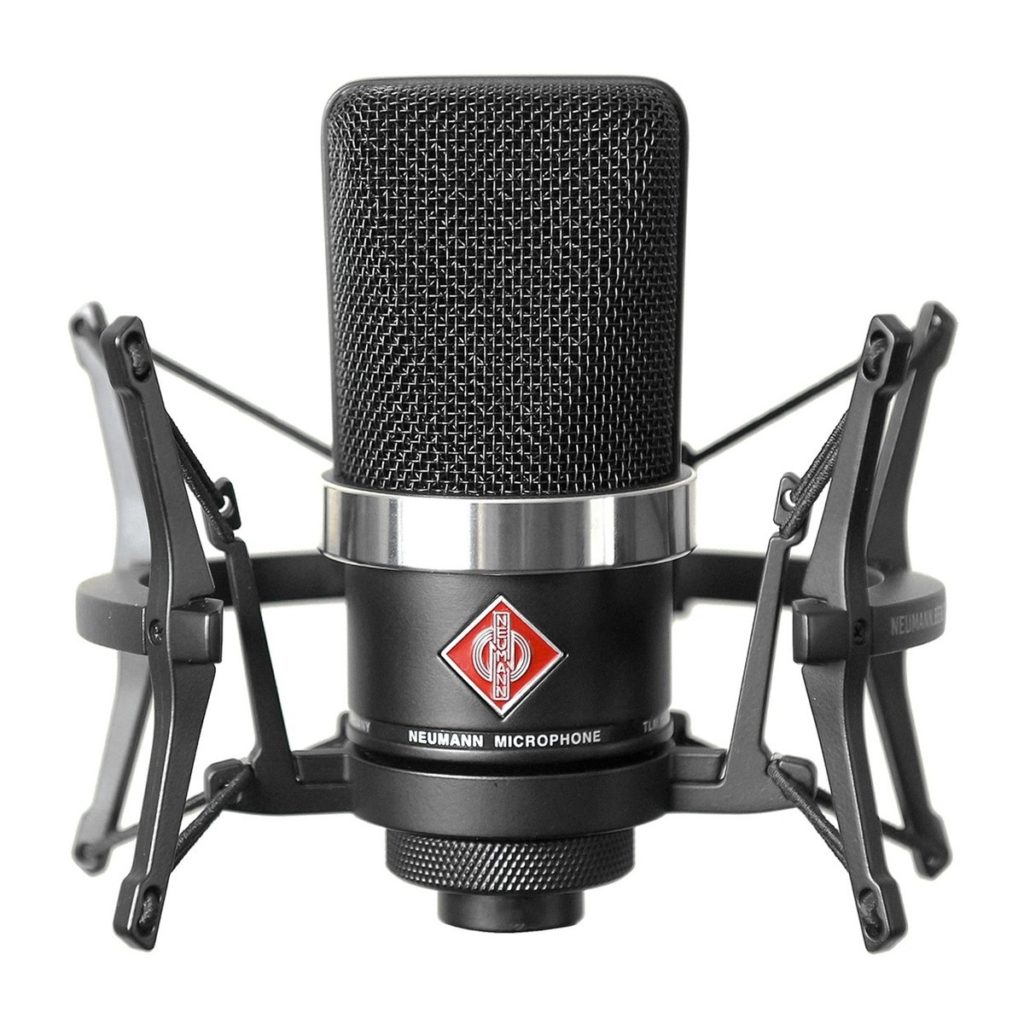 The Neumann TLM 102 is a large-diaphragm, transformerless capacitor microphone with a cardioid polar pattern.
We've praised this mic in the past, and it continues to be one of the best sounding, professional quality mics at this price range.
When it comes to the best mic for rappers, this mic is definitely worth considering due to it's crisp, clean sound and impressive maximum SPL.
I've used this mic religiously for a couple years now, and still use it for home studio vocals across a range of genres. It delivers a bright, lively output but with a remarkable amount of depth.
The Neumann TLM 102 has two design options, the classic silver model or a sleek, black alternative (shown above).
Neumann TLM 102: The Specs
Maximum 144dB maximum SPL
Cardioid pickup pattern
20Hz – 20kHz frequency range
132dB dynamic range
50-ohm impedance
Weight: approximately 260g
Diameter: 52mm
Length: 116mm
Requires +48V phantom power

---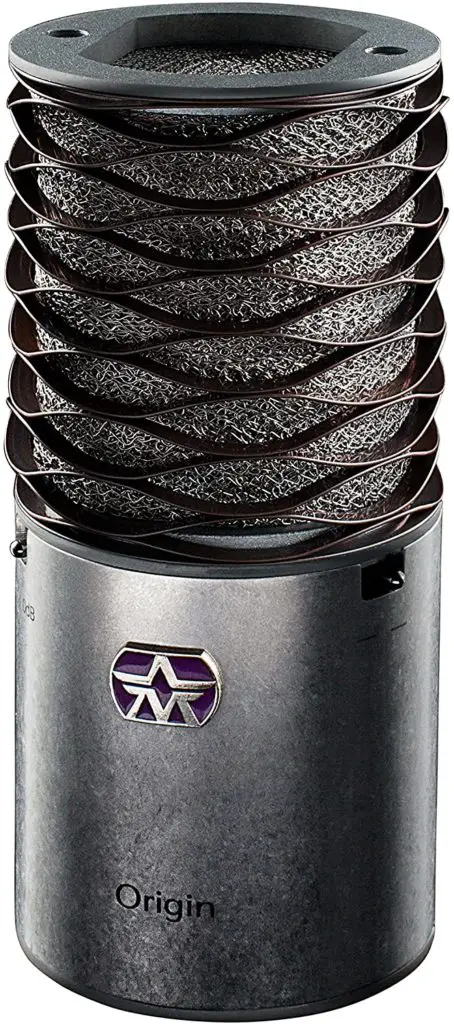 The Aston Origin is a cardioid condenser mic with an outstanding level of sound quality for such a competitive price.
David Bowie's producer Chris Porter, Producer (David Bowie, Wham!, Thin Lizzy) has praised the Aston Origin as being up there with extremely high end mic such as the Neumann 49b, U87 or AKG C414s.
Design wise, Aston mics have incredible build quality and a stunning, signature aesthetic. The wave-form spring head not only looks superb, but gives shock resistant protection to the inner capsule of the microphone.
This mic is incredibly well engineered, and a perfect mic for both beginners and advanced studio veterans.
Aston – Origin Mic: The specs
Transducer Type: Condenser.
Acoustic Operating Principle: Pressure Gradient.
Frequency Response: 20Hz – 20kHz (+/-3dB)
Equivalent Input Noise: 18dB A-Weighted.
Sensitivity at 1kHz into 1kohm: 23.7mV/Pa.
Maximum SPL for THD 0.5%: 138dB.
Directional Polar Pattern: Cardioid.
Pad Switch: -10dB.

---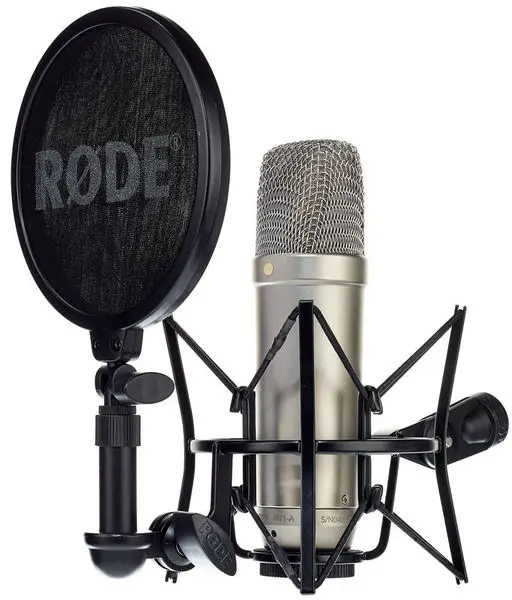 Rode have built up an unmatched reputation within the studio microphone world. Their products are among some of the most iconic, recognisable mics of all time. So if brand reputation is something that's important to you, the Rode NT1-A is definitely worth checking out.
This cardioid condenser microphone is the gold standard of studio mics at this price range, and this specific model is considered somewhat of a classic.
The Rode NT1-A boasts an extended dynamic range, clarity and high SPL capability. It also produces a staggeringly low amount of self-noise (coming in at 5 dB) which is unheard of for a mic at this price.
This mic is also fantastic at recording other elements other than rap vocals. Instrumentation such as acoustic or electric guitar, piano and even percussion sounds fantastic through this mic.
Overall, the NT1-A delivers a warm, neutral, balanced output and sounds simply remarkable.
Rode NT1-A: The Specs
Element: Externally-polarized condenser
Polar Pattern: Cardioid
Address Type: Side
Frequency Range: 20Hz – 20kHz
Maximum SPL: 137 dB SPL
Maximum Output Level: 13.7 mX (@ 1kHz, 1% THD into 1KΩ load)
Noise: 5 dB SPL
Weight: 11.5 oz (326g)

---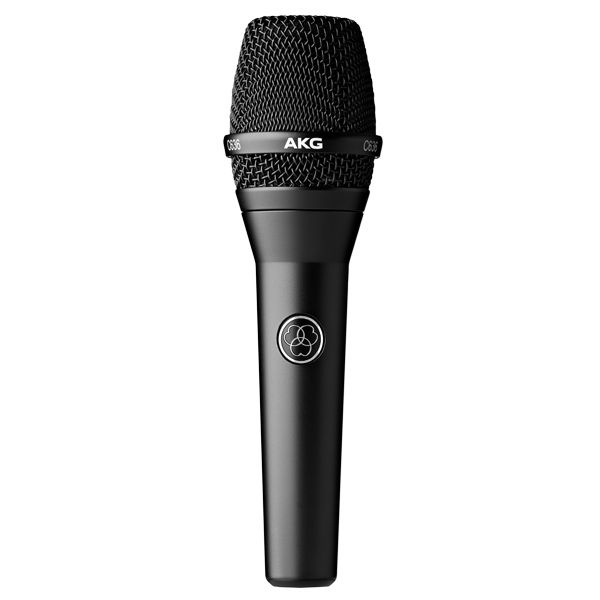 The AKG C636 is a handheld condenser cardioid mic with a rich, crisp, well balanced response.
One huge advantage of this mic for rap vocals is its handheld design, meaning it can be used for a range of live performances and still sound fantastic.
This mic has a fairly plain design, but this comes with an impressive build quality and interior design. It is also incredibly well designed to deal for noise, feedback and "plosives" (something many other handheld mics struggle with).
AKG C636: The Specs
Type: 3/4" Back electret condenser
Polar Pattern: Cardioid
Sensitivity: 5.6 mV/Pa
Audio frequency bandwidth: 20 – 20000 Hz
Electrical impedance: 200 Ohms
Recommended load impedance: 2000 Ohms
Equivalent noise level: 20 dB-A

---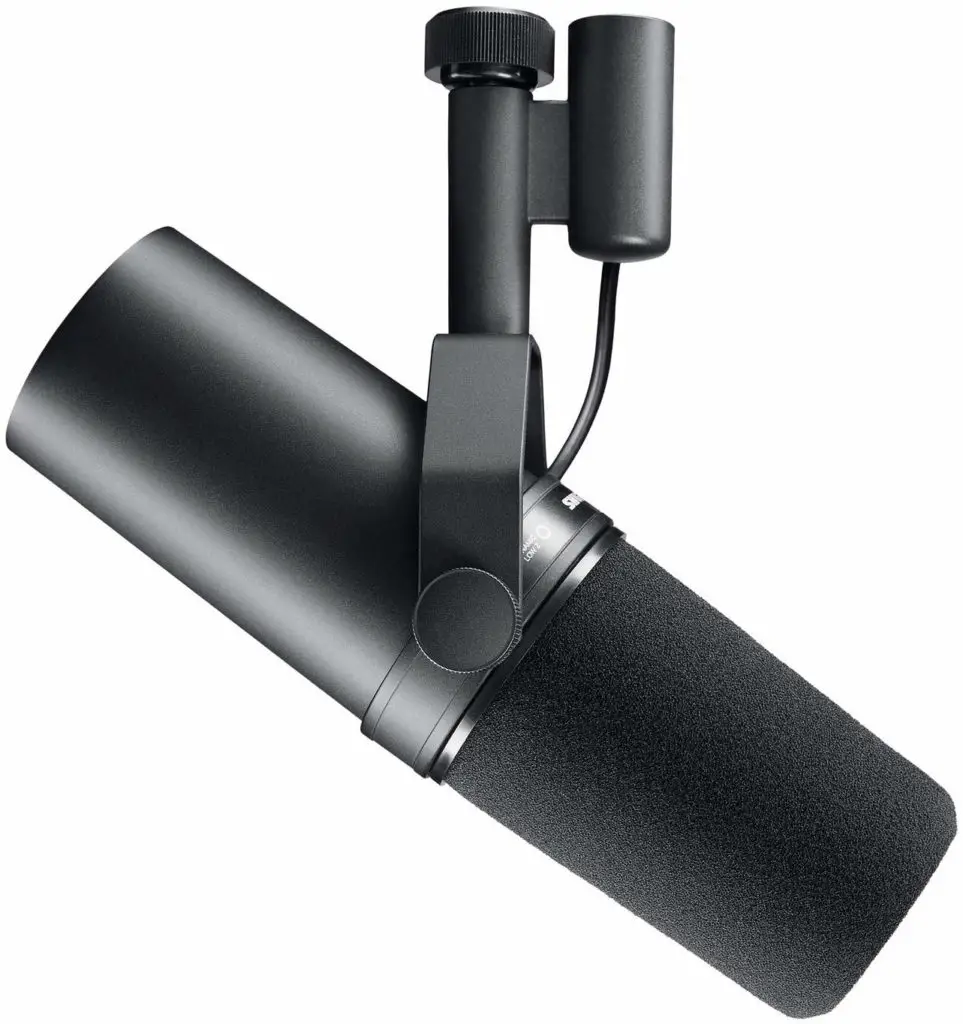 On the other end of the spectrum, we have a dynamic microphone. Dynamic mics can process more than condenser mics and have a lower frequency response.
The Shure SM7B is a piece of history. Not only was Michael Jackson's "Thriller" recorded using this mic, but countless albums throughout the years across many different genres.
This mic has an absolutely fantastic response, and is designed to take away noise and reverb in any less-than-ideal recording conditions. The output is smooth, rich and has a deep, warm low-end.
The reason I'm considering this as one of the best mics for rap vocals is it's dynamic range. If you want a mic than can handle hard, aggressive trap vocals or softer, mellow rap, this mic can handle it all. In fact, the bass rolloff and mid-range emphasis is one of the microphones strong points.
For producers looking for a tried and tested, professional dynamic vocal mic, the Shure SM7B should definitely be on your radar.
Shure SM7B: The Specs
Microphone Type: Dynamic.
Polar Pattern: Cardioid.
Frequency Response: 50Hz-20kHz.
Output Impedance: 150 ohms.
Weight: 1.69 lbs (766g)

---

The sE Electronics sE2200 is an affordable, large diaphragm, cardioid condenser mic.
It is another example of a highly versatile studio mic. The sE2200 is sensational for recording vocals, but also performs incredibly well when recording guitar, piano, percussion and other musical elements.
The superb clarity and range of this mic for the cost makes it a hidden gem. While not quite on the level of some of the more expensive mics on this list, it delivers a smooth, polished output for any vocal style.
sE Electronics sE2200: The Specs
Capsule Type: 2/3" Permanently-Biased Condenser
Directional Pattern: Cardioid
Frequency Range: 20Hz – 20kHz
Sensitivity: 20mV/Pa (-34dB)
Maximum SPL: 130dB / 150dB (0dB / 20dB Pad, 0.5% THD @ 1kHz)
Signal-to-Noise Ratio: 78dB (A)
Equivalent Noise Level: 16dB (A)
Dynamic Range: 114dB / 134dB (0dB / 20dB Pad)
Low Cut Filter: 100Hz, 6dB/Oct, Switchable
Weight: 21.55 oz (611g)

---

---
The Best Mic for Recording Vocals: Similar Articles
The Best Laptop for Making Beats
The Best MIDI Keyboards for Beginners
The 100 Best FREE VST Plugins of All Time