The Best DAW For Beginners in 2022? | HONEST Comparison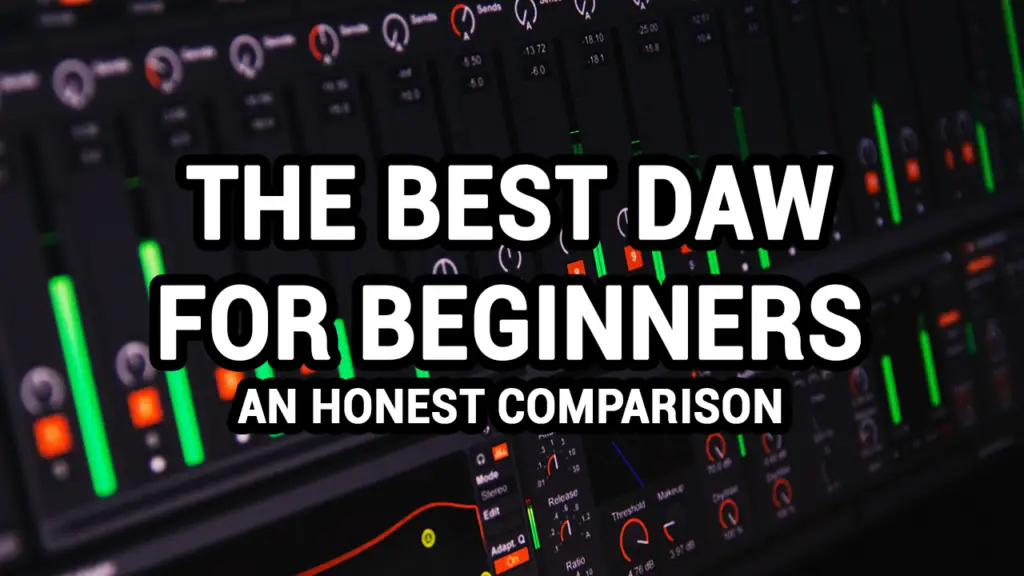 "What is the best DAW for beginners in 2022?"
If you're reading this, it's highly likely you're a beginner to music production, and want to get started composing and editing your own original tracks.
As you might already know, you'll need a DAW (Digital Audio Workstation) to get started.
In 2022, there are many DAWs to choose from, including surprisingly powerful free DAW's such as Cakewalk, or more popular, commercial choices like Ableton and FL Studio.
For a beginner, the choice of which DAW to start with can be a tricky one.
Before we look at any specific examples, let's cover some common questions…
"Should I use a Free DAW, or invest in a paid one?"
Granted, there are several free DAW options out there, but in my opinion if you're serious about learning music production, you should be looking at a paid option.
If you want to experiment with a basic DAW setup before delving into the commercial options, you can always try out a free DAW before switching to something like Ableton or Logic. This is often a great way to learn the basics of music production. 
However, the harsh truth is that all serious music producers use paid software. Think of it as a long-term investment: maybe your music production journey will make you a lot more money down the road!
"What is the "best" DAW?"
Overall, regardless of what people say, no DAW is ultimately the "best". They are all capable of basically the same functions, and can be used to create the exact same tracks.
The major differences are found in the design and workflow of each DAW.
For example, if you compare the interface and layout of FL Studio with Logic Pro X, they are WILDLY different.
Same goes for the workflow of each DAW, creating a track in Ableton Live would have a very different workflow to producing in Pro Tools.
"What is the best DAW for beginners?"
And now, the question you all came here for.
The concept of a "DAW for beginners" is highly subjective. While one DAW might seem very intuitive and easy to navigate to a certain person, it may be a nightmare for someone else.
However, I do think there are certain DAWs that are generally more accessible to complete beginners, while others definitely have a steeper learning curve if you're just starting out.
So without further ado, here are the best DAWs for beginners in 2022. Enjoy!
---
The Best DAW for Beginners (2022)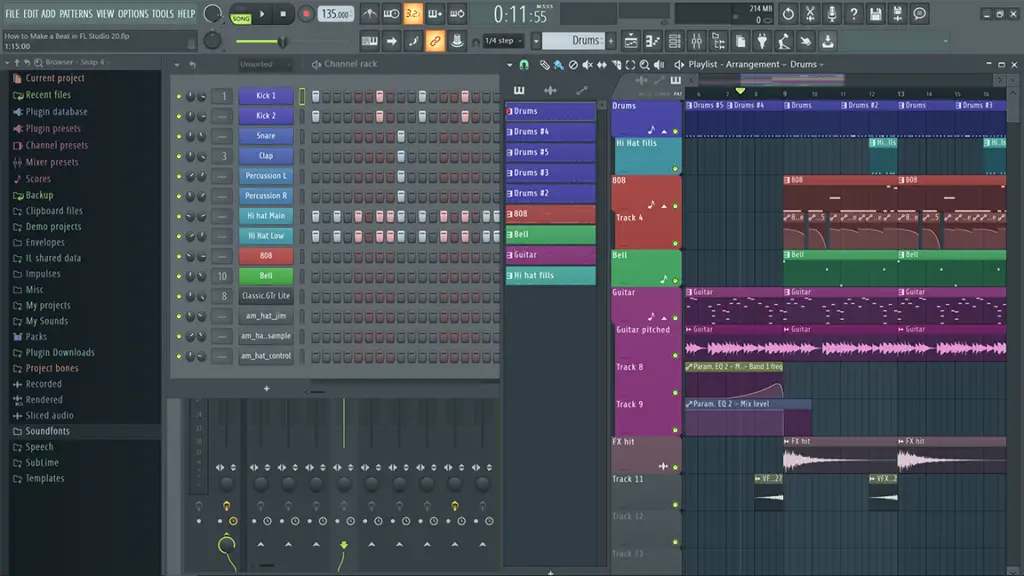 1. FL Studio
✅ Free trial available
✅ Windows/Mac compatibility
From my experience in the music industry, certain producers view FL Studio as a program producers start with and eventually switch over to another DAW such as Pro Tools or Logic.
This idea is incredibly misleading, FL Studio is capable of anything that other major DAWs can achieve, and is used by international artists like Martin Garrix, Alan Walker and Boi-1da.
However, there's probably a good reason a lot of producers start with FL Studio. The layout is incredibly beginner-friendly, and it's unique pattern-based workflow is very easy to get your head around if you're just starting out.
FL Studio's interface features, particularly the piano roll and channel rack/step sequencer are highly intuitive, and can be understood fairly quickly by beginners with almost no knowledge of music production or theory.
Many elements and features are designed specifically for beginners, and it's ease of use and functional accessibility make learning how to create simple beats and tracks a relatively quick and enjoyable process.
---
FL Studio: The Pros
• Intuitive interface: FL Studio is very easy to navigate as a beginner. Here is our video tutorial for beginners to FL Studio.
• Fairly cheap compared to other DAWs: FL Studio comes with a fairly low price tag (click here to compare prices). It also comes with free lifetime updates, so every future version of FL Studio can be downloaded for free after purchase. This is something almost no other DAW company currently offers.
• Hugely popular: FL Studio is easily one of the most popular DAWs for beginners, meaning there are thousands of online guides and tutorials to help you navigate the software.
FL Studio: The Cons
• Suited better for electronic / hip hop genres: FL Studio is an absolute monster when it comes to hip hop / trap production, as well as various electronic genres (dubstep, future bass etc). However, if you're focusing more on live tracking band performances, other DAWs may be better suited.
• Audio recording is a bit fiddly: On a similar note, the audio recording features of FL Studio aren't quite as streamlined as programs such as Ableton or Logic. So if you're going to be recording a lot of audio, there might be a steeper learning curve here.
You can find out more about FL Studio on image-line.com
---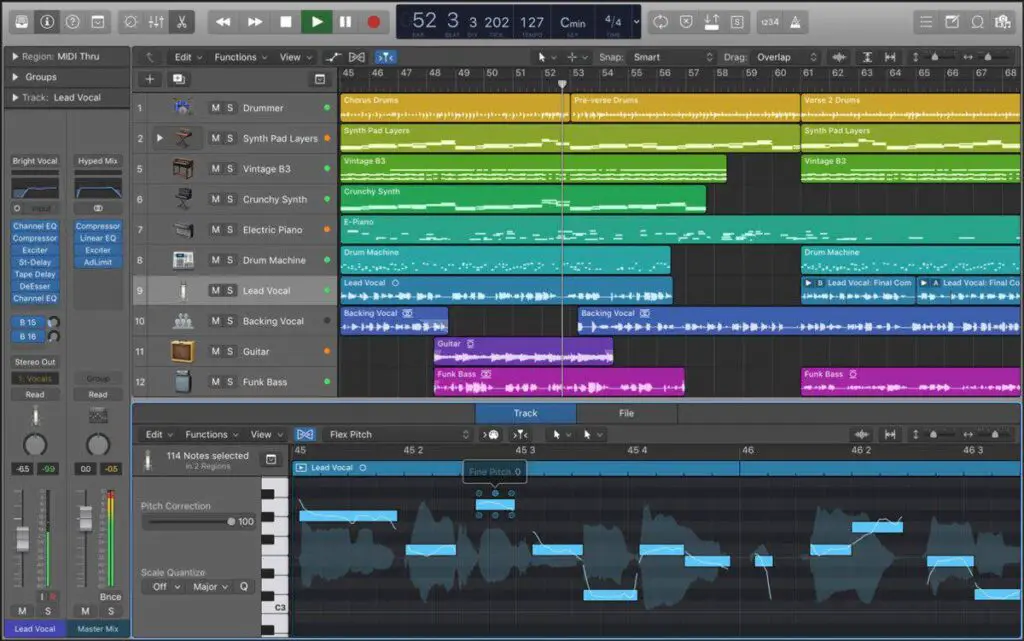 2. Logic Pro X
✅ Free trial available
❎ Mac ONLY
Logic Pro X is arguably one of the most intuitive, beginner-friendly DAW's out there.
From my experience, producers with no prior knowledge of music creation seem to pick up Logic way faster than most other DAWs. This seems to be primarily down to the spacious, clear layout and module arrangement.
It's hard to explain, but when using Logic Pro every part of the DAW feels like it's exactly where it should be. The developers clearly put a enormous amount of effort into the spacial design, making it not only highly intuitive, but rapid and responsive.
If you're a Mac user, I'd highly recommend going for Logic Pro X as your DAW of choice. It is incredibly popular with other Mac users, and there is a massive amount of online tutorials and guides to help you learn the software.
Also, while there is a Mac version of FL Studio, it's a fairly recent development, so it does have a few issues here and there. On the other hand, Logic Pro X is specifically designed for Mac OS.
---
Logic Pro X: The Pros
• Beautifully designed: Logic Pro X has an incredibly streamlined workflow, making it very intuitive for beginners.
• Comes with amazing plugins/tools: Logic Pro X boasts 24 virtual instruments and a whopping 70 built-in effects, giving you a huge amount of creative inspiration.
• Fairly cheap: This DAW is currently £199.99 which includes all the packaged instruments and effects.
Logic Pro X: The Cons
• Only Mac compatible: If you're a Windows user, you're out of luck. Logic is (and always will be) exclusive to Mac OS.
You can find out more about Logic Pro X on apple.com
---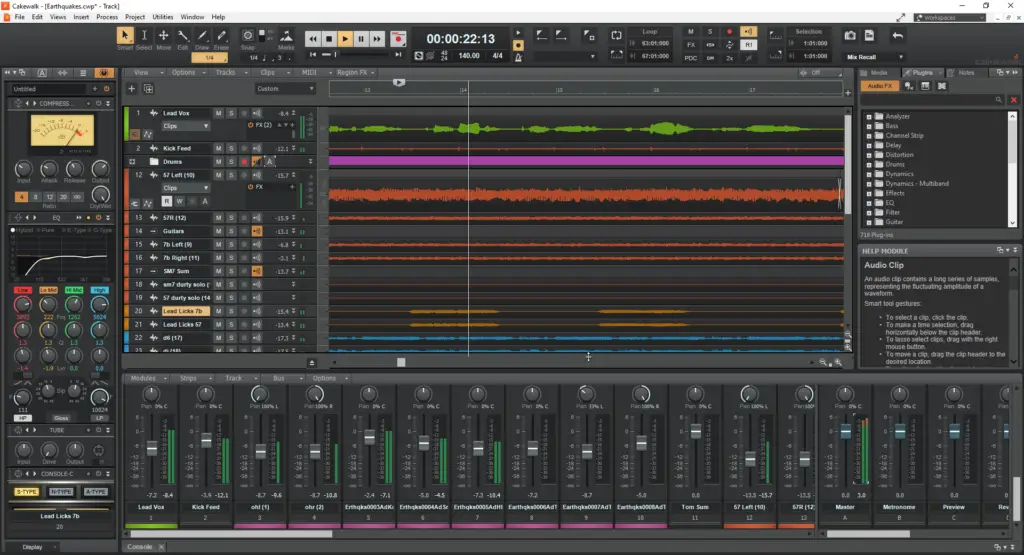 3. CakeWalk
✅ Free Software!
❎ Windows ONLY
Another fantastic DAW for beginners is BandLab's CakeWalk.
But hold on. Didn't I say that if you're serious about learning music production you should go for a paid DAW?
Granted, CakeWalk does not have the versatility or level of functionality as DAWs like FL Studio or Logic. However, it's a great, FREE way to learn the ropes of music production if you're on a tight budget.
Cakewalk allows you to compose, record audio, edit, mix and master your tracks within a fast, intuitive interface.
It also has VST3 support, allowing you to import your own audio plugins. It even comes with a diverse range of FX modules, ranging from convolution reverb, resonant filtering, dynamic compression, and powerful EQ to tape and console emulation, peak limiting, and tube saturation.
Again: this software doesn't even come close to the leading commercial DAWs. But I'd definitely recommend beginners to take it out for a spin if you're wanting to make some simple tracks before you splash out on paid software.
---
Cakewalk: The Pros
• 100% FREE!
• Probably the most powerful free DAW out there: Other examples are MPC Beats (Windows/Mac), LMMS (Windows/Mac) and Garageband (Mac Only).
Cakewalk: The Cons
• Windows Only: Sorry Mac users, although Garageband is a great free alternative for Mac OS.
• Lacks the functionality of other DAWs: Cakewalk offers a ton of features for a free product, such as audio recording, full MIDI capabilities, an array of bundled instruments / effects and even third-party plugin support. However, it's not on the same level as most paid DAW software.
You can find out more about Cakewalk on bandlab.com
---

The Best DAW for Beginners (2022): Similar Articles
How to use FL Studio | Step by Step Tutorial for Beginners (2022)
Which DAW should I use? | 2022 Comparison Guide for Beginners
FL Studio vs Logic Pro X – Which DAW is Right for YOU?