The 6 Best Drum Machines in 2022 (For Any Budget!)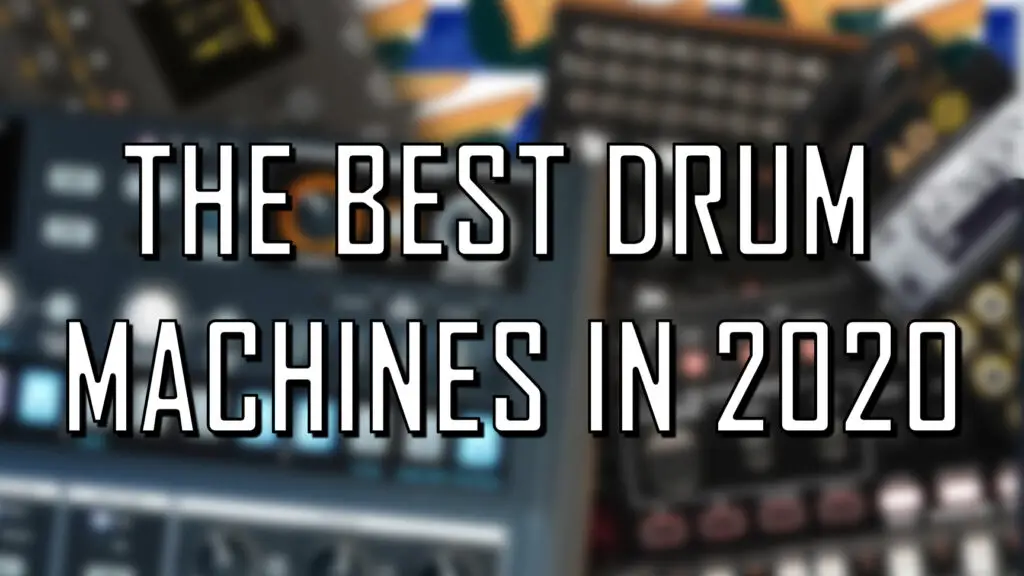 "What is the best drum machine for me in 2022?"
Drum machines, or grooveboxes, played an incredibly important part in the development of early dance and hip hop music, and their sonic impact can still be heard today. The drum machines; Roland TR-808 and TR-909, helped sculpt and form these early genres, and are now seen as iconic pieces of audio hardware history.
When new audio technology such as MIDI controllers and DAW's emerged on the scene, drum machines were relegated to the ranks of near-forgotten production hardware. It's only in recent years they've enjoyed a large comeback, which can probably be attributed to the explosion of "bedroom" hip hop / electronic production.
---
Do I need a drum machine?
If you're on the fence about buying a drum machine, I'm not here to try to convince you either way. For some producers, drum machines are a key component of their studio setup, yet for others they are fairly unnecessary. It all comes down to your style of production.
I'd recommend a drum machine to producers who sometimes like to get outside of the constraints of their DAW. Drum machines are essentially an instrument, so you can really feel out new grooves and drum / percussion patterns, as opposed to simply keying these patterns into a DAW piano roll.
I personally have stumbled across countless drum beat patterns using drum machines or MIDI pads that I would have NEVER come up with using software alone.
---
The Best Drum Machine in 2022?
Like with most audio equipment, there is a huge variety of drum machines on the market today.
To simplify the vast amount of options available, we've compiled this list of the 6 best drum machines at a range of budgets, to highlight the main benefits and downsides of the best devices on the market today.
Please note: Drum machines are different to dedicated MIDI drum pads. If you're looking for a controller to use solely for MIDI sequencing, consider looking into MIDI pad controllers.
---
The Best Drum Machines 2022 – Our Top Picks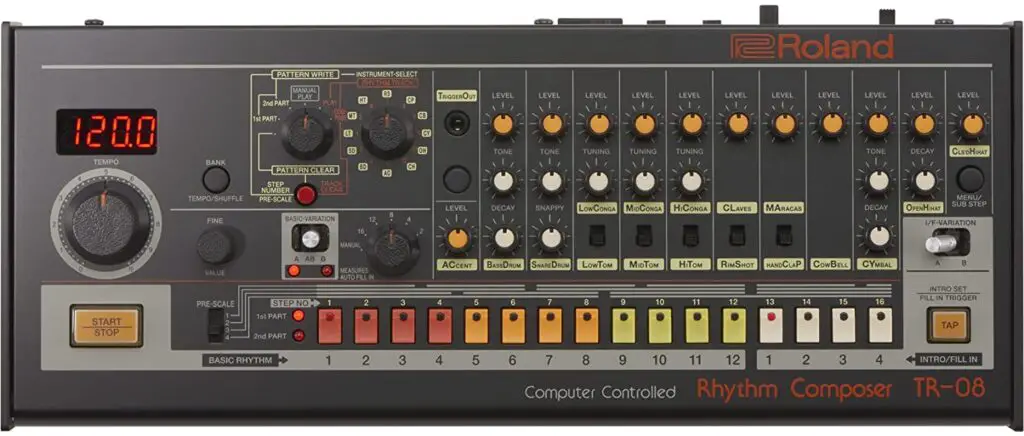 Best suited for: Producers looking for a lightweight drum machine with a classic, vintage feel.
There is no question, the Roland TR-808 is the most influential drum machine of all time. In light of this, Roland have treated us with a gorgeous recreation of the classic hardware: the Roland TR-08 Rhythm Composer.
This new and improved version remains extremely faithful to it's iconic counterpart, but with several new, modernized features. Best of all, they are significantly more affordable than the original TR-808.
The Roland TR-08 perfectly captures the tone and sonic character that made the original so successful. It also retains the lightweight design and portability of it's predecessor.
New additions include the ability to create random drum patterns, add swing to your beats and also sub-step sequencing. Furthermore, the digital menu now includes pitch, decay and compression options.
It's also worth noting this drum machine has full MIDI integration, something the original definitely didn't have.
| ❁ PROS | ❁ CONS |
| --- | --- |
| ➭ Affordable | ➭ Lack of multiple analogue outputs |
| ➭ Very lightweight and portable | ➭ The smaller drum pads can be harder to play |
| ➭ Tons of classic sounds with modern features | |

---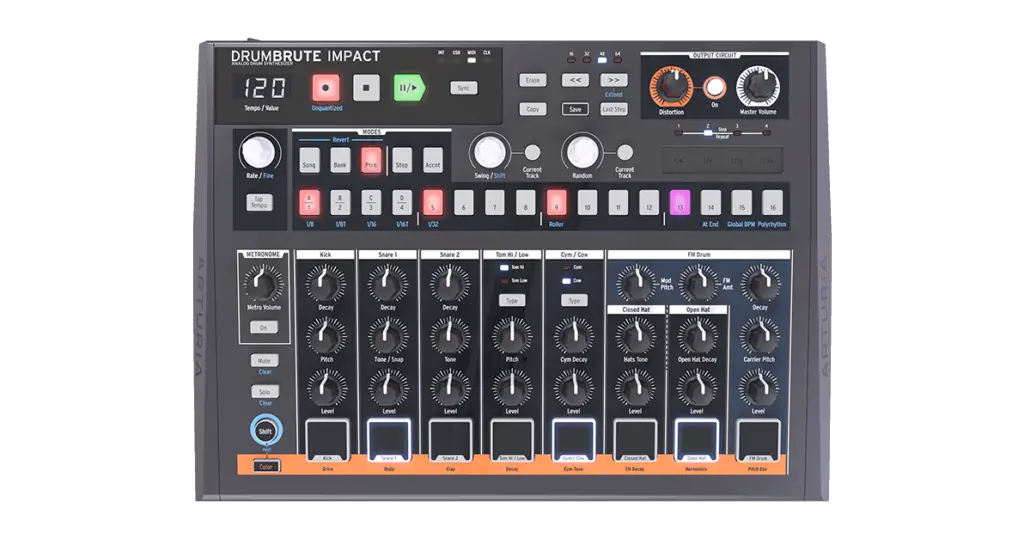 Best suited for: Producers looking for an affordable drum machine with a mix of vintage and modern sounds, presented with a intuitive design.
I'm personally a huge Arturia fan, particularly their collection of soft synthesizer emulations and MIDI keyboard controllers. Unsurprisingly, Arturia's DrumBrute series is another triumph.
The Drumbrute Impact is an analog drum machine with a rich, authentic tone. It's also packed with additional controls for customizing the drum sounds, for example adding color / distorting specific drum sounds. While it may not have the versatility of some other drum machines on the market, it's definitely a fun, inspiring little machine.
This drum machine comes with a powerful synthesizer, 10 physically represented channels, and 10 customizable sounds. It definitely has some tricks up its sleeve too, with a gorgeous Steiner-Parker filter (found in the Drumbrute, not the Drumbrute impact) and a "random mode" for some really crazy effects.
This product is also one of the cheapest options on this list, so for the sonic power and performance of this device, the Drumbrute series is definitely worth checking out.
| ❁ PROS | ❁ CONS |
| --- | --- |
| ➭ Affordable | ➭ Lack of multiple analogue outputs |
| ➭ Authentic analog sound | ➭ The smaller drum pads can be harder to play |
| ➭ 10 multi-channel outputs | |

---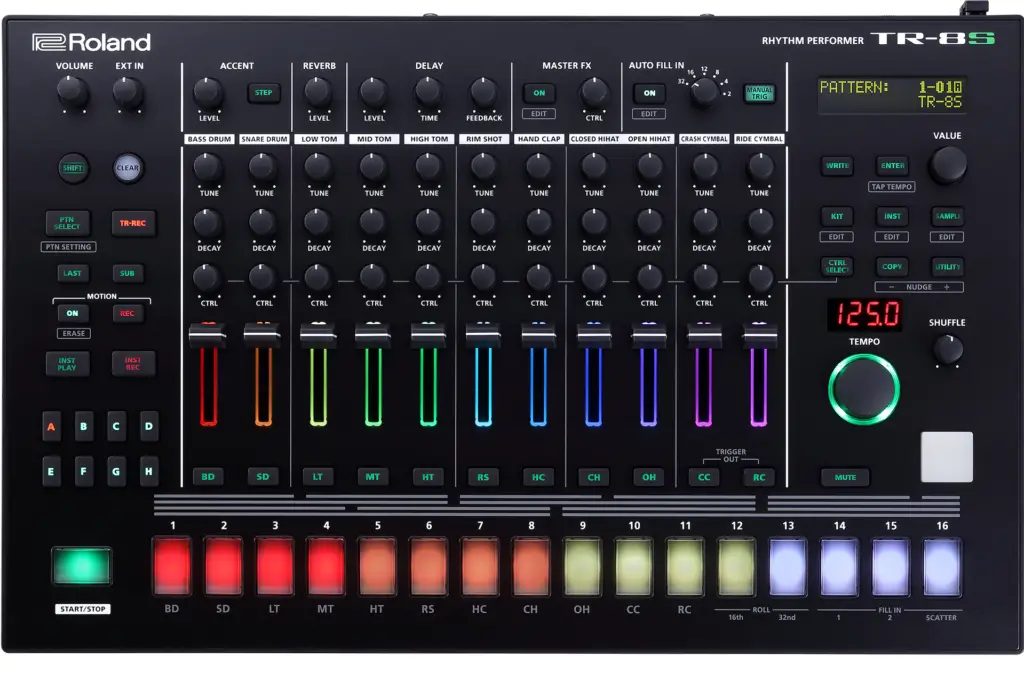 Best suited for: Producers looking for a all-encompassing modern drum machine with some of the best sounding drum samples out there.
The Roland TR-8S is another outstanding drum machine at a mid-high price range.
In contrast to the Roland TR-08 (entry 1 on this list), the TR-8S has a modern, sleek design with a ton of additional knobs and sliders to play around with.
This drum machine contains an impressive range of vintage, easily recognizable sounds of classic Roland machines. It also includes an eclectic range of sounds that would appeal to modern electronic and hip hop producers. These sampled sounds are easily the highlight of this drum machine, from earthy, booming kicks to cracking, crisp snares, and everything in between. It's also VERY fun to use, and it's learning curve is noticeably less than other drum machines on the market.
As well as the stunning sampled sounds, the TR-8S comes with expanded performance, snapshot storage and recall abilities. Coming in at the mid-high price range, this is an ideal choice for both beginner and advanced producers, if you've got the money to spend.
| ❁ PROS | ❁ CONS |
| --- | --- |
| ➭ Sturdy, robust, modern design | ➭ Fairly expensive |
| ➭ Incredible sample bank | |
| ➭ Impressive sequencer feature | |

---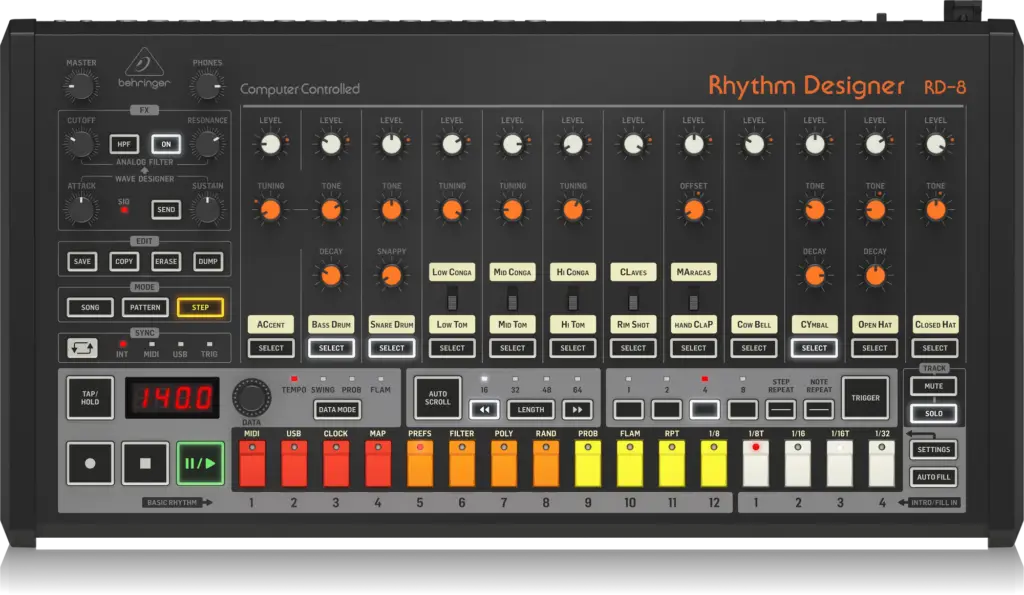 Best suited for: Producers looking for an affordable drum machine that faithfully recreates Roland's iconic TR-808.
The fact that there are two industry-leading, modern drum machines that aim to recreate the TR-808 is simply a testament to how influential and iconic the original 808 really was.
Behringer's RD-8 drum machine is arguably even more faithful a recreation that Roland's own attempt: the TR-08, particularly in terms in design. The sounds have a tantalizing, authentic tone, and as you'd expect the 808 bass drum is absolutely stunning.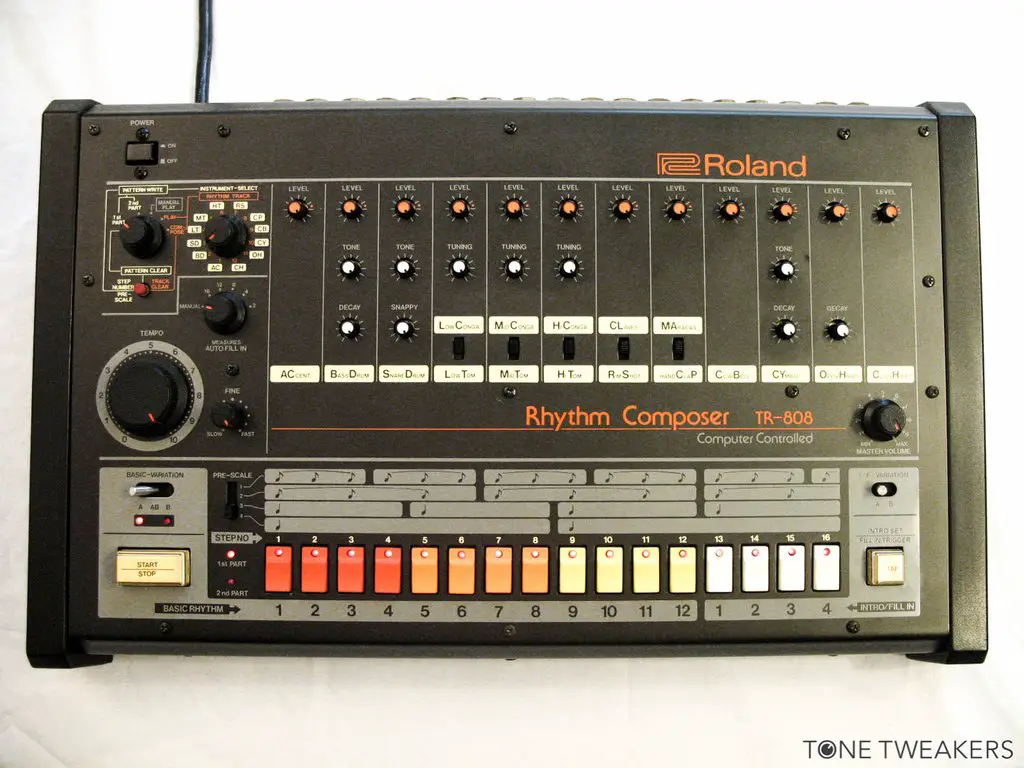 The RD-8 retains almost everything from the original design, which does limit some of the sonic flexibility. The faithfulness of the design also results in a steep learning curve, and it has to be said this thing is VERY confusing at first. However, Behringer have added a few updated features on this classic design. It is significantly easier to edit patterns mid-performance, as you have access to real-time triggering, step-overdub, and a handful of other cool modern functions.
| ❁ PROS | ❁ CONS |
| --- | --- |
| ➭ Affordable | ➭ Quite a steep learning curve |
| ➭ Near-perfect recreation of a classic | ➭ No auto-fill feature |
| ➭ Incredible bass drum sound | |

---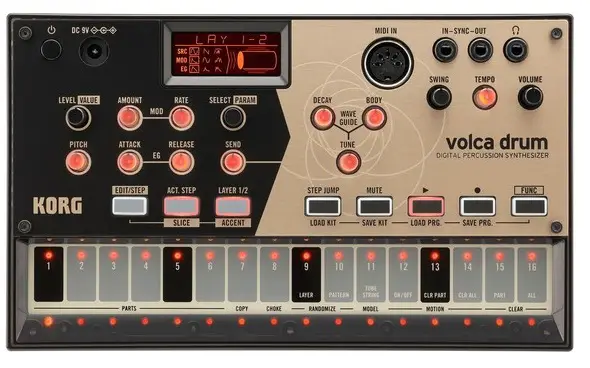 Best suited for: Producers looking for a tiny, surprisingly powerful drum machine at a ridiculously low price.
From the day the Korg Volca Drum arrived at my door, it's held a special place in my heart.
This drum machine is efficient, incredibly intuitive and well designed. At first glance, this device may seem "toy-ish" given how tiny it is, but the Korg Volca Drum really packs a punch. Firstly, the sounds themselves are clean, crisp and impactful, and the wide palette of samples is really impressive given the price of this device.
Speaking of the price, this has to be one of, if not THE cheapest drum machine on the market. Admittedly, it doesn't have the level of control and customization as something like the Roland TR-8S, but this is to expected.
If you're looking for a highly portable, quirky drum machine with a few tricks up it's sleeve, the Korg Volca Drum should definitely be on your radar.
| ❁ PROS | ❁ CONS |
| --- | --- |
| ➭ Insanely cheap | ➭ Single audio output |
| ➭ Very lightweight and portable | ➭ Could use a few extra on-board controls |
| ➭ Clean, crisp sounds | |

---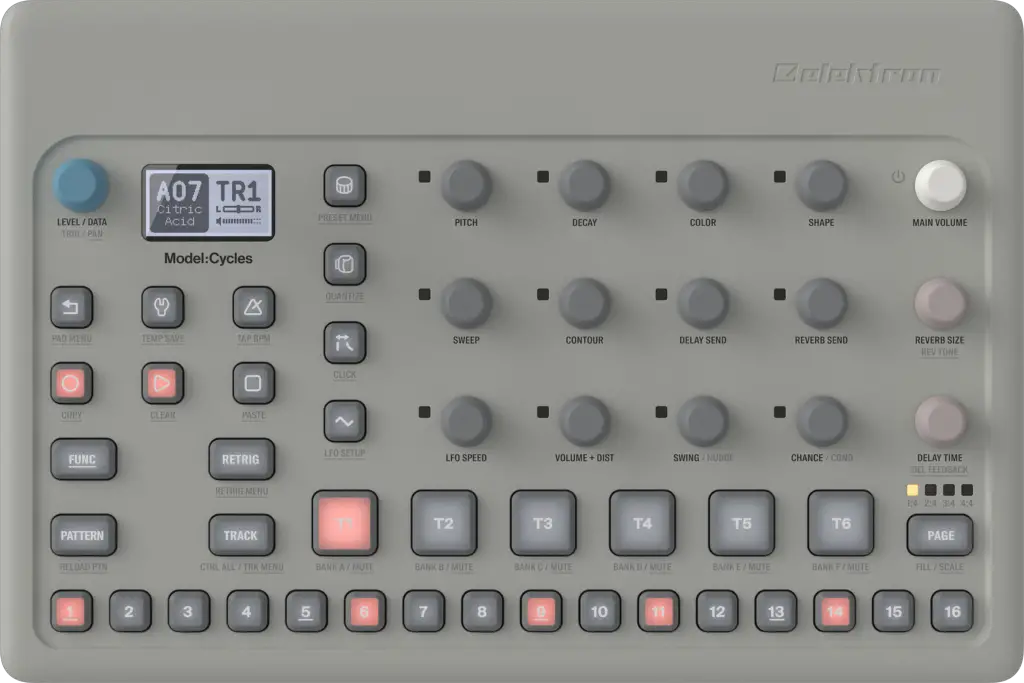 Best suited for: Producers looking for a reliable, powerful drum machine with an unreal sequencer feature.
Cycles is Elektron's second release in their 'Model' range, and it's definitely the most stripped down, portable version of their drum machines.
The FM synth engine is packaged into six voices, each with four predefined macro controls. However, the undeniable highlight of the Elektron Model: Cycles is it's sequencer option. Each sound track has its own individual 64-step sequencer, and various parameters can be set for each specific track lane.
It's no secret that Elektron drum machines are hard to master, and each device has it's own obstacles in learning the functionality of the engine. But once you're past the learning curve, using these things becomes second nature. The Cycles model is also based around the sound engine of it's appraised sibling instrument Digitone, meaning the samples are absolutely stunning.
| ❁ PROS | ❁ CONS |
| --- | --- |
| ➭ Decent price | ➭ Lack of multiple outputs |
| ➭ Very lightweight and portable | |
| ➭ Fantastic sequencer option | |
---
Best Drum Machines 2022: Similar Articles
6 Best Midi Keyboards for Beginners
The Best Speakers for Producing Music
Best Laptop for Making Beats – Our Top Picks