The Best Keyboard to Learn on | 2022 Comparison
"What is the best keyboard to learn on?"
Learning and mastering an instrument is one of the most rewarding pursuits I can think of. At times it can be tiring or frustrating, but once you start getting the hang of it, it is an incredible feeling.
If you're looking to learn how to play the keyboard, you need to choose your first keyboard carefully.
If you buy a cheap quality $30 USB keyboard, chances are it'll feel plastic-ky and probably break after a month. On the flipside, if you invest in a ridiculously expensive, advanced keyboard with endless controls and features, it may make the whole learning process more complicated than it needs to be. Both of these situations could completely kill your motivation to learn the keyboard.
Chances are you need a good quality, sturdy, lightweight keyboard with a medium range of on-board controls and a fairly low price tag.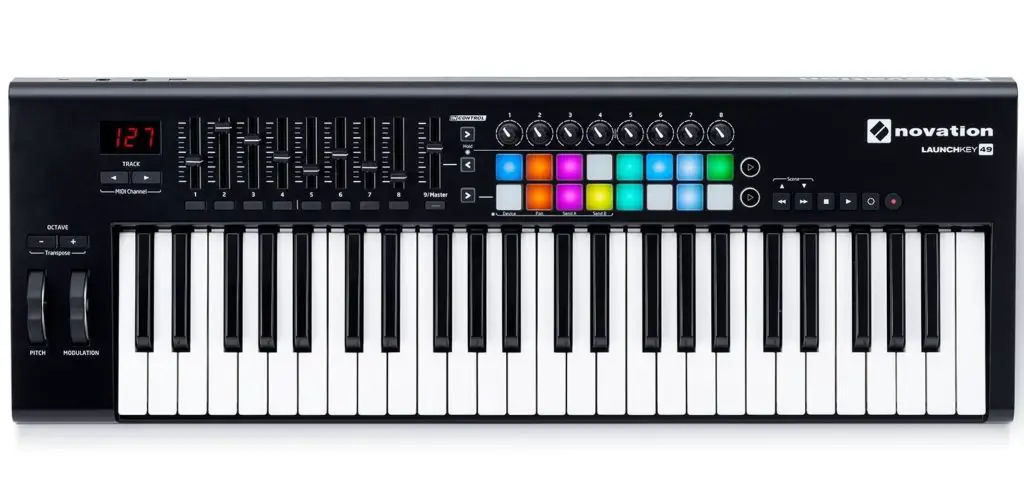 The best keyboard to learn on? – Making the decision
When it comes to making your decision, you should be considering 3 key factors.
1. Build Quality – You'll want a robust quality keyboard with highly sensitive, weighted keys with great responsiveness that will give a fantastic playing experience.
2. Price – It kind of goes without saying that price will play a defining factor in your decision. Luckily there are many incredible quality keyboards out there coming in under $100.
3. Additional controls / build-in sounds – Most keyboards comes with on-board features and controls such as pitch / modulation wheels, parameter sliders and responsive touch pads. These can be very handy, especially if you're wanting to get started in music production.
Many keyboards also have build-in sounds, although these may not be a driving factors if you're looking to create music within a DAW.
Below are our top picks for the best keyboard to learn on.
---

---
The Best Keyboard to Learn on in 2022

We've been fans of Roland equipment for a very very long time, and this keyboard is no exception.
This 61 key – Keys GO is a simple, effectively designed keyboard that is perfect for a beginner.
The build quality is superb, with sensitive ivory feel keys that feel light and easy to play. But the best part about this product is definitely the sound bank. It contains over 500 professional quality sounds: pianos, synths, strings, bass, brass, and more. The sounds are perfectly sampled from classic Roland synths and provide a huge range of sonic inspiration.
| ❁ Pros: | ❁ Cons: |
| --- | --- |
| ➭ 500 incredible sounding build-in sounds of classic Roland synths | ➭ Built-in speakers aren't the best quality |
| ➭ 61 full size keys | |
| ➭ Category buttons for simple sound navigation | |

---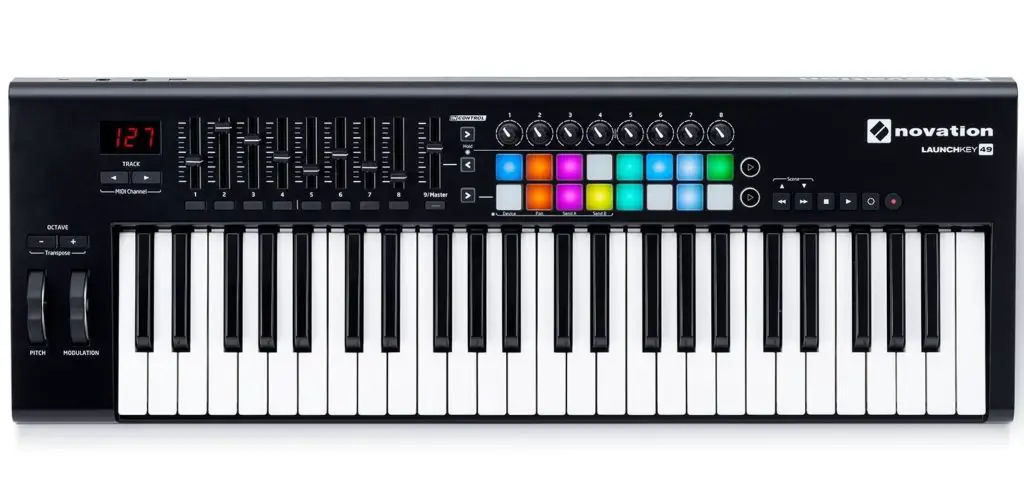 The Launchkey Mk2 from Novation is an innovative, high quality MIDI keyboard controller perfect for beginner music producers.
The keyboard has 49 weighted keys with a great, professional feel. It also has several additional on-board controls: 16 colored, back-lit, velocity-sensitive drum pads, 9 faders, a pitch bend/modulation wheel and more). So you get a lot of bang for your buck.
Unlike some other keyboards on this list, it has no built-in sounds as it is primarily designed around controlling your DAW and playing MIDI sequences.
So it can be used to control sound within your DAW but does not contain any sound itself.
This MIDI keyboard comes with a Ableton Lite, allowing you to test the superb connectivity between this device and Ableton, right down to the colour-coded touch pads. However, for other DAW users, do not let this put you off, the launchkey Mk2 functions extremely well with other programs.
Click here for our guide on choosing a DAW.
| ❁ Pros | ❁ Cons |
| --- | --- |
| ➭ Live performances: Links with Ableton for flawless live tracking and mixing | ➭ Designed around specific DAW, may not be as powerful with another DAW. |
| ➭ Affordable: Very cheap considering the amount of features. | ➭ Doesn't seem that durable and some of the materials feel slightly cheap |
| ➭ Several additional features: 16 soft pads, 9 faders, pitch-bend wheel etc | ➭ To plug into an iPad, a powered USB hub is required |
| ➭ Included software: Ableton Live, Novation Bass Station Vst, Addictive Keys | ➭ Lacks aftertouch |
| ➭ DAW Integration: All the features integrate with Ableton extremely well | |

---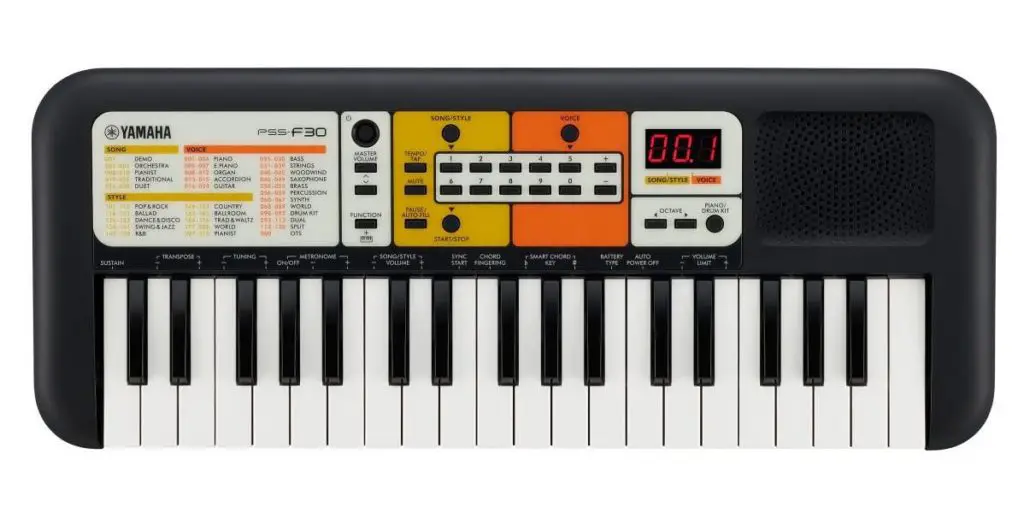 Firstly, it is important to note this keyboard is specifically designed for younger players or children, so may not be suitable for everyone reading.
This compact keyboard has 37 great quality mini keys and is extremely portable, weighing in at just over 3lbs.
It is extremely easy to use with a very simplistic design, making it perfect for beginners. It also comes with 120 instrumental sounds and 114 backing styles, so there's a decent level of build-in options to play around with.
However, if you're an adult looking for a more professional level keyboard with full sized keys, this probably isn't the keyboard for you.
| ❁ Pros: | ❁ Cons: |
| --- | --- |
| ➭ Cheap | ➭ Not a huge amount of build- in sounds |
| ➭ Highly Portable | ➭ Not designed for professional players |
| ➭ Very easy to use | |

---

The Yamaha PSR-E263 is an ideal keyboard to learn on, as it is packed with powerful features, including some for learning and understanding music theory.
It has 61 keys and contains an impressive 400 voices, including a beautifully sampled grand piano, and an array of electric pianos, brass, percussion and sound FX.
One of the main reasons this keyboard is the best keyboard to learn on (or one of!) is it's "Education Suite" mode. This feature contains many teaching aids, such as listen mode and timing mode. Timing mode, for example, will play a backing track and allow you to play along, but the track will "wait" if you are falling behind on the timing.
For a cheap, easy to use, sturdy keyboard to learn on, this keyboard is absolutely worth checking out.
| ❁ Pros: | ❁ Cons: |
| --- | --- |
| ➭ Cheap | ➭ None that we could find! |
| ➭ Highly Portable | |
| ➭ Very easy to use | |
| ➭ "Education Suite" for learning | |

---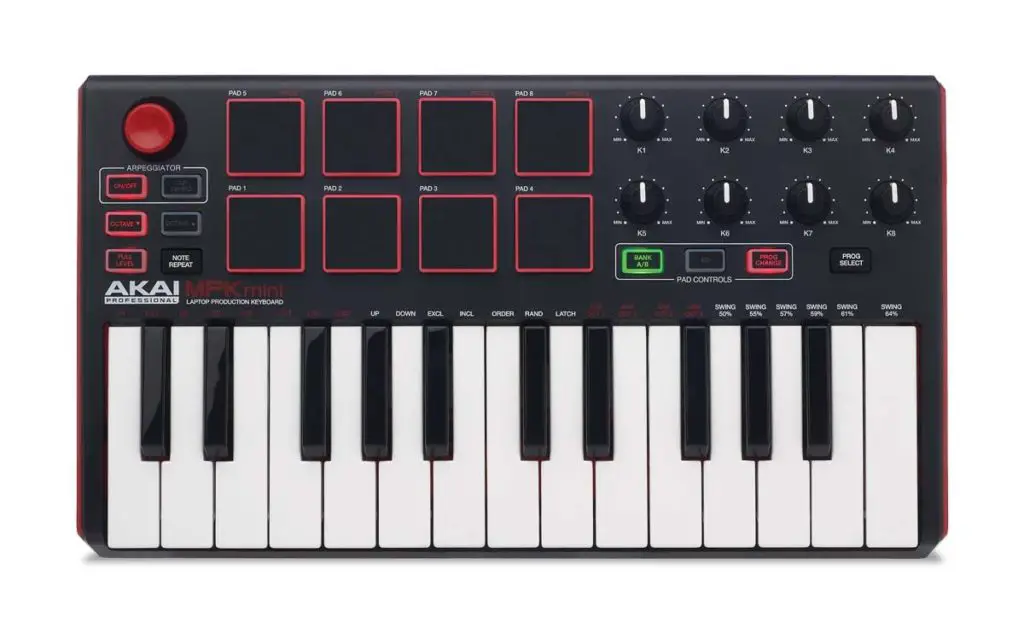 The last entry on our list is another MIDI keyboard. Therefore it does not contain any built in sounds, and requires to the connected up to a DAW or similar program to function.
Akai's "MPK Mini Mk2" ranks among the best and most popular MIDI keyboards on the market, mainly due to it's small, compact size and low price tag. We have been fanboys of Akai for many years, and their MPK series remains the best MIDI controllers for beginners on the market. This device is the perfect example of a keyboard that is great to learn on as it is incredibly versatile and high quality.
The keyboard also has 8 highly responsive touch pads that can be used to program drum sounds and other elements. It also has 8 knobs that can be linked to almost any effect or automation within your DAW. This allows for a highly responsive, hands-on approach to track or effect modulation.
One of the features of this MIDI keyboard that may be polarising to producers is the smaller sized keys, so for those looking to play complex sequences and patterns may run into trouble.
| ❁ MAIN BENEFITS | ❁ MAIN DOWNSIDES |
| --- | --- |
| ➭ Portable: Can easily fit in a standard laptop bag | ➭ Mini keys may be a downside to certain producers |
| ➭ Affordable: One of the cheapest Mini keyboards on the market at around $100 | ➭ Knobs are fairly small to fit within the small layout of the device |
| ➭ Several additional features: 8 soft pads, 8 knobs, 4-way joystick controller | ➭ Not suitable for live performances, controller is too small with no live editors |
| ➭ Included software: VIP 3.0 and MPC Essentials | ➭ Been out on the market for a while now (if that's even a downside!) |

---

---