The 8 Best FREE Delay VST Plugins (2022)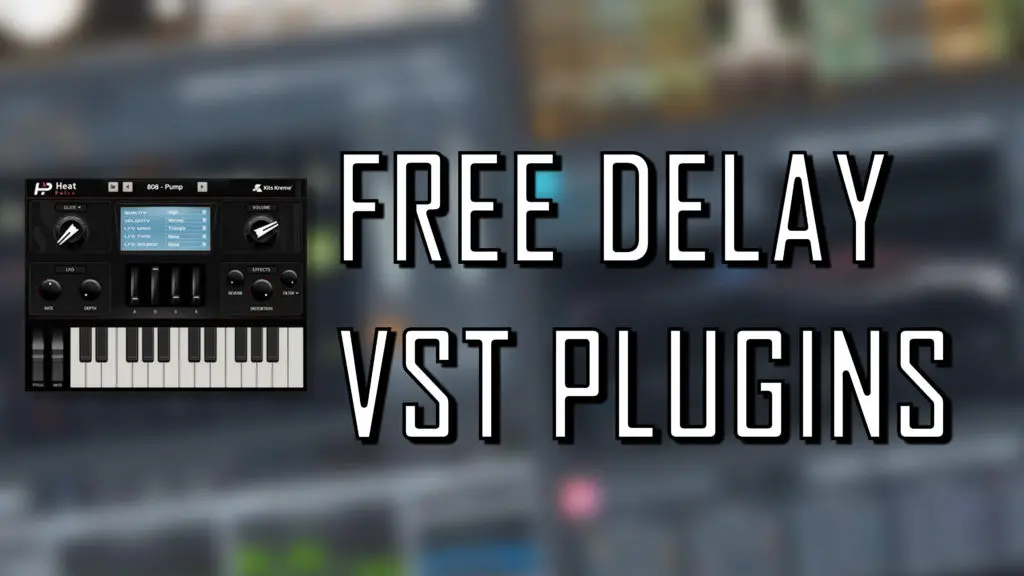 "What are the best free delay VST plugins out there in 2022?"
Delay and reverb are both the result of repeating an audio signal, and while reverb is based on extremely fast, continuous repetitions, delay effects are based on more controlled timings.
It's easy to think of delay as an "echo" sound, and this concept is one of the most important, powerful production tools in modern music.
A couple of terms you'll need to know when experimenting with delay effects are:
Feedback: The number of times the sound is repeated.
Delay time: The time interval between each audio signal repetition.
There are many incredibly powerful delay VST plugins available, and all DAWs will come with one or two decent delay tools.
However, if you're not ready to reach for your wallet just yet, there are a great selection of free delay plugins that are capable of creating fantastic-sounding delay effects similar to commercial plugins.
Below are the best free delay VST plugins in 2022, that will give you professional options without ever spending a penny.
---
The Best Free Delay VST Plugins in 2022 (+ Download Links)

I've been a fan of TAL's range of VST plugins for a while now, and their collection of free plugins are somewhat of a hidden gem in the plugin world.
TAL-Dub-3 is a simplistic free delay plugin with a few tricks up it's sleeve. It has an alias-free saturation option, a non-linear 6dB low pass and a 3dB high pass filter that are included in the feedback path of the device. Delay times can be set up to 4 seconds, and include sync patterns: 1/16, 1/8, 1/4, 1/2, 1/1, 2/1 plus tripled and dotted notes.
This is an excellent plugin for beginners as it has an extremely easy to use interface, while still having enough features to experiment with various delay parameters and effects.
Available for both Windows / Mac and 32-bit / 64-bit.
---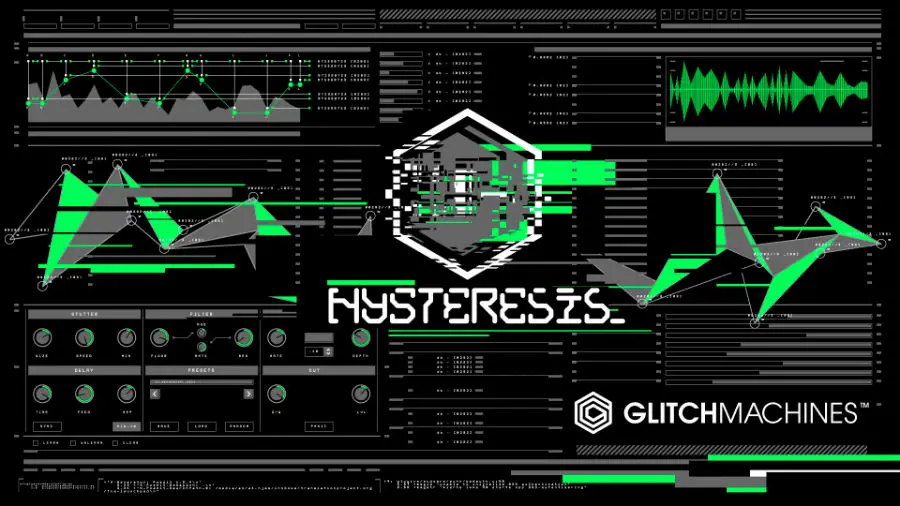 This plugin is definitely a little out of the ordinary. Glitchmachines can be described as a ping-pong delay tool with a corrupted feedback path.
Due to the corrupted nature of the feedback path, the delay effects produced are usually weird, glitched or downright chaotic. This makes it easy to infuse your sounds with glitchy effects and abstract textures. It should be noted this plugin can also be used to create classic delay / stutter effects.
The interface also contains a stutter section, a low-pass filter, and a modulation matrix for some extra sound manipulation options.
Available for both Windows / Mac and 32-bit / 64-bit.
Here are the best (early) Black Friday deals in 2022. Don't miss out! (Click here for the full list).
---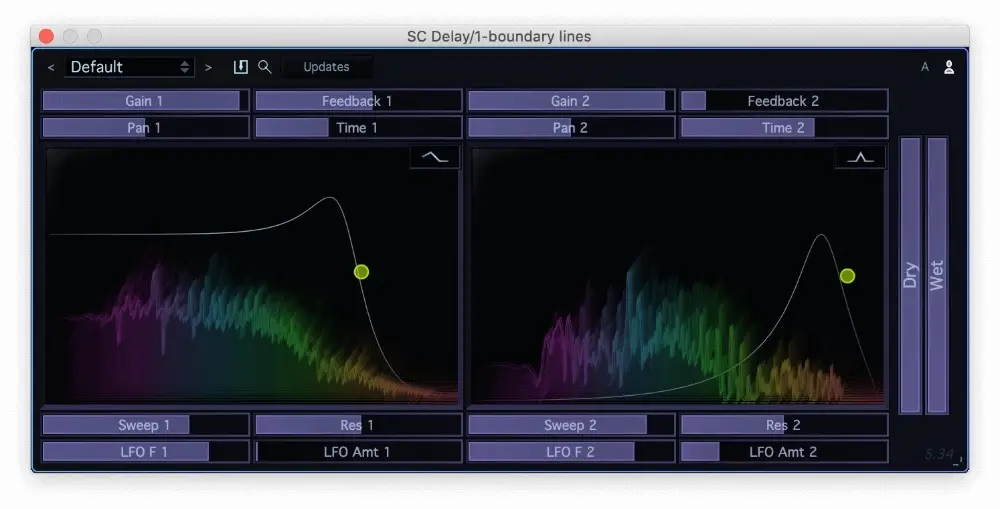 Stagecraft's Delay plugin takes a modern, visualized approach to creating delay effects. This plugin has two high resolution FFT spectrum displays that display your delay feedback signals in real time.
This dual band delay tool also includes a quantizable delay time feature, pan, feedback, response, and sweep down options for added versatility.
This is unique, surprisingly powerful delay VST plugin that is definitely worth checking out.
Available for both Windows / Mac and 64-bit only.
---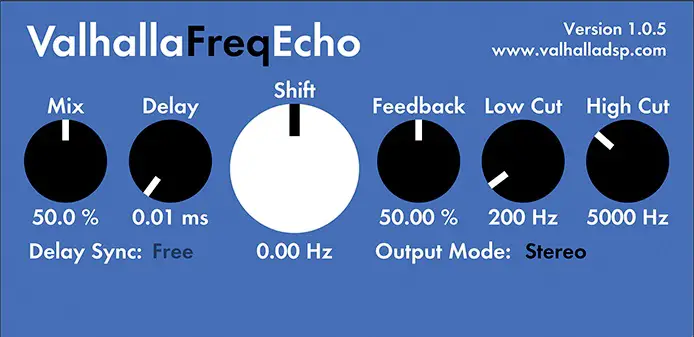 Valhalla Freq Echo is another simple free delay VST plugin with an incredibly easy-to-understand interface.
Advanced producers may not find much use for this plugin, other that quick, CPU-light delay effects (although having said that, I've managed to make some funky delay sounds using this plugin). This is an ideal tool for beginners to learn the basic concepts and functions of delay effect processing. On top of this, the sound quality of this plugin is really impressive.
Available for both Windows / Mac and 32-bit / 64-bit.
Here are the best (early) Black Friday deals in 2022. Don't miss out! (Click here for the full list).
---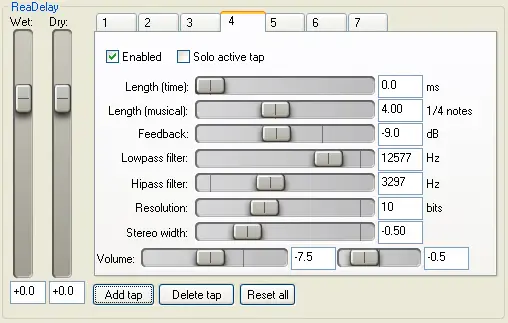 Readelay is a free delay plugin that comes as part of the ReaPlugs VST FX Suite. Don't worry, this collection of plugins can be used in any DAW (not just Reaper), but Readelay must be downloaded with the entire suite.
The plugin is very versatile, and contains a lot of creative possibilities within the various delay parameters.
In all honesty, the layout / engine is kind of hideous. But if you're willing to look past this, Readelay is a great tool for more experienced producers to create and fine-tune a wide scope of delay effects.
Available for Windows Only and 32-bit / 64-bit.
---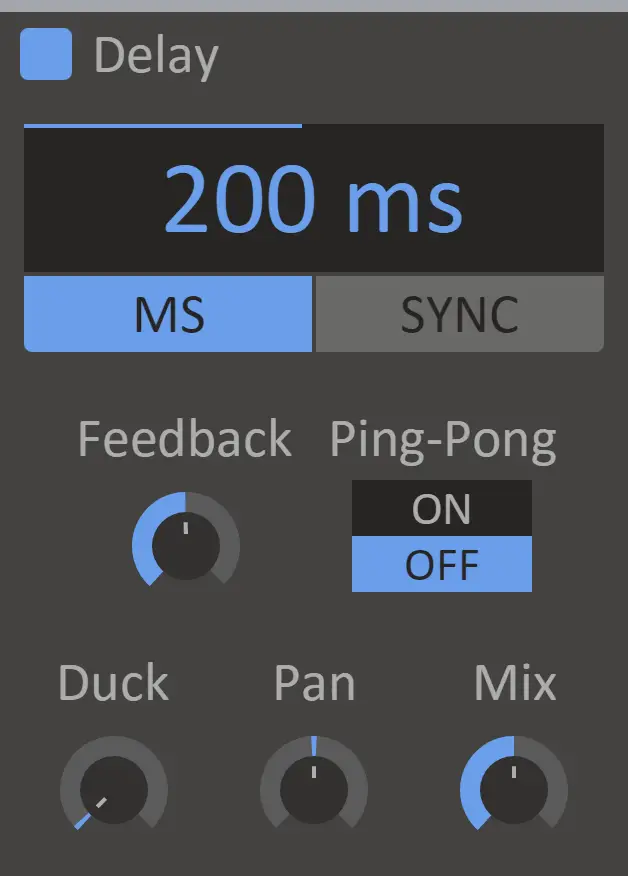 As you can probably guess from the image above, Delay Snapin is an incredibly basic, easy to use plugin with a very stripped-back, simple design.
This is definitely a plugin geared towards instant, straight-forward delay effects with very little CPU-usage. It can be used both free-running and host synced.
It's worth mentioning it does include a duck parameter, which removes the dry input signal while still letting the delay tail through. This allows for longer, layered delay effects while still avoiding clutter over the original sound.
Available for both Windows / Mac and 32-bit / 64-bit.
Here are the best (early) Black Friday deals in 2022. Don't miss out! (Click here for the full list).
---

NastyDLA is definitely one of the more popular free delay VST plugins, and for good reason. There are a huge amount of features available for a free plugin, and the engine design is incredibly sleek and reminiscent of vintage effect hardware.
This plugin is capable of classic chorus and echo effects, authentic signal path coloration and tape-delay style feedback and saturation. It also has two excellent-sounding feedback color modes to choose from.
I'm a huge fan of Variety of Sound's free plugins, and this one does not disappoint.
Available for Windows Only and 32-bit / 64-bit.
---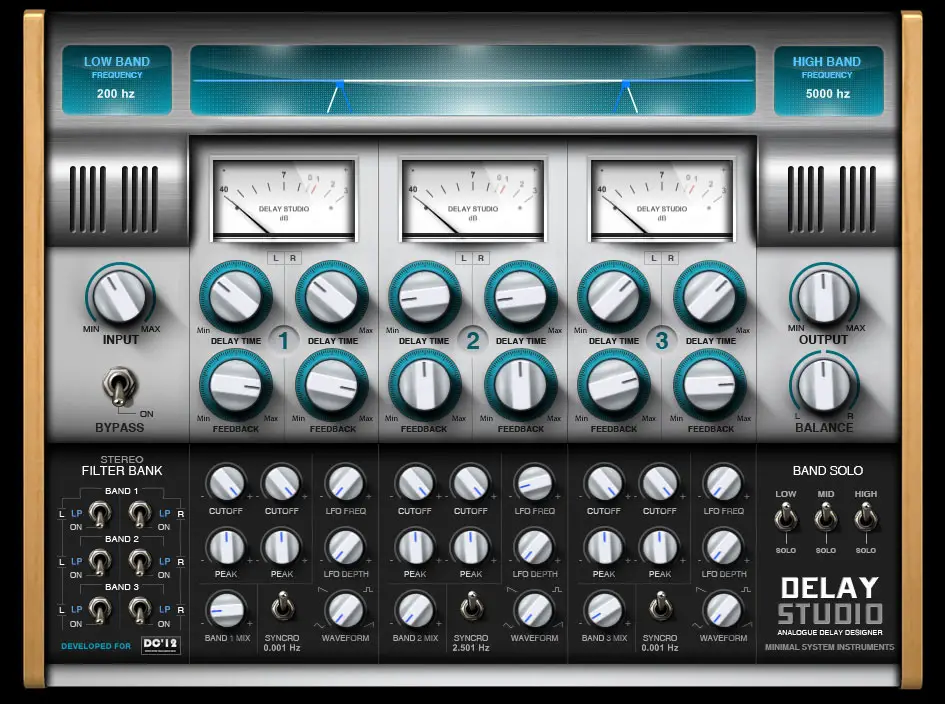 Delay Studio is a powerful, highly creative multi-band delay VST plugin which has all of the tools needed to create a huge variety of delay effects. In the words of Minimal System Group: "Delay Studio will turn any flat, uninspiring sound into a beautiful sonic masterpiece".
This plugin has 3 fully configurable independent delay bands (Low/Mid/Hi) with complete and accurate control over the frequency width of each band (Frequency Range 0hz to 20,000hz).
Delay Studio definitely has a bit of learning curve for beginners, simply due to the huge amount of parameters available, but it's definitely still worth checking out.
Available for Windows Only and 32-bit only.
---

---
Best Free Delay VST Plugins 2022: Similar Articles
8 Best Free Filter Plugins (2022)
The 8 Best Free VST Instrument Plugins (2022)
Top 8 House sample packs (100% Royalty Free 2022)