The 8 Best Free VST Instrument Plugins (2022)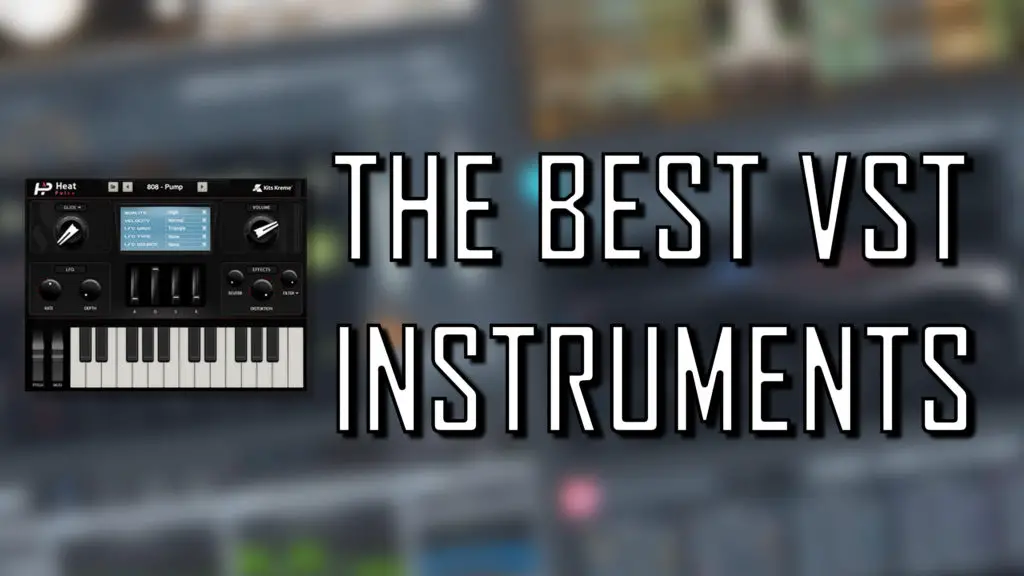 "What are the best free VST instrument plugins?"
VST plugins can be split into two main categories:
VST Instruments: These plugins generate audio and act as virtual instruments within the software. They often emulate iconic, classic sounds of famous synthesizers and other instruments.
VST effects: Instead of synthesizing audio, these plugins process and add effects to existing audio or MIDI sequences. These effects include compression, delay and reverb.
Without a doubt, VST instruments are the most effective method you can use to transform the way you create music. From authentic, vintage keys and other instruments to immensely powerful soft synthesizers, the creative possibilities of these virtual instruments are staggering.
I have been using VST instruments more or less since the first day I began making music 10 years ago. Using many different plugins over the years has allowed me to not only discover some pretty crazy sounds, but has given me a strong understanding of sound design and manipulation.
So if you're just starting out in music production, downloading some high quality VST instrument plugins is absolutely essential.
The Best Free VST Instrument Plugins
Many of the most popular VST instruments, such as Massive or Omnisphere, come with a fairly high price tag. If you're a music production beginner, you may not be ready to fork out hundreds of dollars on various production effects and plugins just yet, which is completely understandable.
So you're probably wondering: are there any actual good quality FREE VST instruments out there?
The answer is undoubtedly yes. There is an enormous amount of incredibly powerful, free VST instruments out there, and many of them sound just as good as the commercial plugins.
To save you the hassle of trawling the web for free VST instruments, I've put together this list of the best free VST instrument plugins that are a cut above the rest.
Click here for our guide to the top 100 FREE VST plugins of all time.
---
The video version…
In the video below we go through our top 10 picks for FREE VST plugins as of 2022. You can either watch this video, or keep scrolling to read more!
---
The Best Free VST Instrument Plugins in 2022 (+ Download Links)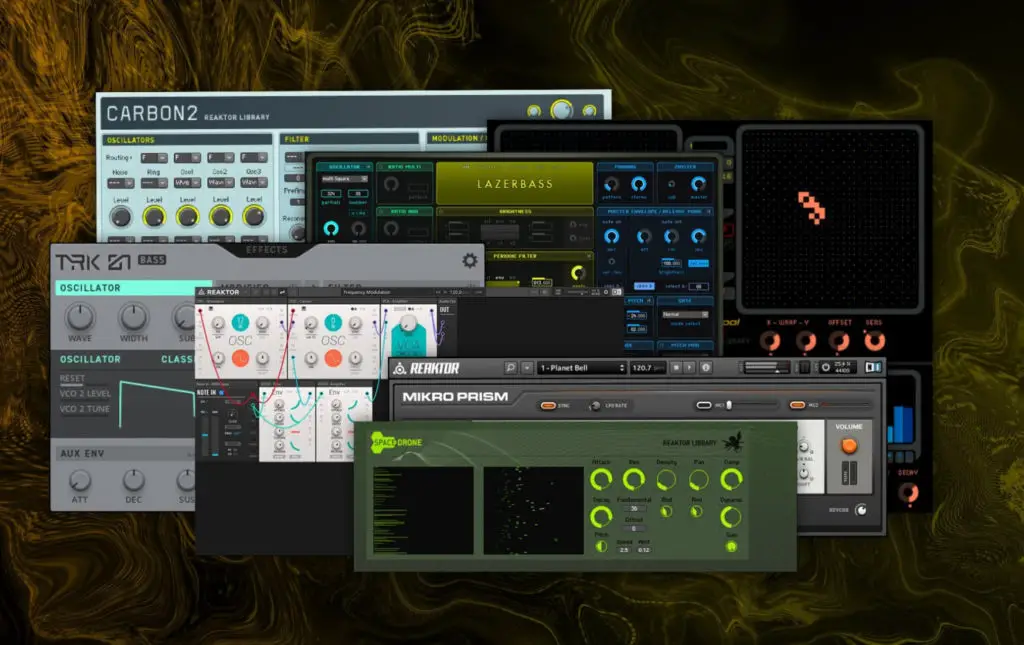 Native Instruments' huge collection of virtual instruments and effects is the gold standard when it comes to music production plugins. Their VST instruments in particular are among the best, most beautifully designed synthesizers I have ever used.
Their Komplete collection was one of the first major purchases I made for music production software, and to this day I use their plugins religiously.
Kontakt Start is an enormous free bundle of some of their synths and effects.
It is a fantastic way to get started with Native Instruments' Kontakt plugins, as it includes a huge FREE collection of synthesizers, instruments, plugin effects and almost 1,500 loops and samples. Personal highlights for me include the incredible TRK-01 bass synthesizer, and VINTAGE, their superb analog synthesizer.
Click here for a FREE download.
---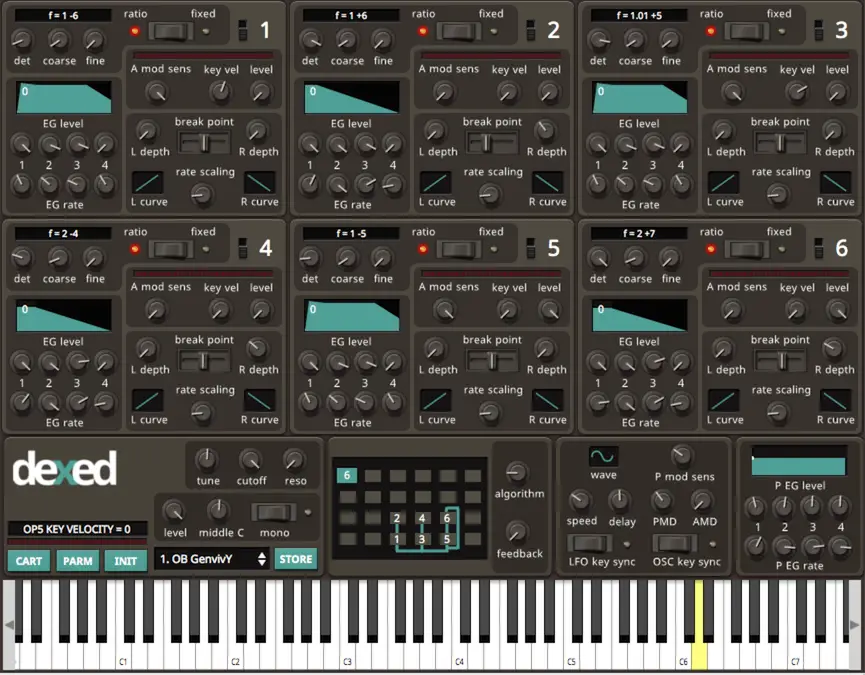 Finally, an easy way to get a Yamaha DX7 for free…
Well, not really, but close enough. Dexed is a highly versatile multi-platform, multi-format plugin synthesizer that is closely modelled on the iconic Yamaha DX7.
This plugin is a patch editor of the DX7, but also has it's own in-built sound engine so it can be used to play real DX7 patches as well, and believe me, this thing sounds fantastic.
The interface has 144 automatable parameters in the form of various sliders, buttons and knobs on one single panel. This makes it appear a little overwhelming for beginners, but after playing around a little with the software, it's a very powerful piece of free software.
Dexed can also load any of the classic presets from Yamaha's hardware synthesizers like the DX7 or the TX81Z, which can then be manipulated to a crazy extent. There are also a massive amount of patches available online that can easily be inputted into the plugin.
Click here for a FREE download.
---
Here are the best (early) Black Friday deals in 2022. Don't miss out! (Click here for the full list).
---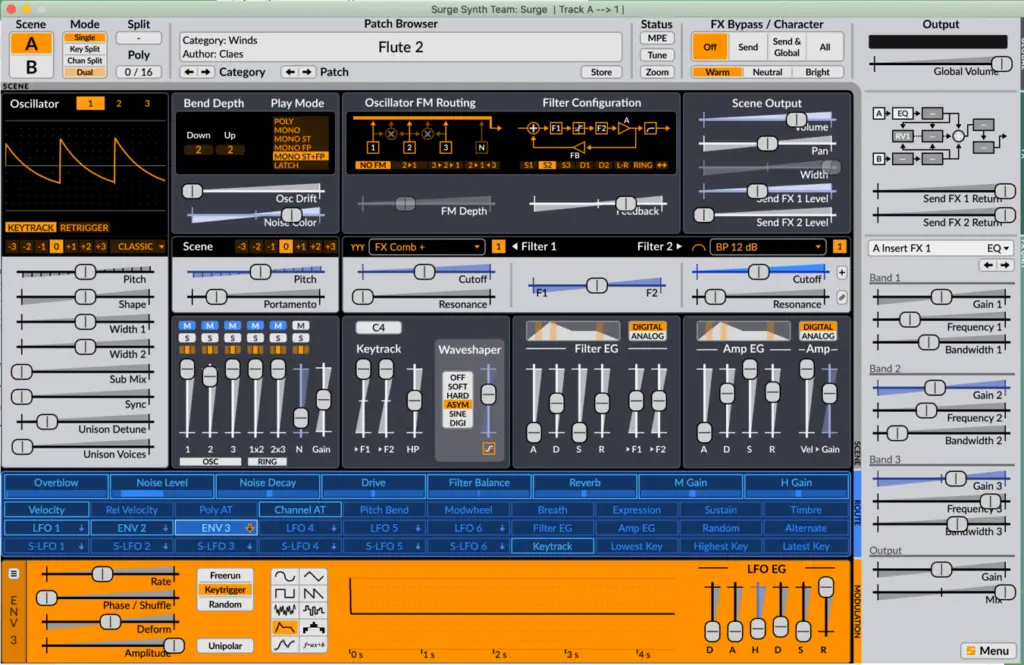 Surge is another example of an immensely powerful virtual instrument, available as a free download.
This is a subtractive, hybrid synthesizer plugin features two "scenes"; which can be used to create and edit two entirely separate instances of the synth.
The synth features many unique synthesis techniques, a great selection of filters, a flexible modulation engine, a wide range of on-board effects, and modern features like MPE and microtuning.
It also comes packaged with a whopping 2285 patches and 614 wavetables!
The interface is relatively beginner friendly, and for a free plugin this thing has an enormous amount of creative flexibility and is capable of creating a huge amount of professional-quality sounds. To this day, I have absolutely no idea why Surge is free.
Click here for a FREE download.
---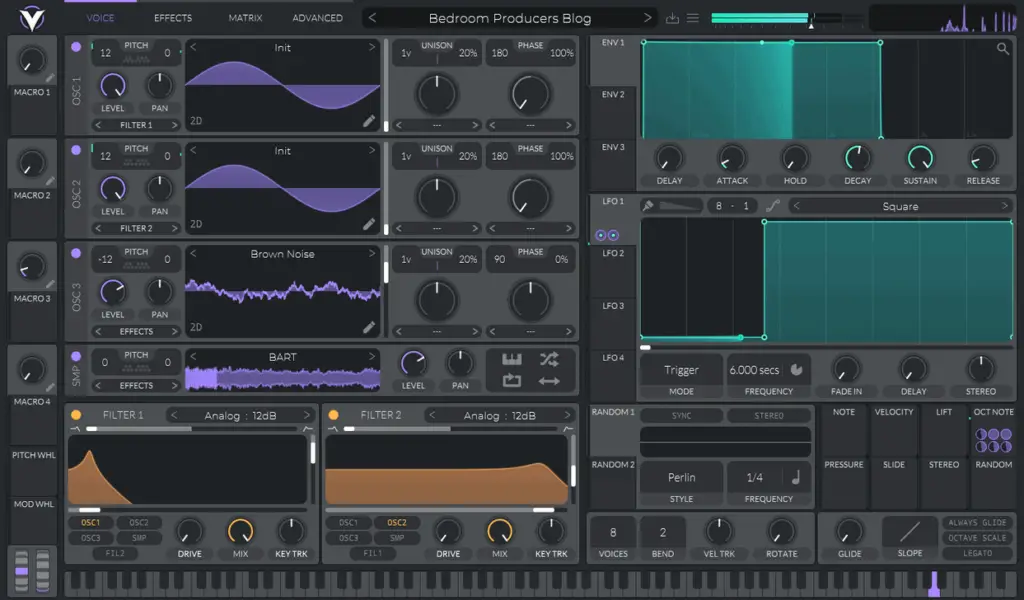 In late 2020, Tytel released Vital, a freeware spectral warping wavetable synthesizer with a staggering list of features and on-board controls. This is undoubtedly one of the most exciting audio plugin releases in a long time, especially given the fact there's a FREE version available.
The free edition of Vital includes all the core functionality of Vital, and comes with 75 presets and 25 wavetables.
Vital features 3 powerful, high-quality wavetable oscillators, each with frequency warper and waveshaper controls. An additional sample slot is also available, which can be used to add noise or other audio textures. Vital also features an on-board wavetable editor, allowing you to warp and manipulate the wavetables to your hearts content.
The 3 oscillators and the sample slot can be individually routed to two filter modules, and you can also assign 3 envelopes, 4 audio-rate LFOs, 2 randomizers, and several other modulation options. There is also an extensive effects rack, featuring phaser, reverb, delay and other audio effects.
The one downside is that the CPU-usage is fairly high, so if you're using a slower system, it may struggle with multiple loadings of the plugin. However, a single instance should normally be okay.
Overall, Vital is definitely the best free synth plugin in 2022, and no other free plugin matches it's incredible design and creative flexibility.
Click here for a FREE download.
---
Here are the best (early) Black Friday deals in 2022. Don't miss out! (Click here for the full list).
---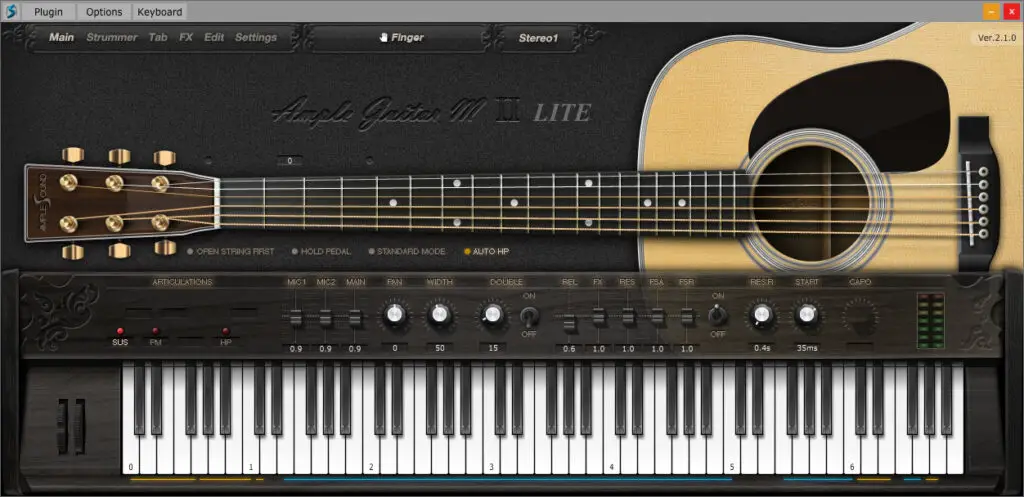 M Lite II by Ample Guitar is easily the most versatile, gorgeous sounding FREE guitar VST plugins ever made.
With it's realistic sound and endless customisation options, M Lite II bridges the gap between virtual and real guitar performances like no other plugin.
The sound quality is absolutely stunning, and this free virtual instrument gives a rich, warm tone full of detail and clarity. There is a noticeable amount of variation and expression in each note played, and these sonic "imperfections" (and I mean that in a good way!) create an effortless, realistic playing experience.
The plugin engine is also PACKED with additional features, such as capo logic, doubling (separate samples for L and R), legato, slide, string tuner, and more.
As far as free VST instruments go, this is easily one of the best sounding plugins out there.
Click here for a FREE download.
---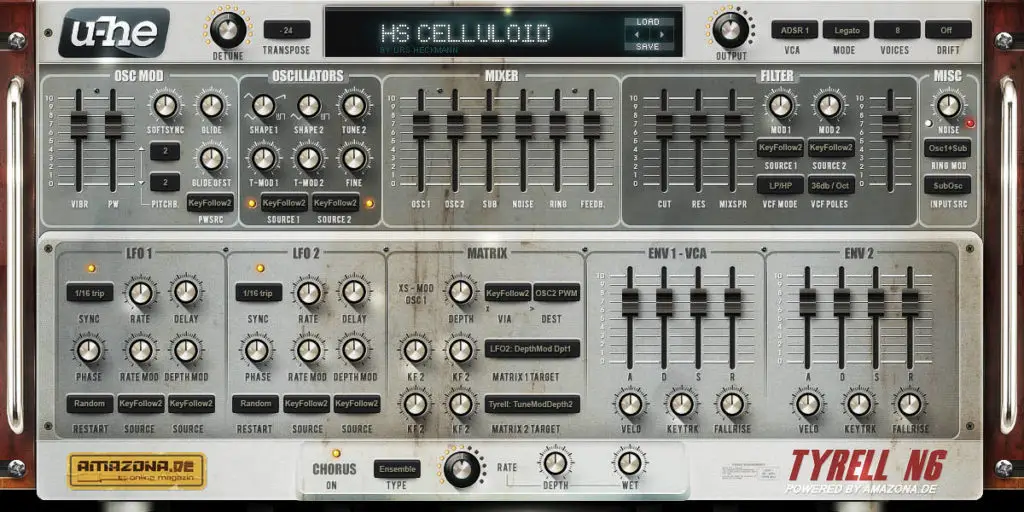 U-he Tyrell N6 is somewhat of a hidden gem in the VST instrument plugin world. If I'm being honest, I have absolutely no idea why this plugin is free.
This free virtual instrument is a compact, extremely powerful subtractive soft-synth that is capable of producing and manipulating high quality sounds on an unimaginable scale.
Tyrell N6 has 2 oscillators, noise, a ring modulator and 2 LFOs with 8 waveforms, as well as an audio source mixer with authentic overdrive and filter feedback.
It also comes for 580 high quality, fully customizable presets and many more can be found online, so if you're in need of rapid sonic inspiration, this plugin will have something for you.
This free VST instrument is a no brainer for both beginner and advanced producers.
Click here for a FREE download.
---
Here are the best (early) Black Friday deals in 2022. Don't miss out! (Click here for the full list).
---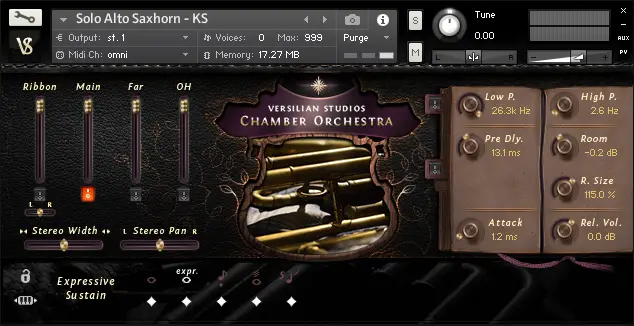 VSCO 2 Community Edition is an open-source orchestral plugin that is perfect for composers and producers looking for authentic, professional sounding, FREE orchestral sounds.
This beautifully designed VST instrument plugin gives you endless sonic possibilities to create, explore and experiment with the sampled sounds of real musicians.
The sampled instruments include various woodwind instruments, brass instruments, keys, complete string sections and a huge variety of orchestral percussion sounds.
The free download comes with a staggering 3.2 GB of content and 3,152 sampled sounds, making it one of the largest and most comprehensive free plugins you'll find.
Click here for a FREE download.
---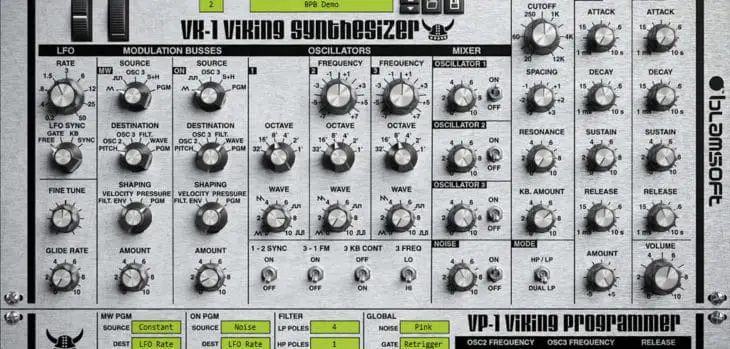 VK-1 Viking Synthesizer is a powerful plugin capable of creating rich, smooth, and creamy sounds.
This free virtual instrument plugin is an authentic emulation of a classic monophonic analog synthesizer. It has three continuously variable wave oscillators, two ladder filters with a dual lowpass or highpass/lowpass configuration, a multi-wave LFO, and two modulation busses.
VK-1 comes with 228 presets to play around with that will instantly spark your creativity.
Plus, for a plugin with a fairly extensive range of on-board features and controls, this synth remains really low on CPU-usage.
Click here for a FREE download.
---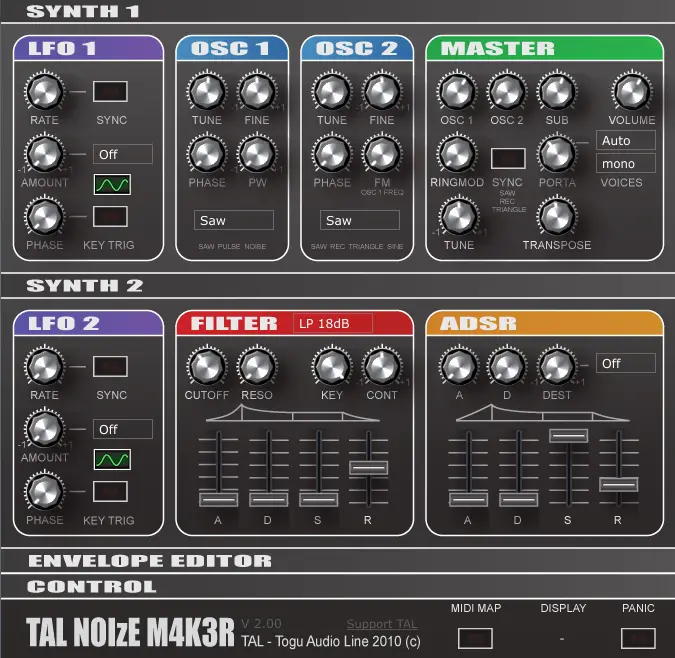 TAL – Noisemaker is a great free VST instrument, capable of creating a range of high quality sounds for any genre. The plugin comes complete with three oscillators, along with several built-in effects such as reverb, delay, various filters, modulators, and a great sounding bit-crusher effect.
The NoiseMaker is capable of creating a huge variety of simple and complex sounds, from long, spacious, evolving pads as well as heavier, fast-envelope sounds.
This plugin is an improved, updated version of TAL-Elek7ro, with a completely new synth engine and several improvements in quality and functionality.
This plugin also has 256 factory presets included, designed by award-winning Frank "Xenox" Neumann who has made sounds and presets for Yamaha and Ableton.
Click here for a FREE download.
---

---
Best Free VST Instrument Plugins – Similar Articles:
The 8 Best FREE VST Synth Plugins (2022)
Vital – A FREE Revolutionary Virtual Wavetable Synthesizer?
The 5 Best VST Plugins for Beginners (2022)