The 6 Best MIDI Drum Pad Controllers in 2022 (For Any Budget!)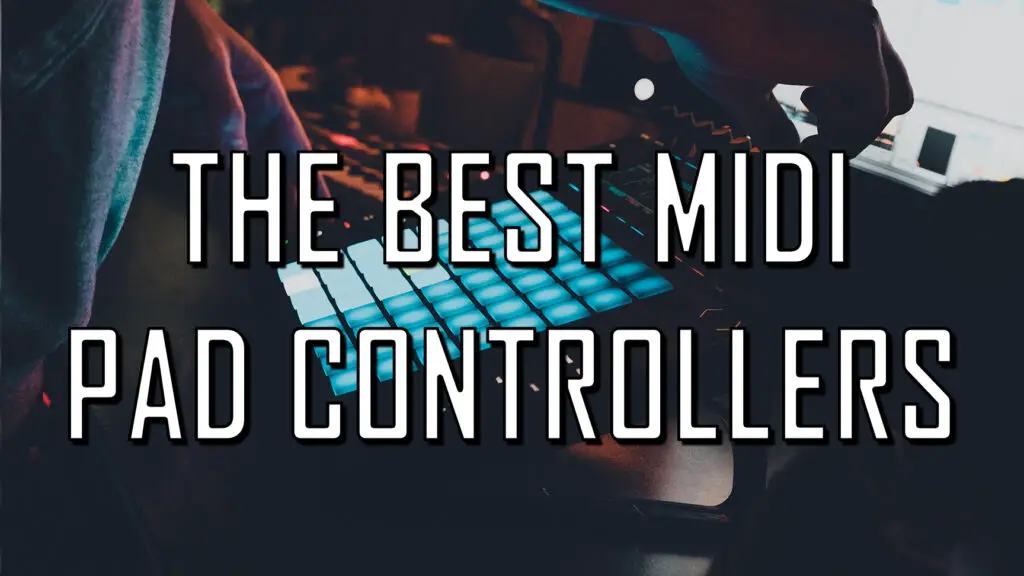 "What is the best MIDI drum pad controller for me in 2022?"
In recent years, MIDI drum pad controllers have become incredibly popular, with many producers utilising these controllers as the centerpiece of their production arsenal.
This surge in popularity is mainly down to the technological leap from the first MIDI pad controllers to the fully-fledged controllers on the market today. Originally, drum pads were designed for producers to tap out simple beats using only a handful of drum samples. Nowadays, these things can compose melodies, arrange tracks and link seamlessly to your DAW controls.
---
Do I need a MIDI drum pad controller?
If you're on the fence about buying a drum pad controller, I'm not here to try to convince you either way. For many producers, drum pad controllers are a key component of their studio setup, yet for others they are fairly unnecessary. It all comes down to your style of production.
MIDI drum pad controllers are commonplace in hip hop and electronic music, not only for tapping out beats, but triggering samples and various DAW controls. From my personal experience producing these genres, MIDI drum pads are a game-changer, and will no doubt transform the way you create music.
However, if your production style is more based around multi-tracking bands or live instrumental performances, a MIDI drum pad controller may be less useful.
I'd recommend a MIDI pad controller to producers who sometimes like to get outside of the constraints of their DAW. These days, drum pads are essentially an instrument, so you can really feel out new grooves and drum / percussion patterns, as opposed to simply keying these patterns into a DAW piano roll.
I personally have stumbled across countless drum beat patterns using MIDI pads that I would have NEVER come up with using software alone.
---
The Best MIDI pad controllers in 2022?
As you may expect, MIDI pad controllers come in all shapes and sizes, from simplistic, miniature devices to large, complex controllers with bells and whistles. When making your decision, you should be taking into account:
Price: This one kind of goes without saying. Drum pads come in at a range of prices, from around $100 to upwards of $750 (anything above that is unnecessarily expensive in my opinion). In the list below, we've included the best drum pads from low, mid and high price ranges.
Portability: If you produce beats in your bedroom: do you have the desk space for a large drum controller? Or would a more modest choice be better for your setup? It's also worth considering if you'll be taking it on the road with you.
Additional features and controls: Some drum pads have an extensive selection of additional faders, knobs and buttons for added creative control, whereas some are centered almost entirely on the pads themselves. Do you require extra DAW connectivity? Or are you happy with just having the pads and keeping the extra controls within your DAW?
---
To simplify the vast amount of options available, we've compiled this list of the 6 best MIDI drum pad controllers at a range of budgets, to highlight the main benefits and downsides of the best devices on the market today.
---
The Best Drum Machines 2022 – Our Top Picks
Best suited for: Producers looking for a fully fledged instrument controller and probably the most feature-packed, dynamic MIDI pad controller on the market.
Native Instruments' Maschine MK3 is without a doubt one of the most inspiring pieces of audio hardware I've used. It comes with with 16 velocity-sensitive, color-coded pads, and a massive range of extra features. One of these features is the top screen, which can be used to browse, and preview sounds.
There aren't many products that seamlessly integrate hardware and software as well as the Maschine MK3. This device also comes with Komplete 12 Select with 45 GB of instruments and effects for free (which is usually $199).
The pads themselves are a joy to play, and are incredibly responsive to changes in velocity. The build quality also feels very sturdy and robust, so you wouldn't need to worry if you're taking it on the road. Overall, the Maschine MK3 is definitely the gold standard of MIDI drum pad controllers in 2022.
One thing worth mentioning is definitely the price. The Maschine MK3 is definitely a higher-end drum pad, but with the inclusion of Komplete 12 Select, the value for money here is fantastic. However, if you're on a strict budget, there are other options available.
| ❁ PROS | ❁ CONS |
| --- | --- |
| ➭ Huge range of on-board features | ➭ May be a little expensive on a tight budget |
| ➭ Industry-leading quality | |
| ➭ Huge soundbank and screen to browse samples | |

---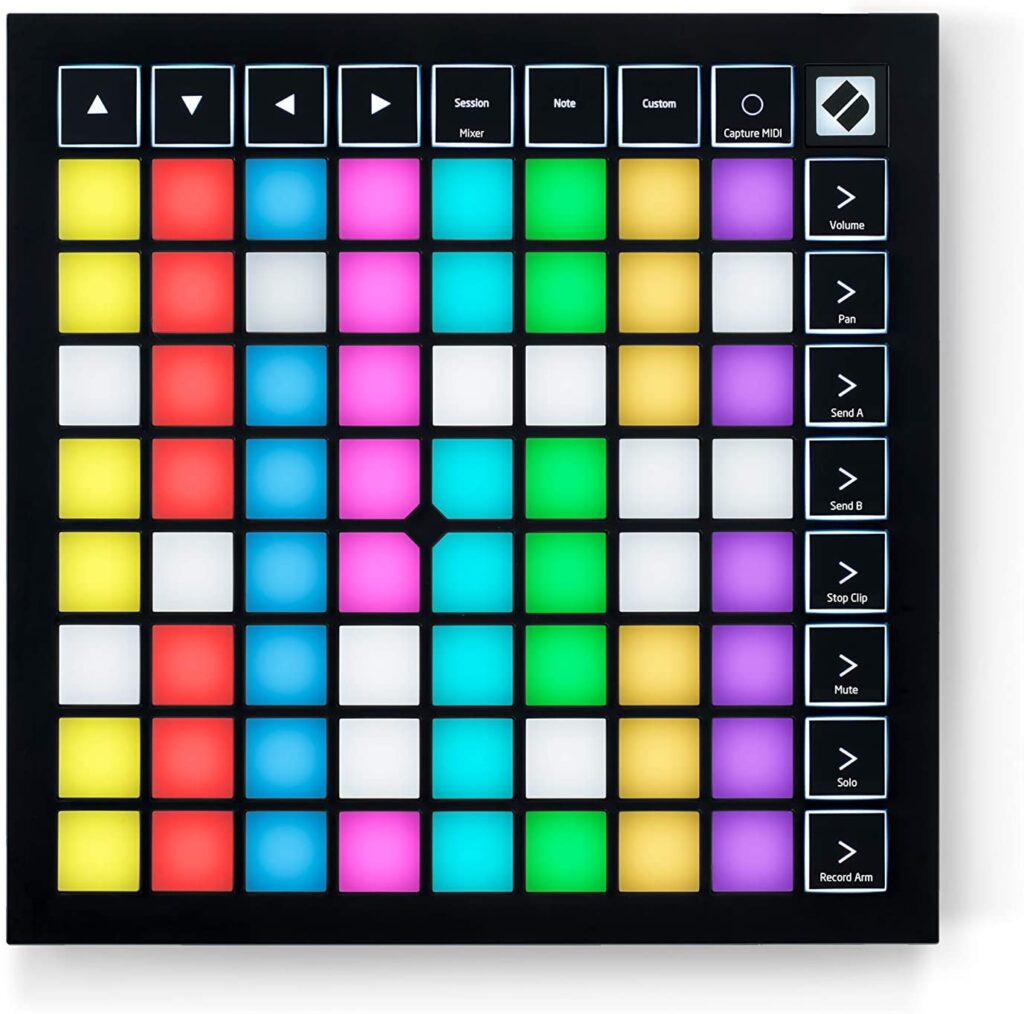 Best suited for: Producers looking for an VERY affordable, lightweight drum pad controller with a sleek, simple design.
Novation's Launchpad series are an incredibly popular choice for both beginner and advanced producers, and have proved to be highly influential on electronic and hip hop music over the years. I've lost count of how many electronic live sets I've seen where a Launchpad model was an integral part of the performance.
In quite the contrast to the Maschine MK3, the Novation Launchpad X's design is focused almost entirely on the drum pads themselves, with only a few surrounding additional features. This allows for a broader selection of sample options at one time, which for some producers is essential.
The Launchpad X model also has velocity sensitive pads, which some previous Launchpad models lacked. Novation have done a great job integrating this, as the pads feel very light and responsive.
This MIDI pad controller is also one of the cheapest options on the market, so if you're looking for a budget pad controller, I highly recommend checking this one out.
| ❁ PROS | ❁ CONS |
| --- | --- |
| ➭ Very affordable | ➭ Not much full integration with other DAWs |
| ➭ 64 velocity sensitive, high quality pads | |
| ➭ Flawless integration with Ableton Live | |

---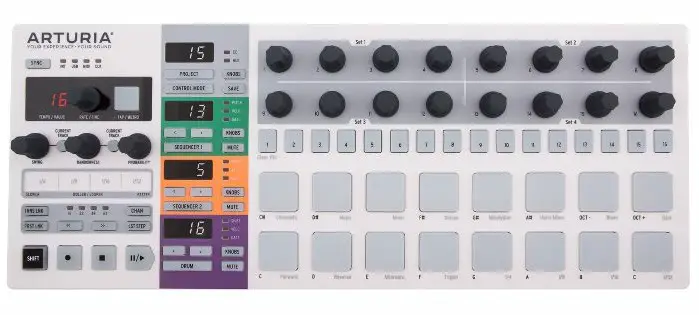 Best suited for: Producers looking for a lightweight, affordable MIDI pad controller with some powerful additional features.
The Arturia BeatStep Pro is a little different to the other controllers on this list. Firstly, to state the obvious, the layout of the BeatStep is dramatically different, with a sleek, modest 2 x 8 pad grid and a selection of controls to the left of the pads.
This intuitive layout is very useful when integrated with a DAW, as it makes it very easy to select, edit and manipulate sounds on the fly.
One stand-out feature of the Arturia Beatstep Pro are the 3 on-board, independent step sequencers that allow for everything from sequencing drum patterns to creating synth melodies and basslines. These sequences can then be stored and individually assigned to MIDI channels.
| ❁ PROS | ❁ CONS |
| --- | --- |
| ➭ Sleek, lightweight design | ➭ Could be a little TOO compact for some |
| ➭ Exceptional build quality | |
| ➭ Impressive sequencer feature | |

---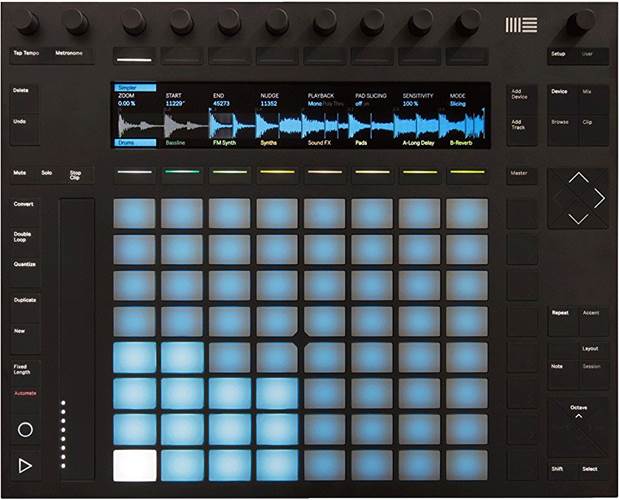 Best suited for: Producers looking for an high end MIDI drum pad controller that integrates seamlessly with Ableton Live
Over the years, Ableton Live has become one of the most popular, well renowned DAWs out there. Ableton have also released expansive MIDI controllers to compliment their software. The Push 2 has a 8 x 8 grid of velocity-sensitive pads which are surrounded by various controls and parameters, almost all of which link directly to Ableton.
These pads feel simply fantastic. They enable real time performance, step sequencing, and adjusting loop lengths, making this MIDI controller perfect for both live performance and studio use. While the interface of the Push 2 seems fairly complex, it's actually fairly easy to get your head round, and is very fun to use.
The high-res screen display also lets you select samples and zoom in on specific details for manipulating and slicing samples.
The only downside here would have to be the price. The Push 2 is definitely one of the more expensive options on the market, and I've always found it slightly overpriced. But if you're looking for an all-singing, all-dancing MIDI pad controller for Ableton, this should be top of your list, if you've got the money to spend.
| ❁ PROS | ❁ CONS |
| --- | --- |
| ➭ Feature-packed | ➭ Not useful for other DAWs |
| ➭ Incredible integration with Ableton | ➭ Expensive |
| ➭ Excellent build quality | |

---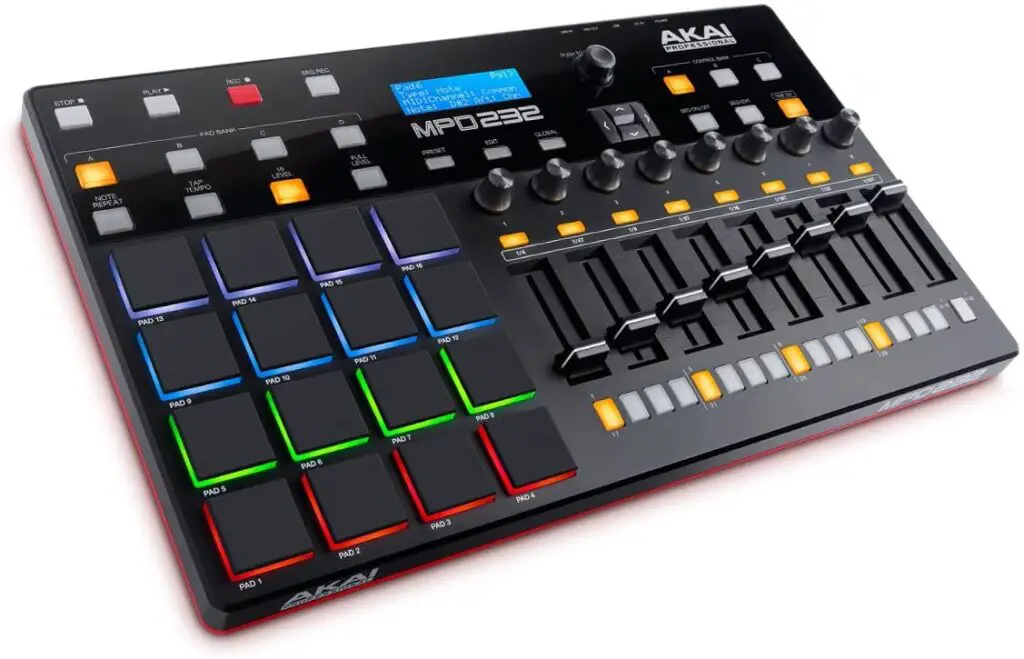 Best suited for: Producers looking for a compact, affordable MIDI drum pad with a decent array of features.
In the 90's, Akai were at the forefront of MIDI drum pads in the hip hop world, and are probably responsible for many iconic hip hop tracks from that era.
The Akai MPD 232 is a modernized, powerful drum pad controller with a clean, easy to understand design. I'd strongly recommend this controller to beginners to music production, as the layout is simple and intuitive, but there are still enough features to sink your teeth into.
This MIDI controller also has a great on-board 32 step x 64 track sequencer for a little extra versatility.
It goes without saying the MPD 232 doesn't the creative scope of a device like the Ableton Push 2, but at an affordable price, this drum pad should definitely be on your radar.
| ❁ PROS | ❁ CONS |
| --- | --- |
| ➭ Affordable | ➭ Feels a little plastic-y |
| ➭ Classic MPC-style pads | |
| ➭ Great selection of additional controls | |

---

Best suited for: Producers looking for something a little different…
Finally, I wanted to mention this often-overlooked controller that functions very differently to almost anything else on the market.
ROLI are most commonly known for their seaboard product, which offers a completely unique approach to MIDI keyboard design and playing styles. Their Lightpad Block M has a rubber, responsive surface that can be used to sequence various highly expressive patterns.
ROLI's seaboard is definitely not cheap, whereas this Lightpad comes in at a surprisingly low price range. If you're wanting to mix things up a little, this device definitely offers MIDI processing techniques not found in most other drum controllers.
| ❁ PROS | ❁ CONS |
| --- | --- |
| ➭ Capable of expressive gestures | ➭ No extra features |
| ➭ Cheap for a ROLI product | |
| ➭ Unique design can lead to new creative options | |

---
Best MIDI Drum Pads 2022: Similar Articles
6 Best Midi Keyboards for Beginners
The 6 Best Drum Machines in 2022
Best Laptop for Making Beats – Our Top Picks