6 Best Speakers for Producing Music | Our Top Picks (2022)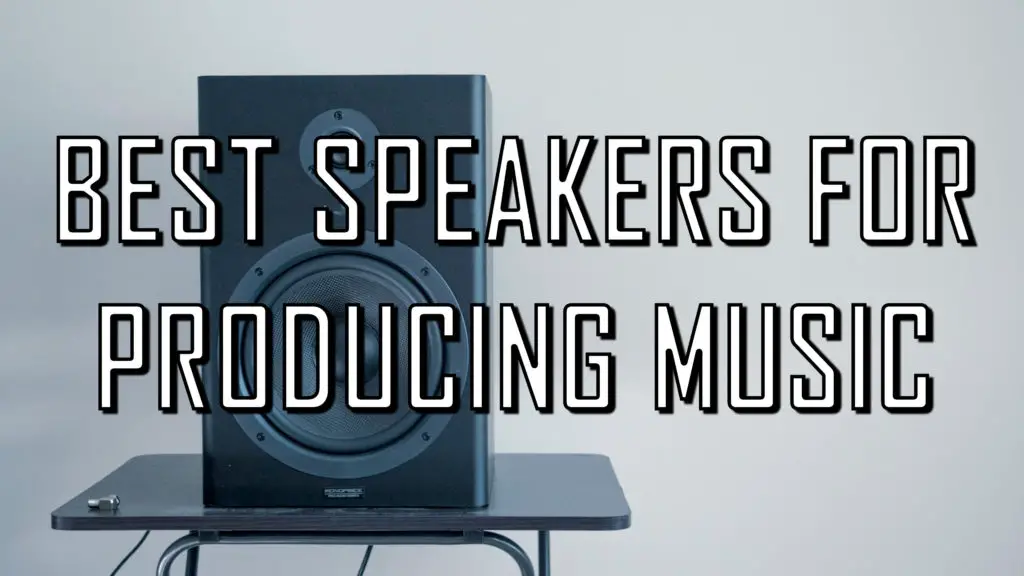 "What are the best speakers for producing music? Are there any professional quality home studio speakers that are actually affordable?"
Investing in a great pair of speakers is an essential part of setting up a home studio.
Let me describe a situation we've all probably experienced. You spend hours creating, editing and tweaking a track until it sounds perfect through your speakers, but then you play it through any another speaker or headphones and everything sounds completely off.
This can be extremely irritating and demotivating, particularly to beginners to music production.
At the end of the day, any speaker will process and play back your tracks slightly differently. But using a sub-par speaker setup to mix your tracks can give wildly inaccurate results compared to the true audio file. Not only that, using poor speakers but it can often hide blemishes and faults in your mix that would otherwise be exposed by professional speakers.
If you're serious about producing music, a pair of decent speakers should be one of your first purchases.
The best home studio speakers on a budget?
Obviously, price will be a huge factor in your decision.
In the best studios in the world, you'll find studio speakers worth well over $20,000.
I'm just going to assume this isn't the price range you'll be going for. Instead, we'll be focusing on affordable, semi-professional home studio speakers.
There are plenty of fantastic sounding, sturdy speakers within this budget that will make your tracks sound full, warm and crisp while remaining true to the mix.
When making your decision, try to factor in the reputation of the speaker company also. Companies like Yamaha and KRK are incredibly highly acclaimed music companies, and there's usually a very good reason for this…
The best speakers for producing music?
Whether you're a complete beginner or an advanced producer, knowing which speakers are right for you can be a tricky task. Speakers don't have a specific "sound quality" value, this term is truly subjective. (Although I've compared the sound quality in this list, your ears may completely disagree with mine.)
In order to make this decision a little easier, I've compiled this list of the best speakers for producing music, and explained the strengths and weaknesses of each. So let's begin…
---

---
The Best Speakers for Producing Music in 2022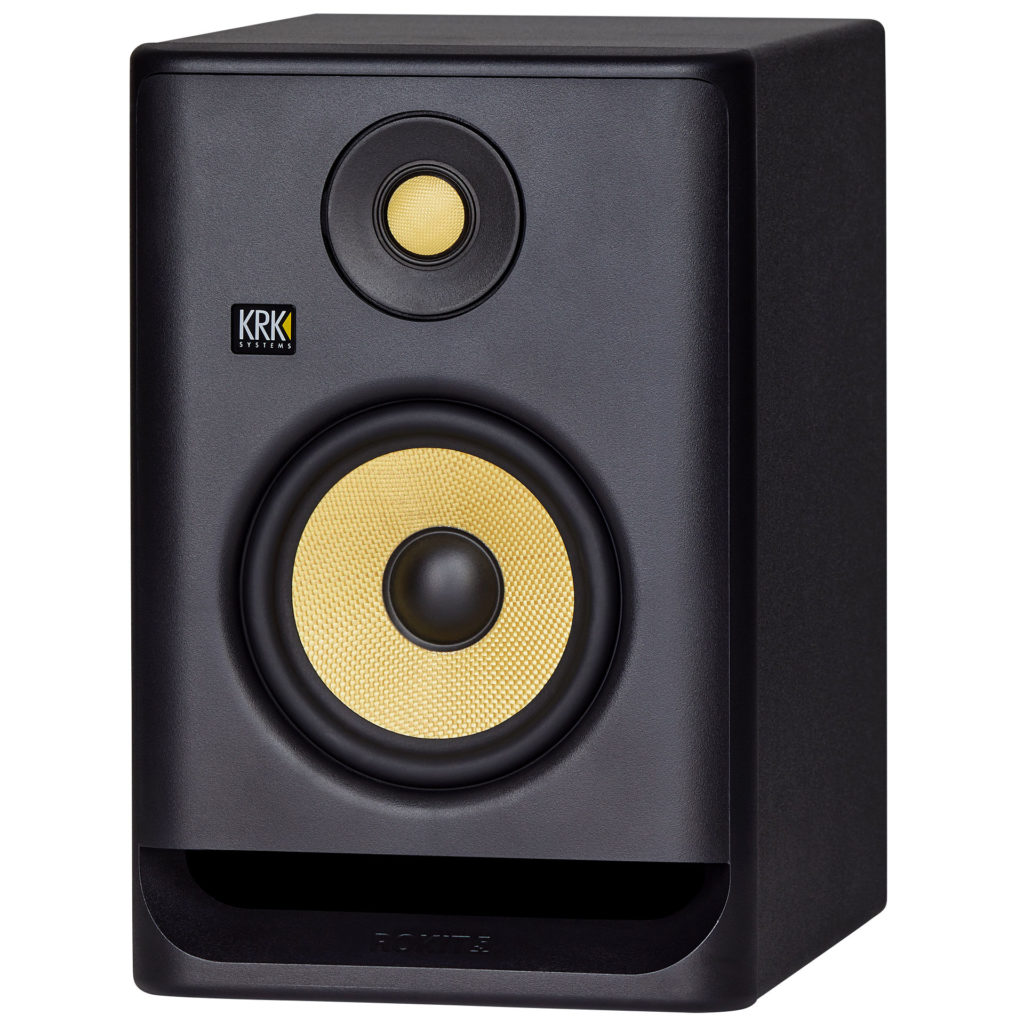 Launch Price (Pair)
£416 / $478 / €418
Best suited for: Electronic or hip hop producers.
If you've been inside a few home studios, or watched a couple home studio videos online, you're bound to recognise the iconic yellow speaker cone of the KRK Rokit series.
These speakers are unbelievably popular with bedroom producers, mainly due to their warm bass frequencies, incredible sound quality and low price tag.
The Rokit 5's are especially suited for electronic and hip hop music production. This is mainly down to how effortless and incredible the bass frequencies sound, and they definitely give a bit more of a "rounded" output than other speakers.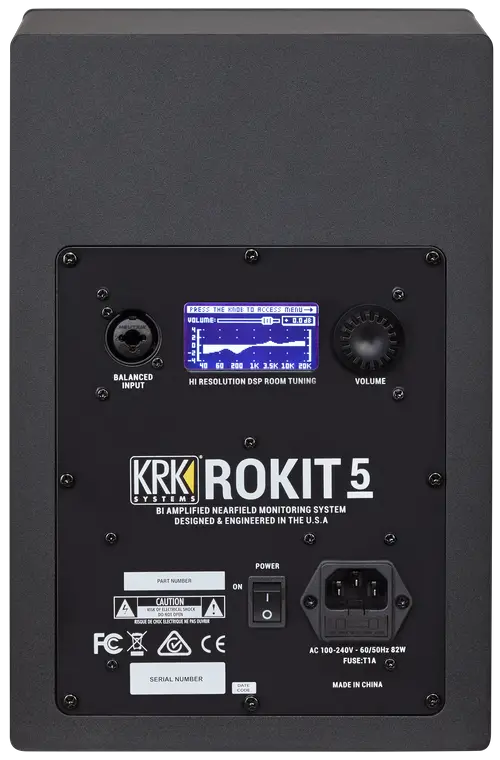 A New Generation
This series is currently on the 4th generation, and remains the gold standard for budget home studio speakers.
A fantastic feature of this new generation of KRK Rokit's is the onboard LCD Visual EQ. The back of the speaker has DSP-driven Graphic EQ with 25 settings help condition your acoustic environment. Low, mid, and high frequencies can be easily adjusted to help compensate for different sound environments.
This nifty feature gives the speakers a superb level of versatility.

---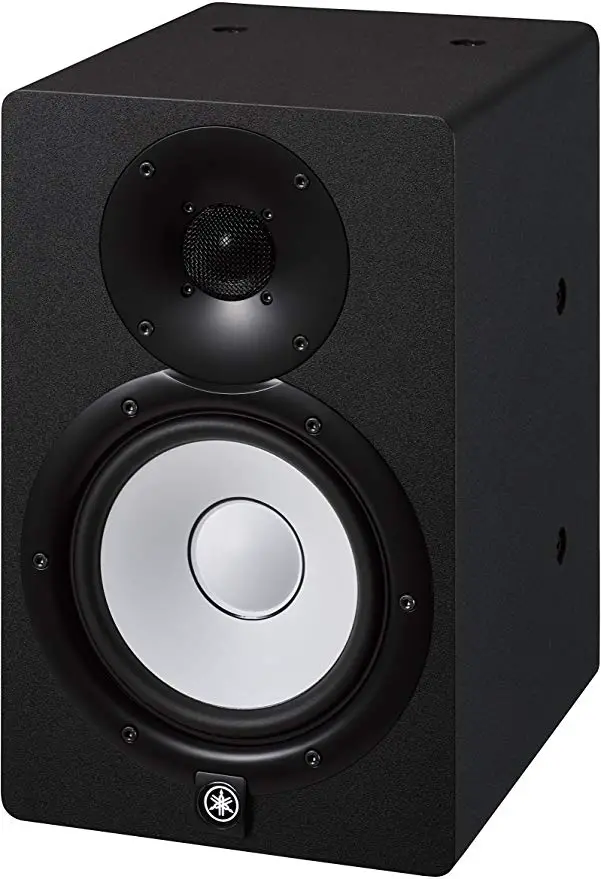 Launch Price (Pair)
£256 / $398 / €310
Best speakers for: Mixing and mastering
There is no worse feeling than testing your perfectly crafted mix out on a different speaker setup and it sounds completely different. Yamaha HS5I's are created and used primarily for mixing, and they pride themselves on being incredibly accurate and true to the mix.
I have found these speakers (or similar models) in many professional studios, and they are incredibly acclaimed and highly reviewed by producers, engineers and sound designers.
This series also includes the similar models: the HS7/HS7i and the HS8/HS8i.
I've owned a pair of HS8I's for a while now, and can definitely say they are almost second to none when it comes to mixing accuracy. The build quality and design is also incredibly sturdy and aesthetically pleasing.
Yamaha HS5I's: The Specs:
2-way bass-reflex bi-amplified nearfield studio monitor with 5″ cone woofer and 1″ dome tweeter
54Hz – 30kHz (-10dB), 74Hz – 24kHz (-3dB) frequency response
45W LF plus 25W HF bi-amp system for high-performance 70W power amplification
ROOM CONTROL and HIGH TRIM response controls
XLR and TRS phone jack inputs accept balanced or unbalanced signals
Mounting points on 4 surfaces
Packaging single

---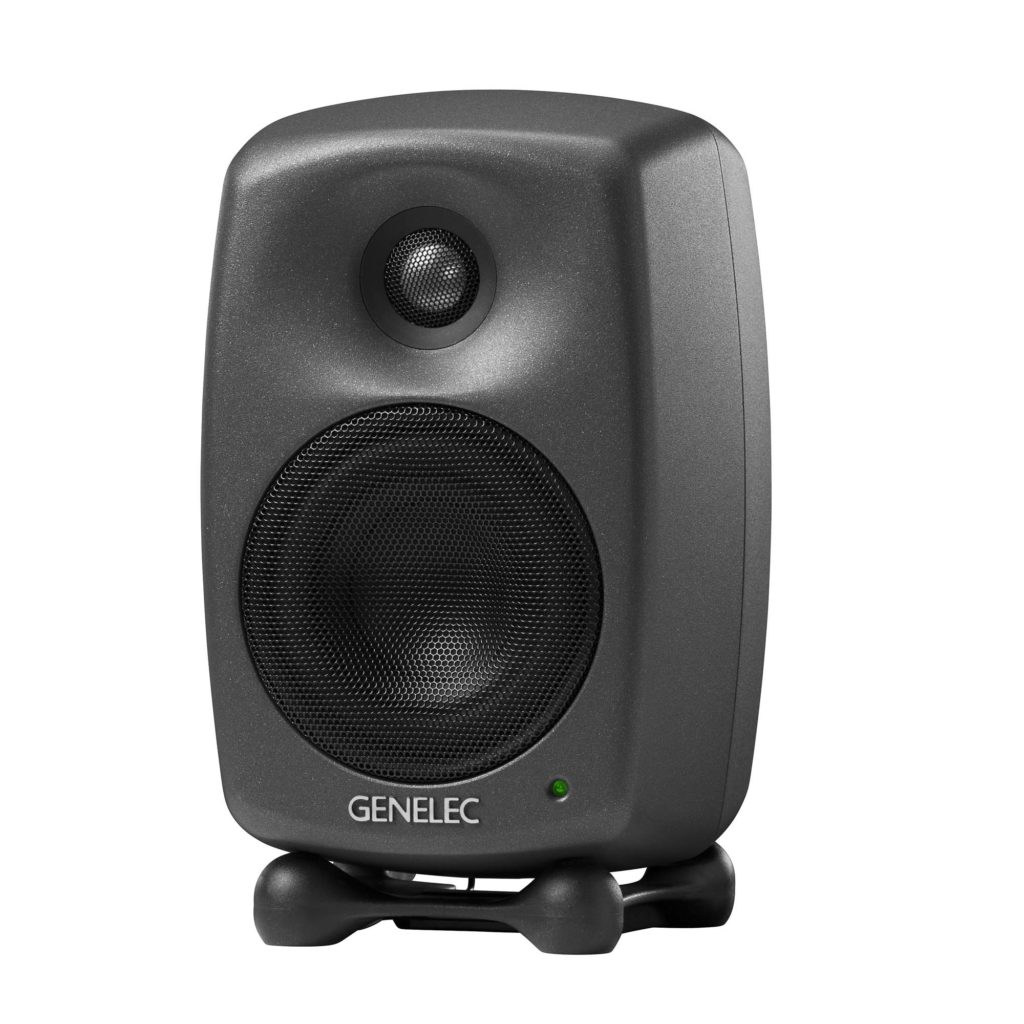 3. Genelec 8020D Speakers
Current Price (Pair)
£712 / $850 / €675
The Genelec 8020D's are incredible home studio speakers that translate audio beautifully and sound extremely professional.
These speakers are notably more expensive than the previous two entries on the list, but for good reason. The sound accuracy of these speakers is unreal. If your mix is a good mix, the 8020D's will tell you, and if the mix has any weaknesses they will let you know right away.
The Genelec 8020D's are very popular with engineers, mainly for it's transparent and truthful sound quality. This makes it very reliable when making mixing decisions.
The design is loyal to the classic Genelec studio monitor appearance, with a strong aluminium enclosure and a dark, sleek design.
SPL: 100 dB
Amplifier Power: 50W Bass (Class D) + 50W Treble (Class D)
Frequency Response: 56 Hz – 25 kHz (-6dB)
Accuracy of Frequency Response: ± 2.5 dB (62 Hz – 20 kHz)
Driver Dimensions: 105 mm Bass + 19 mm Treble
Dimensions: H 242 x W 148 x D 142 mm, with Iso-Pod™
Weight: 3.2 kg / 7.1 lb
Connections: 1 x XLR Analog Input
Not currently available on Amazon.
---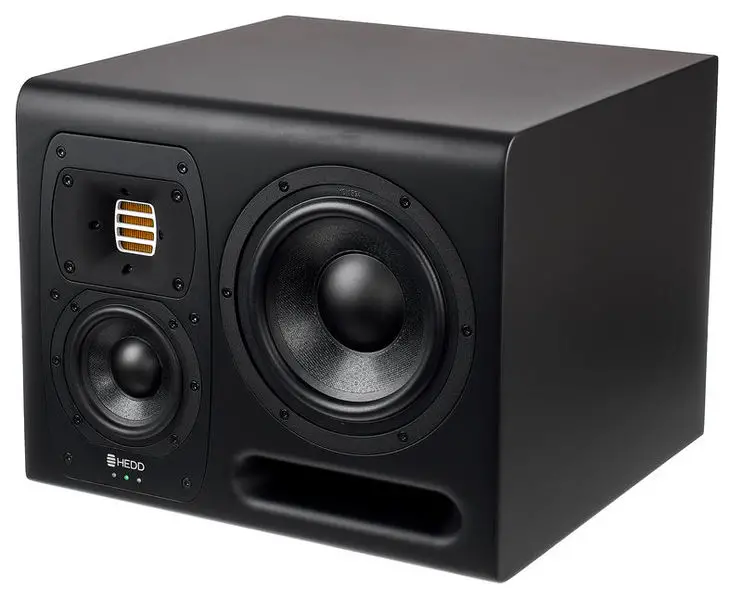 Current Price (Pair)
£2999 / $3999 / €1719
The HEDD Audio Type 20 is a genuinely exceptional studio monitor capable of producing highly accurate sonic results and classy, smooth electro-acoustics.
These speakers are one of the few speakers that would be perfect for a high-range, professional studio and also a semi-professional home studio.
When mixing, these speakers will analyse and identify any subtle mixing issues with ease.
I got a chance to test these speakers in depth, and the very first thing I noticed was the bass. Lots of bass. With some cheaper, bass-heavy speakers the bass frequencies can become murky and a little overbearing, but with these monitors it feels deep, rich and extremely well balanced.
These are the most expensive speakers on this list by far, but you get so much bang for your buck and a unbelievably powerful, accurate pair of studio monitors.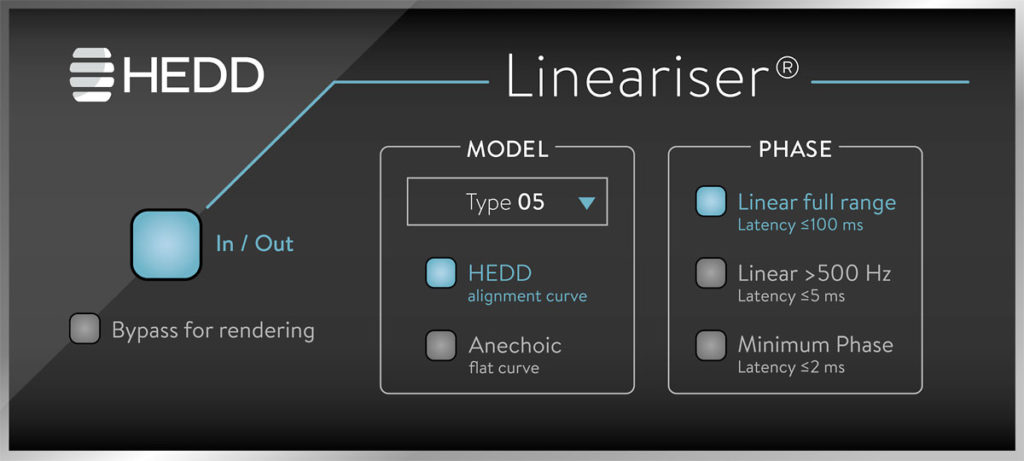 The Lineariser
These speakers come with the HEDD Lineariser plugin, a virtual solution to a very common in high level mixing and audio engineering: linear phase response.
This is extremely advanced, but when using this plugin the speakers will reproduce the audio transients more accurately and the spatial qualities are increased.
You can read more about this feature here.

---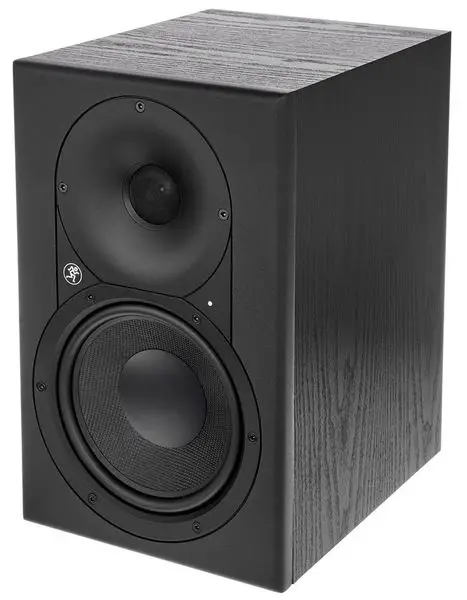 Launch Price (Pair)
$1040 / £772 / €798
The Mackie brand isn't as popular or renowned as other brands such as KRK or Yamaha, but their products are still very popular are highly reviewed across the board.
While some of the speakers are apologetically analytical, and will expose even the smallest mixing differences, these speakers are a little more forgiving. The sound is more warm and rounded, but still delivers precise, fully balanced results.
It's bass frequencies are rich and smooth, while the mid and high range frequencies are warm and highly detailed.
The price tag of these studio monitors is fairly high, but if it's within your budget, I'd definitely recommend considering these incredible speakers.
Mackie XR624: The Specs
Frequency: 45 Hz – 22 kHz
Speaker configuration: 2-way
Driver size: 6.5″, 1″
Tweeter type: Black anodised aluminium
Inputs: XLR, 1/4″ TRS
Powered: Woofer 100W, tweeter 60W)

---
Current Price (Pair)
£510 / $710 / €580
The last entry on this list is something a little different.
Mixing is a highly specific, often tedious process. But if you think about it, 90% of the time your music will be heard through car speakers, phone speakers, cheap earphones and radios (if you're lucky!).
Often studio mixes sound adequate on an expensive studio monitor, but when played in the real world: something not quite right.
The Avantone Active MixCube looks to solve that problem, by giving a lo-fi, below average sound that emulates many real world speakers.
Now of course you could actually play your tracks out of your own phone, laptop, radio speaker etc. But many producers swear by this speaker as identifying sonic discrepancies that would appear across a wide range of low quality speakers.
They're definitely not an essential item, but definitely worth looking into if you expect your music to be played by many different devices.

---

---
The Best Speakers for producing music: Similar Articles
The Best Laptop for Making Beats
The Best MIDI Keyboards for Beginners
The 100 Best FREE VST Plugins of All Time