The 8 Best FREE Reverb VST Plugins (2022)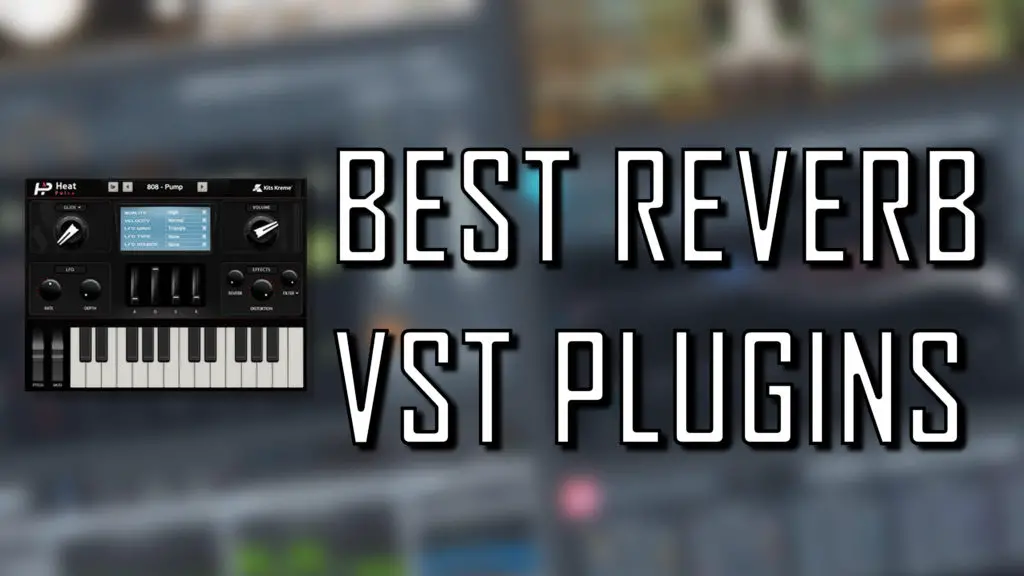 Free Reverb VST Plugins
Reverb is easily one of the most important sound effects in modern music, across all genres. From large, spacious fade-outs to short, tubular reverberations, it is an incredibly powerful tool for transforming a sound.
There are many free reverb VST plugins out there, some of which are surprisingly powerful, and can be capable of creating effects similar to commercial reverb plugins.
Below are the 8 best FREE reverb VST plugins in 2022, that will give you a great, professional reverb sound without ever reaching for your wallet.
Click here for our guide to the top 100 FREE VST plugins of all time.
---

---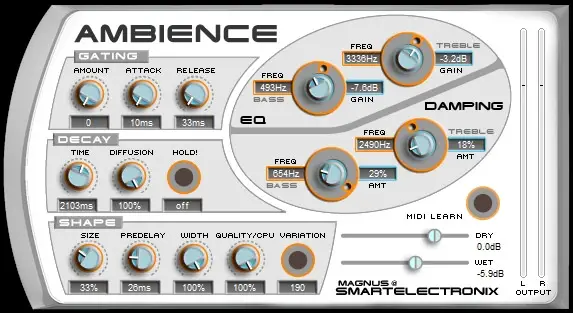 Ambience by Smartelectronix is another incredibly versatile reverb VST plugin that rivals the quality and sound design of the very best commercial reverbs on the market.
Due to the outstanding quality of the plugin and its collection of useful presets and features, the Ambience plugin has become somewhat of a "classic" free VST.
It also includes some unusual functions, like a gater feature and a very useful, intuitive hold function. When you press the hold function, the reverb will freeze at it's current sound, holding it indefinitely until you press it again. This is fantastic if you want to create a lush pad from a plucked string or a hihat or whatever you can imagine.
Overall, this free reverb plugin should definitely be on your radar in 2022.
Click here for a FREE download.
---

OldSkoolVerb is a great free algorithmic reverberation VST plugin for creating professional reverb effects.
Don't be fooled by the "old-school" design, this plugin is still a fantastic choice in 2022.
OldSkoolVerb implements a "classic" stereo reverb algorithm that produces a very clear, spatial sound that blends well with the mix. Plus, it has a comprehensive selection of parameters that can achieve a range of reverbs including plate reverb, room reverb and hall reverb.
This plugin is definitely best suited for non-percussive and soft-attack sounds like vocals, piano and pad sounds.
For such a simple-looking plugin, OldSkoolVerb is surprisingly versatile. Some of the reverb features include:
Plate, room and hall reverbs
Stereo processing
A/B comparisons
Zero processing latency
5 reverb modes
Preset manager
Contextual hint messages
Reverb mode editor
Undo/redo history
All sample rates support
Click here for a FREE download.
---
Here are the best (early) Black Friday deals in 2022. Don't miss out! (Click here for the full list).
---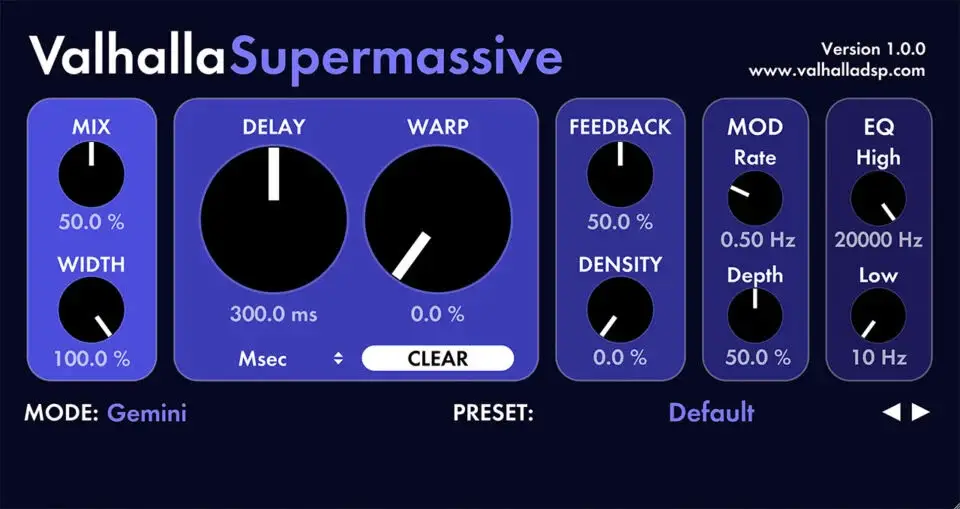 Recently, Valhalla released Super Massive, a gorgeous-sounding, powerful free reverb plugin.
Valhalla are a renowned plugin company best-known for their insanely high-quality reverb and delay tools. Super Massive is no different, and it can be used to create huge, spacious, evolving reverb tails.
The MODE control is the most powerful Supermassive control, as the different algorithms have very different attack, sustain, and decay characteristics. The plugin uses a variety of feedback delay networks, where each delay in the structure can be up to 2 seconds long.
Combine these long delays with the unique WARP control, and the results range from echoes that slowly fade in, to cascading harmonic echoes, to lush reverbs, onwards to reverbs that decay way over the course of minutes. Really cool.
Click here for a FREE download.
---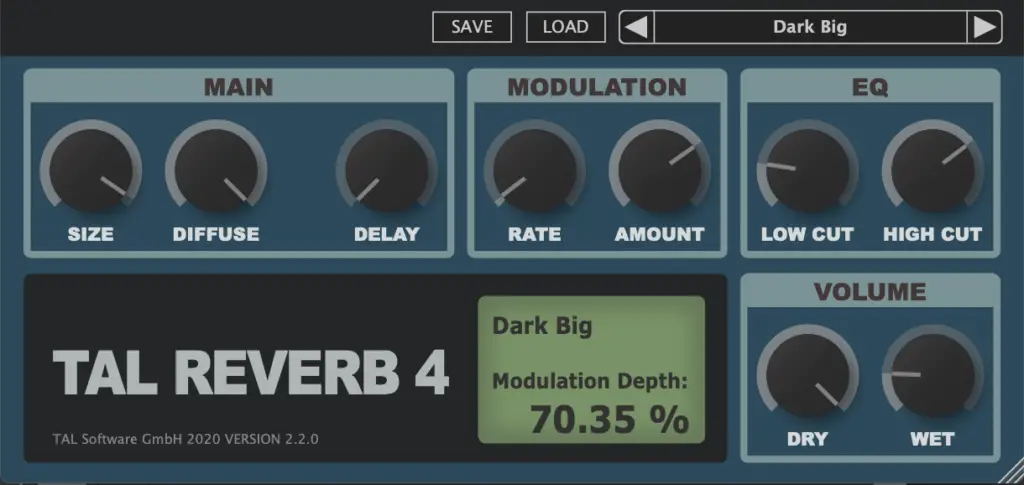 Continuing the success of their "Reverb 2", TAL have released another very simple, yet powerful free reverb plugin. This is the essential VST plugin for producers looking for a more vintage, 80s reverb sound.
The interface is sleek and effective, with an incredibly intuitive design. However despite its simplicity, it's capable of creating a range of fantastic sounding reverb effects, from natural, breathy tails to short, vintage delayed effects.
"Reverb 4" is a no-brainer for producers looking to expand their reverb plugin collection.
Click here for a FREE download.
---
Here are the best (early) Black Friday deals in 2022. Don't miss out! (Click here for the full list).
---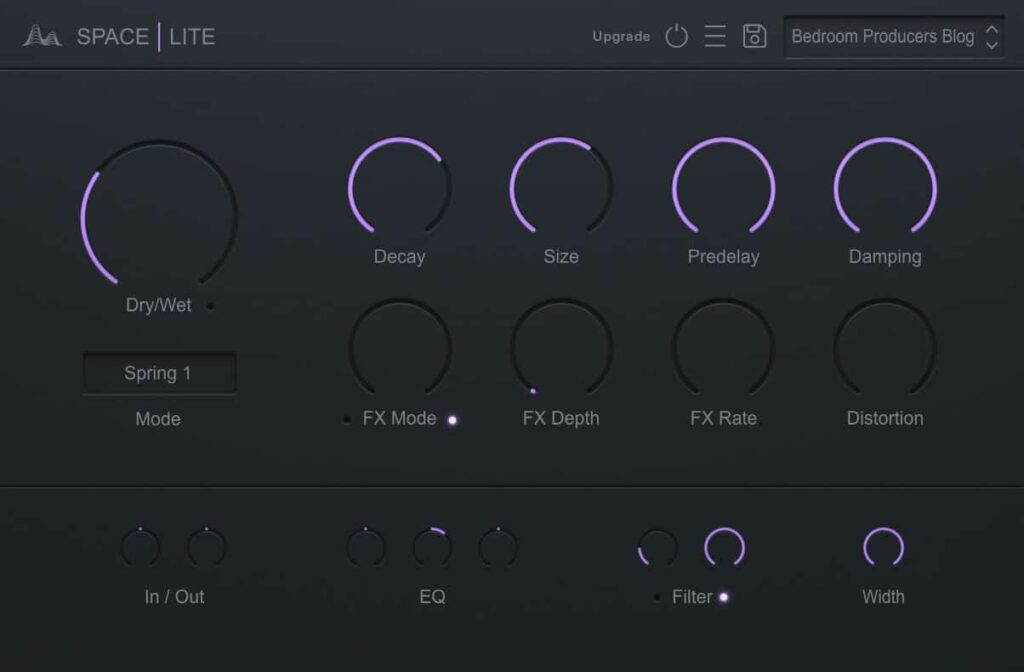 Space Lite by Cymatics is a free reverb VST plugin with some unique, surprisingly powerful modulation controls.
This reverb tool has a fairly straight-forward, intuitive design, but it is actually packed with a ton of creative possibilities. Space Lite includes 3 powerful "reverb modes", each delivering its own interesting reverb character and tone.
Plus, using the modulation FX in Space Lite you can completely transform your reverb's sound. These modulation options include Pitch, Chorus, Flanger, and Phaser. It's important to note that these controls only affect the reverb tail, making it incredibly easier to create incredible, distinctive reverb effects.
This reverb sounds great on any audio you throw at it, including synths, instruments, drums, vocals, and more!
Click here for a FREE download.
---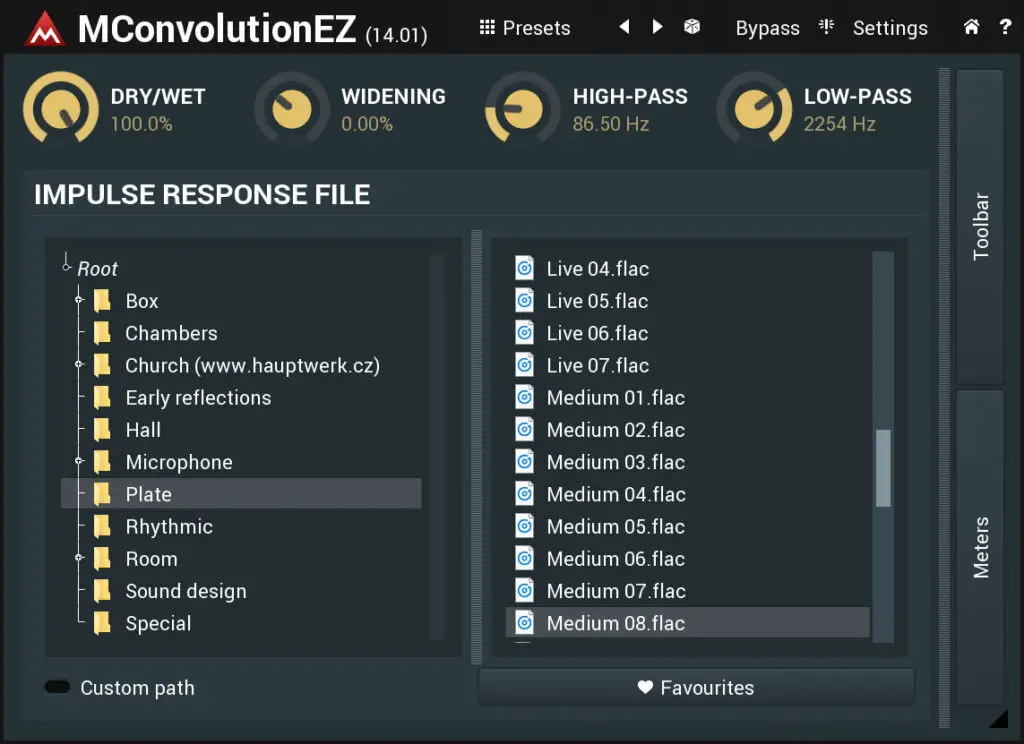 MConvolutionEZ is an incredibly easy-to-use, highly optimized convolution reverb tool.
Melda are one of my favourite creators of VST plugins, and have a range of range of free and commercial VST plugins that I use religiously, in particular their utility engineering plugins.
This free reverb plugin is no different, as this plugin comes with a massive range of impulse responses for rooms, halls, plates, guitar cabinets, effects and more.
There isn't a huge amount of user customization for these responses, but if you're looking to quickly add great sounding reverb effects for immediate inspiration, this plugin is perfect for you.
Click here for a FREE download.
---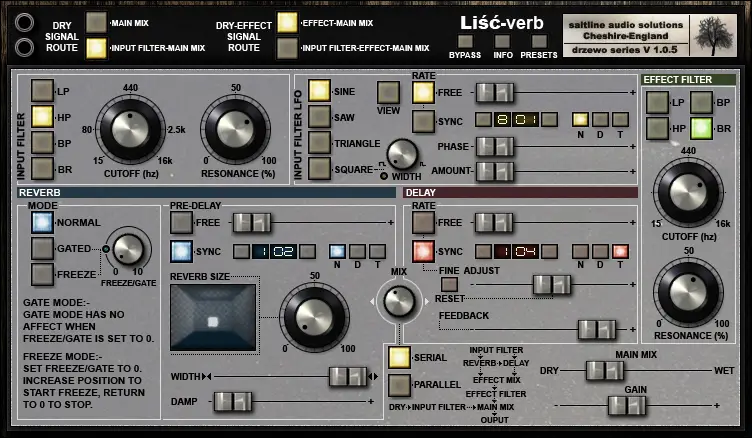 Lisc-verb is a free reverb VST plugin with an absolutely insane amount of customization.
The interface is packed with sliders, buttons and knobs for fine tuning your sounds to an unreal level of accuracy. However, because of this the plugin can become a little confusing at times and definitely has a relatively steep learning curve compared to the other reverb plugins in this list.
Some of these reverb features include:
Dry Signal Routing
Direct to Output (Effect Mix/Gain)
State Variable Filter (Low Pass, High Pass, Band Pass, Band Reject, Frequency Cut-Off & Resonance)
Dry Signal to Effect (Direct to Effect & State Variable Filter-Effect)
Reverb (Normal, Free and Gated Modes, Gate Amount, Size, Width & Damp)
Reverb/Delay Mix
Delay (Rate – Free/Sync, Rate Adjust – Free/Sync, Delay Offset & Feedback)
Reverb/Delay State Variable Filter (Low Pass, High Pass, Band Pass, Band Reject, Frequency Cut-Off & Resonance)
Output (Effect Mix – Wet/Dry)
​Gain
This might not the best free reverb plugin if you're a complete beginner, but if you're a more advanced producer (or just up for a challenge!) this plugin is definitely worth checking out.
Click here for a FREE download.
---
Here are the best (early) Black Friday deals in 2022. Don't miss out! (Click here for the full list).
---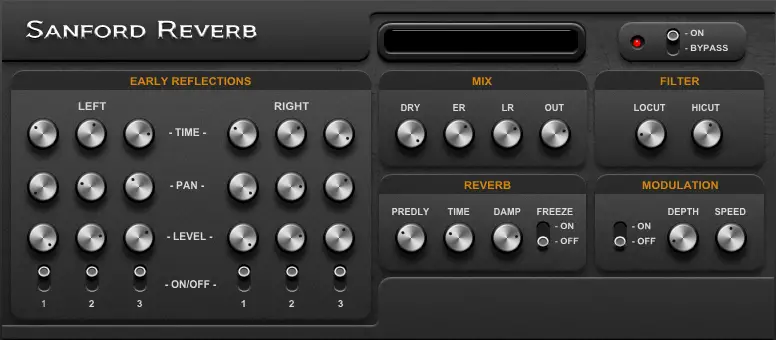 This free reverb plugin is capable of creating a really impressive range of reverb sounds, from subtle, fast textures to slow, expansive tails.
The interface features 3 early reflections for each channel (L and R), and a decent selection of modulation, filters and other parameters.
Sanford Reverb has become popular with producers not only because of it's sound, and also the control you have over that sound.
Please note: this product is available for Windows only.
Click here for a FREE download.
---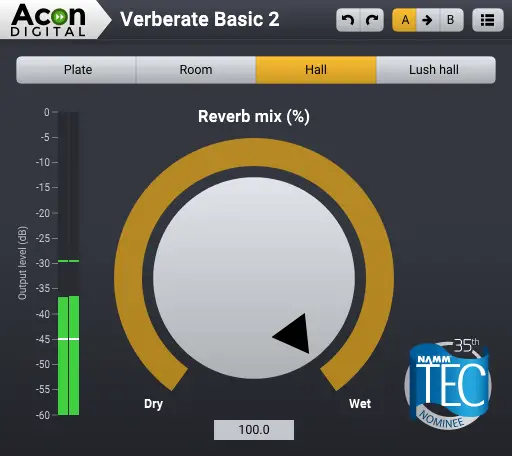 This free reverb VST plugin is incredibly simplistic, and contains just 4 reverb sounds.
Plate – a realistic simulation of plate reverb with the typical frequency dispersion and decay properties that give plate reverb the airy touch
Room – a beautiful and warm wooden room that gives a great sense of room without being obtrusive
Hall – a natural and gorgeous sounding hall
Lush Hall – a colorful out-of-world hall with frequency modulated tails that sounds amazing on synth pads
These 4 reverb effects cannot be tweaked (apart from the main, dry/wet mix knob) but sound sublime on their own. Therefore, for producers looking to fine-tune and customize their reverb effects, this plugin is somewhat useless. However, it is great for throwing a quick reverb onto a chosen sound for quick inspiration.
Click here for a FREE download.
---

---