6 Best Mics for Recording Vocals under $750 (2022)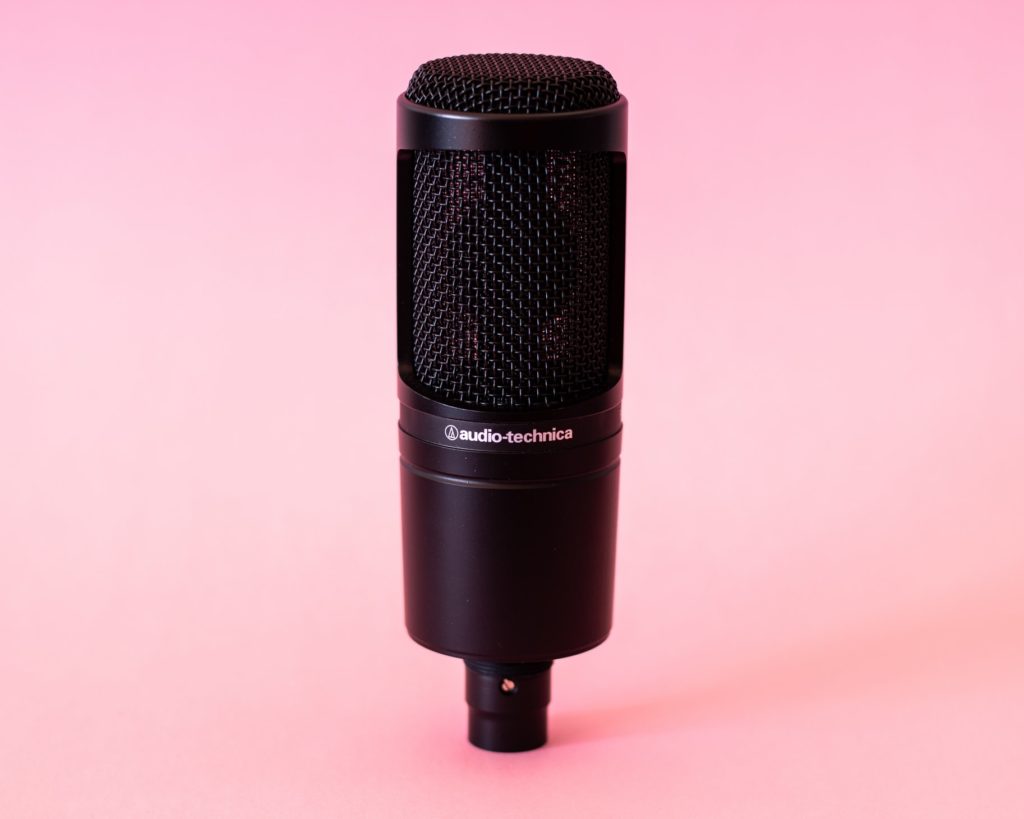 "What is the best mic for recording vocals in a home studio?"
A high quality mic is an absolutely essential part of a home studio for singers, rappers, and even instrumental producers.
Most producers get started with vocal recording using a mic under $100. To be honest, there's absolutely nothing wrong with this. Using this kind of mic teaches you a lot about the process of recording and editing vocals.
But if you're serious about recording professional quality vocals and releasing your tracks, it's probably time to invest in a high quality microphone for your home studio.
What to consider
When making your decision, there are three main factors you should focus on:
1. Transducer Type: The most common transducer types are Condenser & Dynamic mics.
Condenser mics have a wider frequency response and higher level of sensitivity.
Dynamic can process more than condenser mics and have a lower frequency response.
2. Polar pattern: This is the direction of sound that is processed by the mic. For mics used for vocal recording, you should mainly consider cardioid mics. In simple terms, a cardioid microphone is most sensitive to sound coming from the front. Other types, such as omni or figure 8 mics, process sound from multiple directions at once.
3. Diaphragm size: Look for higher diaphragm sizes, as they have higher levels of sensitivity – perfect for vocals.
The best mic for recording vocals on a budget?
If you're looking to create a home studio, I'm going to assume you don't want to fork out thousands of dollars for a vocal microphone. That's why every mic on this list comes in under $750.
I've compiled this list of the best mic for recording vocals to help you compare between the very best mics on the market for a range of vocal styles.
---

---
The Best Mics for Recording Vocals (2022)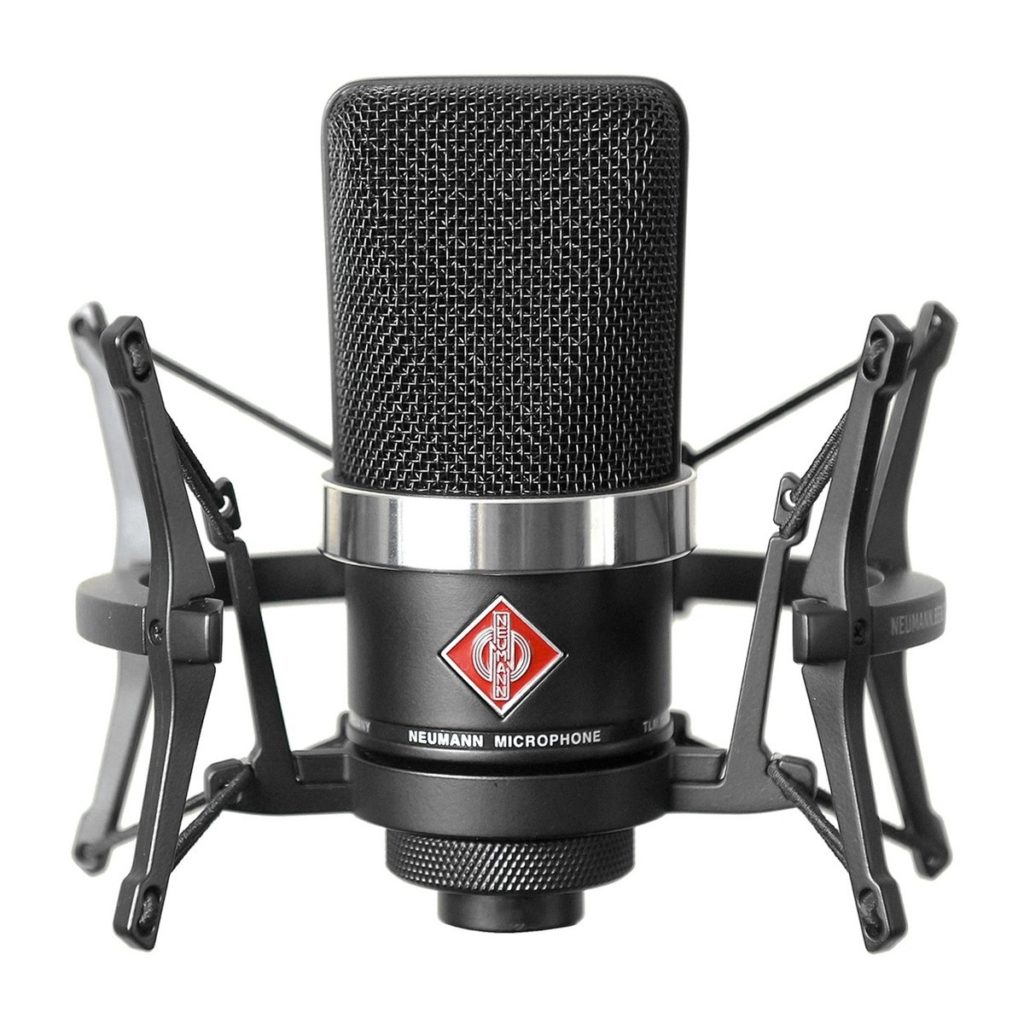 For a mic under $750, it doesn't get much better than the Neumann TLM 102. This is a large-diaphragm, transformerless capacitor microphone with a cardioid polar pattern.
A typical Neumann mic can cost up to $3000, so this mic is an affordable alternative to the other high range models. And at this price, it still sounds phenomenal.
I've used this mic religiously for a couple years now, and in terms of sound quality, at this price range it is unmatched. It delivers a bright, lively sound but with a remarkable amount of depth.
The Neumann TLM 102 has two design options, the classic silver model or a sleek, black alternative (shown above).
Neumann TLM 102: The Specs
Maximum 144dB maximum SPL
Cardioid pickup pattern
20Hz – 20kHz frequency range
132dB dynamic range
50-ohm impedance
Weight: approximately 260g
Diameter: 52mm
Length: 116mm
Requires +48V phantom power

---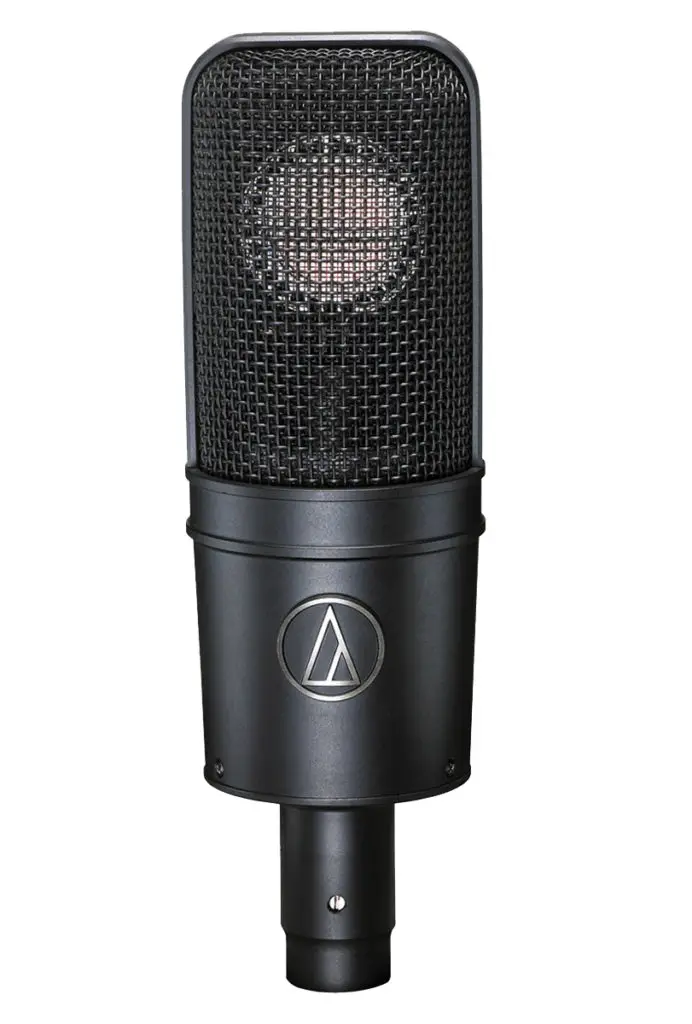 Audio Technica microphones are leading, highly acclaimed products that are set apart by their consistency, incredible sound quality and dynamic range.
The AT4040 is a cardioid condenser microphone, making it a great choice for vocal recordings. It is also equipped with an advanced, large diaphragm tensioned specifically to provide smooth, natural sonic characteristics.
This mic can easily perform under a range of sonic conditions, from a spacious, silent professional studio to a cramped bedroom home studio.
Using the Audio Technica AT4040, we noticed the exceptionally low amount of noise is produces – perfect for less-than-ideal home studio setups. The build quality is also sturdy and solid, so if this mic is within your budget, it's definitely worth checking out.
Audio Technica AT4040: The Specs
Element: Externally-polarized condenser
Polar Pattern: Cardioid
Frequency Response: 20-20,000 Hz
Low Frequency Roll-Off: 80 Hz, 12 dB/Octave
Noise: 12 dB SPL
Dynamic Range: 133 dB, 1kHz at Max SPL
Weight: 12.7 oz (360 g)

---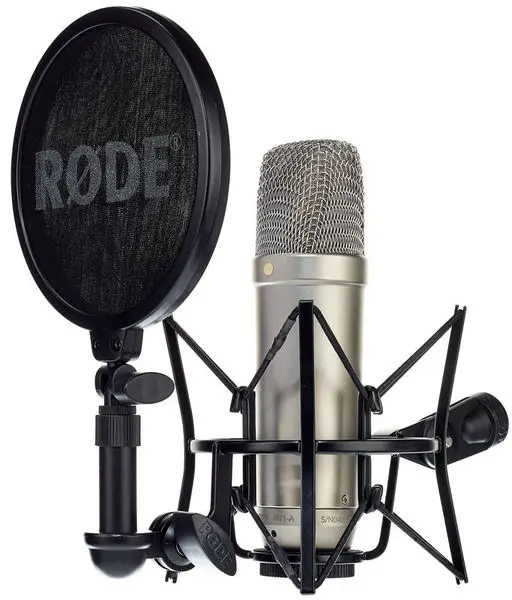 If brand reputation and popularity are important to you (and they probably should be) the Rode NT1-A is definitely at the top of the pile.
This cardioid condenser microphone is the gold standard of studio mics at this price range, and this specific model is considered somewhat of a classic.
For the price, the NT1-A delivers a warm, neutral, balanced sound and sounds simply remarkable. Just like the Audio Technica AT4040, it produces an extremely low amount of self-noise. The self-noise comes in at around 5dBA, making it quieter than many higher-range mics.
However, this mic goes well beyond vocals. It is also a highly popular choice for a range of instrumentation, such as piano, guitar and percussion.
The Rode NT1-A also boasts an extended dynamic range, clarity and high SPL capability. Even though the sound quality isn't quite on the level of the previous two entries on this list, this condenser mic performs well outside of its price range.
Rode NT1-A: The Specs
Element: Externally-polarized condenser
Polar Pattern: Cardioid
Address Type: Side
Frequency Range: 20Hz – 20kHz
Maximum SPL: 137 dB SPL
Maximum Output Level: 13.7 mX (@ 1kHz, 1% THD into 1KΩ load)
Noise: 5 dB SPL
Weight: 11.5 oz (326g)

---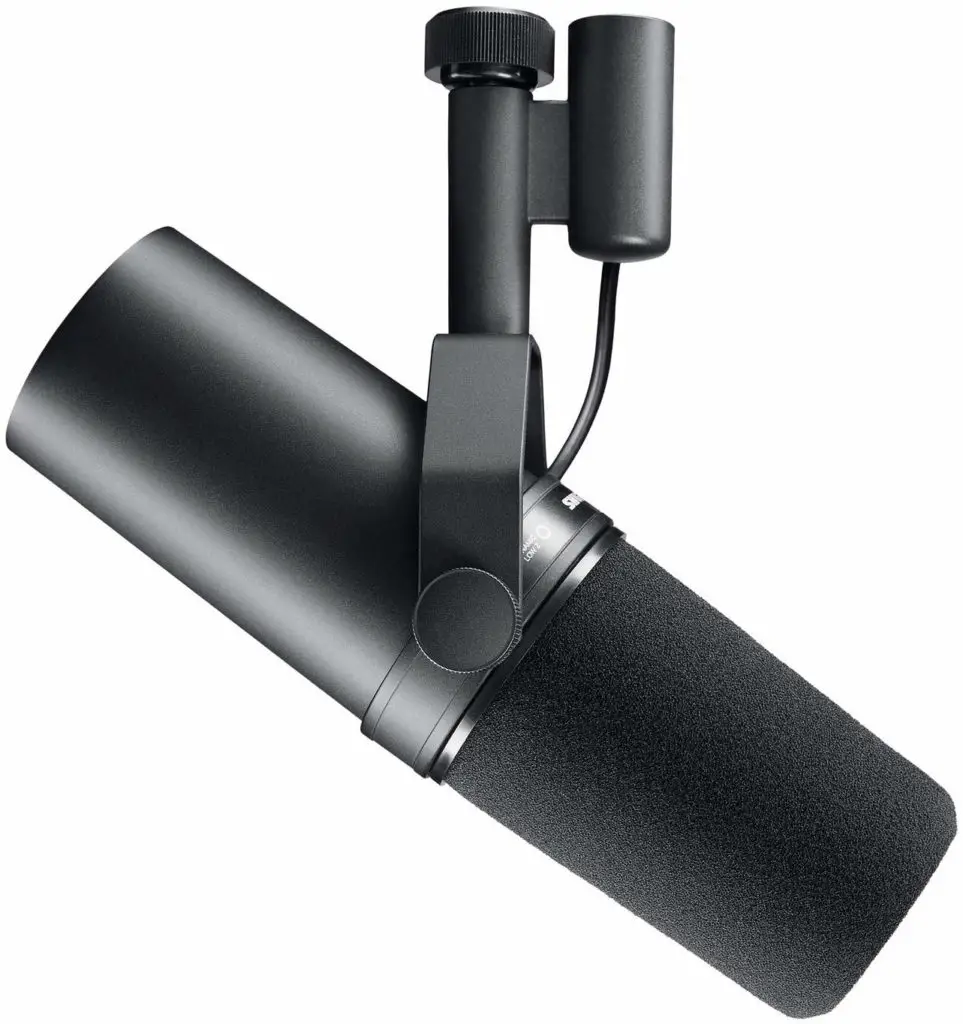 Here we'll take a look at a dynamic microphone. Dynamic mics can process more than condenser mics and have a lower frequency response.
In the world of vocal mics, the Shure SM7B is absolutely iconic. The entirely of Michael Jackson's "Thriller" album was recorded using this mic, as well as an endless list of other classic artists.
This mic has an absolutely fantastic response, and is designed to take away noise and reverb in any less-than-ideal recording conditions. The output is smooth, rich and has a deep, warm low-end.
In fact, the bass rolloff and mid-range emphasis is one of the microphones strong points. In modern music, this has become a popular dynamic mic for rock/metal vocals, as it can process than dynamic intensity of louder vocals and still produce a clean and natural output.
For producers looking for a tried and tested, professional dynamic vocal mic, the Shure SM7B should definitely be on your radar.
Shure SM7B: The Specs
Microphone Type: Dynamic.
Polar Pattern: Cardioid.
Frequency Response: 50Hz-20kHz.
Output Impedance: 150 ohms.
Weight: 1.69 lbs (766g)

---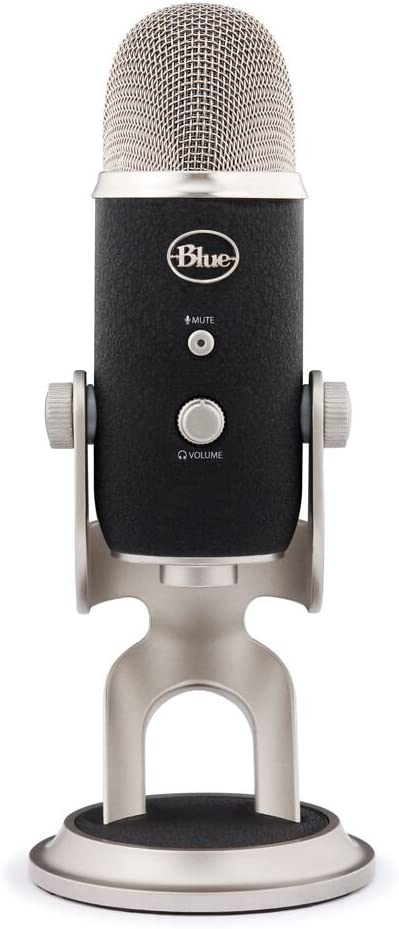 For beginners to vocal recording, occasionally a USB mic can come in handy. If you're not quite ready to dive into phantom power or purchase an audio interface just yet, the Blue Yeti Pro is definitely worth looking into.
Please note: This mic does still have an XLR input, but offers the flexibility of both options.
There is the Blue Yeti and the Blue Yeti Pro models, and as a long time fan I've owned both at a certain point in time. The difference between the two is huge. I definitely recommend investing in the Pro model due to the noticeably richer, warmer, higher quality sound.
A really cool feature of this mic is the "Pattern Mode knob" on the back of the mic. You get 4 options: Cardioid, Omni-directional, Stereo and Figure of 8. This nifty addition gives a level of polar pattern flexibility than isn't often found with vocal mics.
The Blue Yeti Pro is fantastic for music vocal recording, but is definitely designed for podcasting, voiceovers and other spoken recordings too.
Blue Yeti Pro: The Specs
Polar Patterns: Cardioid, Bidirectional/Figure of 8, Omnidirectional, Stereo
Frequency Response: 20Hz – 20kHz
Sensitivity: 4.5mV/Pa (1 kHz)
Max SPL: 120dB (THD: 0.5% 1kHz)
Sample Rate: 192 kHz
Weight (microphone): 1.2 lbs (.55 kg)
Weight (stand): 2.2 lbs (1 kg)

---

The sE Electronics sE2200 is an affordable, large diaphragm, cardioid condenser mic.
It is another example of a highly versatile studio mic. The sE2200 is sensational for recording vocals, but also performs incredibly well when recording guitar, piano, percussion and other musical elements.
The superb clarity and range of this mic for the cost makes it a hidden gem. While not quite on the level of some of the more expensive mics on this list, it delivers a smooth, polished output for any vocal style.
sE Electronics sE2200: The Specs
Capsule Type: 2/3" Permanently-Biased Condenser
Directional Pattern: Cardioid
Frequency Range: 20Hz – 20kHz
Sensitivity: 20mV/Pa (-34dB)
Maximum SPL: 130dB / 150dB (0dB / 20dB Pad, 0.5% THD @ 1kHz)
Signal-to-Noise Ratio: 78dB (A)
Equivalent Noise Level: 16dB (A)
Dynamic Range: 114dB / 134dB (0dB / 20dB Pad)
Low Cut Filter: 100Hz, 6dB/Oct, Switchable
Weight: 21.55 oz (611g)

---

---
The Best Mic for Recording Vocals: Similar Articles
The Best Laptop for Making Beats
The Best MIDI Keyboards for Beginners
The 100 Best FREE VST Plugins of All Time