The 100 Best FREE VST Plugins of All Time | Ranked and Rated (2022)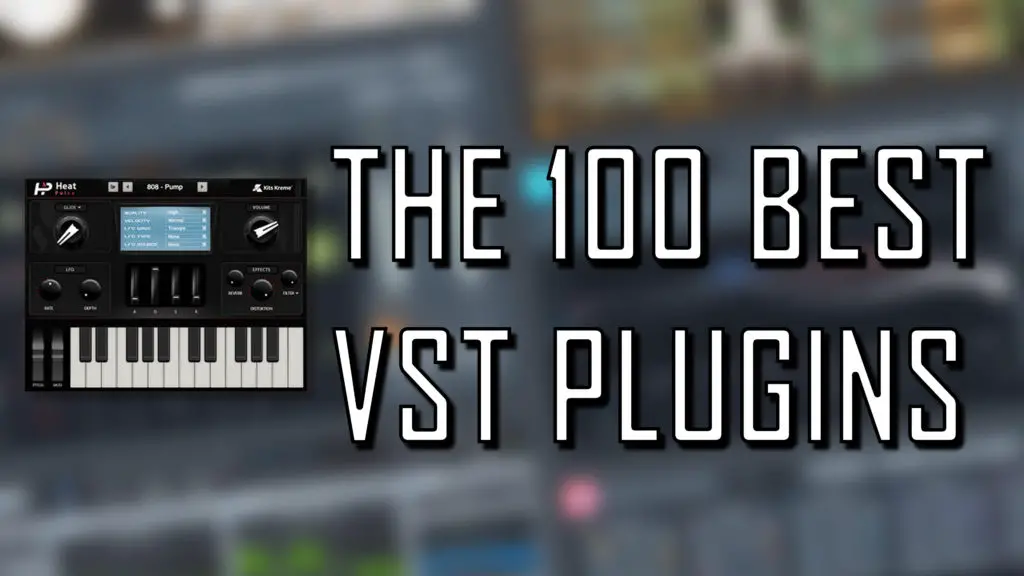 What are VST Plugins?
VSTs (Virtual Studio Technology) are a fundamental part of music production, and as the technology progresses, they are transforming the way we create music.
VST plugins can be split into two main categories:
VST Instruments: These plugin generate audio and act as software-based instruments. They often emulate recognizable sounds of famous synthesizers and other instruments. Popular VST instruments include Serum, Massive, FM8, Sylenth 1 and Absynth.
VST effects: Instead of creating audio, these plugins process and add effects to existing audio or MIDI sequences. These effects include reverb, delay, filters and compressors.
To put it simply, VST Instrument plugins can create any sound imaginable within your DAW, and then additional VST effect plugins can be used to manipulate and re-shape that sound.
Free VST Plugins
VST plugins can be expensive, however there are countless free VST plugins available online. Many free VST plugins are incredibly powerful, versatile programs, whereas some aren't even worth the free download.
Because of this we've created this HUGE list of the best free VST plugins available on the web, to help you transform your music production without ever reaching for your wallet.
We have tried and tested all these plugins, and have rated each plugin in terms of sound quality, ease of use and features.
---
The video version…
In the video below we go through our top 10 picks for FREE VST plugins as of 2022. You can either watch this video, or keep scrolling to read more!
---
The Best Free VST Plugins of All Time
Native Instruments is undoubtedly the most powerful, far-reaching plugin company in modern music. Their plugin packs can be used for virtually any genre, and their plugins can create and synthesize sounds perfectly designed for any genre.
Native Instruments have been our favourite VST plugin creators for many years and their VST instruments and plugins (and even their hardware) have provided the digital foundation to our music production process.
In early 2019, they released Kontakt Start, which includes a huge FREE collection of synthesizers, instruments, plugin effects and almost 1,500 loops and samples. The standout plugins for us are the TRK-01 bass synthesizer, and their analog synthesizer: VINTAGE.
---
Dexed is a highly versatile multi-platform, multi-format plugin synthesizer that is closely modelled on the iconic Yamaha DX7.
The interface has 144 automatable parameters in the form of various sliders, buttons and knobs on one single panel. This makes it appear quite overwhelming and confusing, but once over the learning curve it's a very powerful piece of free software.
Dexed can also load any of the classic presets from Yamaha's hardware synthesizers like the DX7 or the TX81Z, which can then be manipulated to a crazy extent.
---
Spitfire Audio are a London-based company with a eclectic, funky range of keys, strings and other sound libraries. Some of their products are extremely high end and therefore very expensive. One example is their work with BBC Symphony Orchestra, which we had a chance to try out, and it was an utter privilege.
In 2018 they released the simple, innovative plugin for keys and piano: LABS. It sounds smooth, dreamy and completely authentic.
The download process is a little long winded, requiring an app download which you then download the piano or string sounds within the app. But this is a small inconvenience for such a beautifully sampled plugin.
---
The AmpliTube Custom Shop allows you to build your virtual gear collection one piece at a time.
This is a unique, revolutionary concept for software that was inspired in part by Johnny Cash's hit "One Piece at a Time," and the real-world experience of shopping for gear.
You can add individual pieces of gear, or complete collections to your virtual rig, all with just a few mouse clicks. The interface also allows you to custom craft your tone with individual stomp boxes, amplifier heads, cabinets, microphones and rack effect gear.
In the FREE version you get: AmpliTube 4 with 24 models including a digital chromatic tuner, 9 stomps, 4 amps, 5 cabs, 3 mics, 2 rack effects.
---
Sound Magic's Piano One is modelled on the stunning Yamaha C7 Concert Grand, a true workhorse in the professional piano world. This plugin is sampled directly from the piano, creating a true, rich sound at every velocity.
This free VST plugin version of the full product is missing a few features of the paid version, such as mechanical noises and multi microphone perspective support, but these aren't huge downsides.
This is without a doubt the best free piano VST plugin out there.
---
Steven Slate Drums 5 is an incredible, free VST plugin with realistic sounding drum patterns and kits.
While SSD5 FREE is technically a demo, it doesn't expire and comes with full functionality and one deluxe drum kit for free.
SSD5 has been used by the producers of John Mayer, Bowie, Paul McCartney and many other high-profile artists. Therefore this free kit is an unmissable asset to any producers plugin collection.
---
U-he Tyrell N6 is a compact, innovative subtractive synth that is capable of producing extremely high quality sounds.
Tyrell N6 is somewhat of a hidden gem in the VST plugin world. It is a surprisingly powerful plugin with 2 oscillators, noise, a ring modulator and 2 LFOs with 8 waveforms, and to be entirely honest we have no idea why it's free.
For producers looking for quick inspiration, it also comes for 580 fully customizable presets and many more can be found online.
---
TAL-Noisemaker is a fantastic free VST plugin, complete with three oscillators, along with multiple effects, filters, modulators, and a nifty bit-crusher effect.
Its amplitude ADSR is just as suitable for slow, spacious pads as for fast, punchy envelopes.
TAL-NoiseMaker is an improved version of TAL-Elek7ro, with a completely new synth engine and many improvements in sound and usability.
This plugin also comes with 256 factory presets included.
---
This eccentric plugin does exactly what it says on the tin. This free VST plugin allows you to warp and re-invent your sounds in various glitchy, unusual ways.
The controls can be used to fine-tune your sounds, or you can just tear them apart of re-construct them into something weird and wonderful. Because of the nature of this process, this VST plugin is probably best suited for electronic genres such as dubstep, trap or EDM.
The full version of Glitch 2 is now available (and has a free demo version too), however Illformed offers Glitch 1.3 for free.
This free download pack also comes with Tape Stop, Crusher, and Stretch.
---
Helm is another example of a product that we're not quite sure why it's free. It has everything you'd need to make almost any sound imaginable, including a step sequencer, a stutter function and even a formant option. We can honestly say this is one of our favourite free VST plugin synthesizers.
Helm is also a great option for beginners to begin experimenting with synthesizer sound design, not just because it's free, but because it's very easy to learn and navigate, while still remaining unbelievably versatile. This is mainly due to the visual-based graphs and sequencer controls.
---
VSCO 2 Community Edition is an open-source, open-ended plugin designed for young composers, hobbyist sample library developers, and students around the world to create better sounding music for free and learn more about the process of sample library development.
This beautifully designed plugin gives you crazy possibilities to create, explore and experiment with the real, authentic sounds of real musicians.
The download comes with 3,152 samples / 3.2 GB of content, making it one of the largest free plugins you'll find.
---
CamelCrusher is a free 'colouring' multi-effect plugin. It offers two characteristically different distortion sounds which can be blended together to create a wide variety of tones and textures. Great for guitars, drums and plenty more.
There's also a warm, smooth analogue-style low-pass filter with buckets of resonance. Assign a MIDI controller and start tweaking!
It also has an incredibly simple compressor tool, that is perfect for "phattening" up your sounds.
---
VK-1 Viking Synthesizer is a slick, clean plugin capable of creating incredible sounds for almost any genre.
VK-1 Viking Synthesizer is an authentic emulation of a classic monophonic analog synthesizer. It has three continuously variable wave oscillators, two ladder filters with a Dual Lowpass or Highpass/Lowpass configuration, a multi-wave LFO, and two modulation busses.
This free VST plugin uses state of the art DSP technology to accurately reproduce the sound of the hardware.
VK-1 comes with 228 presets to play around with that will instantly spark your creativity.
---
Hysteresis is a versatile, unique plugin geared mainly toward electronic musicians and sound designers.
As the name suggests, it is great for manipulating and "glitching" sounds in weird and wonderful ways. Hysteresis features a delay effect with stutter, lowpass filter and modulation effects thrown into the feedback signal path, which can result in some strange, tantalising new sounds.
On top of being able to create contorted signal mutations, it can also be tamed to generate classic delay effects.
---
Blue Cat's Triple EQ is definitely one of the best free equalizer plugins you'll ever find.
This completely free equalizer is a 3-band semi-parametric equalizer that includes a low shelf filter, a high shelf filter and a boost/cut peak filter. The three filters are linked so that when you change the center frequency or the bandwidth, the parameters of the three filters are modified accordingly.
It is extremely versatile for a free VST plugin, allowing for a wide scope of filter shapes. The interface is also extremely user friendly.
Definitely worth a download.
---
In our opinion, DAW's such as FL studio and Ableton come with very powerful reverb plugins, however epicVerb provides a certain flexibility and quality that isn't often found in a free product.
It boasts an impressive level of customisation, and the equalisation feature is a great addition that we've failed to find in any other free reverb plugins.
This reverb plugins sound ranges from aggressive and concrete up to smooth, transparent and artifact free reverb tails. It is designed for maximum flexibility and usability and to take place as a true high quality stereo main reverb.
---
We already included Kontact Start at the number 1 spot in this list, but thought it would be a disservice to anyone reading this if we didn't highlight the "Guitar Rig 5 Player" part of the Start bundle.
Guitar Rig is the leading name in all things guitar amp simulation and guitar FX and preset emulation for as long as we can remember. Guitar Rig 5 Player edition offers a surprisingly large amount of the functionality of the full program as a free download.
While still fairly limited compared to the Pro version, the Native Instruments Factory Selection library makes a powerful tool for guitarists who prefer to tweak their guitar sounds within their DAW. Even non-guitarists will find this plugin useful for making rocking synths and filthy sounding drums.
---
Zebralette is another example of a free version of a paid product. But the free version here is an incredible sounding synth in its own right. However, it features just one oscillator.
One oscillator may not seem like enough for a synthesizer, but Zebra2 oscillators are rather powerful and clever.
It resembles many other oscillators you may have used. You can choose your own waveset from the included library, or just use the waveform editor to easily draw and sculpt your own shapes (see above).
The Waveform Editor manages up to 16 different waves and lets you rearrange, duplicate and morph between individual waves.
---
Keyzone Classic is a nifty, great sounding plugins that gives you fantastic sounding electric and acoustic piano presets for absolutely free.
It's a very basic plugin, without a huge amount of tweakable controls, but it sounds sublime.
The sample-based presets it includes are:
Piano from Keyzone 1
Yamaha Grand Piano
Steinway Grand Piano
Basic Electric Piano
Rhodes Piano
---
Black Rooster Audio's guitar amp head emulation is excellently modelled after a very versatile, yet unique sounding amplifier.
With its no-nonsense approach and six intuitive controls, the Cypress TT-15 is capable of greating great guitar tones, no matter what you're looking for: clean, spacious guitar tones all the way up to biting, distorted lead sounds.
We found it is capable of creating authentic sounding metal and punk tones without changing too many parameters.
---
Graillon Free is a spectacularly designed plugin for warping and manipulating your vocal samples or recordings.
With the free version of the product, you get the pitch shifting and pitch correction features.
The Pitch Shifter is a great, useful feature for transposing the voice, and the pitch correction gives an immediate modern, robotic sound.
We've had a crazy amount of fun with this plugin, and it continues to blow our minds every time we use it.
---
Ambience is an incredibly versatile reverb VST plugin that rivals the quality and sound design of the very best commercial reverbs.
Due to the superior quality of the plugin and its array of useful presets and functions, the Ambience plugin has become somewhat of a free VST "Classic".
It also includes some unusual functions, like a gater and a very useful hold function.
---
Ample Guitar M Lite II is a beautiful sampled plugin of the Martin D-41 Acoustic Guitar.
We've had a lot of problems with acoustic guitar plugins in the past, with most plugins sounding robotic and overly sequenced.
This plugin works to combat that issue with extremely customized guitar playing programming so as to model a real-world guitar being played. The Tab Player sometimes even automatically adds some refining articulations when it thinks it is appropriate, such as slapping on strings or body, or other realistic and indispensable noises.
Look, you are never going to get a guitar virtual instrument and have it sound exactly like a real acoustic guitar, but this free VST plugin is multiple steps closer than the rest.
---
Panagement is a popular spatialization laboratory that fits several innovative, professional sounding processes into one beautifully designed plugin.
The free version includes:
Binaural Distance Panner: this feature lets you visually position a track anywhere in the sound field
Reverb: It works to increase realism of distance modeling with automatic early and late reflections,
Width and Tilt open your mix to unforeseen decisions,
The LFO dramatically extends the possibilities (eg: reverb ducking)
---
Tritik Krush is a fantastic, simplistic bit-crusher plugin that allows you to quickly add extra life to your sounds by modulating drive, crush and many other parameters.
With its bit-crushing and downsampling algorithms, Krush combines the crispy taste of the digital realm with the warmth of its drive stage and analog modeled resonant filters.
The plugin has a clean and intuitive interface that gives a lot of creativity over its 4 modulation waveforms.
Definitely one of the best free VST plugins for all your bit-crushing needs.
---
MComb is a highly powerful multi-comb filter plugin. It has 2 extremely versatile modulators which can be used to follow a simple LFO, react to input levels, MIDI note, input pitch and more.
It also has plenty of visualisation tools, from classic meters to time-based graphs, which is a great way to judge your audio.
MComb also contains a powerful MIDI processor, which reacts to MIDI controllers and MIDI keyboards to control any of the parameters in real-time.
---
---

---