AccSone Crusher-X 9.5 – Granular Synthesis Taken To Another Level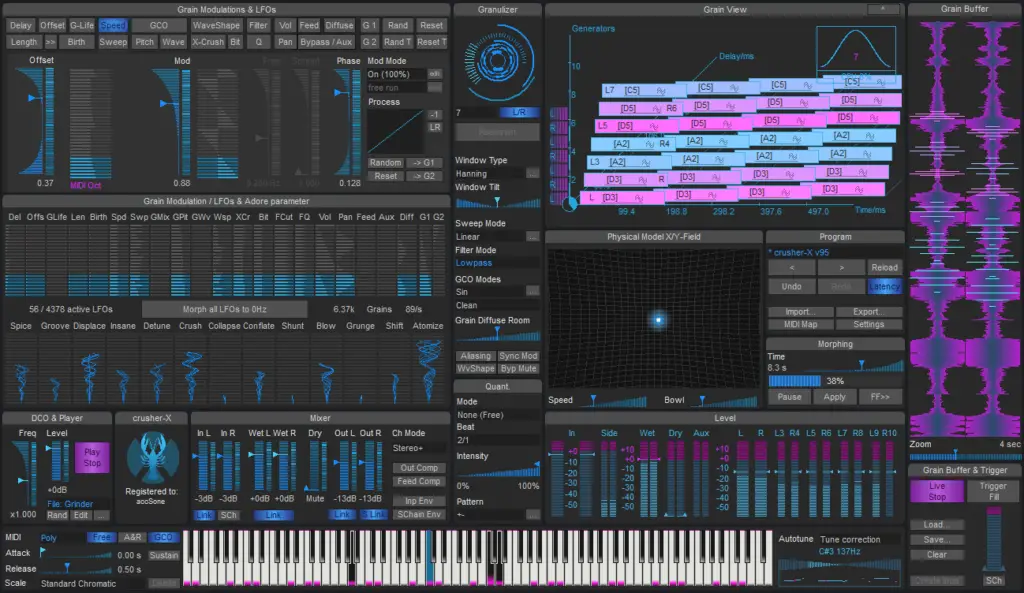 In 2022, music production is more popular and accessible than ever. We have entered an era where several artists are recording Grammy award-winning albums from their bedrooms, and incredible music can be made using minimal equipment and software.
However, despite the explosion in popularity of music production and beat-making, not many people are aware of the production technique known as "granular synthesis". Granular synthesis is an endlessly versatile sound processing technique that involves splicing audio into tiny particle fragments known as "grains." By then micro-sampling these grains, you can synthesize entirely new sounds and effects.
AccSone's Crusher-X has been at the forefront of granular synthesis for many years, and is considered by many to be the gold-standard of granular synthesis technology.
Let's take a closer look at this innovative effect plugin, and see how it fares in the world of modern audio technology.
---
First Impressions
When you first open Crusher-X, there's a lot to take in. The interface is overflowing with granular modules, unique controls and colourful visualizers. However, despite its somewhat intimidating appearance, this powerful plugin is surprisingly intuitive. If you've never experimented with granular synthesis, there's going to be a steep learning curve here. But taking into account the level of on-board functionality and control that Crusher-X offers, AccSone have made the learning process as fluid and uncomplicated as possible.
Overall, the scope and sonic possibilities that Crusher-X offers is nothing short of remarkable. Even as a complete beginner you can create a gigantic range of sounds, from futuristic, suspenseful drones, immersive, hypnotic textures and everything in-between. You are also given a meticulous level of control over the complexity of the sound, from subtle, rudimentary textures to complex, evolving, rhythms.
With its mind-blowing controls and highly intuitive workflow, Crusher-X truly is a hidden gem in the world of audio production.
---
Who is Crusher-X for?
Crusher-X is perfect for a range of purposes, including film-making, composing, sound-designing for video games or other media, and much more. On top of that, this incredible plugin would be perfect for a range of music production styles, including ambient and downtempo genres. We had a lot of fun feeding a range of modern synths and other virtual instruments through Crusher-X, which led to the discovery of some truly unique, breath-taking results.
But Crusher-X's musical capabilities go far beyond ambient music. Many electronic music genres implement layered, textured sound design to achieve a specific sound. Plus, with the new 9.5 update, it's easier than ever to create modulated, granular reverbs with Crusher-X.
---
Crusher-X 9.5 | New Features
The newest "Grain Drop" update of Crusher-X features a plethora of innovative improvements. In this new version, there is a vertical, real-time display of the floating (or fixed) Grain Buffer, which adds an extremely useful visual element to the overall workflow.
Crusher-X 9.5 also features a multi-dimensional, modulated feedback matrix (or a Grain Controlled Feedback (GCF) system) that can be used to create gorgeous, expansive reverberating effects or cinematic drones. This powerful feature boasts its own individual feedback compressor, limiter and expander controls for creating your perfect granular reverb effect.
You can read more about the new 9.5 features here.
---
Crusher-X is a granular synthesizer effect plug-in for Windows (VST & VST3) and macOS (AU, VST, VST3).
It comes with GCOs, an Autotune and Pitch tracking system, up to 10-channel surround outputs, up to 199 individual grain streams, unique 3D grain visualization, over 3700 LFOs, over 370 real-time parameters and more than 180 presets.
Crusher-X is available for €289.00 on accsone.com