The 8 Best Ableton FREE Plugins (2022)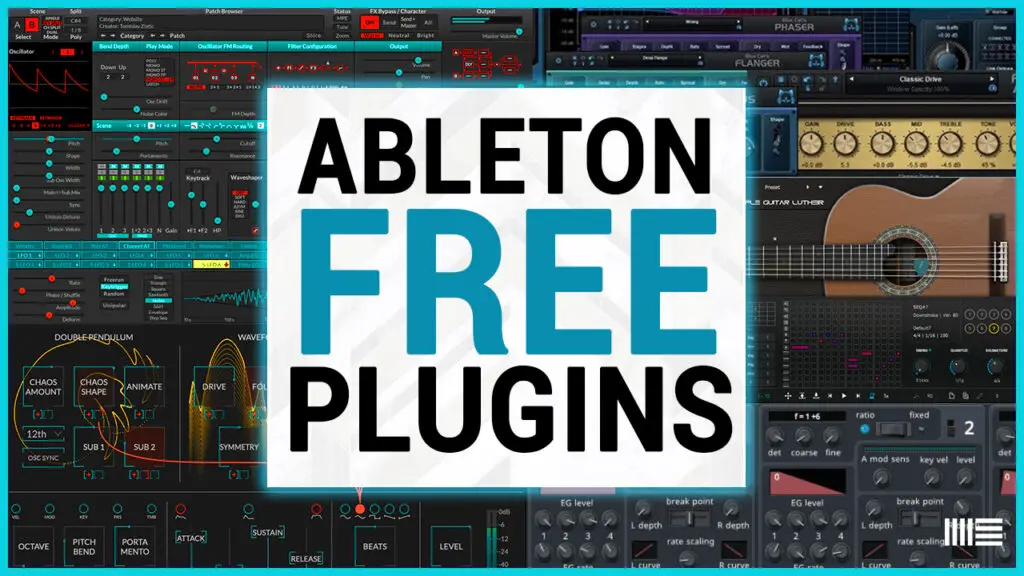 "What are the best Ableton free plugins in 2022?"
In 2022, Ableton Live remains one of the most popular DAW's among both beginner and advanced music producers. Best known for its stripped-back design, its intuitive workflow and legendary performance mode, Ableton Live is definitely one of the best DAWs of all time.
Plus, Ableton comes packaged with incredible stock VST plugins, from virtual synths such as Wavetable, to several versatile effect plugins such as AMP, Erosion and many, many more. In total, Ableton Suite comes with 17 virtual instruments and over 60 effects!
But what are the best Ableton free plugins that are NOT included within Ableton Live?
---
Free VST plugins for Ableton
If you're looking for free VST plugins for Ableton Live, there are literally hundreds of plugins out there that work perfectly with this incredible DAW, you just need to know where to look.
From authentic analog synth emulations, to modern space delay effects, there are plenty of free Ableton VST plugins to choose from.
With that in mind, we've compiled this list of the best Ableton FREE plugins that will take your music production to the next level.
---
A quick note on DAW exclusivity:
It's important to note these plugins aren't ONLY designed for Ableton Live, and should work on most other DAW's.
However, we've tried and tested ALL these plugins using Ableton Live. All the plugins listed below work flawlessly within the DAW's interface, and are therefore fantastic choices for Ableton users looking to enhance their plugin collection.
Click here to check out our list of the 100 Best FREE VST Plugins of All Time.
---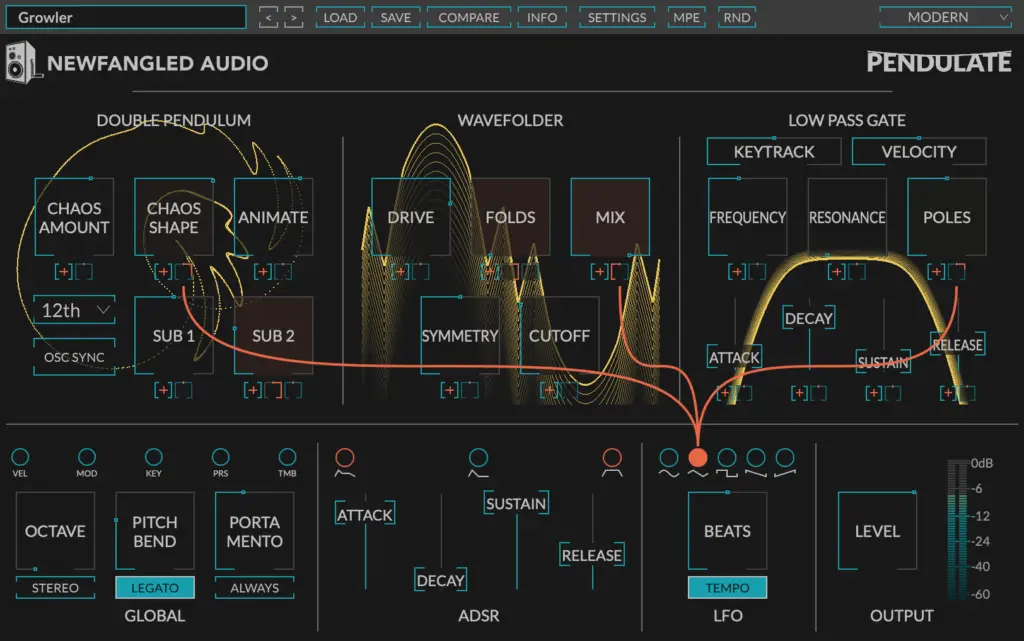 Pendulate is a powerful, highly unique synth plugin developed by Newfangled Audio.
If you're bored of finding similar synth sounds in every plugin, Pendulate will feel like a breath of fresh air. This is a chaotic mono-synth that uses a brand new "double-pendulum-oscillator" to synthesise completely unique, distinctive sounds.
Pendulate can be used to create searing leads, aggressive basslines, lush, evolving pads and everything in between.
If you're used to the classic oscillator-based synth layout, Pendulate's workflow may seem a little tricky at first. However, it does come with a generous selection of presets to experiment with, and after a while its novel design becomes a lot easier to naviagate.
This VST synth works perfectly within Ableton Live, so is a fantastic choice if you're looking to expand your Ableton free plugin collection!
Click here to download. Available for both Windows / Mac and 64-bit only.
---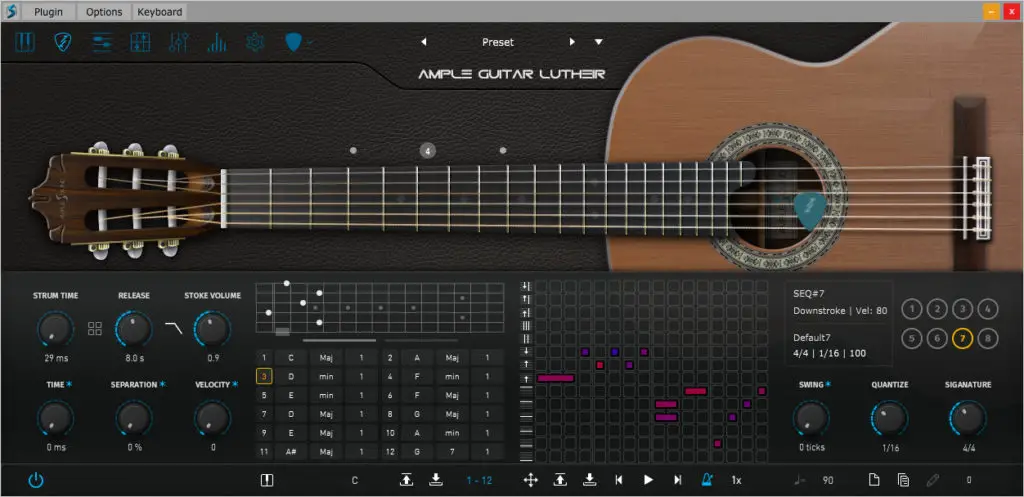 Ample Guitars "M Lite II" is another incredible Ableton free plugin in 2022.
When it comes to acoustic guitar emulators, most VST plugins out there sound unrealistic and "robotic". An authentic acoustic guitar is incredibly hard to replicate using only VST plugins, due to the imperfections and natural humanisation of a real guitar performance.
M Lite II is an exception. This acoustic guitar plugin makes it incredibly easy to create authentic-sounding guitar performances, from plucked melodies to strummed chords.
It also comes packed with on-board features and sampling technology, such as capo logic, real strumming samples, hammer on & pull off noises, palm muting and more.
And best of all, it's completely free!
Click here to download. Available for both Windows / Mac and 32-bit / 64-bit.
---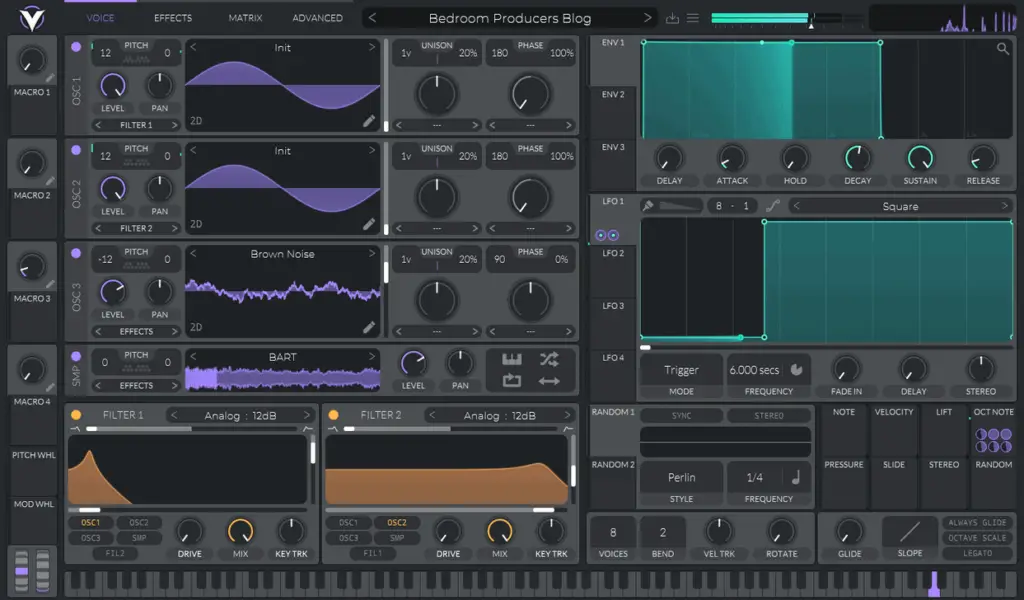 In 2022, Vital is without a doubt one of the most popular, renowned free plugins out there.
Its release in late 2020 took the plugin world by storm, blowing almost any other free synth out of the water. Vital is a spectral warping wavetable synthesizer that, even as a free plugin, holds its own against commercial wavetable synths such as Serum.
Vital features 3 powerful, high-quality wavetable oscillators, each with frequency warper and waveshaper controls. The 3 oscillators (and an additional sample slot) can be individually routed to two separate filters, each containing 32 eclectic filter types. From there you can use Vital's endless modulation options to create any sound imaginable. You can easily assign the 3 envelopes, 4 audio-rate LFOs, 2 randomizers, and several other modulation options to a wide range of Vital parameters. It also features an 8-slot effects rack, including delay, phaser, reverb, a multiband compressor and more.
Granted, its not perfect. Some users report issues with Vital on slower system, and the CPU-usage is definitely higher than your average VST synth. But overall, this epic virtual synth is a must-have for any music producer.
Plus, Vital works flawlessly within Ableton, so it's a perfect choice to add to your Ableton free plugin arsenal.
Click here to download. Available for both Windows / Mac and 64-bit only.
---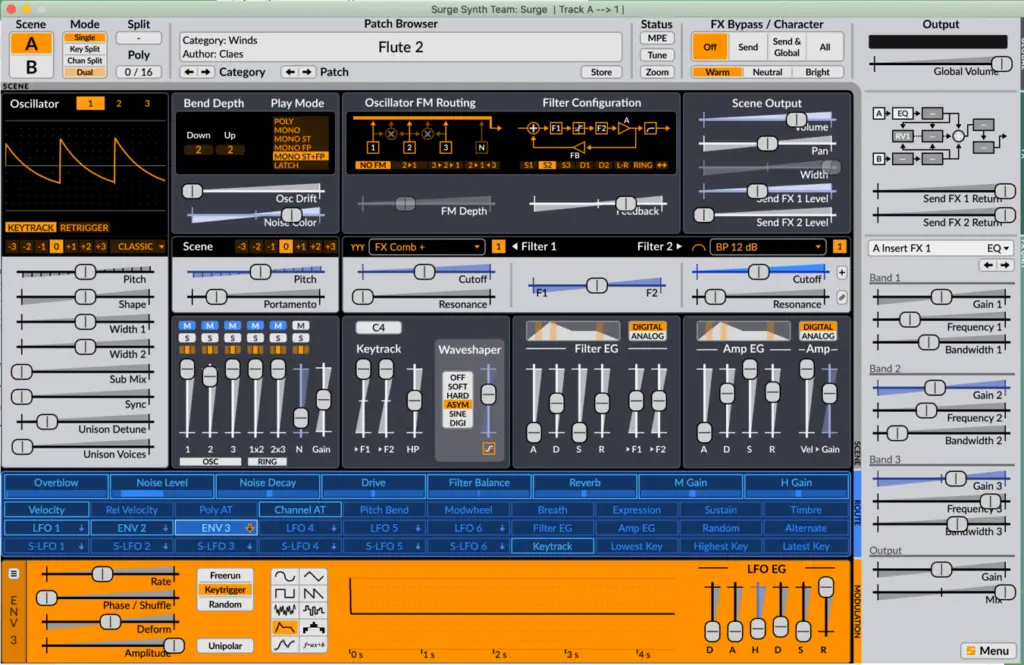 Another free, fully-featured synth VST plugin you should know about is Surge.
Surge is an open-source powerhouse of creative possibilities, and remains one of the best Ableton free plugins in 2022.
One of the best things about Surge is its ability to create almost any sound you can imagine.
The Surge engine features 3 oscillators, each with 12 unique algorithms to choose from. It also features 2 filter units (with feedback loop capabilities), 12 LFO units and 8 effect units with 24 versatile effect options such as 2 reverbs, a vocoder and a ring modulator.
The interface is relatively beginner friendly, and for a free plugin this thing has an enormous amount of creative flexibility and is capable of creating a huge amount of professional-quality sounds.
Click here to download. Available for both Windows / Mac and 32-bit / 64-bit.
---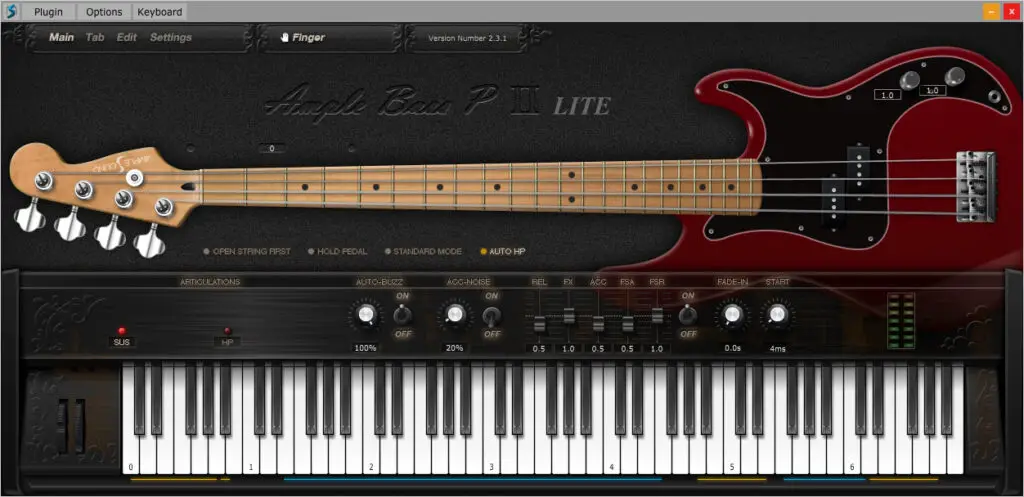 Another incredible free plugin from Ample Sound is their stunning Bass P Lite II.
As you might have guessed, this VST plugin emulates an electric bass guitar. Just like M Lite II, the sound quality is absolutely stunning.
It is clear that a lot of care and detail went into the sampling process for Bass P Lite II, as the plugin gives a rich, authentic tone with several natural humanisation elements.
It also comes packed with on-board features and sampling technology, such as capo logic, hammer on & pull off noises, rich fingering noises and more.
Click here to download. Available for both Windows / Mac and 64-bit only.
---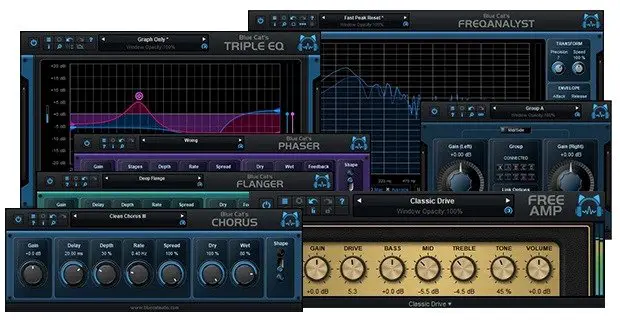 If you're looking for a quirky collection of effect plugins for Ableton Live, the Free Plugins Bundle by Blue Cat Audio should definitely be on your radar.
This free plugin bundle includes:
• Blue Cat's Chorus
• Blue Cat's Flanger
• Blue Cat's FreqAnalyst
• BlueCat's FreeAmp
• Blue Cat's Gain Suite
• Blue Cat's Phaser
• Blue Cat's Triple EQ
Each plugin is fairly straightforward and easy-to-use, providing fast, CPU-light effects and several presets to choose from.
One of our personal favourites within the bundle is FreqAnalyst. This spectrum analyzer tool is able to display continuous variations even with a very high frequency resolution, thanks to its unique smooth interpolation algorithms.
Click here to download. Available for both Windows / Mac and 32-bit / 64-bit.
---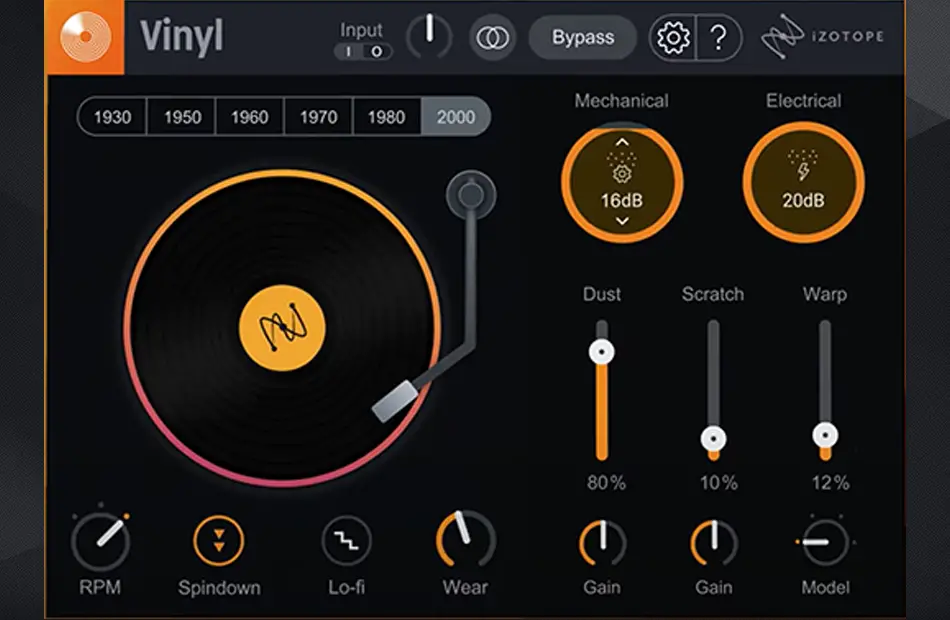 iZotope are one of the most iconic plugin development companies in 2022, in particular their audio mastering plugin collection.
Recently iZotope re-vamped their classic free lofi plugin Vinyl. This new and improved version allows you access the sonic character and audio quality of previous eras in music history.
On the right hand side of the plugin, you have the main components; Dust, Scratch and Warp. These controls increase the volume of the individual elements. There's also an RPM control which will determine the frequency of how often these audio artefacts occur. Vinyl also has controls for adding electrical noise and mechanical noise, as well as several other creative options to play around with.
Overall, Vinyl is a versatile, highly usable lofi effect plugin for adding some retro character to your tracks. Of course, it also works perfectly within Ableton, making it one of the best Ableton free plugins of 2022.
Click here to download. Available for both Windows / Mac and 32-bit / 64-bit.
---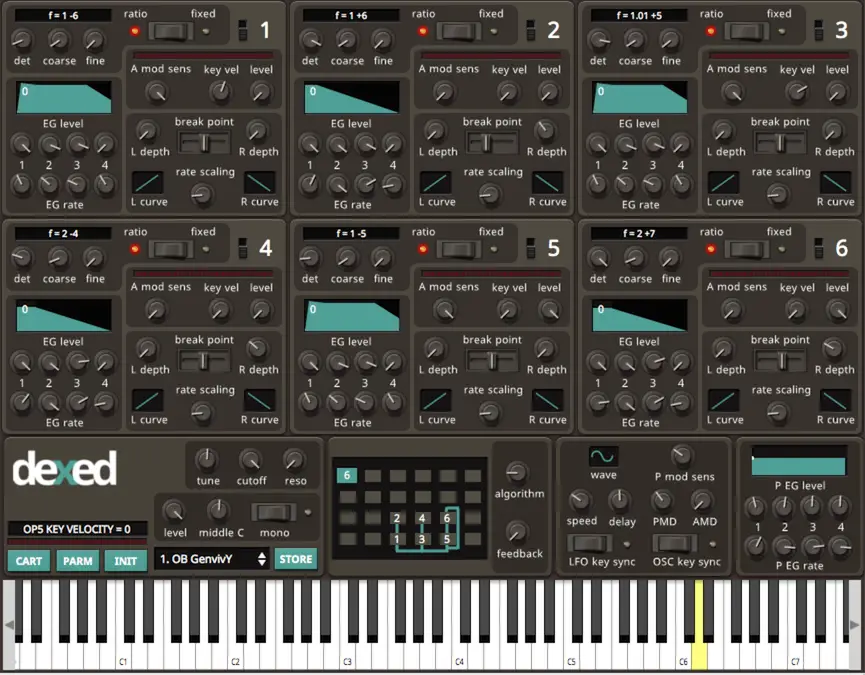 8. Ableton Free Plugins: Dexed
The final Ableton free plugin is the legendary free synth Dexed.
Dexed is an authentic-sounding, virtual emulation of the Yamaha DX-7 synth, and even includes many of the sound patches from the original hardware.
At first glance, the layout seems like a confusing minefield of buttons, sliders and other controls. Dexed definitely has a steeper learning curve than most VST synths, especially to complete beginners. However once you're over the initial learning curve, this plugin is an absolute joy to use.
The sound quality is full of analog character, and the massive preset bank makes it easy to access the full scope of the iconic Yamaha DX-7.
Click here to download. Available for both Windows / Mac and 32-bit / 64-bit.
---
---

---
The 8 Best Ableton FREE Plugins (2022): Similar Articles
8 Best Free VST Instrument Plugins
How to make a beat in Ableton Live (Full Tutorial)
Ableton vs FL Studio | Which is right for YOU?