The 5 Best FREE Autotune VST Plugins (2022)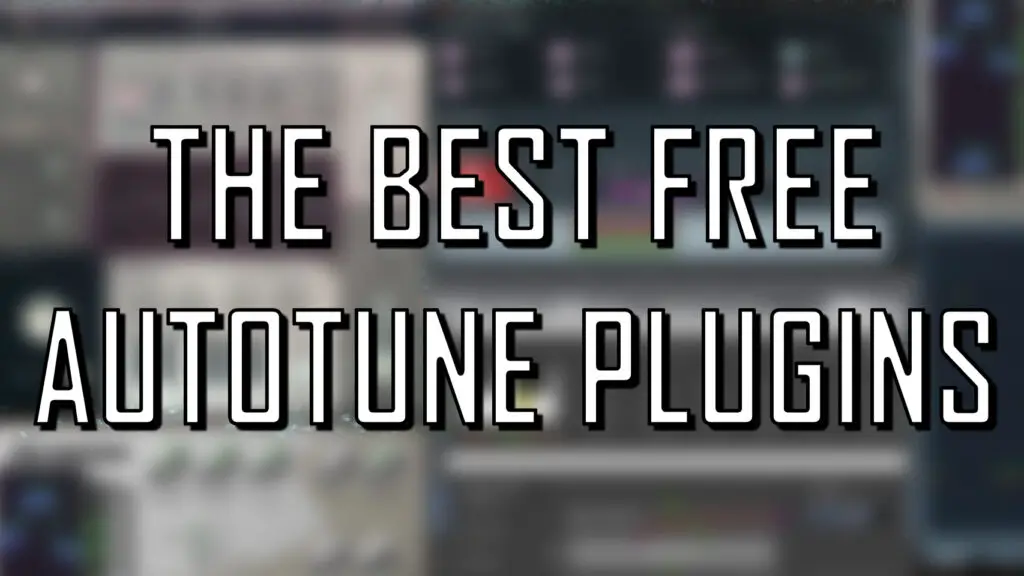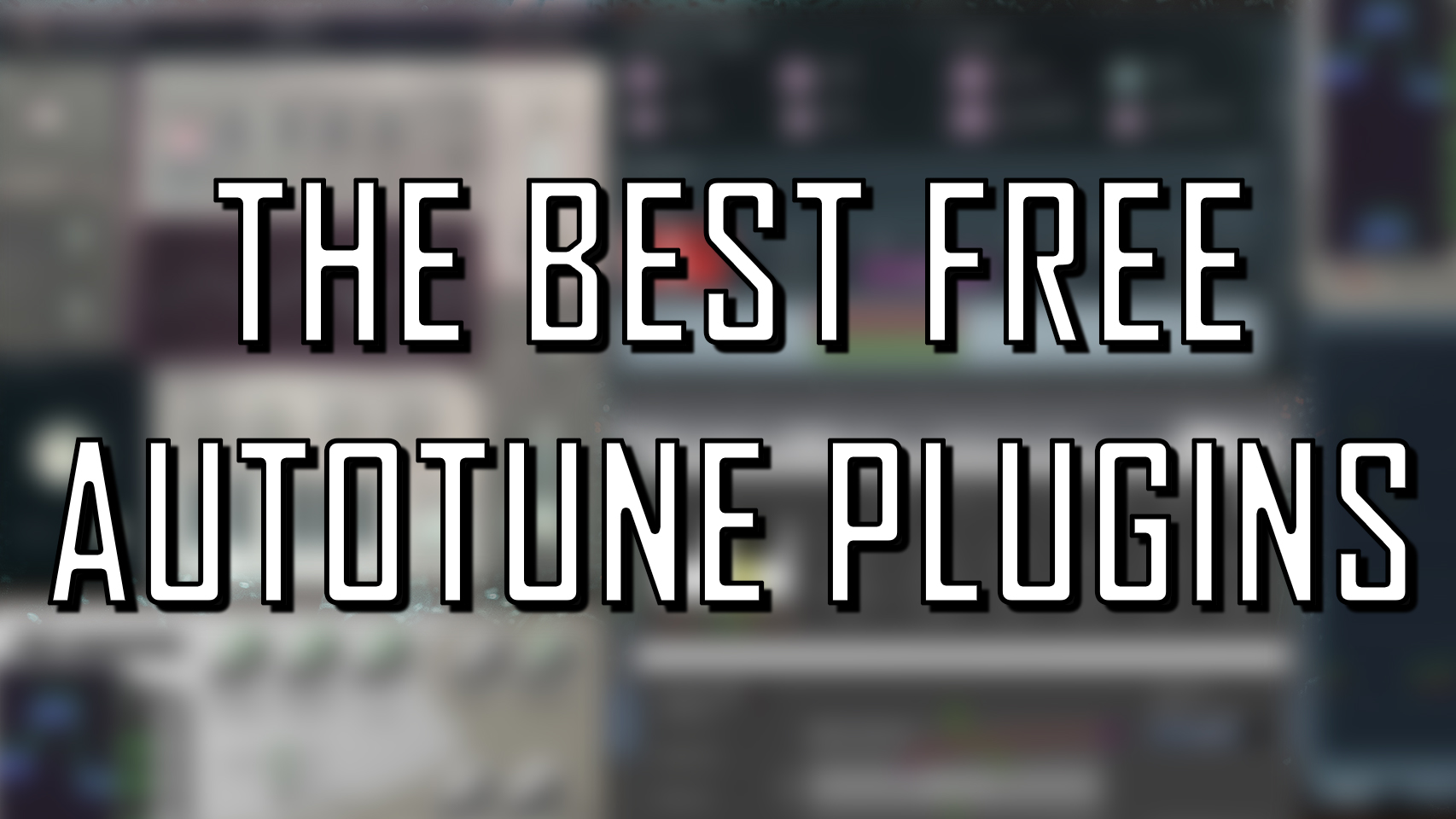 "What are the best free autotune vst plugins out there?"
Autotune VST Plugins
When it comes to finding a great autotune VST plugin, there are some incredible options out there. There are also plenty of options that just aren't worth your time.
Autotune VST plugins are perfect if you're recording vocals or working with vocal samples. They can be used to create various effects, from robotic, futuristic tones to simply polishing and fine-tuning your vocals. When searching for an autotune VST plugin, it's important you look for a plugin that meets your production needs.
Many artists across a range of music genres use autotune to enhance their vocals, and the effect is even used during live performances. These autotune effects are usually achieved using a VST/AU plugin with a DAW.
Are they any FREE Autotune VST Plugins?
The short answer is: yes!
Granted, most of the professional autotune found in popular music most likely comes from expensive, commercial autotune VST plugins such as Antares Auto-Tune Pro ($399!).
However, nowadays there are plenty of powerful, incredible-sounding free alternatives that can be used to polish and perfect your vocal recordings.
Many of these free autotune VST plugins have an impressive range of pitch parameters (such as formanting and snapping options), resulting in a surprisingly high level of control over your autotune effect.
So, without further ado, let's take a look at the best FREE autotune VST plugins in 2022.
---

---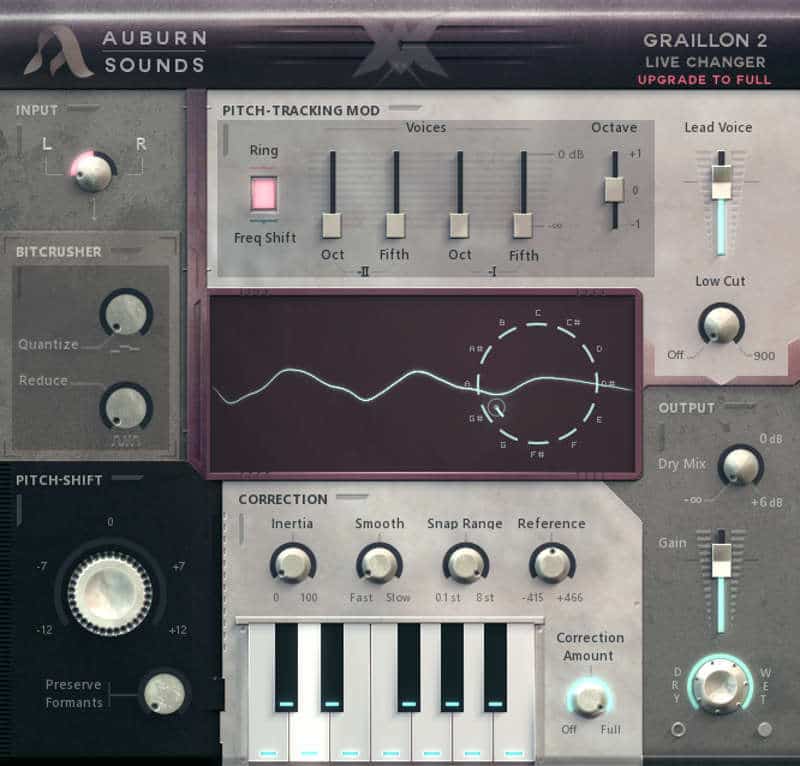 It's impossible to talk about free autotune VST plugins without mentioning Graillon 2.
Upon first opening the plugin, you are met with a stunning, industrial-style interface with glowing knobs and a clear, easy-to-use layout. The exceptional GUI design makes this plugin incredibly easy to navigate. Graillion also features a central waveform display, showing the note your sound is playing, as well as displaying Graillon's sonic alterations to the sound.
Thankfully, Graillon 2 doesn't just look great, it also sounds sublime.
By activating the Correction module, your vocal track will begin snapping to specific notes. Within this module, you can control the inertia (speed), smooth the note snapping, edit the snapping range and the strength of the correction. Honestly, this free autotune VST plugin sounds great out the box, but these controls give a lot of creative freedom over your autotune effects.
Using the smooth knob and the correction amount feature, you can create a range of vocal pitch correction effects, from Cher-style, futuristic autotune, to fine-tuned, minimal adjustments.
Outside the correction module, Graillion 2 boasts several other vocal processing effects. These include pitch shifting while preserving formants, a bitcrusher section and other pitch-tracking options.
Overall, I'd say Graillion is the best free autotune VST plugins out there in 2022.
Click here to download this free autotune VST plugin.
---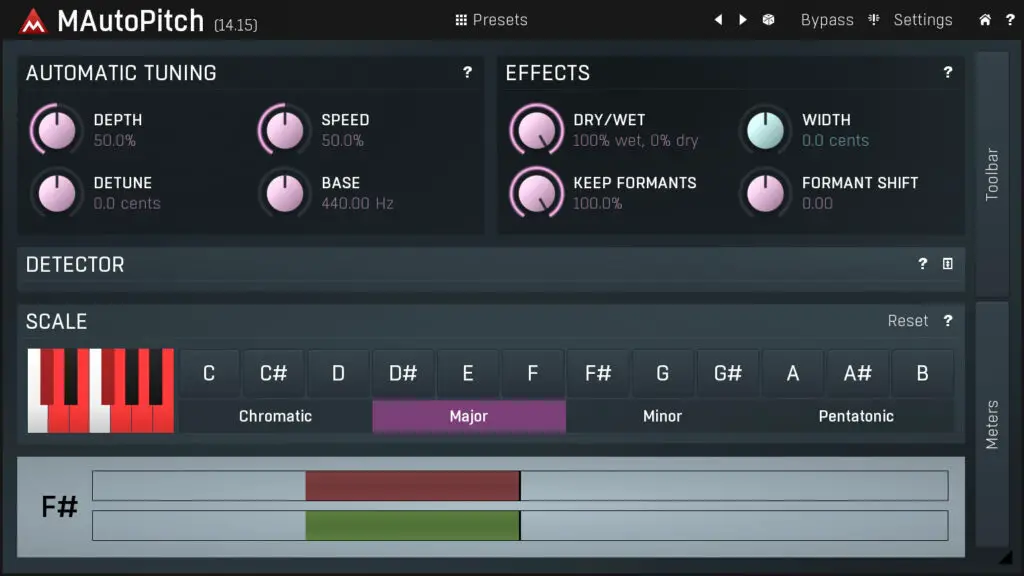 MAutoPitch by MeldaProduction is another fantastic choice when it comes to free autotune VST plugins.
The main pitch correction module of the plugin give you depth, detune, speed and base options. The speed knob is perfect for determining how fast MAutoPitch responds to pitch changes in the input signal, so using a low setting will give a subtle autotune effect.
MAutoPitch also features an effects module, with dry/wet, width and formanting options. If you're unfamiliar with formanting, it's an interesting method of lowering the "perceived pitch" of a sound while retaining it's true pitch. So for example, it can be used to make a vocal recording lower and more masculine, without shifting the integral pitch of the melody. Graillon 2 also features these formanting options, and it gives both plugins a little extra sonic flexibility.
When compared to Graillon 2, I'd say Graillon 2 has a more intuitive design, and is much friendlier to beginners. However MAutoPitch does has a few additional features, such as a stereo width adjustment and a limiter.
Click here to download this free autotune VST plugin.
---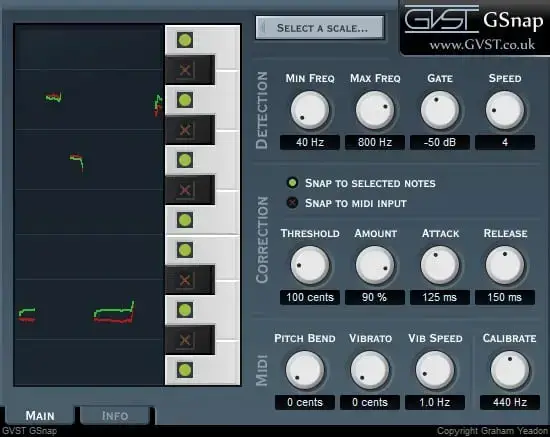 GSnap is hailed as the first autotune VST plugin to be released for free. Suprisingly, this free plugin is still among the best free pitch correction plugins out there.
At first glance, GSnap seems to have most of the features of modern autotune plugins such as Graillon 2 and MAutoPitch. However, one feature that definitely sets it apart is its ability to adjust notes according to your MIDI signal.
For example, with other autotune plugins, you are relying on the plugins programming to detect the vocal melody and adjust the pitch accordingly. With GSnap, you can feed the plugin MIDI notes, and GSnap will tune your sound to those MIDI sequences. Using this method can sometimes leave less room for error, as the plugin has explicit instructions on how to tune your sounds (in the form of MIDI notes).
Having said that, GSnap's automatic pitching functionality also produces great results.
This plugin comes with a couple of downsides. Firstly, it doesn't feature some of the additional controls found with Graillon 2 or MAutoPitch such as formanting or bitcrushing. Secondly, it is only available on Windows OS.
Click here to download this free autotune VST plugin.
---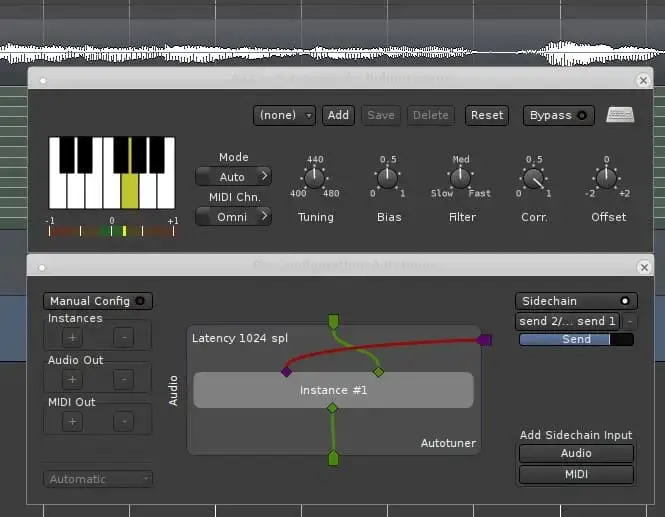 X42 Auto-Tune is a free plugin mainly designed for light pitch correction for vocal samples and recordings.
The plugin works by resampling and looping the signal, so it should be used to correct small errors and not to create heavy, robotic autotune effects.
Like GSnap, it has the ability to tune the input signal based on specific MIDI notes, or you can input a fixed set of notes for the plugin to respond to.
Admittedly, X42 Auto Tune is not the best looking plugin in the world. But despite it's appearance, it has a few extra features that really set it apart from other free autotune vst plugins.
Firstly, it's Bias parameter allows the vocals to stay on a specific note for a longer period of time, regardless of the original tuning. This retains certain imperfections of the original sound, which helps to the give an organic, natural vocal effect. X42 Auto Tune also features a unique Offset parameter which adjusts how far the vocalist can stray from the predesigned notes (MIDI or your inputted notes).
Click here to download this free autotune VST plugin.
---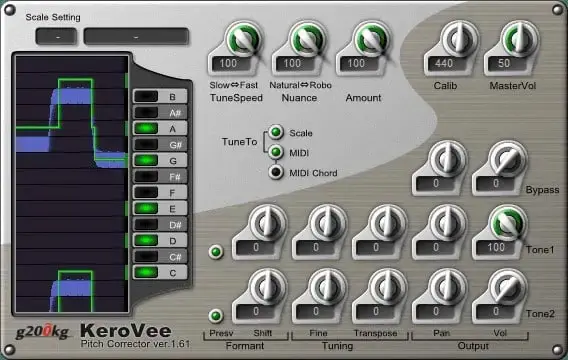 5. KeroVee (Windows Only)
Created way back in 2010, KeroVee is a free Japanese-made autotune plugin ideal for tweaking and fine-tuning the pitch of your vocals.
Like X42 Auto Tune, it's not the prettiest plugin out there, but provides excellent autotune functionality. On the right hand side of the GUI, you can select which notes you want KeroVee to correct your vocals to. Like GSnap, you can input MIDI notes to KeroVee in real-time.
One fantastic feature of KeroVee is the Nuance parameter, allowing you to retain subtle pitch changes, such as natural vibrato. This is ideal for keeping that organic vocal sound, and "masking" the use of autotune.
Unfortunately, KeroVee is Windows only. On top of that, it's definitely not the easiest plugin to understand at first glance, and it has a noticeable learning curve.
Click here to download this free autotune VST plugin.
---
---

---
The 8 Best FREE Autotune VST Plugins (2022): Similar Articles
100 Best FREE VST Plugins of All Time
Ample Guitar L III (VST/AU Plugin) | HONEST Review
The 8 Best Free VST Instrument Plugins