10 Best FREE VST Plugins Every Producer NEEDS In 2022!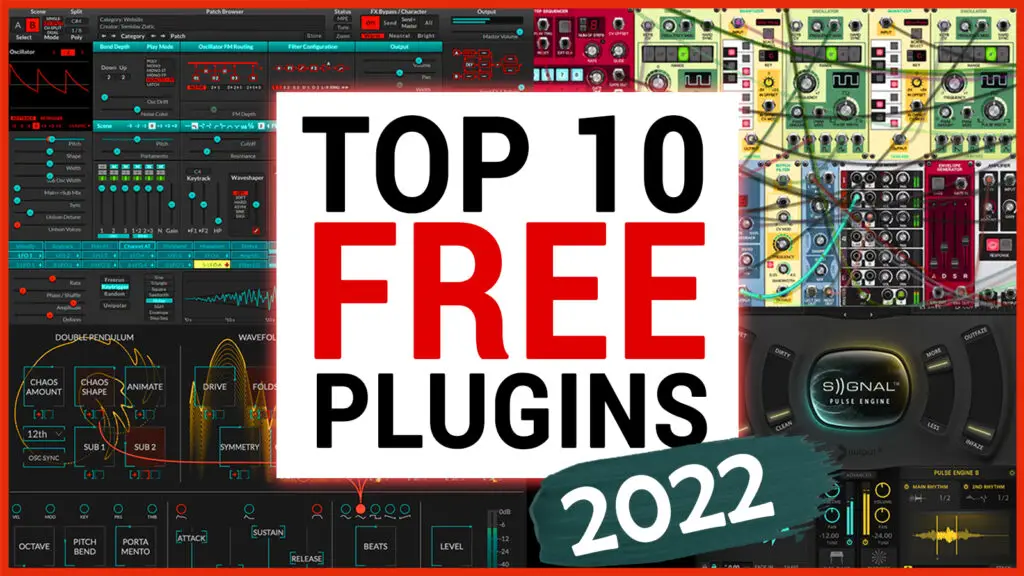 "What are the best free VST plugins out there in 2022?"
In 2022, there are hundreds of free VST plugins out there, from fully-featured wavetable synth plugins, to detailed, authentic virtual instruments. Third-party VST plugins are an essential part of the music production process, so it's important you know which plugins are worth your time.
If you're a beginner, or you're looking for some new free VST plugins to add to your collection, you're in the right place.
Last year we released our rundown of the best VST plugins of 2021, which received a hugely positive response. So without further ado, let's dive into this list of the best VST plugins 2022. Enjoy!
---
The Best Free VST Plugins 2022 (+ download links)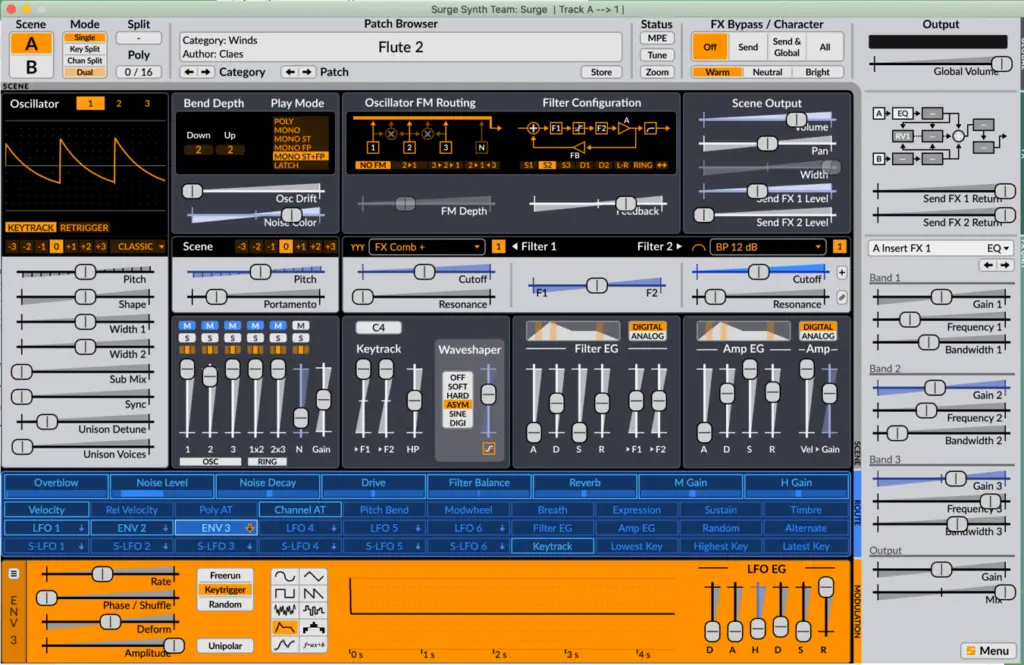 In last year's rundown we gave the number 1 spot to the incredible wavetable synth Vital. So if you haven't already downloaded Vital, make sure you check it out here.
But another free, fully-featured synth plugin you should know about is Surge.
Surge is undoubtedly one of the most underrated synths in 2022, especially given its seemingly endless amount of onboard controls and effects.
One of the best things about Surge is its ability to create almost any sound you can think of.
The Surge engine features 3 oscillators, each with 12 unique algorithms to choose from. It also features 2 filter units (with feedback loop capabilities), 12 LFO units and 8 effect units with 24 versatile effect options such as 2 reverbs, a vocoder and a ring modulator.
Vital vs Surge?
You may be wondering: between Vital and Surge which is the better plugin? In all honesty, Vital has way more features than Surge, and its wavetable functionality is better than almost any paid plugin out there. However, Surge is noticeably lighter on CPU, and many users have reported their older systems struggling when working with Vital. Plus, Surge has significantly more presets than the free version of Vital, so its often better for instant sonic inspiration.
However, they are both completely free, and are absolutely essential tools for any producer in 2022.
Click here to download. Available for both Windows / Mac and 32-bit / 64-bit.
---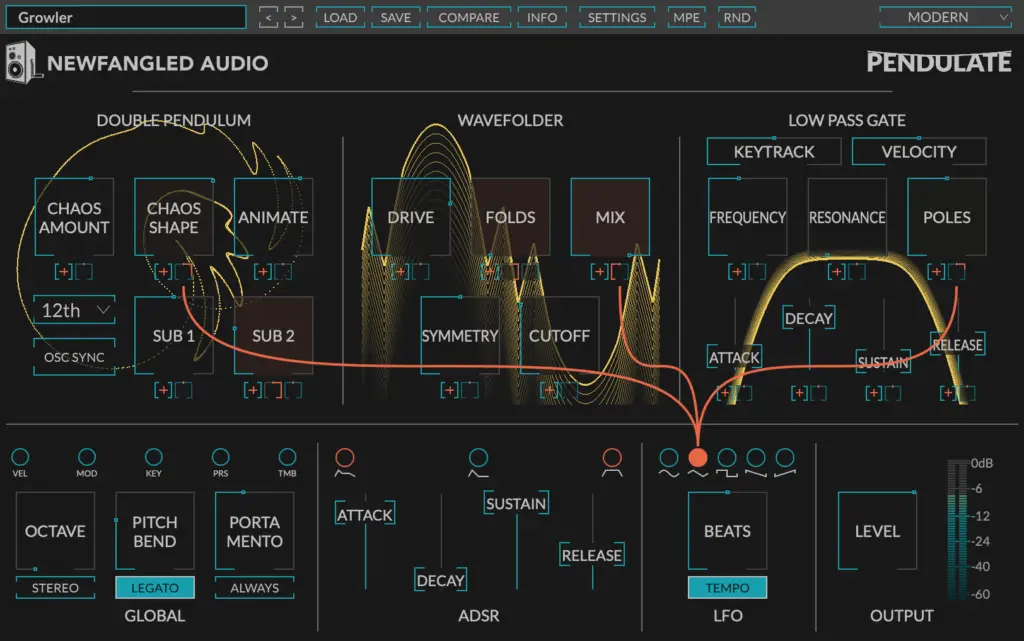 Another example of a highly underrated synth plugin is Pendulate from Eventide Audio. This plugin is refreshingly unique and is capable of creating some really interesting, electronic sounds.
The interface features a double pendulum oscillator, with controls for adding instabilities, detuning, overtones and sub bass. It also features a unique wavefolder section for editing the tone and harmonics of the sound, as well as a ton of options in the lower section for adding modulation, ADSR, and other useful parameters.
I'd definitely recommend this synth to electronic producers looking for grittier, more intense sounds to add to their tracks.
It's worth mentioning this plugin requires you to sign up before you can download it but it takes less than a minute and it's definitely worth it.
Click here to download. Available for both Windows / Mac and 32-bit / 64-bit.
---

Wider from Polyverse is a free VST plugin that can be used to expand the stereo image of a mono signal, giving it a huge amount of width.
Now you might be thinking: "I already have a stereo widener control built into my DAW, why do I need this plugin?". From my experience this free VST plugin is one of the only stereo width plugins that is completely mono-compatible.
For example, many other plugins tend to knock the signal out of phase which can make the result sound strange and unbalanced. Whereas Wider creates a natural stereo image that will always remain in phase with itself.
It's worth mentioning that this stereo algorithm comes from the insane plugin Manipulator, which Polyverse created with the legendary electronic duo Infected Mushroom. Manipulator is probably the best plugin out there for warping and manipulating your sounds to create truly unique, inspiring effects. It's not a free plugin but if you are interested in that one you can check it out here.
Click here to download. Available for both Windows / Mac and 32-bit / 64-bit.
---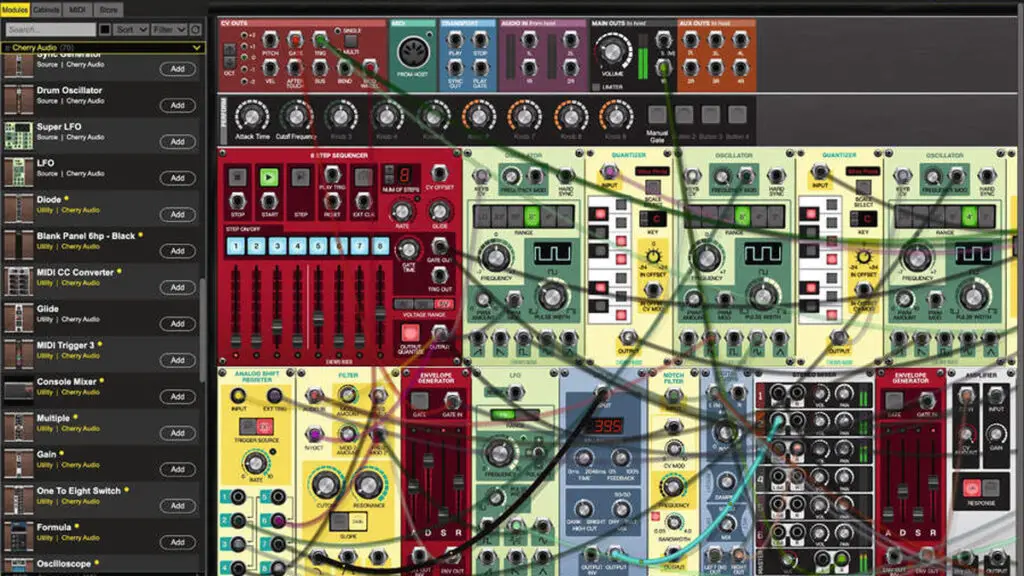 Voltage Modular Nucleus by Cherry Audio is an another absolutely essential download for any producer in 2022.
This plugin contains a free collection of 22 modules with over 130 presets. It is also the perfect beginners introduction to this style of modular synthesis.
The free version of this plugin is meant to act as a "starter kit", however it really has everything you need to get started (and more!) Not only does it have a gorgeous design and workflow, but it's also capable of creating some genuinely breathtaking sounds.
Its modular-style workflow can be quite confusing for beginners, which is why it's best to maybe start experimenting using the presets as a starting point.
Click here to download. Available for both Windows / Mac and 32-bit / 64-bit.
---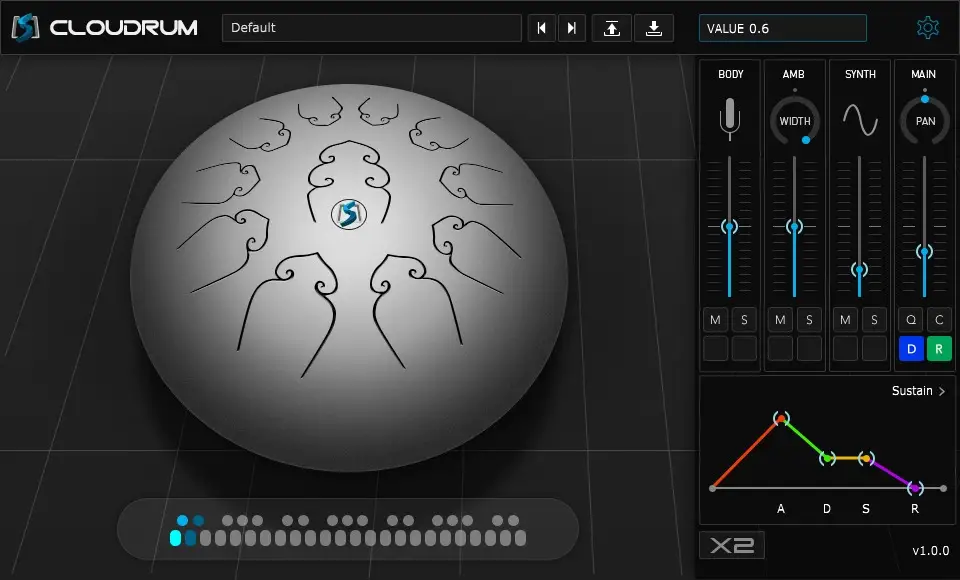 Cloudrum by Ample Sound is a virtual instrument that allows you to perfectly sample a steel tongue drum with a range of 3 octaves.
A common pitfall for modern music production is to consistently use the same sounds as other producers in their genre. The best producers in 2022 all use sounds in new and creative ways, which instantly sets them apart from everyone else. With that in mind, Cloudrum gives you access to a gorgeous-sounding instrument you may have come across before.
The tone and colour of the sound is extremely pleasant to the ear, and you also get some handy mic parameters and an ADSR control to finetune the sound as well.
Click here to download. Available for both Windows / Mac and 32-bit / 64-bit.
---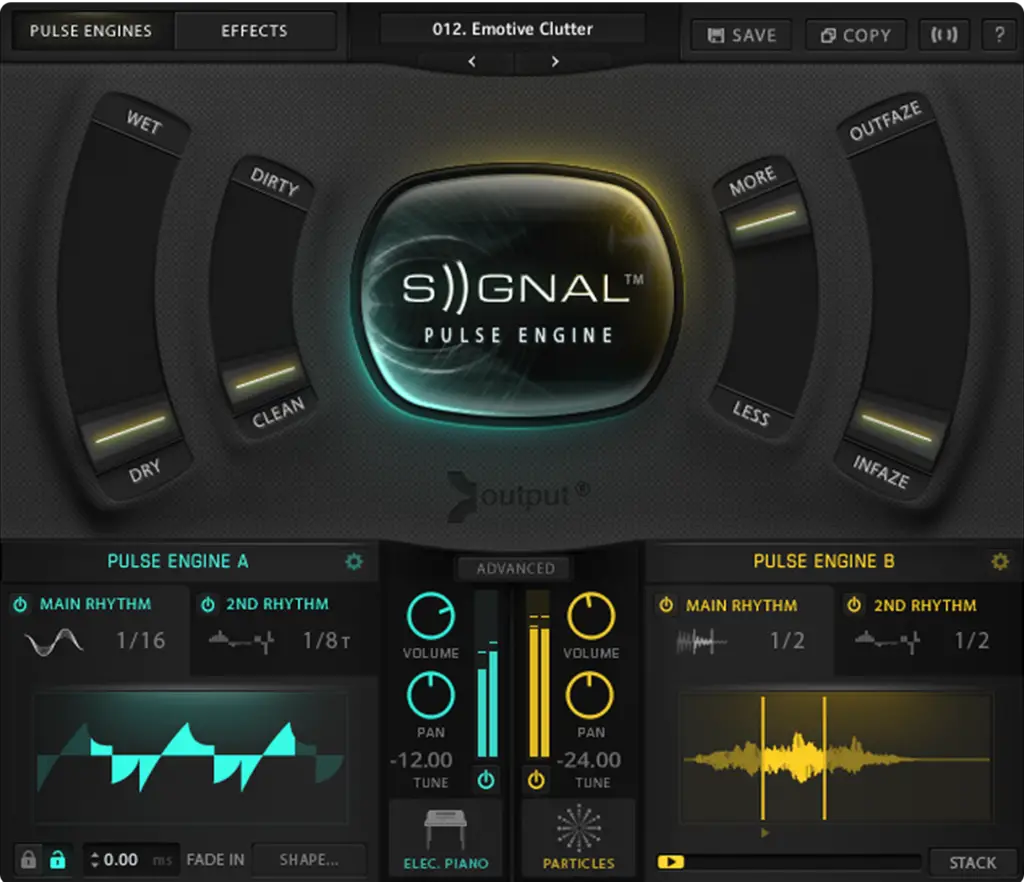 The next free VST plugin on this list is Signal (Free) by Output.
Output are an acclaimed audio software development company with a fantastic range of instrument and effect plugins, as well as Kontakt libraries.
Signal Free is the free version of their incredibly popular Signal library: an expansive, rhythm-focused collection of instruments ideal for creating evolving, atmospheric sounds.
Even the free version remains extremely versatile, and can be used to create synth stabs, melodic, spacious piano tones and a huge range of ambient soundscapes.
Signal Free includes 4 sound sources and 25 unique instrument presets, and even boasts LFOs, step, arpeggiator and looper controls.
It's worth noting this is a Kontakt instrument so I use it in the full version of Kontakt. However it works in the free version of Kontakt Player as well, so I'd definitely recommend trying it out even if you don't have the full version.
Click here to download. Available for both Windows / Mac and 32-bit / 64-bit.
---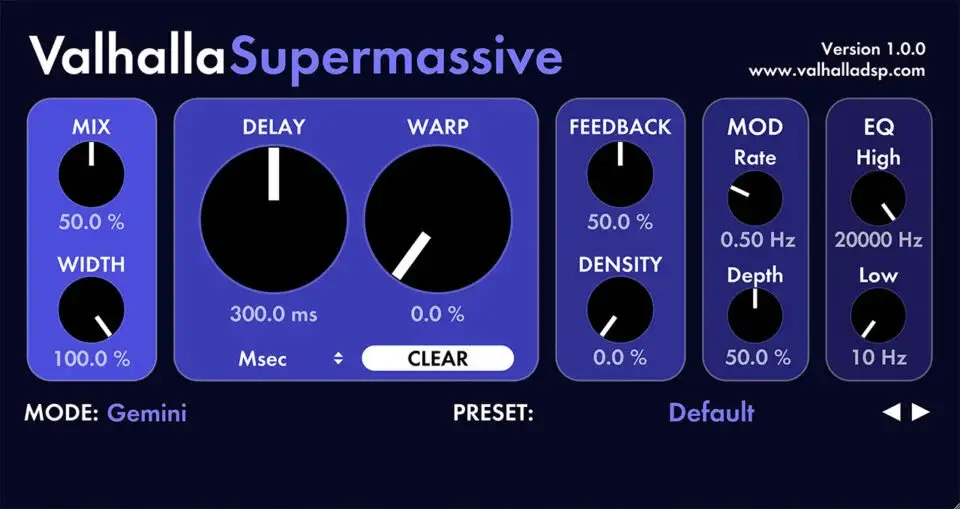 7. Best Free VST Plugins – Supermassive
SuperMassive by Valhalla is a stunning, surprisingly-powerful free reverb plugin.
Valhalla are a renowned plugin company best-known for their insanely high-quality reverb and delay tools. Super Massive is no different, and it can be used to create huge, spacious, evolving reverb tails.
The MODE control is probably the most powerful Supermassive control, as each algorithms in this list has very decay characteristics.
Combining these long delays with the unique WARP control, and the results range from echoes that slowly fade in, to cascading harmonic echoes, to lush, evolving reverbs, and more.
If you're looking to spice up your reverb effects, Supermassive is an absolute no-brainer.
Click here to download. Available for both Windows / Mac and 32-bit / 64-bit.
---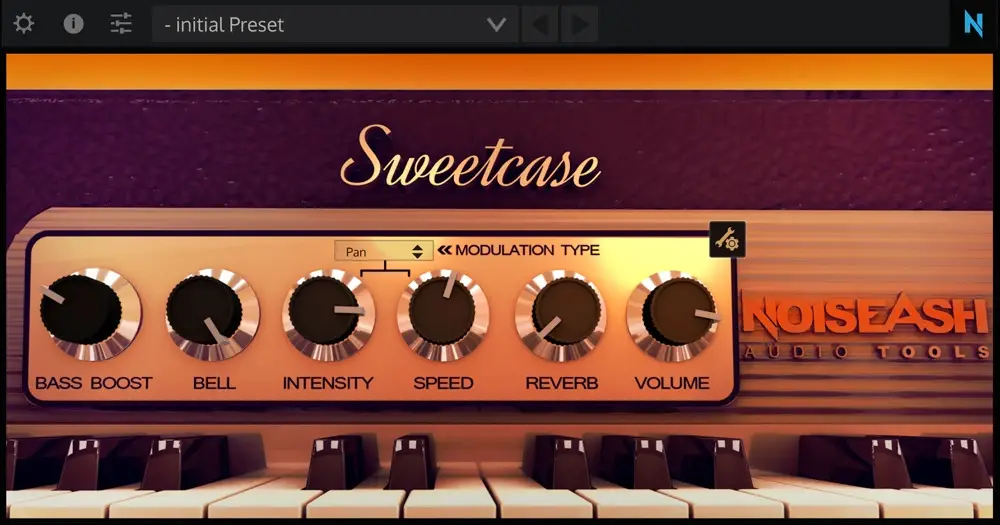 If you're looking for some instant vintage keys, you should definitely check out the free keys plugin Sweetcase from NoiseAsh.
Sweetcase is designed and recorded with vintage analog equipment, and has a really authentic, retro sound.
The controls are fairly basic, but you do get a reverb control and a couple of modulation controls as well.
Click here to download. Available for both Windows / Mac and 32-bit / 64-bit.
---

When it comes to free compression plugins, everyone knows about OTT. Another free alternative for compression is Rough Rider by AudioDamage.
Rough Rider is easily one of the most popular free compression plugins of all time, and for good reason.
For a free download, the quality is very rounded and professional-sounding. The interface is also very easy to use and makes compressing your sounds a quick and uncomplicated process.
This new and updated version  includes this external sidechain input as well as your standard compression controls.
Click here to download. Available for both Windows / Mac and 32-bit / 64-bit.
---
Finally we have an incredible collection of plugins modeled on authentic guitar pedals.
The effects include various types of distortion, drive and a chorus as well. My personal favourite is the Ibanez® TS-808 modeling plugin, which provides a tube-style creamer effect with drive, tone and level controls, as well as a mod switch.
So if you're looking for some free guitar tones, I'd definitely recommend checking this collection out.
Click here to download. Available for both Windows / Mac and 32-bit / 64-bit.
---

The Best FREE VST Plugins 2022: Similar Articles
The 8 Best Free VST Instrument Plugins (2022)
FREE Alternatives to Popular VST Plugins (2022)
10 Best FREE VST Plugins Every Producer NEEDS in 2021!