Britpressor by Analog Obsession – The New FREE Vintage Compressor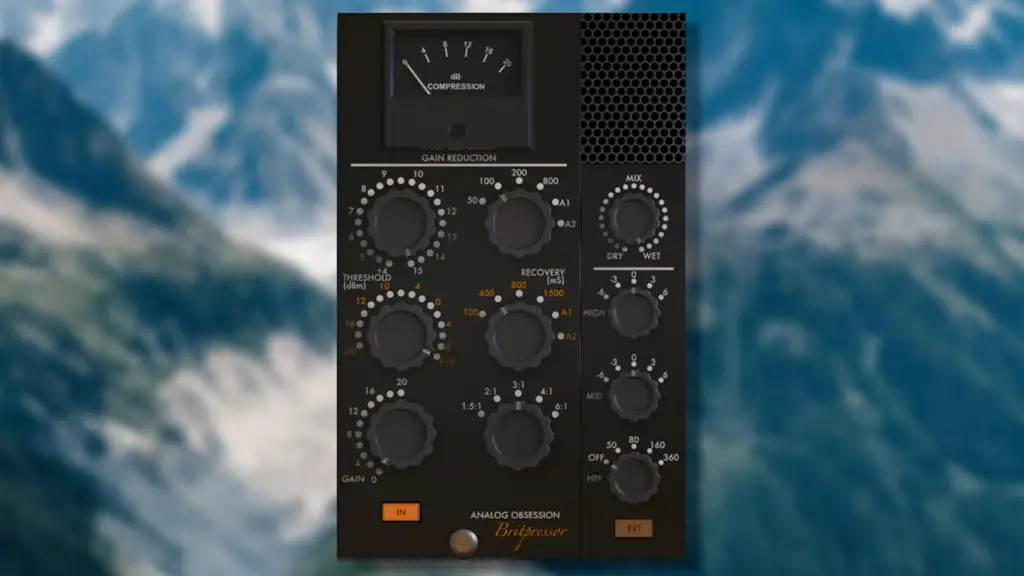 Analog Obsession have released Britpressor, a vintage, solid-state compressor/limiter plugin modelled on analog hardware. This plugin is completely free to download, and is available in VST, VST3, and AU formats for both Mac and PC.
Analog Obsession is a fairly low-key audio development plugin with a surprisingly large collection of free effect plugins. As the name suggests, their products focus on emulating classic, analog tones from vintage hardware units.
Their newest release Britpressor is no different. Inspired by solid-state compressor units, Britpressor provides warm, high-quality compression with a retro flare.
---
The interface features threshold, recovery (release), limiter level + recovery, gain, ratio, mix and, perhaps the most enticing feature: a multi-band sidechain section.
The multiband sidechain controls can be internal and external (the EXT button activates the external sidechain). The sidechain input features 3 filter controls; high-pass, high-freq boost (10kHz) and mid-freq boost (1.6kHz)). This is a fantastic feature for adjusting the sidechain before the input reaches the compression module, and a rarity for a free compression plugin.
The rest of the on-board features are fairly standard compression controls, with an easy-to-understand layout and seemingly low CPU-usage.
Britpressor has an excellent sonic weight and tone, and I'd highly recommend checking this plugin out if you're looking for smooth, vintage compression without reaching for your wallet.
---
Where to download + Other Free Products
All Analog Obsession plugins are free on their Patreon page, and there are countless free products to choose from.
You can of course donate to the Analog Obsession Patreon to support their great work, or enjoy any of the products for 100% free!
As well as Britpressor, I'd also recommend browsing their other products, including guitar cabinet modelers, channel strip, EQ and many more free effect plugins.
Click here for more info / to download Britpressor.
---

---
Britpressor by Analog Obsession: Similar Articles
The 8 Best Free Compression VST Plugins (2020)
Sonible – SmartEQ 2 | HONEST review (2020)
The 8 Best Compression VST Plugins on the Market (2020)