denise Audio – Sub Generator | An HONEST Review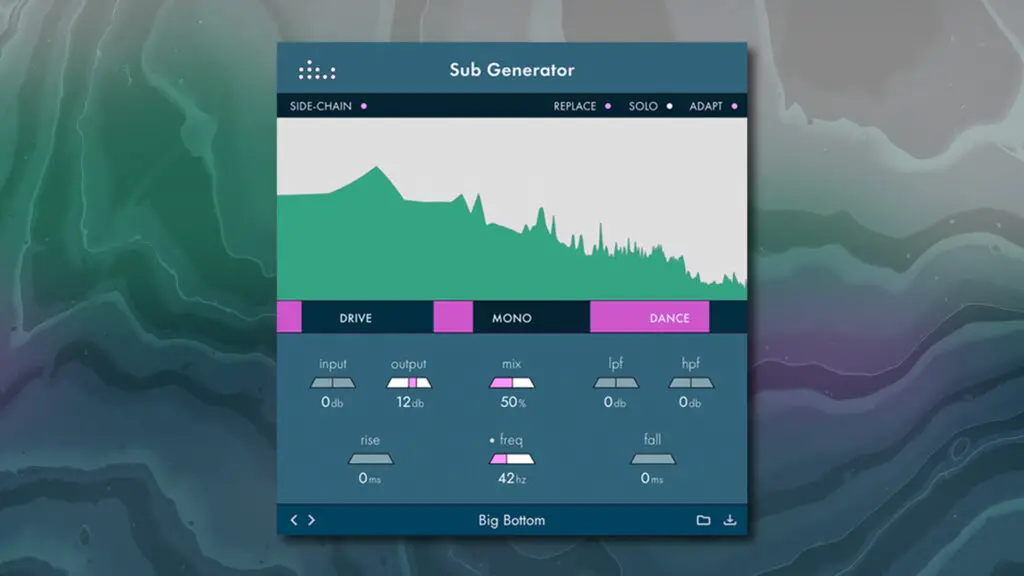 Sub Generator by denise Audio is a low-end generator plugin, allowing you to easily add sub-bass frequencies to "thin" sounding tracks.
One of the worst mixing mistakes a producer can make is leaving too much space in the low end, resulting in a weak, imbalanced mix. This is particularly true in electronic music production such as techno, house and dubstep, as well as modern hip hop and trap.
A lot of these modern music styles rely on powerful, impactful bass-lines, so it's important you give your sub-bass frequencies room to breathe in your mixes.
Let's take a closer look at how Sub Generator can be used to add powerful sub-bass to your tracks.
---
How Does It Work?
Like other denise plugins, Sub Generator has a intuitive, no-nonsense GUI which is incredibly accessible for both beginners and more advanced producers.
Along the bottom of the interface, you have a selection of sliders you can use to adjust or dial in the generated frequencies.
Using the frequency slider, you can set the frequency (pitch) of the generated sub-bass, which can be chosen by specific frequency or note. There are also low and high-pass filter controls to give you control over the frequency content of the low-end. The Rise and Fall sliders can be used to control the attack and release of Sub Generator.
At the very top of the interface, Sub Generator has a handy Sidechain option, which can be linked to a specific mixer track inside your DAW. The Replace button can be used so that the plugin replaces the sub-bass content of your track as opposed to adding to it. There's a handy Solo option to preview the sub-bass without the incoming signal, and an Adapt option which means Sub Generator will adapt dynamically to the incoming signal (this will usually stay on).
Just below the graph window you have three large sliders; Drive, Mono and Dance. Drive allows you to add intensity and power to the sub-bass by controlling the saturation of the sound. Mono dictates how central the sound is in the stereo image. The Dance control is an LFO option which can control the sidechain.
---
How Does It Sound?
Sub Generator is a tremendous tool for finetuning the low-end content of individual sounds, and can be used to transform an otherwise thin, sparse mix.
After experimenting with this incredible plugin, I found it to be especially useful for adding power and presence to weak kick drums and basslines. It can also be used to create 808-style bass hits from kick drums.
For example, to create an 808-style bass sound;
• Firstly, you can add Sub Generator to a kick sample, and by increasing the Fall control, you can customize the length of the bass "tail".
• Using the Frequency control, you can tune the generated 808 sub-bass.
• You can increase the attack (Rise) control so the kick and bass don't overlap.
• The Drive slider can then be used to add some light saturation to the sub-bass.
If you're more interested in movie / video scoring, this unique tool is also great for boosting the low-end of cinematic and atmospheric sound effects.
---
Overall, Sub Generator is a MASSIVELY underrated tool to instantly dial in the sub-bass frequencies of a sound. The interface is incredibly intuitive, while still offering a ton of sonic flexibility.
If you're looking for precise control over your low-end, or to simply add some power to your bass-lines, Sub Generator should definitely be on your radar.
Sub Generator is currently €29. For more information, check out this product on denise.io
---

---
denise Sub Generator Review: Similar Articles
Denise Audio Dragon Fire | An HONEST Review
The 8 Best Filter VST Plugins on the Market (2021)
Trikit – KrushPro | HONEST Review