FabFilter Saturn 2 | An HONEST Review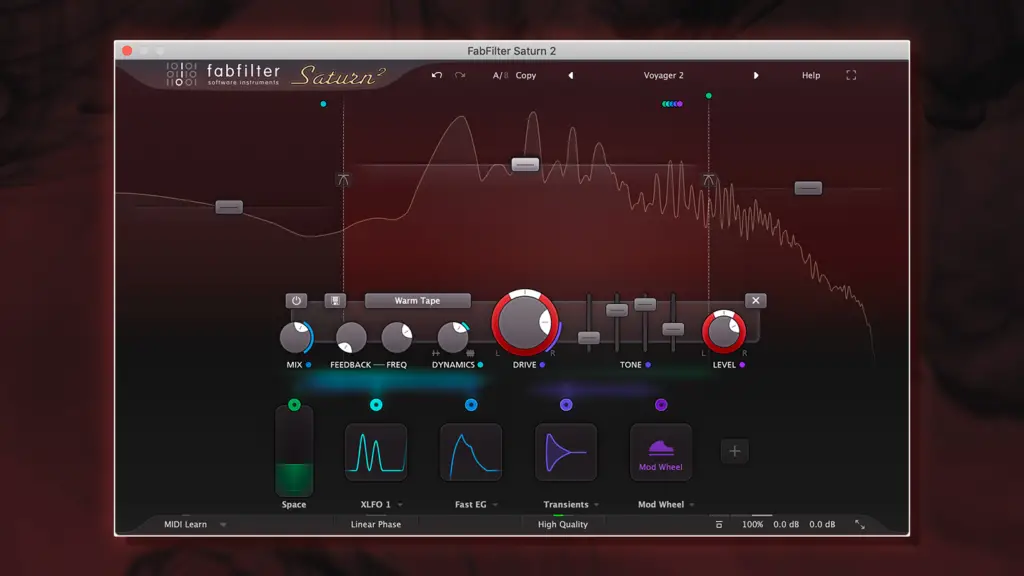 FabFilter's Pro series of audio plugins are, without question, the gold standard for intuitive GUI design.
Plugins such as Pro-Q 3 are virtually unrivalled in the plugin world, due to their clear, beginner-friendly layouts and comprehensive, versatile feature sets.
Their products are also incredibly popular, and are used religiously by some of the biggest artists in the world.
However, until recently their acclaimed saturation and distortion plugin Saturn was lacking this trademark design quality. Saturn was originally released in 2012, and while the interface was impressive in comparison to other plugins in the 2012-era, in todays world it was certainly due a makeover.
With the long awaited release of Saturn 2, FabFilter have not only dramatically improved the GUI, but created a much more accessible, versatile distortion tool.
---
First Impressions
Upon first loading Saturn 2, you are met by a sleek, deep crimson interface containing the default, single-band controls. The default controls are virtually identical to the original Saturn plugin, with the recognisable, central Drive knob with pan control.
At the far left of the control panel, there is a Mix amount control and a Feedback parameter. The Feedback knob is a fantastic tool for feeding the signal back into itself, creating distorted resonances. There is also a Freq control, which can be used to adjust the frequency of the ringing caused by the feedback.
Directly above these controls is a dedicated drop-down menu for distortion and saturation presets. There are some absolutely incredible options in here, and FabFilter have included a unique, eclectic range of distortion types for almost any purpose. In the drop-down menu you get Tube, Tape, Amp, Saturation, Transformer, and FX sections, each containing an impressive selection of individual distortion presets. Saturn 2 offers everything from subtle, warm, tape distortion to bit-crushed, warped effects such as Destroy or Rectify. Even this drop-down menu alone offers a really impressive level of creative versatility.
Saturn 2 also has 4 tone controls, a level knob, and a band bypass switch as part of the default band controls.
---
Multiband Distortion
One of the most interesting things about Saturn 2 is its powerful, multi-band functionality. By hovering over the upper section of the interface, you can add a new band, which you can then drag to choose the crossover frequency between the two bands. Plus, the new and improved Saturn 2 now allows you to select of steepness of the frequency slopes, which is a really nice touch.
This level of versatility opens up a huge range of creative possibilities. For example, you may want to add some heavy, aggressive distortion to the low-end of a sound, while adding some light tube saturation to the mid-range frequencies and keeping the high-end completely untouched.
With the revamped GUI of Saturn 2, creating and editing multiband distortion is incredibly intuitive. The interface feels fluid and responsive, and this plugin really delivers a fast-paced, beginner-friendly user experience.
---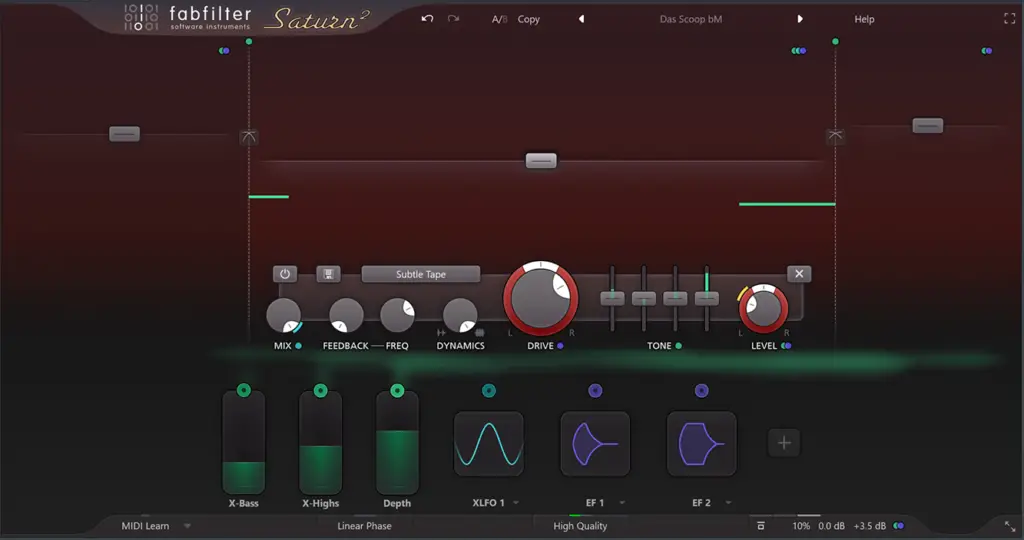 Modulation
But the fun doesn't stop there. Saturn 2 also offers an extensive modulation section that really sets it apart from other distortion tools out there.
Near the bottom of the plugin interface, there is a plus button that allows user to add new modulation sources. As you'd expect from FabFilter, implementing these modulation sources is incredibly intuitive, and even more complex modulation routings proves relatively straightforward. Once a source is active, you are met with a colorful, hypnotic visual display of your chosen modulation type.
The LFO category in particular opens up a whole world of creative potential. This modulation source contains a really impressive selection of wave-editing parameters, allowing you to finetune your own LFO sequence or chose from a range of unique options. An LFO can be free or synchronized to your DAW, and each "step" in the LFO pattern can be customised using glide, value and other detailed controls. Saturn 2 also offers a generous amount of LFO presets, from basic shapes such as Square and Sawtooth, to more intricate patterns such as Heartbeat or Spring.
---
The Verdict
On top of Saturn 2's elegant GUI redesign and improved functionality, this thing also sounds phenomenal.
Whether you're adding a light touch of high-end saturation or cranking up the distortion, Saturn 2 delivers precise, high-quality results on guitars, basslines, synths, percussion and much, much more.
Its multiband distortion setup can be found in other plugins on the market (even the original Saturn release had this feature, albeit with much less flexibility), however when paired with it's jaw-dropping modulation capabilities, Saturn 2 runs rings around its competitors.
For such a complex plugin, FabFilter have created an effortless user experience on par with their more recent flagship plugins. So for any producers looking for a comprehensive, immensely powerful distortion tool, Saturn 2 should be on the top of your list.
Saturn 2 is currently £114 incl. VAT. For more information, check out this product on fabfilter.com
---

---
FabFilter Saturn 2 Review: Similar Articles
The 8 Best Filter VST Plugins on the Market (2021)
Denise Audio Dragon Fire | An HONEST Review
Trikit – KrushPro | HONEST Review