The Ultimate Guide To Making Beats For Free! (2022)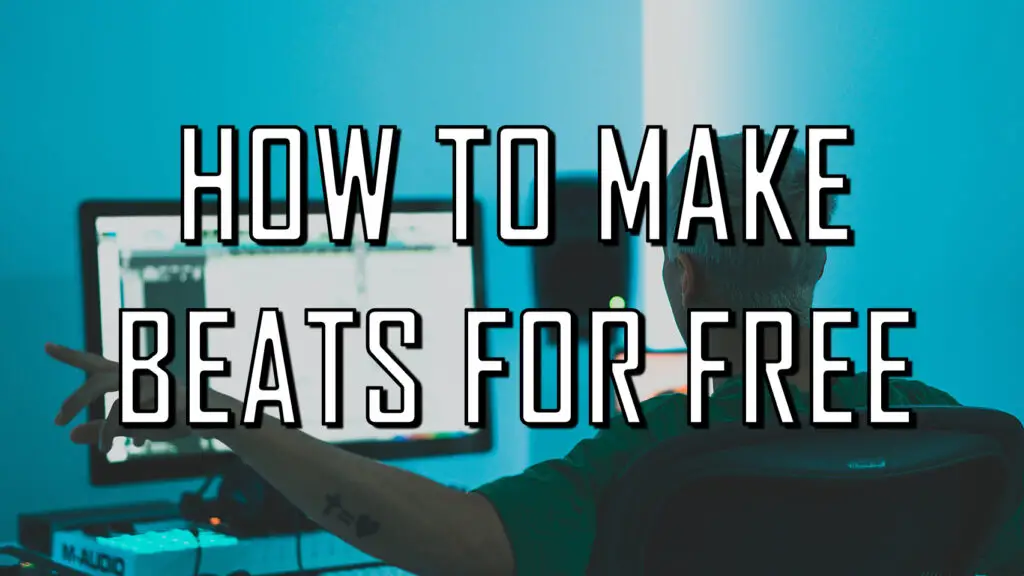 "Making beats for free? Is it even possible?"
For beginners, learning how to make beats can seem like an overwhelming, intimidating process. There are several powerful, seemingly-impenetrable DAW's to choose from, and thousands of VST plugins and sample packs.
Plus, a lot of these programs and products can get pretty expensive. The top-end of a DAW's price range can be around the $700 mark, and that's not including any third-party plugins or samples.
This can lead many beginners to the same question: "Is there a way I can start making beats for free?"
Fortunately, there are several ways to make beats for free – you just have to know where to look…
---
Making beats for free: Where to Start
It was only a couple decades ago that the idea of producing music for free would have been utterly ridiculous. Music production required studio time, record producers, or incredibly expensive audio hardware.
Nowadays, making beats for free is actually surprisingly straight forward!
So, where do we start? (Click below to scroll to a specific section, or keep reading!)
Step 2: Finding Free VST Plugins
Step 4: Learning how to Make Beats for Free
Step 1: Finding a Free DAW
The first step in any beginner beatmakers journey is finding a DAW.
You may have heard of programs such as Ableton, FL Studio or Logic. These are DAWs.
A DAW (Digital Audio Workstation) is a piece of software that allows you to create, compose and edit songs / make your own beats. DAW's are the primary program almost all modern producers use to create their tracks.
Think of your DAW like a canvas. A DAW allows you to add / record your own sounds, add effects such as reverb, delay and compression, and then compose and arrange these sounds into a full track. Most DAW's can be fairly expensive, however there are some free DAW's to choose from…
Are there any free DAW's that are actually good?
Absolutely! There are several free DAW programs out there that offer a great way to learn the basics of music production. These free DAW's can allow beginners to get to grips with the typical beatmaking workflow, without spending a penny.
Click here for our FULL guide to the best FREE DAW's in 2022. Or keep reading for a summary of our top picks.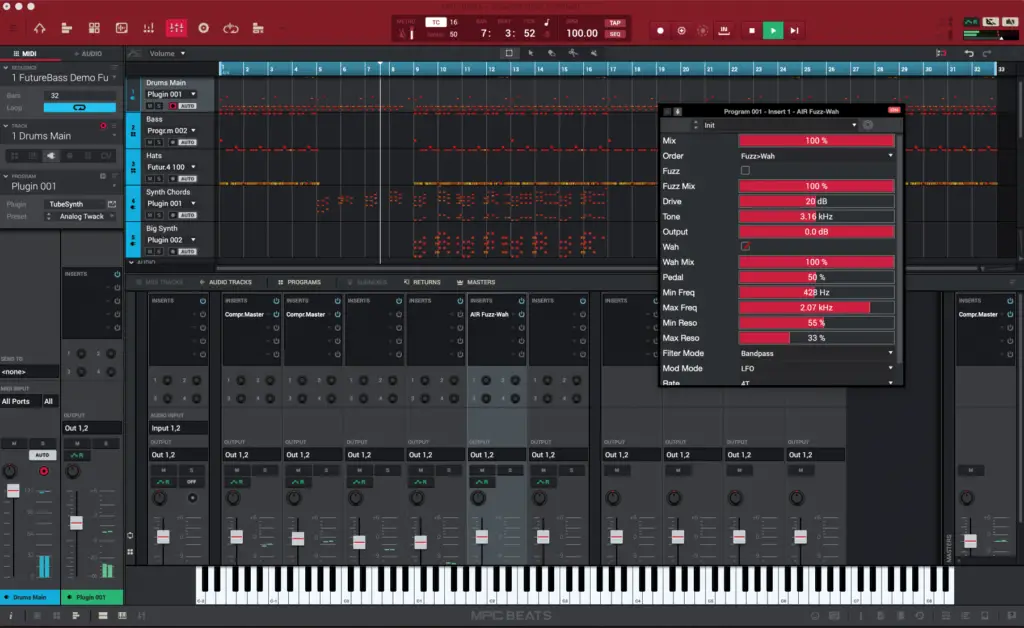 If you're looking for free software that is completely focused on beatmaking, MPC Beats should be definitely be on your radar.
MPC Beats is developed by Akai, who are mainly known for their revolutionary MIDI drum pad controllers and keyboards. Akai's venture into the world of beatmaking software is a welcome surprise, and the results are incredible.
This free DAW lets you record instruments or vocals, has 16 build-in pads for triggering drum samples and loops, and contains an intuitive piano roll for sequencing and composing MIDI patterns.
On top of this, it offers a dedicated sample editor to chop / edit your sounds, and over 80 audio FX plugins to warp, manipulate and transform audio. MPC Beats also allows you to import third-party VST plugins.
Click here for your free download (Windows/Mac)
---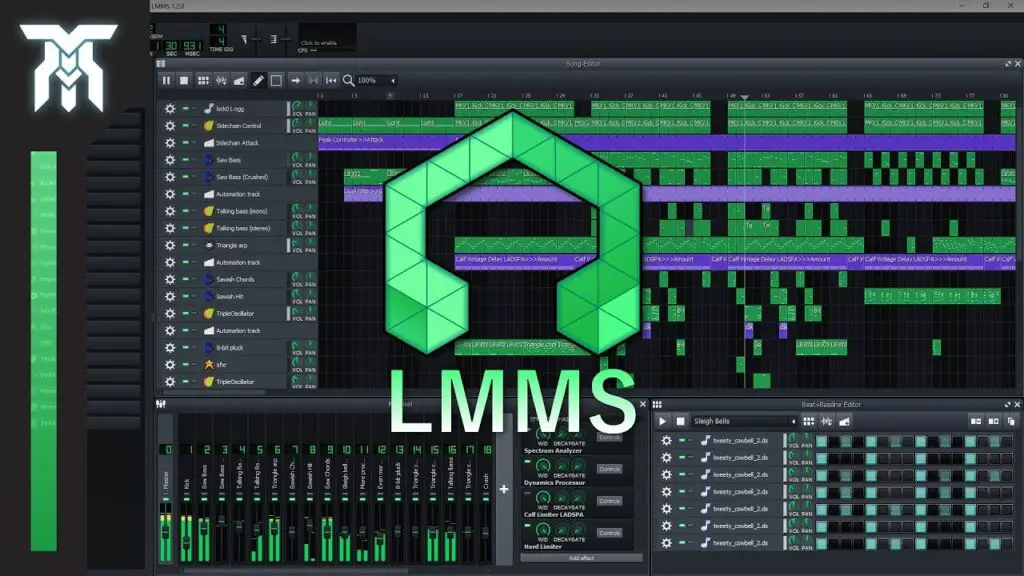 LMMS is a FREE, open-source music production program, designed primarily for beatmaking and loop-based production.
This free beatmaking software is similar in design to the heavyweight DAW FL Studio, due to it's pattern-oriented interface.
FL Studio and LMMS focus on loop-based production, allowing users to create and edit individual loops, and then arrange these loops within the sequencer.
Loop-based software (such as FL Studio or LMMS) is a fantastic choice when it comes to beatmaking, as it provides a rapid, intuitive workflow when building a loop or an individual idea.
LMMS also allows for third-party VST/AU plugins, so you can really build a powerful, virtual beatmaking setup within the software.
Click here for your free download (Windows/Mac/Linux).
---
These are definitely the best free DAW's that are available for both Windows and Mac, however there are other free beatmaking DAW's out there. Click here for more info.
So, you have your free DAW, what next?
---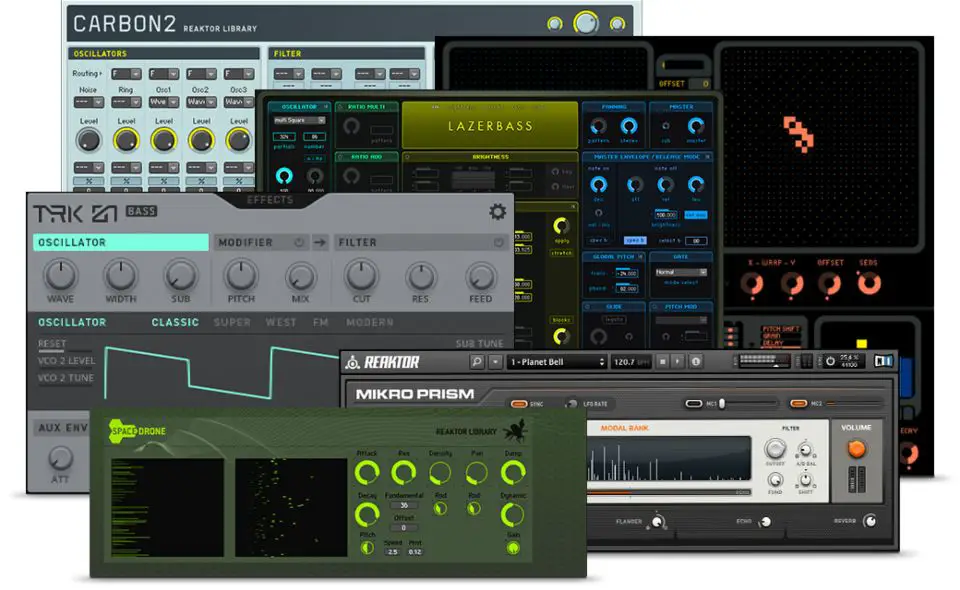 Step 2: Making Beats for Free Using VST Plugins
The next step to making beats for free is to find some VST/AU audio plugins.
Audio plugins are essentially self-containing pieces of software that can be "plugged-in" to a DAW to enhance the functionality of the DAW. These are often called "VST's" as they usually come in .vst format.
Audio plugins can be split into two main categories:
1. VST Instruments: These plugin generate audio and act as software-based instruments. They often emulate recognizable sounds of famous synthesizers and other instruments. Popular VST instruments include Serum, Massive, FM8, Sylenth 1 and Absynth.
For example, you can download an audio plugin that emulates an acoustic guitar using thousands of meticulously sampled recordings. Then, using MIDI sequences within your DAW, you can create acoustic guitar melodies and chords!
2. VST Effects: Instead of creating audio, these plugins process and add effects to existing audio or MIDI sequences. These effects include reverb, delay, filters and compressors.
"Are they are FREE VST Plugins that are actually good?"
Yes, yes and yes! There are a huge amount of FREE plugins out there, from fully fledged virtual synthesizers, to glitched-out bitcrushers and vintage reverb effects.
Earlier this year, we created this huge list of the best 100 FREE VST plugins of all time (ranked from best to worst). I'd recommend browsing through if you want to get started with audio plugins.
Or, here's a summary of our top picks for free plugin that will help you on your journey of making beats for free.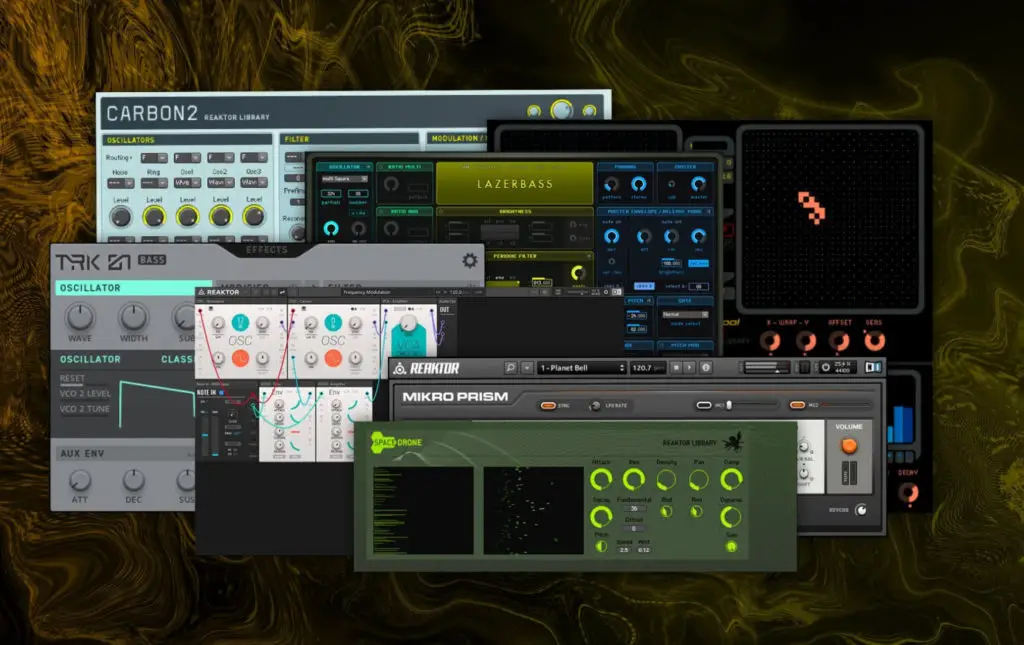 In early 2019, Native Instruments released Kontakt Start, which includes a huge FREE collection of synthesizers, instruments, plugin effects and almost 1,500 loops and samples.
The standout plugins for us are the TRK-01 bass synthesizer, and their analog synthesizer: VINTAGE.
---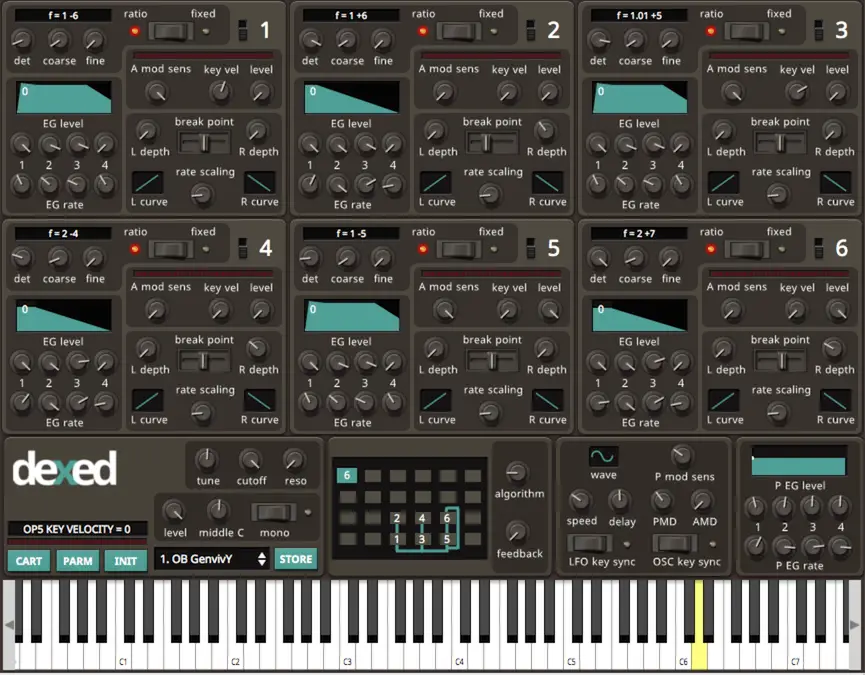 Dexed is a highly versatile multi-platform, multi-format plugin synthesizer that is closely modelled on the iconic Yamaha DX7 keyboard.
The interface has 144 automatable parameters in the form of various sliders, buttons and knobs on one single panel. It also has countless vintage presets to choose from.
---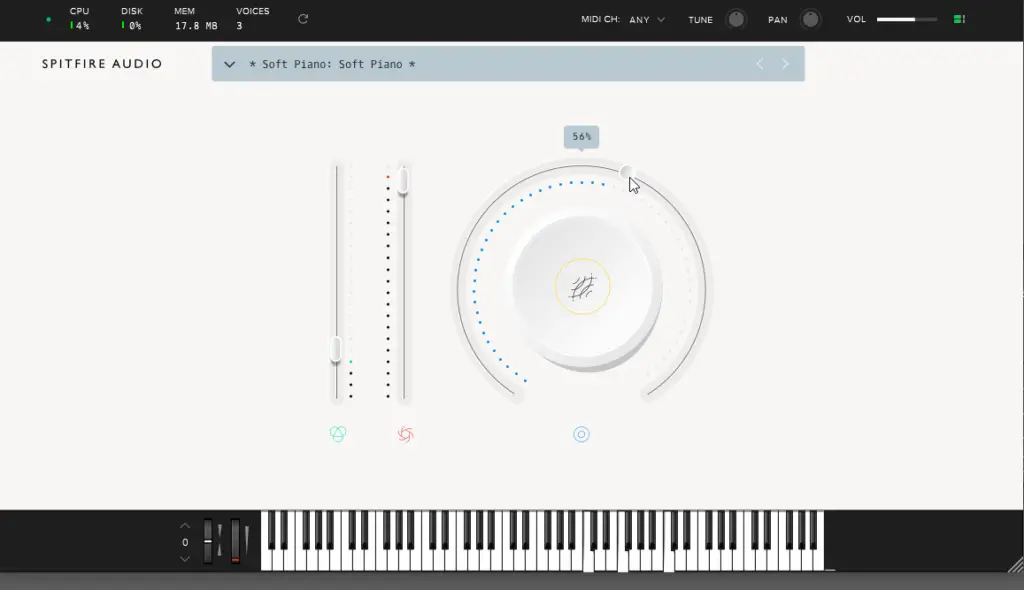 Spitfire Audio are a London-based company with a eclectic, funky range of keys, strings and other sound libraries.
In 2018 they released the simple, innovative FREE plugin for keys and piano: LABS. It sounds smooth, dreamy and completely authentic.
---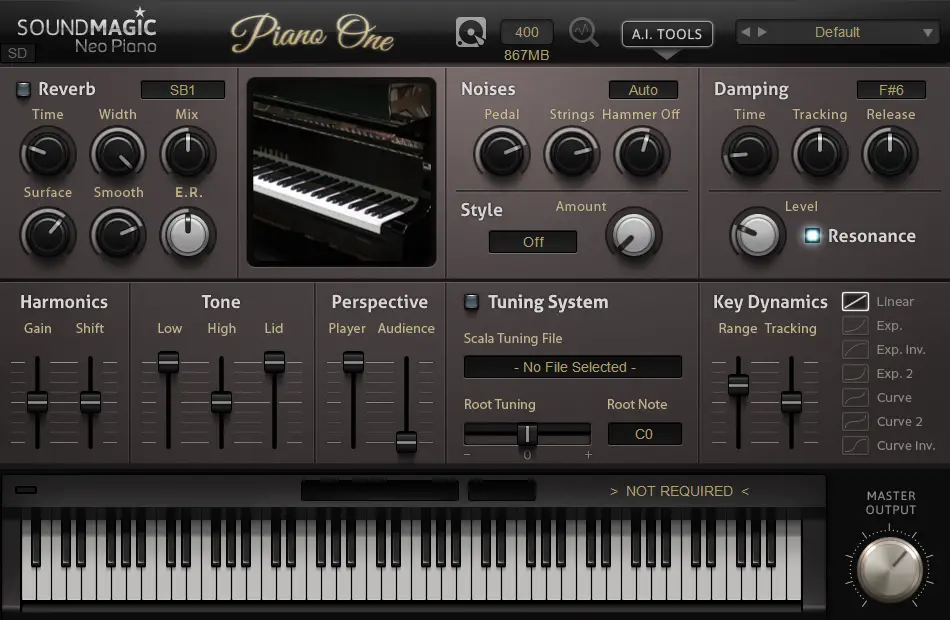 Sound Magic's Piano One is modelled on the stunning Yamaha C7 Concert Grand, a true workhorse in the professional piano world.
This plugin is sampled directly from the piano, creating a true, rich sound at every velocity.
This is without a doubt the best free piano VST plugin out there.
---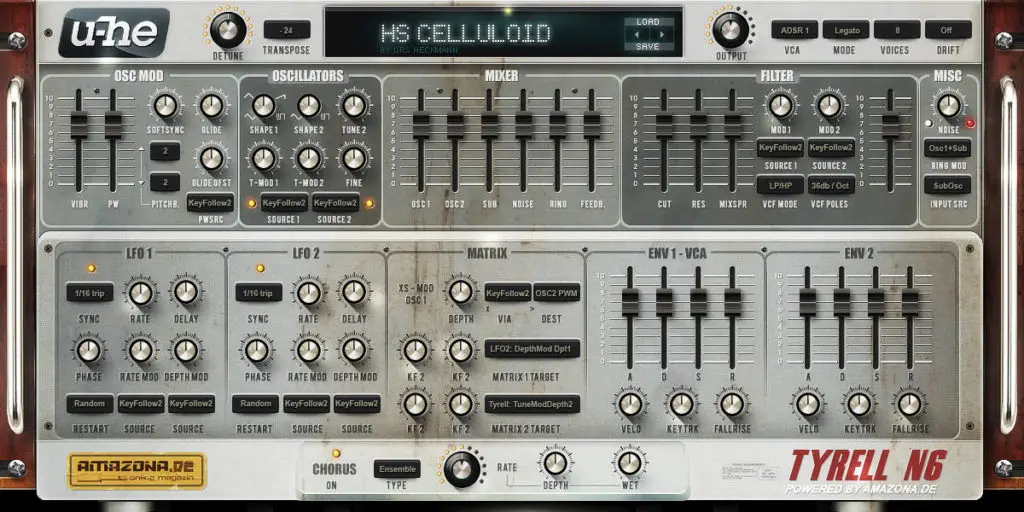 U-he Tyrell N6 is a compact, innovative subtractive synth that is capable of producing extremely high quality sounds.
It is a surprisingly powerful plugin with 2 oscillators, noise, a ring modulator and 2 LFOs with 8 waveforms, and to be entirely honest I have no idea why it's free.
---
More Free Plugins
The amount of plugins available nowadays means making beats for free is easier than ever. If you're looking for a specific kind of plugin, make sure to browse our top picks of each plugin category. For example, the best free reverb plugins, synths, EQ plugins and much more.
After downloading your selected plugins, just simply import them into your DAW (this process will be slightly different for each DAW) and you're good to go!
---
Step 3: Making Beats Using Free Samples!
So, you have your DAW and a selection of powerful audio plugins at your disposal. So what else will you need to begin your beatmaking journey?
Using samples in your beats is a fantastic way to expand the sonic palette of your music, and introduce sounds that would be hard to create using a synth or plugin.
For example, if you plan on creating hip hop beats, sampling is one of the core foundations of early hip hop music, and continues to be extremely prevalent in hip hop production to this day.
E-Digging to find free samples
Back in the 90's, producers would obsessively search record stores for old, obscure vinyls, praying they'd discover the perfect sample for their beats.
Nowadays, these records are all available to stream / listen to online for free. For example, Youtube has a seemingly endless collection of full albums from soul, jazz, blues artists from almost any era of music for inspiration. (I don't condone ripping copyrighted songs directly from Youtube, I'm merely stating the option is there).
With this in mind, it's incredibly easy to search for samples to use in your beats. If you are going to use samples ripped from Youtube however, please be careful if you ever plan on releasing any beats containing these samples.
---
Free Sample Packs
Another, more ethical method of finding free samples is to download packaged free sample packs.
There are many, professional-sounding free sample packs out there from any genre imaginable.
Many of these free sample packs are "taster packs" of the full, paid version, so the quality and diversity of the sounds can be next level.
Our article "The Ultimate List of FREE Sample Packs in 2022" is among the most popular pages on this site, and has helped many music producers discover free samples for their music.
This is definitely a good starting point to finding free samples packs online.
---
Step 4: Learning How to Make Beats for Free
At this point, you have all the building blocks to start making beats for free. You have a DAW, some audio plugins (instruments/effects) and some free samples to play around with.
However, if you are a complete beginner to making music, how do you actually learn what to do with these various programs / audio files?
I cannot stress this enough: you do not need to buy expensive music production courses to learn how to create music.
In 2022, all the information you'll ever need to learn to make beats is already available online… for free.
I've been producing music for a long time now, and I'd honestly say the majority of my knowledge comes from practice, and consistent trial and error.
Depending on your DAW of choice, there will be a plethora of guides, Youtube tutorials and official manuals to help you get to grips with the functionality of your DAW. Once you have a fundamental understanding of the way your DAW works, you can start building sounds and sequencing drum loops. This is where trial and error kicks in. One piece of advice here is to get down as many ideas as possible. Don't focus on perfecting your first beat, as your initial project probably isn't going to sound great (I guarantee the first track DeadMau5 ever made wasn't a instant hit.)
One music production resource I can highly recommend is the In The Mix Youtube Channel, which does a fantastic job of breaking down fundamental concepts of music production, and presenting them from a beginners perspective.
---
And there you have it!
The aim of this guide was to show beginners that is absolutely possible to begin making beats for free in 2022.
It's worth noting that this is an outline of how to get started, and that if you do want to delve deeper into the world of music production, you will have spend some money at some point. If you are considering investing in your first DAW, why not check out our guide to which DAW is right for YOU?
However, given the amount of free products available online, it's now possible to create beautiful, professional-sounding music without ever spending a penny.