U-He Repro | HONEST Review (2022)
As we venture further into an age of digital, software-based music production, many classic analogue synthesizers seem to be fading into obscurity. Fortunately for the newer generation of producers, many of these hardware synths are still accessible via software emulations, many of which are deeply accurate, meticulously designed replicas of the original. It has to said however, I have found several emulation synths that just didn't have the raw, vintage feel of the original, and had a flat, inauthentic sound.
When I try out a new emulation synth, I look for two things. The first is obvious, it needs to sonically deliver the warmth and soul of the beautifully understated, vintage synths it hopes to model. Secondly, I want to feel like I'm playing a classic, vintage synthesizer, right down to the layout and design of the software engine.
So how does u-he's "Repro" plugin, an emulation of both the Pro-One and Prophet 5 synthesizers, compare with their iconic hardware counterparts?
---
First Impressions
Music software development company u-he have an incredibly impressive track record of creating both classic emulation synths and more modern-sounding plugins. I've been a fan of their plugins for a while now, particularly their freeware Tyrell N6 and the outstanding emulation synth Diva.
Repro is no different. This fantastic, highly detailed plugin oozes with old-school character and quality. The download actually contains two separate plugins, Repro-1 and Repro-5. Repro-5, very generally speaking, is a polyphonic version of Repro-1, with a few extra tweaks that give a great range of creative possibilities across the two plugins.
In terms of appearance, Repro gives a powerful first impression. The Repro-5 engine is wrapped in a gorgeous oak finish, beautifully reminiscent of the Prophet 5 design. The "tweaks" section of both plugins also has a very unique, interesting design, revealing the hardware's inner circuit board.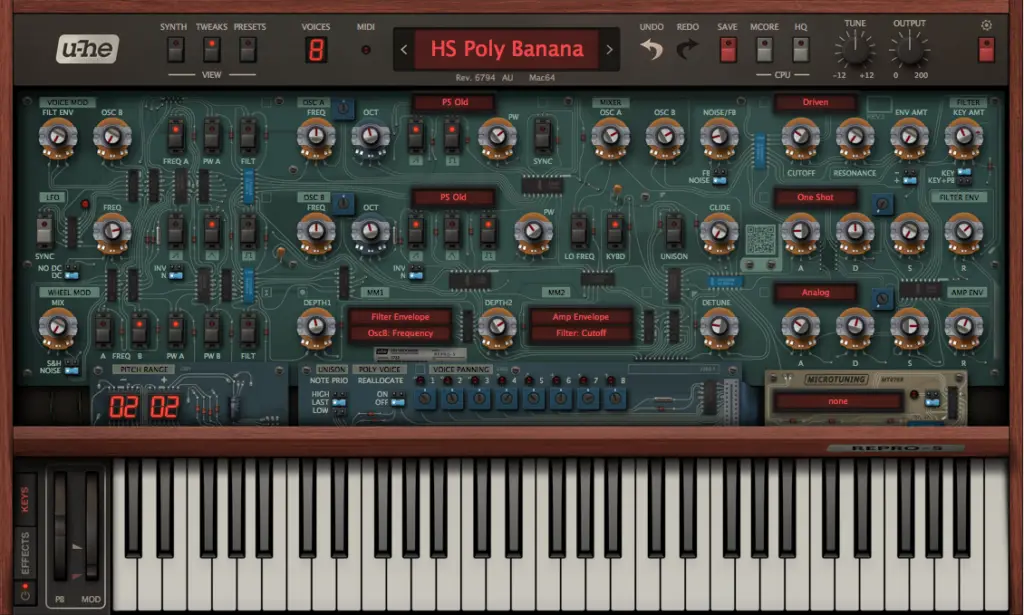 Throwback
The sound quality of both Repro plugins is immediately impressive, and very true to the originals. One of the downsides of the original Repro-1 individual release was certain fundamental monophonic restrictions, such as a lack of sweeping vintage pads or other polyphonic sounds. At the end of the day, this would be expected with any mono synth emulation. But the dual-release of these plugins really expands the versatility of the Repro product, and the polyphonic sounds in Repro-5 are simply wonderful.
Both Repro-1 and Repro-5 are based on two oscillators: oscillator A offers either saw or pulse shapes with variable pulse width and hard sync, while oscillator B offers saw, pulse, and triangle shapes with variable pulse width and a low frequency option. The levels of each oscillator can be controlled in the mixer, as well as the amplitude control for a noise oscillator.
Both plugins also include a 24dB / octave lowpass filter with a filter envelope control as well as an amplitude envelope with a velocity depth control oscillator. Within the tweaks section, there are four alternative models for amp and filter envelopes, including a "one shot" mode for various percussion sounds. Further filter options are available in this section, such as "Crispy" and "Rounded" options. It's worth mentioning in Repro-5 all the top-level features of the synthesizer are accessible in the tweaks view, so technically these sections could have been combined. However, it's clear u-he wanted to separate these sections to create a simpler, true-to-original main engine view.
---
Reprise
As you'd expect, the Repro engine is fairly rudimentary. There are certain restrictions that come with emulating a vintage synth so accurately, for example in Repro-5 a few additional modulation options would have been welcomed. But looking at the original Prophet-5, u-he's modulation matrix is essentially a carbon copy of the original. So as a vintage synth lover, it almost feels wrong complaining about this.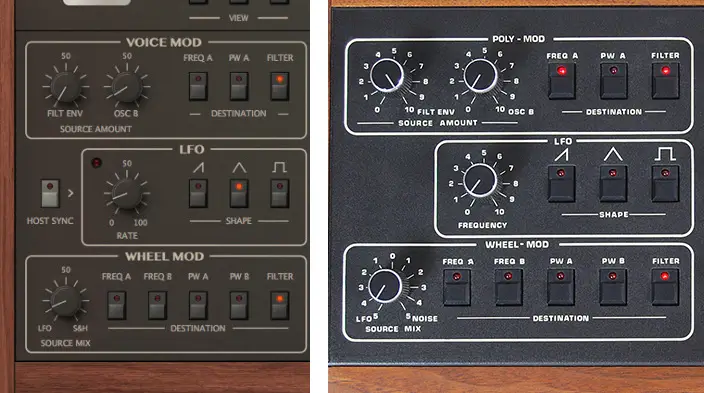 That being said, u-he have integrated a few extra features not found in the the original synthesizers: Repro-5 is capable of 8-voice polyphony, whereas the original hardware was limited to 5. There is also a stomp-box effect rack that switches out for the keyboard, with a set of 5 adjustable effect modules.

The sound quality of these stomp-box effects actually took me by surprise. In particular the flexible Lyrebird delay module, which is capable of producing some very interesting, modulated delay sounds. According to u-he, this stomp-box went on to inspire their "Colour Copy" delay plugin. On a sidenote, Colour Copy is currently one of my favourite delays and the level of creative versatility it gives you is staggering – worth checking out.
Repro-1 includes the Jaws stomp-box: a fantastic envelope/LFO-modulated wavefolder capable of some gorgeous distortion effects. In Repro-5 this is replaced by the simple yet effective saturation unit: Velvet. Both plugins also include RESQ (a semi-parametric EQ / resonator), Drench (a plate reverb), and Sonic Conditioner (a stereo saturator / transient designer).
---
The Verdict
Overall, u-he's Repro is another triumph. It is one of the rare emulation plugins that pinpoints the analogue charm and fat, authentic sound of it's vintage counterpart with little room for error.
In terms of sound quality and accuracy, u-he have hit the nail on the head. However there are a few improvements that could be made elsewhere. Like I mentioned, a few more modulations in the mod matrix would be nice, as this does feel rather limiting. Other features such as an arpeggiator or sequencer would also be a nice touch to Repro-5. But given the vintage-modelled concept of the plugin, these are far from deal-breakers. Also, a recurring criticism in online discussions around u-he products is their heavy CPU-usage. When experimenting when Repro (and other u-he products) this wasn't as bad as I was expecting (I've seen way worse). However it was definitely noticeable, so this should be taken into account by any producers using slow, older computers.
I'd highly recommend this plugin to anyone looking to recreate the rich, punchy vintage tones of the Pro-One and Prophet-5. This revamped Repro release only further cements u-he as the gold-standard of synth emulation software.
---
Compatibility: Mac OS X 10.7 or newer / Windows 7 or newer / Linux
Format: AU, VST2, VST3, AAX (Pro Tools 10.3.7 or later) NKS, plugins / 32-bit and 64-bit versions.
Repro is not a standalone product, requires DAW host.
Repro is currently priced at €149.
For more information, video content, or to purchase Repro, visit this product on u-he.com.
---

---
u-he Repro Review: Similar Articles
The 100 Best FREE VST Plugins of All Time
The 8 Best FREE Reverb VST Plugins
The Best MIDI Keyboards for Beginners