Vital – A FREE Revolutionary Virtual Wavetable Synthesizer?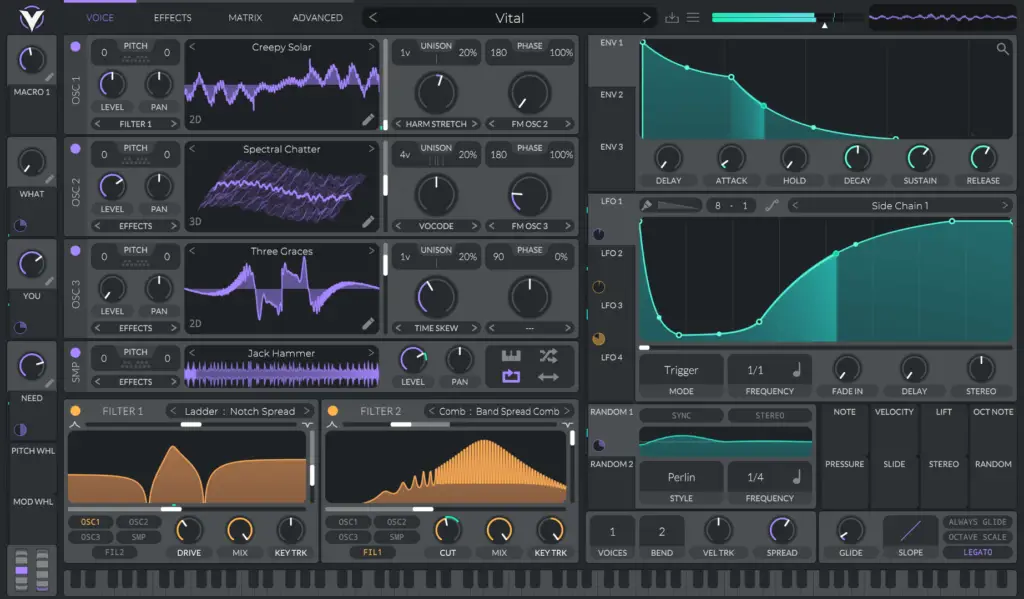 Matt Tytel, creator and developer of the stunning, open-source freeware virtual synth "Helm", has been teasing a new project for a little over a year now. Helm is an incredibly popular, versatile free VST Instrument, so naturally there was a lot of anticipation for this new release.
At last, the wait is over. Tytel has released Vital, a freeware spectral warping wavetable synthesizer with a staggering list of features and on-board controls. This is undoubtedly one of the most exciting audio plugin releases of the year, especially given that fact there's a FREE version available.
So let's take a closer look at what makes this plugin particularly special…
---
Vital: A Free Edition?
Matt Tytel is not only one of the most talented plugin developers out there, but also one of the most generous! There are four editions of Vital to choose from:
• Vital Basic (FREE) – The free edition of Vital includes all the core functionality of Vital, with 75 presets and 25 wavetables.
• Vital Plus ($25) – 250 presets and 70 wavetables.
• Vital Pro ($80) – Over 400 presets, 150 wavetables, a text-to-wavetable feature, and other exclusive perks.
• Vital Subscription ($5/month) – first access to new features, prioritised support and other exclusive perks.
For a fully-featured wavetable synthesizer, this is a ridiculously low pricing system, especially considering the fact that the majority of users will only require the free edition.
---
Vital: What can it do?
Vital features 3 powerful, high-quality wavetable oscillators, each with frequency warper and waveshaper controls. An additional sample slot is also available, which can be used to add noise or other audio textures. Vital also features an on-board wavetable editor, allowing you to warp and manipulate the wavetables to your hearts content.
In addition to this, you can transform your own samples into wavetables, adding an almost incomprehensible level of creative freedom (this was one of Serum's main selling points when it was released). Wavetables can even be generated from user-inputted text.
The waveshaper controls are incredibly versatile, including Shepard tone, spectral time, harmonic stretch, screw and several other features. In my opinion, the wavetable flexibility provided by Vital is on par with commercial heavyweight wavetable synths such as Massive X or Serum.
The 3 oscillators and the sample slot can be individually routed to two separate filters, each containing 32 eclectic filter types.
Vital's modulation functionality is also incredibly extensive. You can easily assign 3 envelopes, 4 audio-rate LFOs, 2 randomizers, and several other modulation options to a wide range of Vital parameters. It also features an 8-slot effects rack, including delay, phaser, reverb, a multiband compressor and more.
---
Download Vital
Downloading Vital is pretty much a no-brainer at this point, as even the free version has many features that rival the best commercial plugins on the market.
This incredibly powerful synth genuinely gives plugins like Serum a run for their money, and Vital will no doubt have a huge impact on the audio plugin industry.
Vital runs on PC, Mac and Linux.
Click here to download / find out more on the official Vital site.
---
Vital's features – More info
High quality wavetable oscillators with frequency warping and wave warping
Efficient unison
Two routable voice filters with several analog and digital models, each with multiple continuous blending modes
Audio-rate modulation so you can create clean drum transients and frequency modulate filter cutoff
Stereo-splitable LFOs with custom and editable shapes
Keytracked LFO settings
Modulatable envelopes with custom curves
Modulation remapping so you can customize the shape of every modulation
Custom sample source
Random modulation sources like Perlin, Lorenz Attractor, S&H and Sine Interpolation, each with stereo options
Eight routable effects including a multiband compressor, multi-mode phaser and 16 voice chorus
MPE support
---

---
Vital – Free Wavetable Synthesizer: Similar Articles
Monoplugs – Monique VST Synth Is Now FREE!
The 8 Best Free VST Instrument Plugins (2020)
Massive X vs Serum | Which is right for YOU? (2020 Comparison)