The 8 Best FREE Bass VST Plugins You NEED In 2022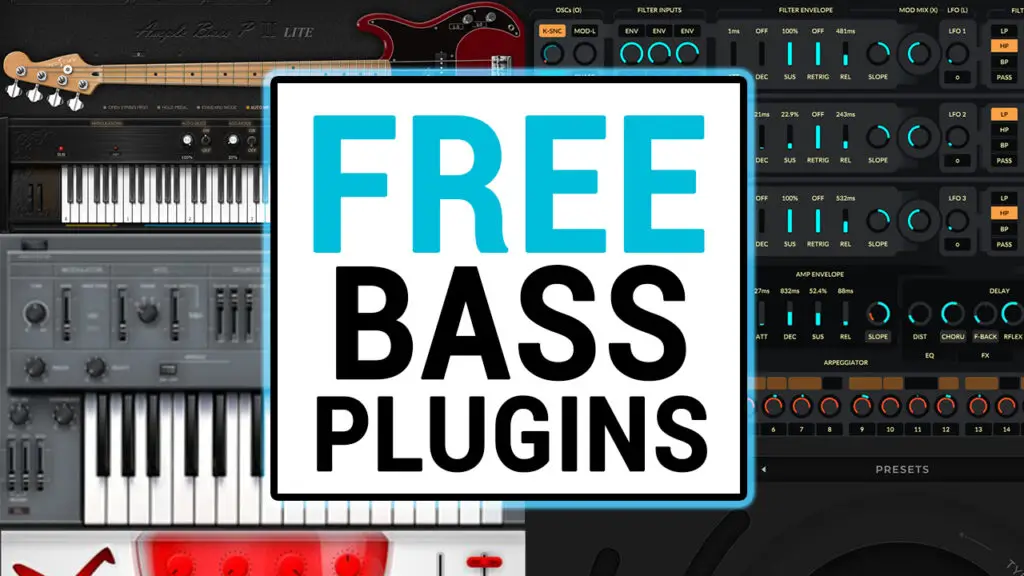 "Are there any FREE bass VST plugins in 2022?"
Whether you're a beginner or an advanced producer, at some point you'll need to expand your bass VST plugin collection.
For a track to sound well-balanced and professional, it's crucial that is has high-quality low-end sounds. Whether it's a funky bass guitar riff, or a booming 808, a great bassline will hugely enhance the groove of the track.
Most DAW's come with stock bass plugins, however these are often limited to a certain selection of sounds. To take your low-end to the next level, you're going to need some versatile, third-party bass plugins.
Free Bass VST Plugins
The questions still remains: "are any of these bass plugins actually free?"
Absolutely! There are plenty of powerful FREE bass VST plugins out there, you just need to know where to look.
Some of these free bass plugins even match the sound quality and versatility of commercial plugins, making them a no-brainer for any producer.
In this rundown, we've included a range of "bass plugins", including bass guitar plugins, electronic bass synths (dubstep growling basslines etc), 808 generators and more.
So without further ado, here are our top picks for the best FREE bass VST plugins in 2022, allowing you to achieve incredible low-end sounds without ever spending a penny.
---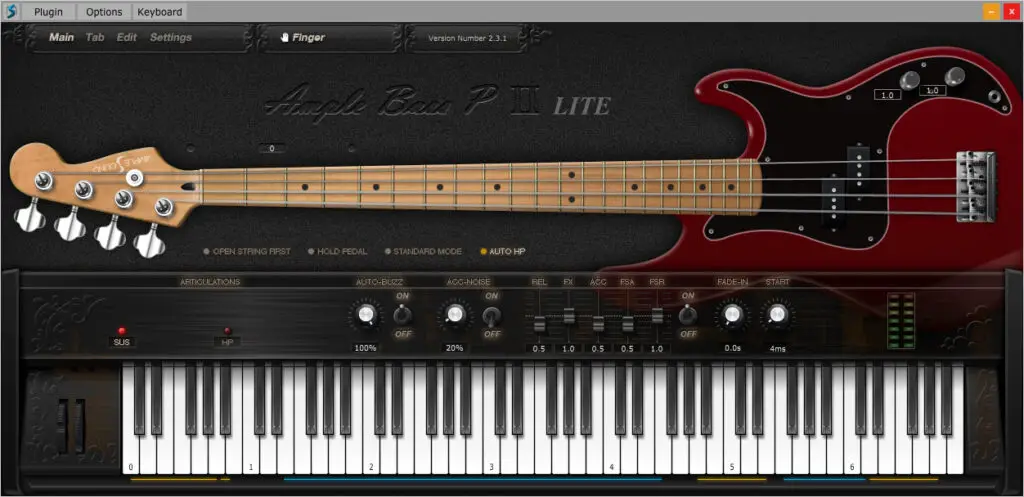 The first free bass plugin is Ample Guitar's "Ample Bass P Lite II". Given it's insane sound quality and on-board features, it would be a crime to not have this plugin at number 1.
This free bass VST is meticulously sampled from a Fender Precision bass guitar, and it captures the natural tone of the instrument perfectly.
The most impressive part is the realism and authenticity of the sound. This thing sounds exactly like a real bass guitar.
Ample Bass P Lite II has a rich, deep tone, and the sampling includes rich fingering noises. It also includes sustain, hammer on & pull off noises and accents. These extra noises create a vivid, realistic bass effect, allowing you to create gorgeous, natural-sounding basslines.
This free bass VST plugin also has a lot of tricks up its sleeve. Additional features include Capo Logic, Poly Legato, Slide Smoother, Manual vibrato and several other parameters. It also has a dedicated Tab Player module. The Tab Player can load and play several prevalent guitar\bass tablature file formats, allowing you to load, display and playback any specific track inside a tablature file.
When it comes to free bass guitar plugins, no other plugin comes close. This stunning plugin is flexible, highly intuitive and blows every other bass guitar plugin out of the water.
Click here for your FREE download.
---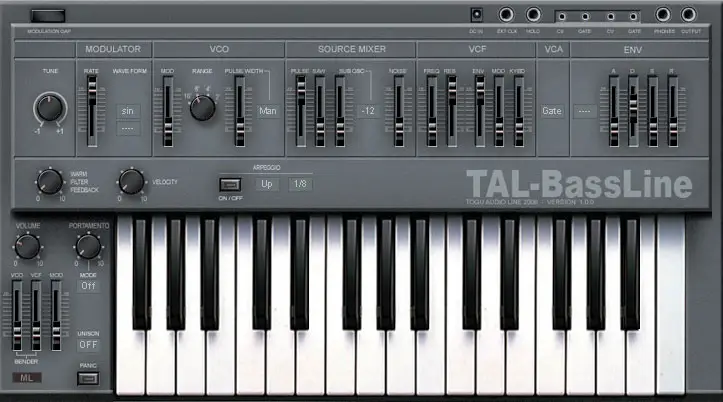 TAL-BassLine by TAL is an analog-modelled bass synthesizer especially made for bass, acid sounds and other low-end effects.
This free plugin is definitely aimed at producers looking to whip up bass sounds without much hassle. The interface is fairly uncomplicated, with modulator, VCO, mixer, VCF and envelope controls.
The plugin also has a simple arpeggiator (up, down, one octave mode), and 2x Unisono Mode.
TAL-BassLine has a noticeable vintage warmth and character. To create this analog sound, TAL have used a unique low-pass filter, as well as asymmetric, random components and fast, non-linear envelopes.
This free bass VST plugin also comes packaged with 23 presets, including squelchy bass stabs, to smooth, low-end sounds. So if you're looking to inject some vintage character into your tracks, TAL-BassLine is definitely worth checking out.
Click here for your FREE download.
---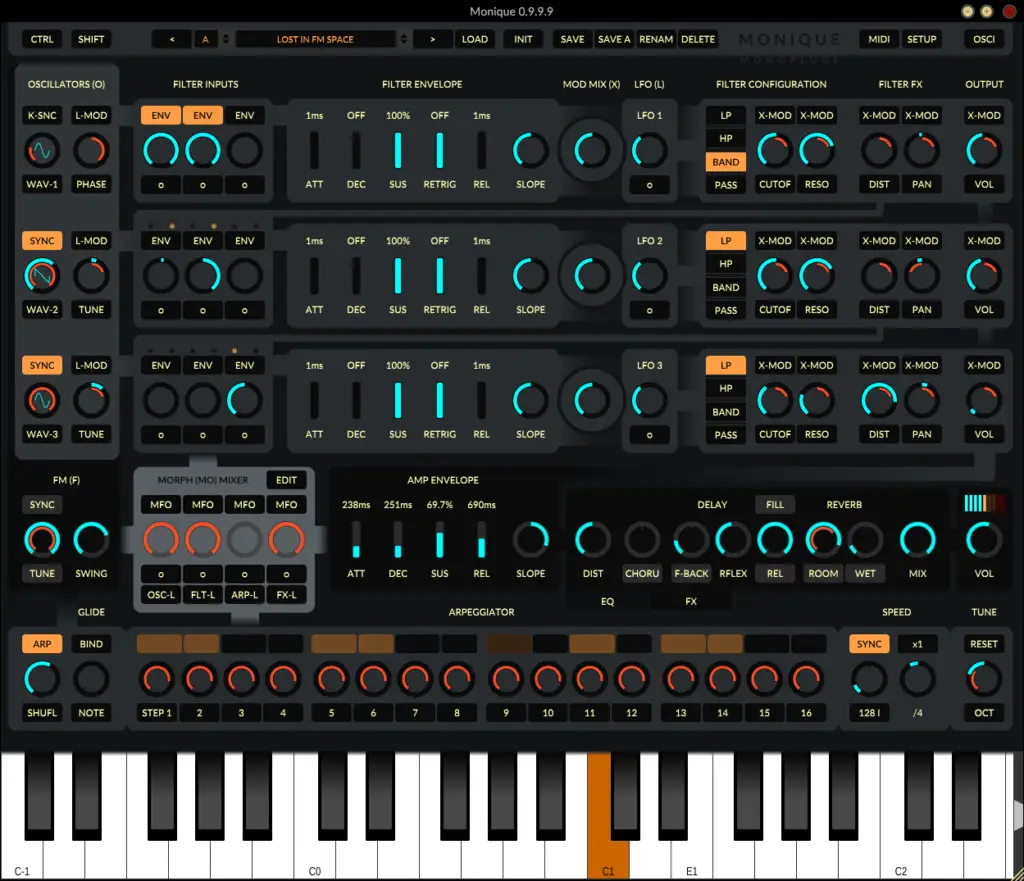 Monique is a monophonic subtractive VST synthesizer with an impressive range of on-board effects and modulation options. It is designed primarily for creating aggressive basslines and heavy 808s.
To this day, I'm not quite sure how Monique is free. Plugins with this level of detail and sonic complexity are usually in the mid-high end price range.
Monique features 3 oscillators, with 3 corresponding filter rows along the interface, with countless additional parameters. Each of the 3 oscillators can be hooked up to the various filter envelopes, FX and configuration settings.
This plugin also features an extensive modulation section, an arpeggiator, and you can even add various effects such as reverb, delay and distortion.
The plugin interface is different enough to spark creativity in new users, yet familiar enough to provide a simplistic, rapid learning experience. Highly recommend.
Click here for your FREE download.
---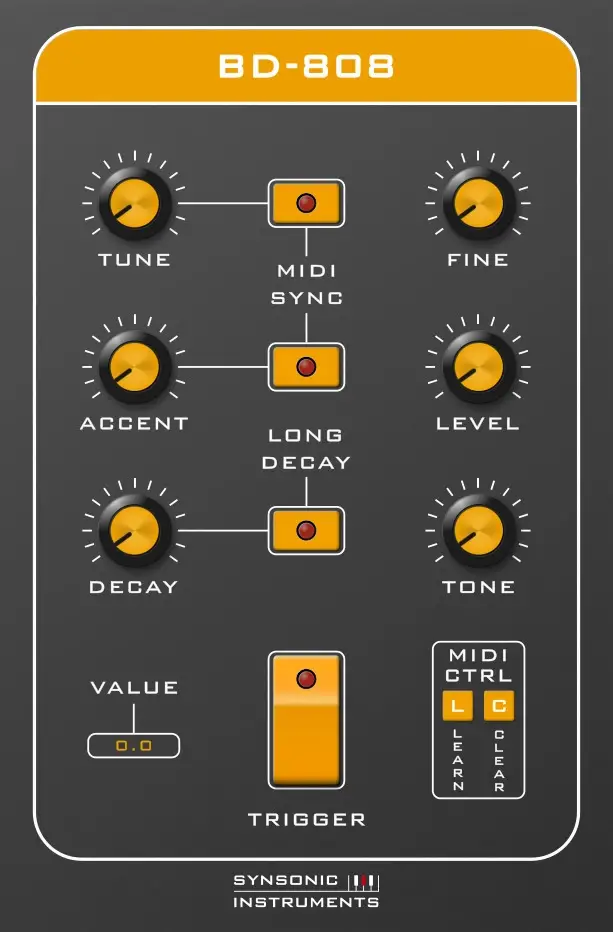 The next free plugin on this list is technically a drum machine plugin, however it contains 808-style Bass Drum Sounds. Using MIDI, the plugin can be used as a Bass Synthesizer.
Synsonic's BD-808 allows you to create 808 sounds, and then edit them using controls found in the original hardware (Accent/Strength, Level, Decay and Tone). However the plugin features several additional controls; Tuning options, LongDecay (which extends decay range), and MIDISync options.
BD-808 is a very beginner-friendly, intuitive plugin with a simple, no-nonsense design. It is a fantastic tool for instantly adding high-quality 808 sounds to your tracks.
Click here for your FREE download.
---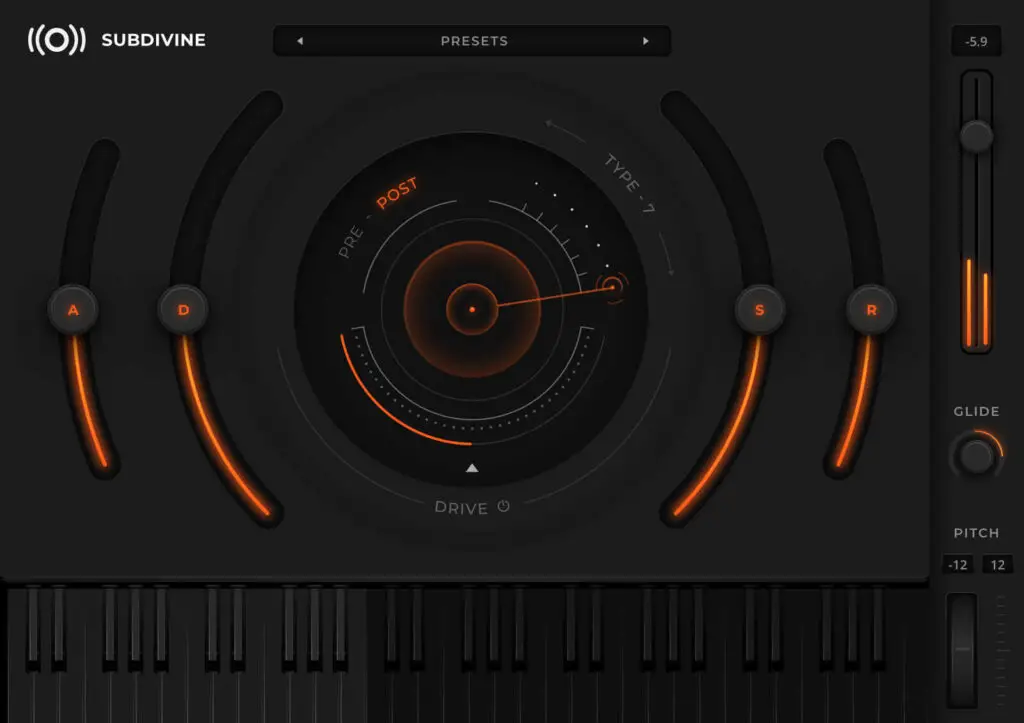 This free bass VST plugin is the freeware, "Lite" version of the commercial plugin Subdivine. While this does mean it lacks many of the on-board parameters of the full version, it does retain the stunning sound quality and deep, rich tone.
It has 6 awesome presets to get you started, from smooth 808's to heavy trap-inspired sounds. On top of that, it includes an adjustable drive control, partly modifiable ADSR and fully functional pitch bend.
This bass synthesis tool is definitely worth checking out if you're looking to expand your 808 sound collection.
Click here for your FREE download.
---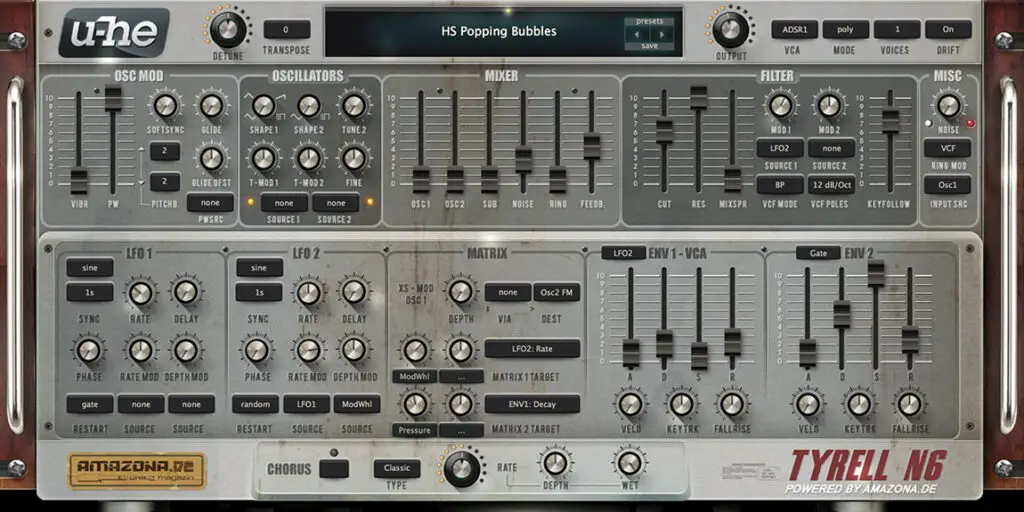 Next up is Tyrell N6, which is easily one the most popular, highly-rated free plugins ever created.
Tyrell N6 is a simple, but deceptively powerful synth. It features 2 oscillators, noise, a ring modulator and 2 LFOs with 8 waveforms, as well as an audio source mixer with authentic overdrive and filter feedback.
While this plugin is not exclusively a "bass plugin", it does contain a huge amount of bass presets and low-end editing functionality. In total the plugin contains 580 diverse presets, many of which are vintage bass sounds.
Similarly to TAL-Bassline, N6 has a warm, analog-modelled tone. Its bass presets range from fat, retro bass donks to squelchy, 80's-inspired sounds.
Overall, this free VST synth is an absolute no brainer for both beginner and advanced producers.
Click here for your FREE download.
---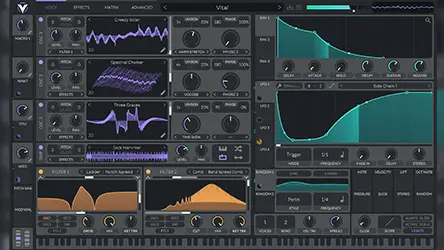 By this point, most of you will have heard of the free plugin Vital. Since it's release in 2020, it has become one of the most popular, highly-acclaimed plugins on the planet, and for good reason.
Vital features 3 powerful, high-quality wavetable oscillators, each with frequency warper and waveshaper controls. An additional sample slot is also available, which can be used to add noise or other audio textures. Vital also features an on-board wavetable editor, allowing you to warp and manipulate the wavetables to your hearts content.
The level of functionality of Vital matches even the most powerful paid synths out there such as Serum or Massive X.
Like Tyrell N6, this is not exclusively a bass plugin. However, it is absolutely incredible for synthesising and manipulating your own original bass sounds. The amount of controls and parameters means you can literally create any bass sound you can think of.
The free version of Vital comes with 75 presets, which includes a few great-sounding bass presets to get you started.
Click here for your FREE download.
---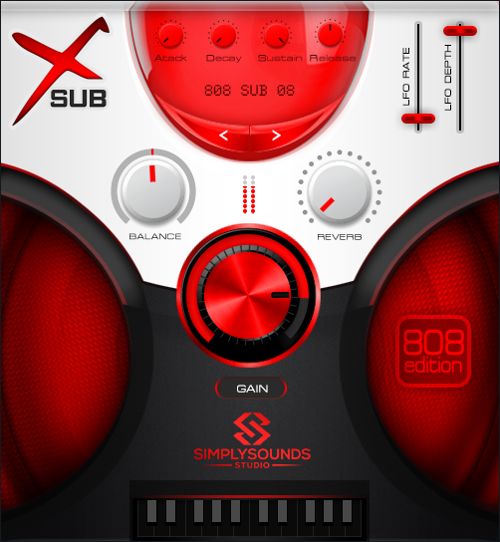 Finally, we have another 808-focused virtual instrument: XSUB 808.
This FREE bass VST plugin features 36 tuned 808 bass sounds created using analog synthesizers, digital sine waves, guitar amps, and other hardware.
The interface features on-board ADSR controls and a built-in reverb effect (why an 808 bass plugin needs a reverb effect is beyond me).
Overall, this a stripped-back bass plugin with some great build-in sounds and 808 textures.
Click here for your FREE download.
---
Best FREE Bass VST Plugins (2022): Similar Articles