Baby Audio Crystalline | HONEST Plugin Review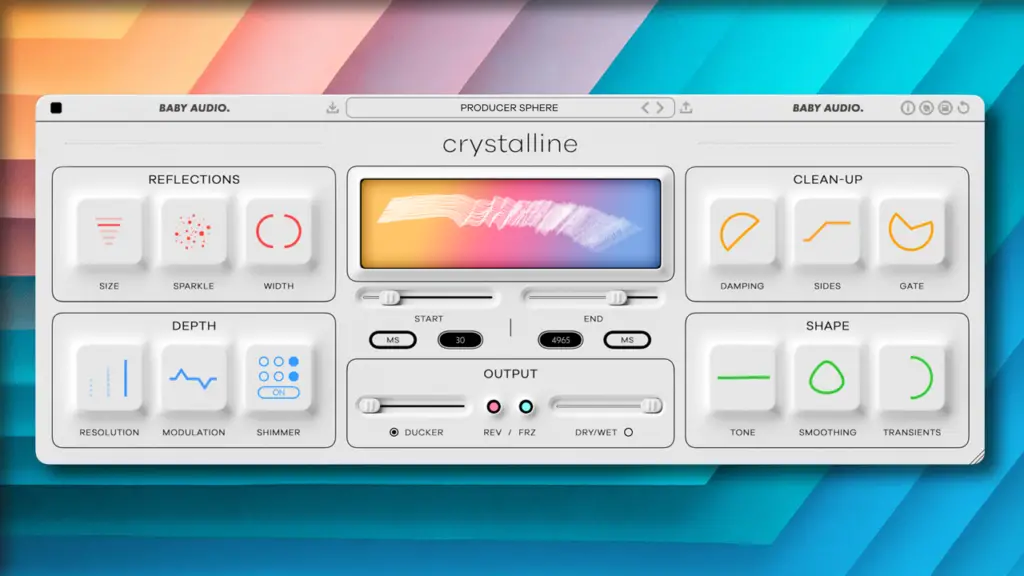 Baby Audio have released Crystalline, an algorithmic reverb plugin available in VST, VST3, AU and AAX format. Inspired by the legendary digital reverbs of the past, Baby Audio claim to have brought the sheer power of modern audio processing technology and applied it the golden age of studio reverbs.
I am a firm believer you can never have too many reverb plugins, from old-school authentic hardware emulations to futuristic, creative reverb tools. Having said that, with so many incredible reverb plugins out there to choose from, it's often hard for new releases to stand out and inspire the somewhat-saturated market.
With that in mind, let's take a closer look at Baby Audio's Crystalline, and see what it has to offer.
---
First Impressions
Upon opening the plugin, you are met with a sleek, mesmerising interface similar to other Baby Audio plugins. One notable quality of Baby Audio products is their GUI design, often condensing a enormous amount of versatility and sonic possibilities into a beginner-friendly, intuitive workflow.
Crystalline is no different. The GUI is clear and easy to navigate, and even complete beginners will have no issues creating and finetuning their own original reverbs.
In the modern era of reverb plugin technology, there seems to be a certain obsession with emulating vintage hardware so it functions exactly as the original reverb would with no functional or sonic improvements. Developers seem to get caught up in creating an accurate emulation, even down to the individual rusty screws in the GUI. It seems that reverb hardware is often replicated so precisely that it neglects the immense potential of modern audio technology. With Crystalline, Baby Audio have done the exact opposite. This reverb tool allows you to utilise many modern features and parameters, providing a level of creative control not found in similar plugins on the market.
---
Crystal Clear
Now let's take a look at Crystalline's on-board controls, focusing on a few of the more noteworthy features of the plugin.
In the top left we have the Reflections section, containing Size, Sparkle and Width controls. The Size feature has 5 levels, from "tiny" all the way up to "spacey". Sparkle is very useful for adding a touch of high-end clarity to the reverb tail, and can be used to add some crisp brightness without any resonance.
The Depth section contains controls for Resolution, Modulation and Shimmer. Resolution allows you to set the complexity and definition of the reverb algorithm; basic, high or pristine. This control is particularly useful as it allows you to instantly switch between an ultra-clean, modern sound and a more vintage-esque reverb effect with subtle audio artefacts and colouration. Modulation adds pitch-shifting to the reverb tail, which can add a distinctive, rich character. Increasing this Modulation control sounds absolutely fantastic on vocals. Shimmer is a handy control for extending the reverb time for higher frequencies, giving a airy, "shimmering" effect.
Moving across the plugin to the Clean-Up section, we have Damping, Sides and Gate. This section is particularly effective for finetuning and perfecting the final reverb effect, and really highlights the modern functionality of the plugin. Damping acts as a way to clean-up any pesky high-end resonance or muddy low-end frequencies in the reverb tail. The Sides control is essentially a high-pass filter that removes stereo information while keeping the mono-information intact. This is an incredibly beneficial control for keeping the low-end of a sound under control to avoid muddying up the mix. Finally we have the Gate control, a classic reverb parameter that is unfortunately absent from a lot of modern reverb plugins.

The Shape section uses more modern techniques to provide a further level of sonic control over the final sound. The Tone control acts as a handy tilt-EQ parameter. The Smoothing control provides an instant way to attenuate resonance and smoothen out the sound. The Transients control is actually one of my favourite parts of Crystalline. This control can be used to give or take away emphasis from the transient information of the sound. For example, increasing the attack on a 100% wet reverb effect will increase the percussive intensity of the sound. Conversely, it can be used to give emphasis to the "body" of a percussive element by reducing the resultant reverb of the transient.
Within the central section, you can set pre-delay and decay times, which can be set in milliseconds or synced to the tempo of your DAW. There is also a ducker control and Reverse and Freeze buttons. The freeze control is a very nice touch by Baby Audio, allowing you to capture and "hold" a reverb effect tail in its current state.
---
The Verdict
With the release of Crystalline, Baby Audio have provided us with an pristine, algorithmic reverb plugin overflowing with modern inspiration. It's scary how easy it is to get lost in the intricacies of its design, and the creative potential is almost endless.
Like other Baby Audio products, Crystalline is perfect for beginners looking to dive deeper into reverb sound design, while still providing experienced producers with more than enough to sink their teeth into. I would have liked to see a little more control with options such as Resolution or Size as opposed to the level-based design. However, given the extensive versatility of the plugin this critique is fairly negligible.
From dreamy, ethereal echos to the rich, vintage reverbs of yesteryear, Crystalline feels like stepping into a new world of sonic possibilities.
Crystalline is available for PC and Mac in VST/VST3/AU/AAX formats and comes with over 300 presets.
---
Our Rating:

Crystalline is currently €49. For more information, check out this product on babyaud.io

BABY Audio Crystalline Plugin Review: Similar Articles
BABY Audio TAIP | HONEST Plugin Review
Trikit – KrushPro | HONEST Review
sonible – Smart:Reverb | Honest Review