BABY Audio TAIP | HONEST Plugin Review (2022)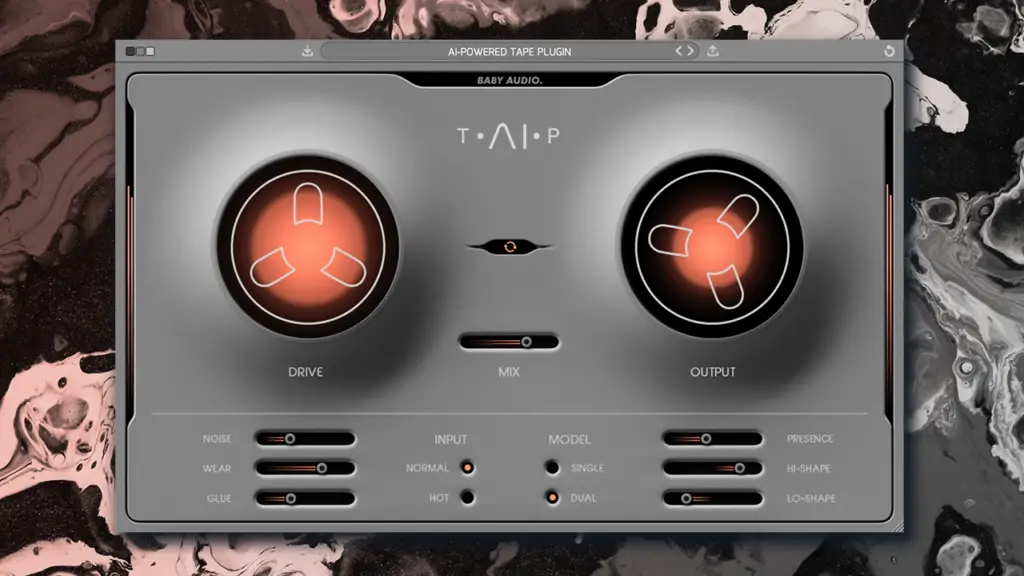 In modern music production, some producers strive to achieve the most pristine, transparent sound quality possible, with popular plugins like Serum boasting "ultra-clean" oscillator algorithms. However, many producers want the exact opposite. Modern music genres such as lo-fi aim to emulate the sonic imperfections and artefacts of analogue audio. Recreating this nostalgic element is usually achieved by using VST plugins such as tape emulators, bit-crushers and other creative tools.
Tape emulation in particular offers a simple, straight-forward way to inject some authentic analogue character into a track.
In 2022, there are countless tape emulation plugins out there to choose from, both free and paid. So when a new tape plugin is released, it often leaves us wondering: "what can this plugin do that others can't?"
---
Meet TAIP
TAIP from Baby Audio is a tape emulation VST plugin available in VST, VST3, AU, AAX format. Baby Audio describe it as a faithful, AI-based emulation of a 1971 European tape machine. This is definitely the first tape emulator plugin I've come across that boasts any degree of A.I intelligence, so TAIP definitely piqued my interest.
In the world of VST plugins, A.I technology and machine-learning is becoming increasingly popular. Many creative tools such as sonible's range of "smart" plugins utilise A.I with exceptional results. As time goes on, it seems A.I will become more and more integrated into various aspects of music technology.
---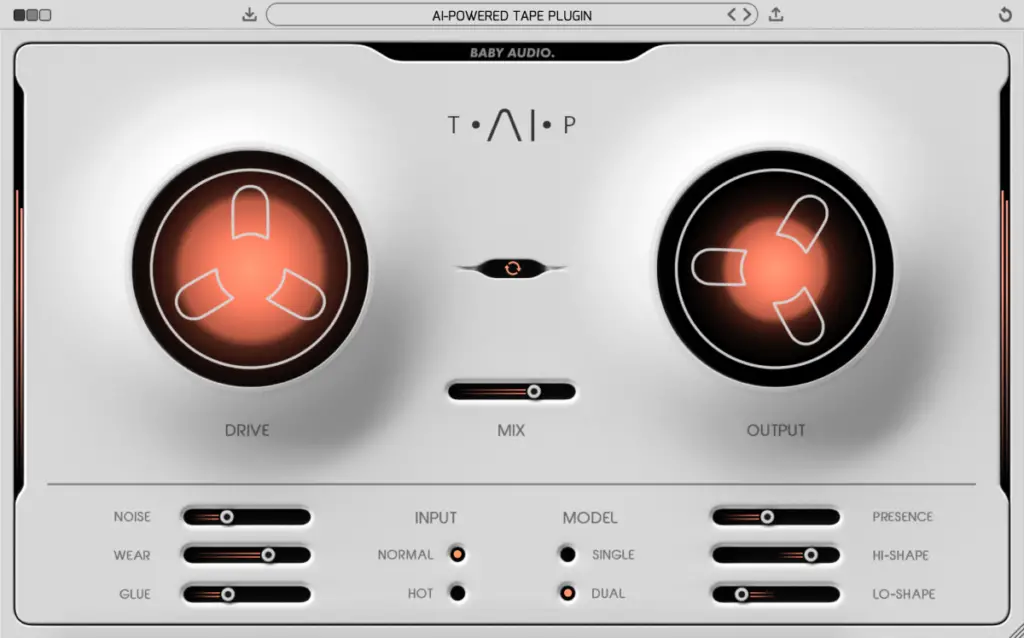 The Engine
TAIP comes packaged with a gorgeous, metallic GUI with animated spinning tape machine reels. The layout is incredibly intuitive, and offers a huge amount of versatility within it's beginner-friendly interface.
In the main module you have your standard Drive, Mix and Output controls. Even these controls alone offer an interesting range of effects, from subtle analogue warmth to aggressive overdrive. This module also offers a handy Drive Auto-Gain switch. When activated, this means the output level of the drive section is automatically adjusted and stays more consistent regardless of the amount of drive you dial in.
In the lower section of the plugin, TAIP proves itself to be a powerful creative tool. Instead of the common tape emulation controls such as speed or bias, Baby Audio have opted for more intuitive, creative settings such as Noise, Wear and Glue. Many of the parameters in this section are fairly self-explanatory, however I do want to highlight a few of my favourite controls. The Glue control mimics the cohesion of a tape machine, and acts as a compressor. When coupled with a subtle amount of noise and wear, the glue control adds a rich character and vintage authenticity to the sound.
The Presence, Hi-Shape, and Lo-Shape controls also expand the sonic capabilities of TAIP. The Presence parameter allows you to compensate for the high-frequency loss that is inherent to authentic tape machines by adding some brightness and clarity to the sound. The Hi and Lo-Shape parameters allow you to target the tape saturation more precisely towards either the high or low ends of the audio spectrum. The result is fairly subtle, but it gives you a useful, highly effective way of finetuning the end result.
Overall, TAIP offers a very impressive level of control and versatility, but how does it actually sound?
---
The Sound of A.I
At the moment, TAIP appears to be a one-of-a-kind in the plugin world, applying A.I technology to tape emulation.
After some pretty extensive experimentation on our end, one thing is clear: this thing sounds exceptional.
No matter how far you push TAIP, the output feels truly authentic. I found particularly good results adding the plugin to piano, keys and clean retro synth sounds. In these cases, TAIP delivers a gorgeous, vintage flair, which effortlessly captures the tone and character of a real tape machine. Interestingly enough, if you zero all TAIP settings, the plugin still has a subtle effect on the sound (just like an actual tape machine would).
Having said that, it's hard to conclude how much is this is due to the A.I technology itself. When compared to other similar tape emulator, TAIP responds extremely well to dynamic changes in audio levels and gives consistent, realistic results across a range of sounds and genres. This is exactly what you might expect from a A.I-based tape emulator.
It also sounds absolutely incredible on drum sounds, whether you're adding subtle saturation and presence to a kick drum, or injecting some dusty, vintage nostalgia to a lo-fi drum loop.
---
The Verdict
Overall, TAIP is a truly believable tape emulation tool that delivers an authentic, retro character with mind-blowing results.
If you're a music producer looking to add some vintage tape emulation to your tracks, this creative tool should definitely be on your radar. When taking into account both its impressive realism and sound design, as well as its level of on-board functionality, TAIP seems like a real no-brainer.
TAIP is currently €39. For more information, check out this product on babyaud.io

BABY Audio TAIP | HONEST Plugin Review: Similar Articles
FabFilter Saturn 2 | An HONEST Review
sonible – Smart:Reverb | Honest Review