8 Best FREE Effect VST Plugins Every Producer NEEDS in 2022!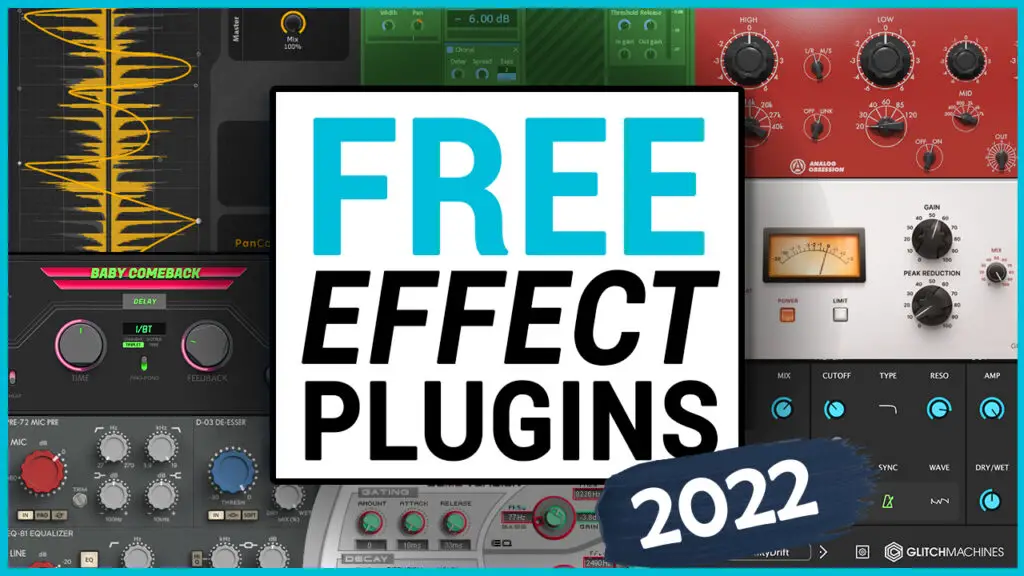 "What are the best FREE effect VST plugins in 2022?"
Every DAW comes with a range of stock effect plugins, such as a standard equalizer or a fairly basic reverb plugin.
However, at some point in your music production journey, you'll reach a point where you need some more unique, versatile effect plugins in your arsenal.
Maybe you need a spacey, futuristic reverb, or a vintage, 80's-inspired chorus effect. Stock plugins can produce some great results, but they usually only cover the basics.
Fortunately, there are hundreds of amazing, high-quality third-party plugins out there! If you're a beginner, diving into the world of third-party plugins can completely transform the way you create music.
What are the best FREE effect VST plugins?
Let's admit it, VST plugins can be expensive. If you're not quite ready to start splashing out on paid VST plugins just yet, downloading a few FREE effect VST plugins is a great way to get started.
Surprisingly, there are some incredibly powerful FREE effect VST plugins out there (you just need to know where to look!)
From compressors, transient shapers and limiters to delays, reverbs and filters, these free plugins will take your music to the next level.
So without further ado, let's take a look at the best FREE effect VST plugins in 2022.

---
The Best Free Effect VST Plugins in 2022 (+ Download Links)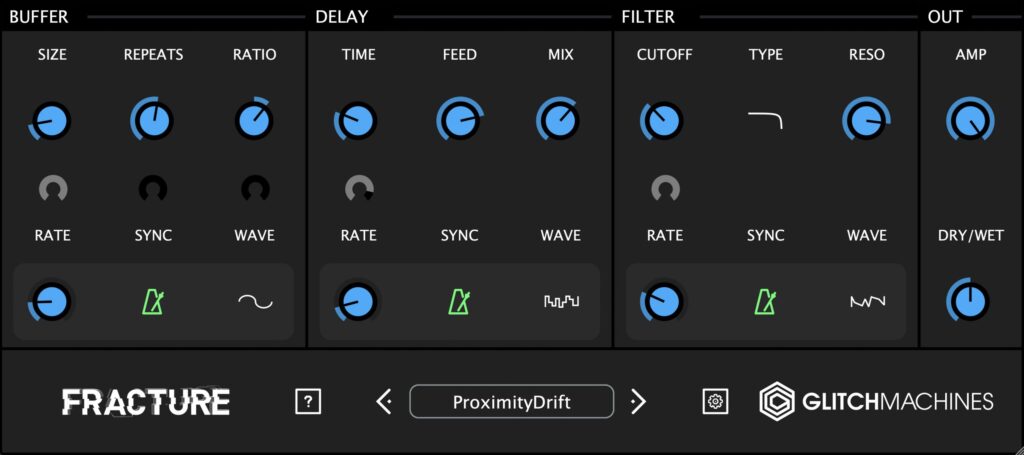 Fracture by Glitchmachines is a multi-effect plugin designed to add glitchy articulations and abstract textures to your sounds.
Using its sleek, intuitive interface you can instantly create unique sonic malfunctions, making it especially useful if you're running low on inspiration.
Fracture features a buffer effect, a multimode filter, a delay section and three LFOs. You can also change the order of the 3 modules which can significantly alter the final output.
The plugin makes it incredibly easy to create bizarre, robotic effects from pretty much any sound. I've gotten fantastic results using Fracture on ambience / FX as well as synth pads and leads. There's also around 100 eccentric presets to browse for quick inspiration.
I'd definitely say it's more useful for electronic music genres such as Dubstep or Future Bass, but it's still definitely worth checking out regardless of the genre you produce.
Click here for a FREE download.
---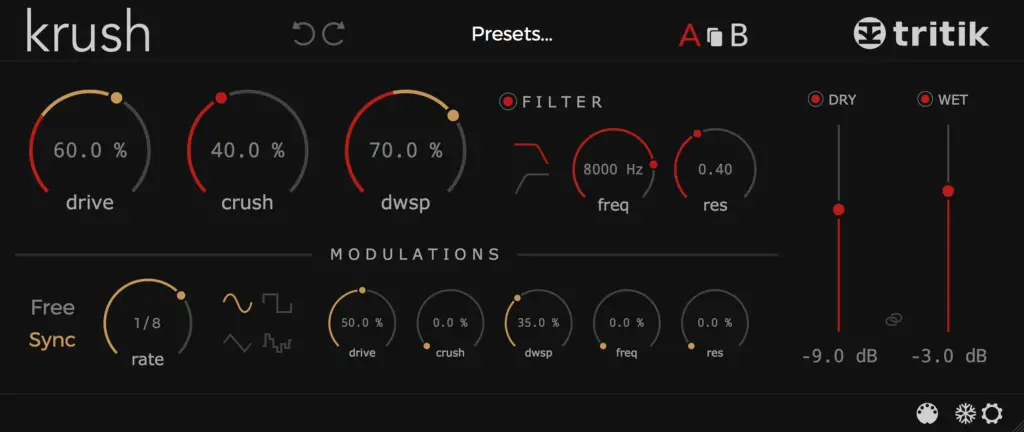 Krush by Tritik is a powerful, easy-to-use bitcrusher plugin that allows you to instantly add life and character to your sounds by modulating drive, crush and other parameters.
With its bit-crushing and downsampling algorithms, Krush combines the crispy taste of the digital realm with the warmth of its drive stage and analog-modeled resonant filters.
The plugin has a clean and intuitive interface that gives a lot of control over its 4 modulation waveforms. It offers 3 main distortion parameters (clipper, bitcrusher and a downsampler), paired with a resonant multi-mode filter (high-pass and low-pass modes), dry/wet signal level controls and a very useful, intuitive modulation section. Using the modulation section, any of Krush's bitcrushing parameters can be modulated using a selection of 4 different waveforms (sine wave, triangle, square, and noise).
Given the level of creative control, this free effect plugin is an absolute no-brainer for any producer out there.
Overall, Krush is definitely one of the best free effect VST plugins for all your bit-crushing needs.
Click here for a FREE download.
---

Baby comeback by Baby Audio is a free delay plugin with a gorgeous, vintage tone. The plugin is essentially a stripped-down version of their award-winning Comeback Kid delay plugin.
For a free plugin, Baby Comeback has a impressive amount of controls. It has standard delay time, feedback, ping-pong and other, more basic delay controls. On top of that, you also get a ducking option, as well as 4 wet signal "flavours" (Wide, Analog, Saucey and Cheap). These flavours essentially add their own individual tone and character to the delayed signal.
Firstly, the "Wide" preset gives a clean, crisp sound, while also expanding the stereo image. The "Analog" preset is clearly inspired by vintage tape delay units and gives a warm, bright nostalgic tone. "Saucey" delivers a lush, vibrant delay tone that works especially well on leads and synth pads. Finally, the "Cheap" preset emulates the imperfect, lofi character of 80's rack delays.
I'd HIGHLY recommend this plugin to any producers looking to create some unique, incredible-sounding delay effects.
Baby Audio also have a free Magic Dice plugin, which essentially creates randomly-generated reverb effects. By clicking the dice you can get anything from hazy space echoes and lush reverbs to alien-sounding modulation effects as well. 
Click here for a FREE download.
---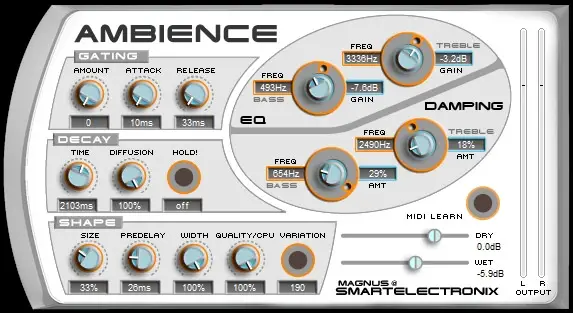 Ambience by Smartelectronix is an incredibly versatile reverb VST plugin that, in my opinion, rivals the sound quality of the very best commercial reverbs on the market.
Due to it's high level of control and functionality, over the years Ambience has become somewhat of a "VST classic".
The plugin includes all the standard reverb controls you'd expect to find, such as reverb time, size, pre-delay, etc. However, it also includes some unusual functions, like a gater feature and a very useful, intuitive hold function. When you press the hold function, the reverb will freeze at it's current sound, holding it indefinitely until you press it again. This is fantastic if you want to create a lush pad from a plucked string, a hihat or whatever you can imagine.
Ambience also includes a range of fantastic-sounding presets, from short, textured effect to spacious, evolving reverb tails.
Click here for a FREE download.
---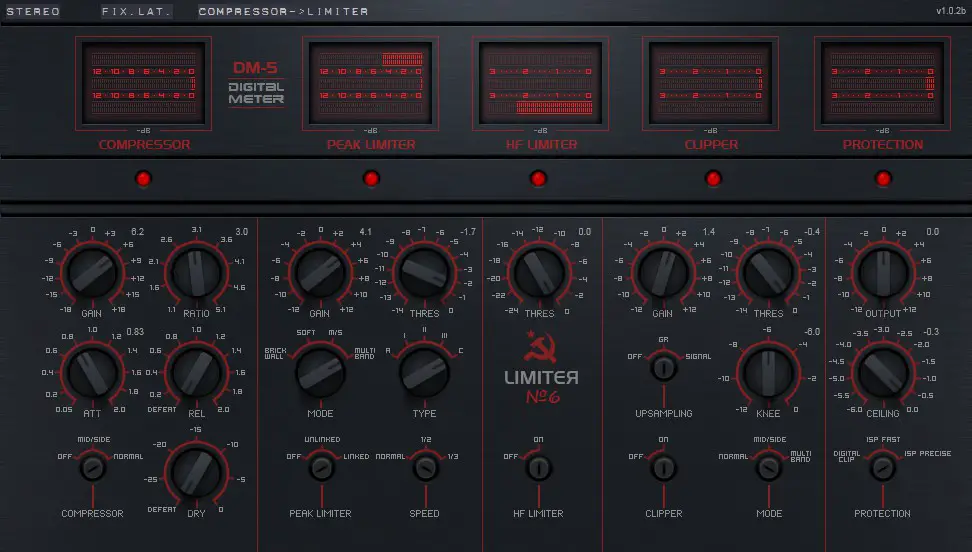 At some point in your music production journey, you might want to learn how to master your own tracks.
Limiter No6 is easily the most popular, comprehensive option when it comes to free mastering plugins.
The No6 engine has 5 modules: RMS compressor, peak limiter, high-frequency limiter, clipper and true peak limiter. Each of these modules uses different high-quality signal processes and gives incredible results for mastering.
The wide selection of parameters does seem a little daunting at first, but after a bit of experimentation, the plugin is surprisingly intuitive and logical. It's fair to say Limiter No6 is capable of more of less everything the paid alternatives can do (and in some cases maybe even more!)
Please note: the view shown above is an optional (and far superior) skin for Limiter No6.
Click here for a FREE download.
---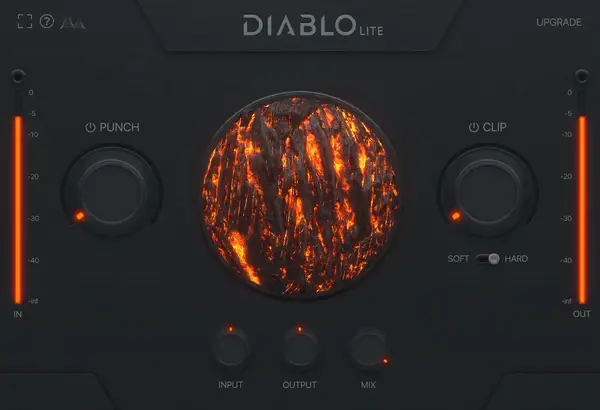 Cymatics, the immensely popular sample pack platform, have released Diablo Lite, a FREE version of their full drum transient shaper Diablo. This freeware plugin is designed to give drums more power and clarity, using transient processing algorithms.
Diablo Lite has a very stripped-back design with a gorgeous, fiery GUI. The engine consists of Punch and Clip controls that dramatically enhance your drum sounds, allowing them to cut through any mix.
The plugin also has soft / hard options for clipping, and Input, Output and Mix controls for a little extra flexibility.
After testing this product on a range of drum and percussion sounds, this free plugin definitely gives consistent, hard-hitting transient effects. I found particularly good results when using Diablo Lite on kick drums, turning dull, relatively-soft samples into powerful, dynamic kick drum sounds. However, snares, 808's and other percussive sounds also sound fantastic.
Click here for a FREE download.
---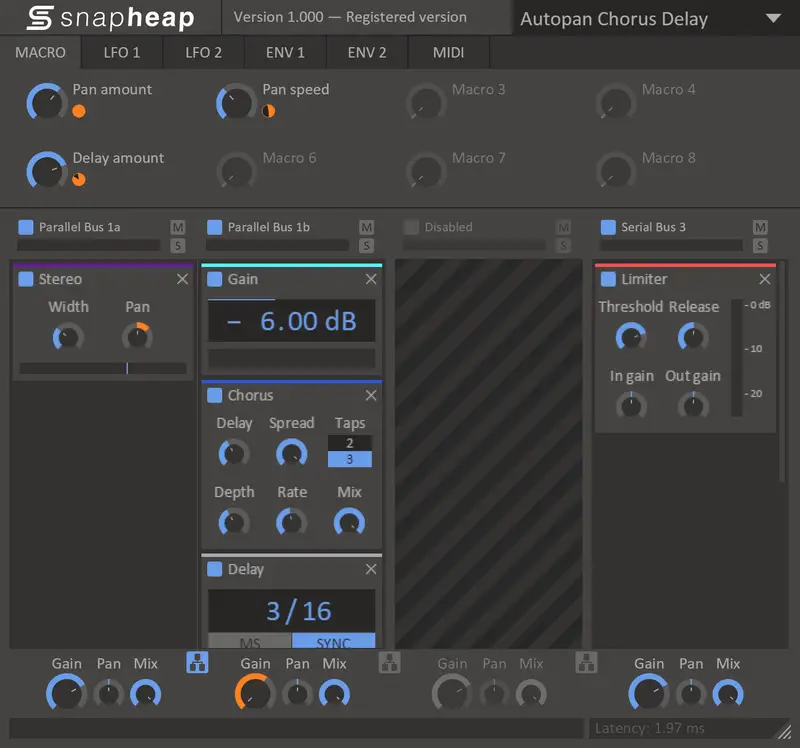 Snap Heap by Kilohearts is an essential free plugin for both beginner and advanced producers. This free host is essentially a modular library for loading individual "snap" effects.
It contains 4 effect slots and an internal modulation system at the top to control all the effects variables.
The free download comes with 6 fairly basic snapin effects (EQ, chorus, delay, gain, limiter and a stereo expander). However, with the free download you also get over 100 presets that are fully functional whether you own the extra individual snapin presets or not.
For example if I load up the "stereo talkbox" preset, various pitch modulation and formanting effects are used. Even though I haven't purchased the extra effects, I can still use the preset. There's some really cool sounding patches in the free download as well, from weird pitch-shifting patches to lush, ambient effects as well.
Click here for a FREE download.
---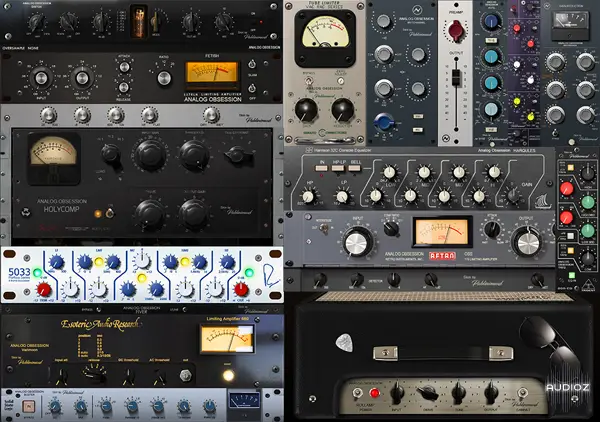 The final entry on this list is actually a collection of free effect plugins from Analog Obsession.
Analog Obsession is actually a Patreon account that releases a couple of free plugins every month, including vintage compression plugins, guitar cabinet modellers and much more.
There is a huge amount of plugins to choose from, and all of them are completely free!
Our favourite Analog Obsession plugins
ReLife – Your Tracks Deserve A Second Chance. Simply give second life to your lifeless tracks with "ReLife". Easy to use and instant results!
Room041 – The first reverb plugin by Analog Obsession! Not 1:1 modeling based on any device (it's a room reverb plugin) but it has features like a famous plate reverb.
CHANNEV – This plugin is the ultimate channel-strip with Mic Preamp, De-Esser, Line-Amp, 4 band equalizer, Compressor, Limiter and Tape Saturation!
SPECOMP – SPECOMP will compress overall signal and naive frequencies up to its magical circuit and tame whole range of sound.

---
The Best FREE Effect VST Plugins (2022): Similar Articles
The 8 Best FREE VST Synth Plugins (2022)
The Best FREE VST Plugins You've Never Heard Of! (2021)
The 8 Best FREE Reverb VST Plugins (2022)