The 10 Best Ambient Sample Packs (2022) | 100% Royalty Free!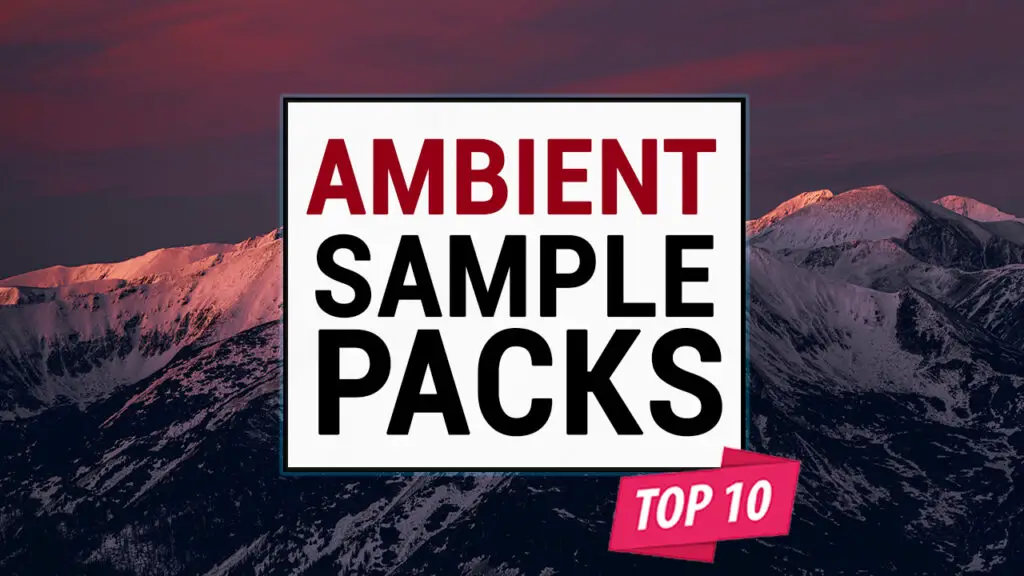 Ambient Samples
In the last few decades, ambient music has become very popular with music producers, as it allows you to get incredibly creative with very few limitations.
Ambient music can be categorised by slow, evolving pads and organic, lush textures. Any drums or percussion is usually subtle and grainy or expansive and reverberating. It is a very broad, far-reaching, experimental genre, and includes genres such as chill and downtempo sub-genres.
Many ambient samples and textures can also be used in cinematic media such as TV, film and video games.
If you're an ambient music producer, or looking to get started creating ambient tracks, you're going to need some high-quality ambient samples.
---
Royalty Free Ambient Sample Packs
Thankfully, there are hundreds of incredible, professional sample packs out there in 2022, containing everything from meditative, hypnotic pads and synths to evolving, futuristic soundscapes.
We've been producing ambient and "chill" music for years, and have downloaded more sample packs than we can count. With that in mind, we have a good idea which ambient sample packs are worth downloading, and which just aren't worth your time or money.
So without further ado, here is our list of the best royalty free ambient sample packs in 2022.
---
The 10 Best Royalty Free Ambient Sample Packs (2022) + Download Links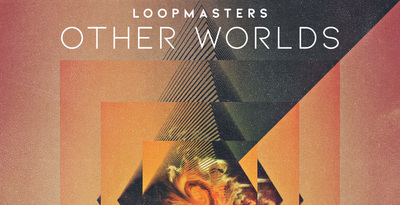 Ambient Soundscapes is an incredible collection of ambient samples and VST patches, overflowing with hundreds of inspiring, other-worldly sounds.
Whether you're looking to create ethereal, ambient/down-tempo tracks, or beautiful cinematic textures for TV/film, this enormous sample pack has something for everyone.
Expect futuristic arps, blissful synths, gorgeous rhythmic textures, field recordings, endless atmospheric FX samples, and much, much more! Also included are 100 Rex2 Files, 123 Soft Sampler Patches (for NNXT, Halion, Kontakt, EXS24 and Sfz) and 7 Bonus Midi Files.
The content in this ambient sample pack is seriously inspiring, and it's easy to get lost in the countless starter sounds, effects, loops and beautiful sonic environments. We recommend this sample pack to any ambient producer looking to add a unique, other-worldly vibe to their tracks.
Specifications: Total File Size: 3.6 GB | Total no. of files: 677

---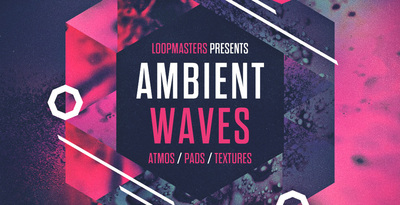 "Ambient Waves" is another example of an incredibly inspiring, highly creative sample pack that will level up your ambient production.
This ambient sample collection is jam-packed with lush sonic landscapes, including many unique, left-field sounds for adding texture to your tracks. Expect to find blissful keys and synths, soothing basses, evolving atmospheric loops and one-shots, natural percussion loops and more!
This is easily one of the most highly-recommended ambient sample packs out there, and for good reason. The sounds themselves are extremely high quality, as well as being highly diverse and covering a range of down-tempo, chill music genres.
So if you're an ambient/downtempo producer, or you're just looking to add some ethereal ambient textures to your music, this sample pack this definitely be on your radar.
Specifications: Total file size: 3.13 GB | Total no. of files: 439

---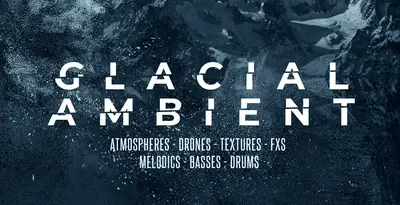 "Glacial Ambient" is a breathtaking, seriously impressive sample pack from Famous Audio.
This royalty free ambient sample pack has a beautiful "organic" tone, which is perfect for a range of ambient genres. Expect to find chilled, melodic sequences, grainy beats, hypnotic drones, icy FX and more!
The sounds in this pack are also ideal for cinematic soundtracks such as films, TV, documentaries or video games. The drones, atmospheres and FX are definitely the standout part of this sample pack, making it incredibly easy to create moody, celestial soundscapes from scratch.
All sounds are organised into Key and tempo-labelled folders for easy access, making it easy to discover inspiring sounds for any ambient track.
Specifications: Total File Size: 1.26GB | Total No. of Files: 397 Files

---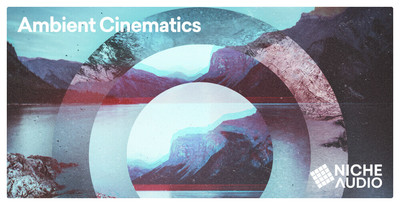 "Ambient Cinematics" is an absolutely stunning sample pack from Niche Audio, known for their incredible professional production kits for Maschine and Ableton Live.
In total, this ambient sample pack contains 14 Projects, 15 Groups and 240 unique samples for Maschine, as well as 14 Projects, 15 Drum Racks, 23 Instrument Racks and 240 samples for Ableton.
Sample packs arranged in this way can be incredibly useful for curing creative block and providing immediate inspiration for your next project. Within the samples expect to find deep, evolving strings, lush, organic textures, ethereal pads and synth one-shots, and much more.
This pack is the perfect choice for any ambient, downtempo or chill producers looking to add another dimension of dark, immersive feeling to their music.
Specifications: Maschine: 14 Projects, 15 Groups, 240 samples | Ableton: 14 Projects, 15 Drum Racks, 23 Instrument Racks, 240 samples

---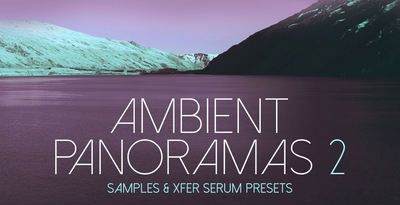 "Ambient Panoramas 2" is an inspiring sample pack from Production Master, and contains an interesting mix of chill, professional-sounding samples and Xfer Serum Presets.
Serum is a insanely popular, highly acclaimed wavetable synthesizer with a staggering level of features and creative control. If you're not already a Serum user, we highly recommend checking out this powerful, timeless virtual synthesizer.
101 Xfer Serum presets included in this sample pack are suitable for a wide range of genres, including ambient, new age, chill out, downtempo, chillwave, chill step, liquid dubstep, liquid dnb and more. Presets are a fantastic way to expand your sonic palette as well as discovering highly customizable sounds.
Within the audio sample collection, expect to find deep bass one-shots and loops, meditative percussive loops, mysterious FX, intriguing pads and keys, the list goes on!
Specifications: Total no. of Files: 480 samples and 101 Serum presets

---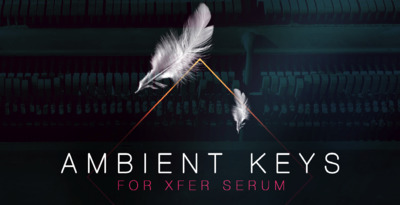 "Ambient Keys" is another ideal ambient sample pack for any Serum users out there, as this pack contains exclusively chill, ambient-style presets.
Serum is definitely a top choice for producers in any genre, but these presets in particular provide countless expertly-designed sounds for ambient and downtempo styles of production. The best part about using presets in your tracks is being able to edit and finetune the individual patches to your hearts content.
Expect meditation keys and synth sounds, ethereal pads, nostalgic, cinematic soundscapes and reverberating plucks, and much more.
The sounds included are inspired by ambient/electronic artists such as Bonobo, Tangerine Dream, Tycho, Odesza and Gold Panda, while containing sonic influences from cinematic composers such as legendary Hans Zimmer.
Specifications: 102 Serum Presets

---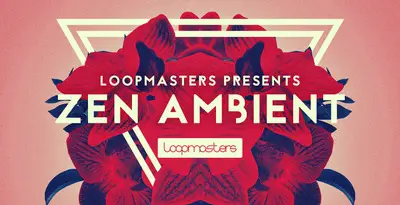 "Zen Ambient" is an epic sample pack from Loopmasters that offers sound and effects not usually found in ambient sample collections.
One of the most important aspects of music production is learning to incorporate sounds and styles that are outside your comfort zone. Zen Ambient features an ethereal, unique collection of sounds such as Tibetan Singing Bowls, Crystal Bowls, Chimes, Bells, Gongs, Frame Drums, Melodic Tank Drum (metal tongue drum), Sansula (thumb piano), Piano, Field Recordings and a touch of chilled vocals.
It's fairly safe to say you won't find a selection of sounds this diverse and eclectic in any other ambient sample pack.
This is a mesmerising, niche selection of world sounds that will greatly enhance your sonic arsenal in 2022.
Specifications: Total File Size: 1.89GB | Total No. of Files: 64 Loops and 189 One Shot Samples

---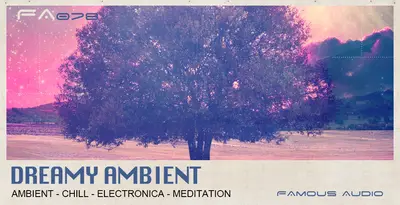 Ambient music is characterised by dreamy, sentimental, atmospheric sounds and textures, usually relying on lush, relaxing pads and synths to create a meditative sonic effect.
"Dreamy Ambient" is another royalty free sample pack by Famous Audio overflowing with sounds perfect for creating dreamy ambient tracks.
While the sound quality of the sounds in this pack is outstanding, there's not as much content included compared to some of the other sample packs on this list. However, it's still an incredible choice if you're looking to create beautiful chilled and relaxing ambient music.
This is definitely one of the best royalty free ambient sample packs in 2022.
Specifications: Total File Size: 1.52GB | Total no. of Files: 181 Files

---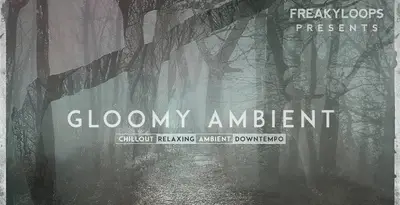 "Gloomy Ambient" by Freaky Loops is in quite the contrast to the dreamy sounds included in other ambient sample packs.
This royalty free sample pack has a dark, suspenseful tone that is perfect for adding a brooding atmosphere to your music. Expect grainy, broken beats, frantic percussion, trembling soundscapes, dark, haunting pads, shimmering chords and pulsating basslines.
Every sound in this pack has a dark, gloomy, melancholic vibe which is perfect not only for ambient genres but many electronic styles such as dubstep, trap, future bass and liquid dnb.
Freaky Loops claim that "this is an essential sample pack for the dark ambient connoisseur" and we would have to agree!
Specifications: Total File Size: 1.42GB | Total number of sounds: 440

---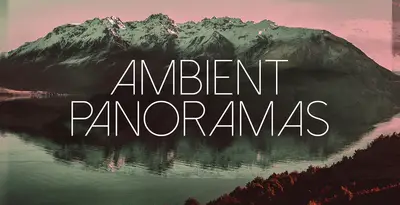 This royalty free ambient sample pack is the first installment of the "Ambient Panoramas" sample pack series.
While the second installment is definitely more comprehensive, and even includes 100+ Serum presets, this pack is still a fantastic choice for enhancing your ambient sample collection.
Just like the second installment, expect to find deep bass one-shots and loops, meditative percussive loops, mysterious FX, intriguing pads and keys, the list goes on!
Specifications: 204 Total Files

---

10 Best Ambient Sample Packs 2022: Similar Articles
Best Lofi Hip Hop Sample Packs (2022) | 100% Royalty Free!
Output Arcade | An HONEST Review (2022)
FabFilter Volcano 3 | HONEST Review (2022)