Cherry Audio Dreamsynth | HONEST Plugin Review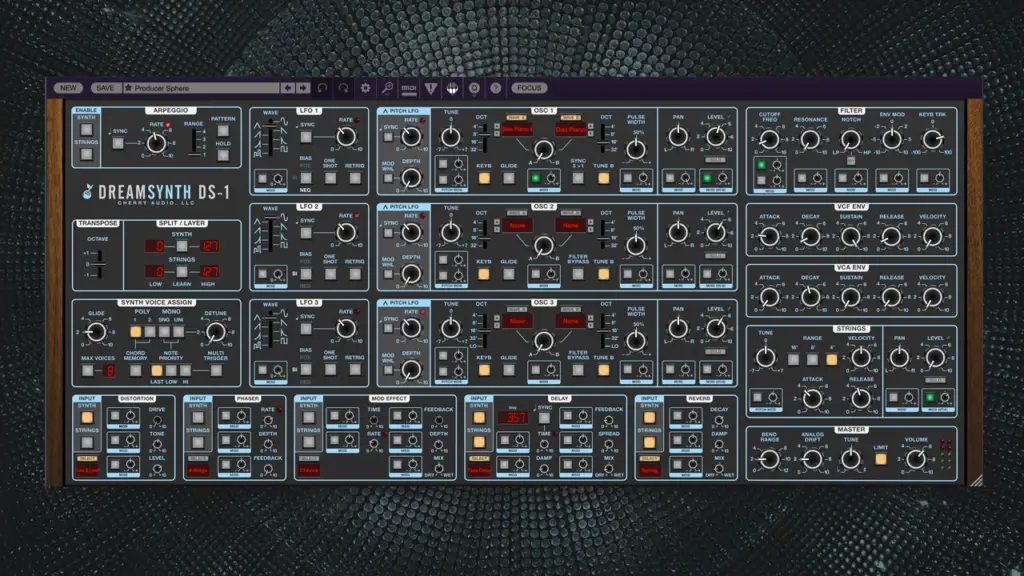 Cherry Audio are best known for their eclectic collection of virtual emulations of classic analog plugins. Over the years they have provided us with many creative tools to access the rich, authentic sound of vintage hardware.
With the release of their new virtual synthesizer Dreamsynth, Cherry Audio pay tribute to the analog/digital synthesizers of the mid-to-late 1980s. This era of "hybrid" synths allowed music producers to combine the sampling technology of digital oscillators with the warmth of analog filters. Dreamsynth seems to take this concept, and infuse it with the truly staggering level of digital audio technology we have today.
---
Beyond your Wildest Dreams
Dreamsynth has a sleek design with a seemingly endless amount of buttons, knobs and additional controls. Its GUI is immediately reminiscent of old-school synthesizers, but with an impressive level of functionality that simply wasn't possible with classic vintage gear.
Down the centre of the plugin you can edit the three dual-waveform oscillators, each with up to 16 voices of polyphony. Interestingly, the waveform options consist of both classic analog waveforms (sin, square, triangle etc.) and sampled waveforms such as organs, brass, strings and FX. This is a nice touch by Cherry Audio, and allows you to get really creative when creating your own unique sounds.
Plus, there is also an entirely separate section for adding a polyphonic, oscillator-based string synthesizer, with options for velocity, range, attack, tuning and more. This is an excellent feature for layering and enhancing the timbre of a sound.
In the top right of the interface, you have 12 dB/octave multimode stereo filters. Dreamsynth also has an impressive effects section, offering effects such as distortion, phaser, reverb and more. Notably, each effect can be added to either the main oscillators or the separate string synth (or both!)
Dreamsynth also features extensive modulation capabilities with 20 modulation sources which can be routed to over 40 destination dotted across the interface. A handy arpeggiator can be assigned to the synth or string sections with several syncing and pattern controls.
Overall, it's clear that Dreamsynth is a powerful, highly versatile virtual synth, but more importantly: how does it actually sound?
---
The Cherry On Top
When testing out this virtual synth, it makes sense to start with the staggering library of over 1100 presets created by a diverse group of sound designers.
Within the library you can find everything from ethereal, dreamy keys and pads to cinematic effects and percussion. As you would expect, many of the presets have a decidedly 80's theme, harking back to the legendary hybrid synthesizers that inspired Dreamsynth. However there's plenty of more modern patches perfectly suited for EDM, pop, hip-hop and other contemporary genres.
Plus, by experimenting with the effects, filters and various modulation options it's incredibly easy to tweak and finetune the presets in almost any way you can imagine.
Alternatively you can use Dreamsynth to create your own original sounds. I'd say for complete beginners to sound design, this virtual synth may come with a higher learning curve than some other synths out there. But if you're more experienced, it's fairly easy to navigate the GUI to create sounds completely from scratch.
---
Dreamsynth is a fantastic choice for any producer looking to expand their virtual synth collection. From the heavenly sound design, to the sheer level of control over the sound, this synth really stands out as a top pick for producers in 2022.
On top of that, it's currently priced at an extremely generous $39. Given the quality of the plugin, this is a bargain you'd be crazy to miss.
Dreamsynth is available now in AU, VST, VST3, AAX, and standalone formats for macOS and Windows.
Dreamsynth is currently €39. For more information, check out this product on cherryaudio.com

Cherry Audio Dreamsynth | HONEST Plugin Review: Similar Articles
FabFilter Saturn 2 | An HONEST Review
sonible – Smart:Reverb | Honest Review