Meet ChowMatrix – A FREE Innovative Delay Plugin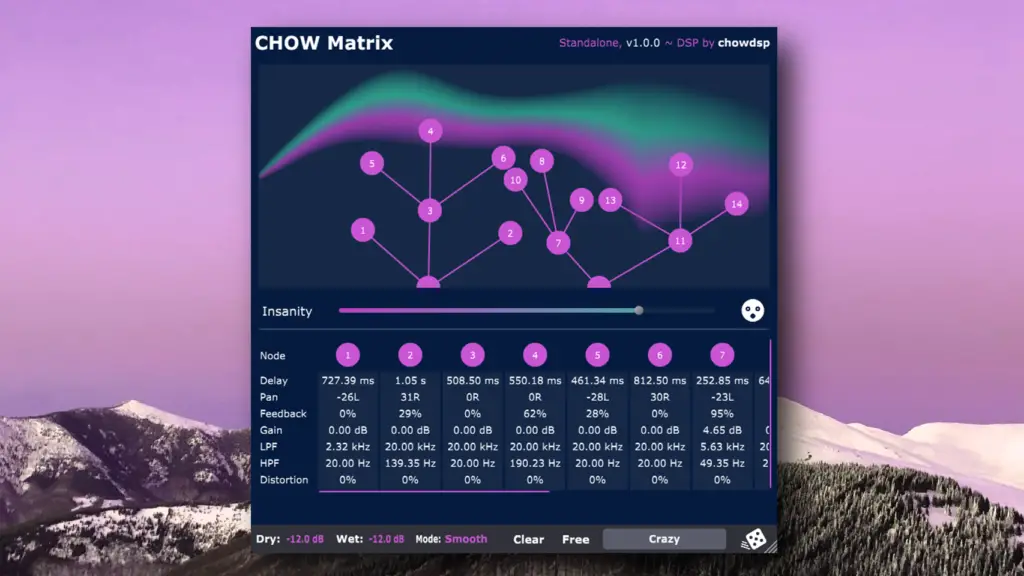 Chowdhury DSP has released their new, innovative delay plugin ChowMatrix for free. Chowmatrix is an intriguing, open-source delay plugin with a lot of tricks up its sleeve.
It seems Chowdhury DSP is a fairly new audio plugin company with only a few available plugins, all of which are freeware. ChowMatrix follows the release of the tape saturation effect plugin ChowTape, and the truculent distortion effect CHOW.
ChowMatrix delivers a huge amount of functionality for a free delay plugin, and boasts many features usually only found in commercial delay software.
A "Delay Tree"
The plugin is based on the fundamental idea of a "delay line tree", with each node containing it's own properties such as delay-time, feedback, pan and more.
This surprising level of flexibility allows you to create a VAST array of delay effects, from subtle, nuanced delay lines, to spacious, revolving, immersive delay effects.
This node-based design lets you interconnect an infinite amount of delay nodes, and adjust the parameters individually:
Delay length
Gain
Highpass filter
Lowpass filter
Distortion
Global feedback path
Pan
Arguably the most fascinating feature of ChowMatrix is it's "Insanity" parameter. In a nutshell, this control can be used to discover chaotic, unique modulation effects within the plugin.
By increasing the Insanity parameter, the delay nodes begin to wander randomly, with a speed and intensity determined by the parameter value. As you increase the Insanity level, the visual delay tree will begin to sway and convulse to represent the random modulation of the delay lines. Really cool.
It's safe to say ChowMatrix is definitely geared towards more unusual uses of delay effects.
---
Where to Download
ChowMatrix is available for FREE in VST, VST3, and AU formats for Windows or Mac.
This plugin is available here on Github, where you can download the actual code. If you just want to download the latest version of ChowMatrix, visit the latest releases page.
---

---
ChowMatrix – A FREE Innovative Delay Plugin: Similar Articles
The 8 Best FREE Delay VST Plugins (2020)
Britpressor by Analog Obsession – The New FREE Vintage Compressor
Vital – A FREE Revolutionary Virtual Wavetable Synthesizer?