Eventide Anthology XII | An HONEST Review (2022)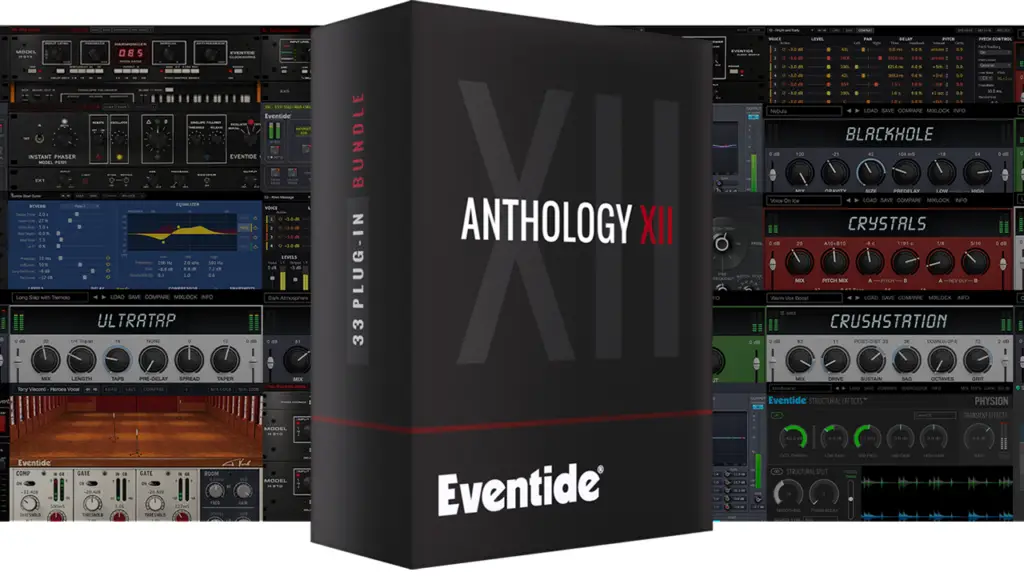 Eventide have released Anthology XII, an enormous collection of 33 VST plugins overflowing with creative potential and inspirational effects.
This bundle gives you access to Eventide's 50 year history of pioneering audio technology, and includes many of their classic effect plugins as well as some new additions. Among these new additions are the innovative SplitEQ, a transient/tonal splitting equaliser, the multi-band Physion tool, the ShimmerVerb and Crystal pitch-shifting ambience effects, the Spring mechanical reverb emulation, and much more.
Anthology XII is available in VST2, VST3, AU and AAX formats and is compatible for Windows and MacOS.
---
When first exploring the Anthology XII collection, it's easy to lose yourself in the various reverbs, delays, filters, pitch shifting plugins and other creative tools. The bundle provides an astounding level of versatility, regardless of the music genre you produce.
It also includes 4,500+ presets across all plugins, including artist presets from various professional musicians and sound designers.
There are far too many individual plugins in this bundle to review each one individually. So after some substantial experimentation, we want to focus on a few of our favourites plugins from this gigantic collection of effects.
---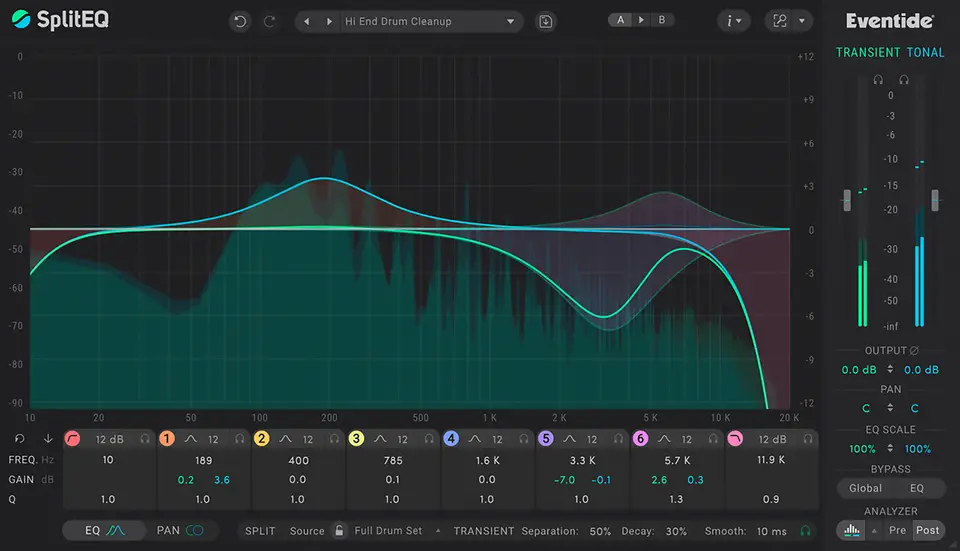 SplitEQ
SplitEQ is one of the several new additions to the Anthology bundle and Eventide describe it as "A New Era in Equalization".
Whenever a new EQ plugin comes along there's usually not much to talk about. Companies such as FabFilter and Softube have seemingly mastered the art of the fully-featured EQ plugin with plugins such as Pro-Q 3 and Weiss EQ1. More often than not, new EQ plugins often feel like watered-down versions of these popular examples.
SplitEQ is the exact opposite.
This plugin provides a fundamentally novel approach to EQ'ing, and it's an approach that has been desperately needed by producers for decades. Firstly, SplitEQ functions perfectly as a surgical equalization tool, with precise state-of-the-art filters curve and a ton of advanced functionality. The GUI is absolutely gorgeous and intuitive, resulting in a fast, streamlined workflow.
But SplitEQ starts to get really interesting when you start to experiment with its transient controls. Amazingly, SplitEQ allows you to EQ the Transient and Tonal parts of a sound separately. This makes mixing corrections so much easier, and is an invaluable tool for retaining the character or transient groove of a sound while adding EQ filters.
For example, let's say you are mixing an acoustic guitar and you want to remove some of the brighter high-end frequencies. With a normal EQ this would remove the detail and presence of the transient information as well, resulting in a dull, flat sound. SplitEQ allows you to remove the bulk of the high end frequencies while retaining the detailed, high-frequency information of the transient.
SplitEQ is an absolute game-changer, and has us wondering "where has this been all this time?"
---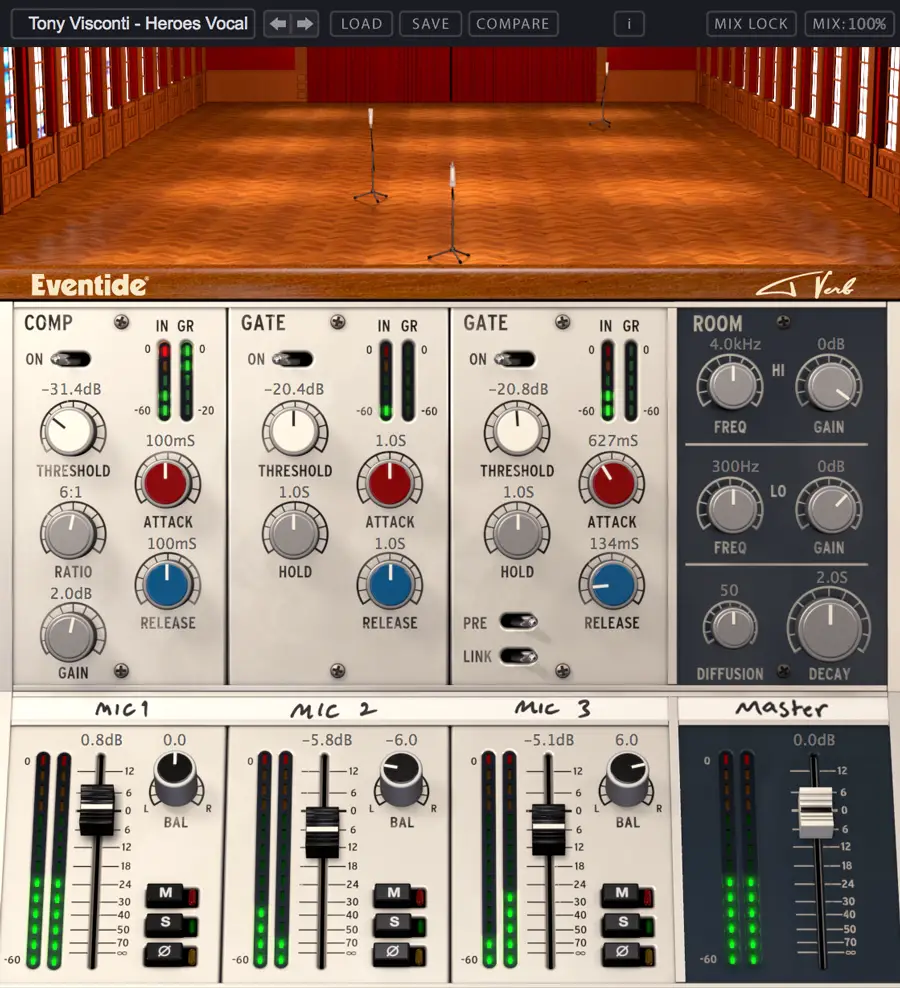 Tverb
Tverb is one of the most beautiful, rich sounding reverb plugins ever created, developed by a legendary producer, engineer and musician.
Tony Visconti is primarily known for his extensive work with David Bowie, T-Rex, and countless other world-renowned pop and rock acts. Working closely with Eventide Plugins, Visconti has created one of the most sonically stunning reverb plugins we've ever come across: Tverb.
In the 70's, Visconti created a truly unique method of creating reverb, using 3 seperate mics in a large hall in Berlin's Hansa Studios, and then adjusting the distance and gate to create a lush, spacious reverberating effect.
Tverb's reverb engine is based on this concept, allowing you to actually move the mics within a visualized hall. This results in the integration of three completely independent reverbs with compression and selectable polar patterns on microphone 1 and adjustable gates on microphones 2 and 3.
Once again, Eventide have provided a unique approach to a fundamental mixing concept.
---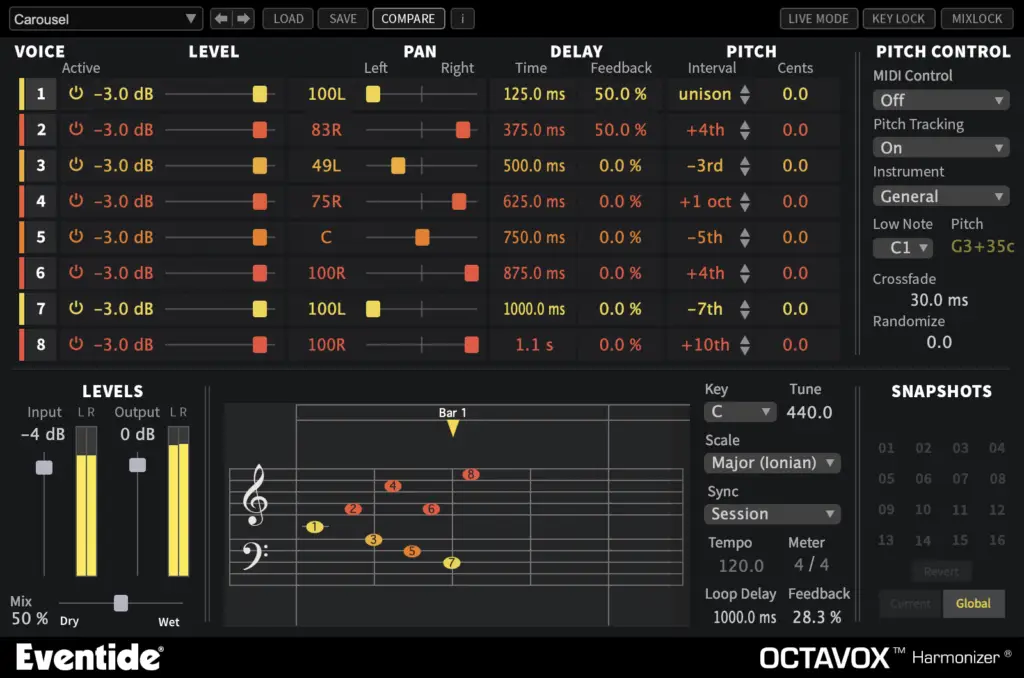 Octovox
Octovox is an 8 Voice Diatonic Pitch Shifter with extensive MIDI capabilities.
This is a particularly impressive plugin due to the range of effects it can create and the level of control you have over the sound. The plugin allows you to stack harmonies, widen instruments, and instantly create rhythmic sequences.
Each of the eight voices is displayed as it's own set of individual controls across the plugin. This means you can independently manipulate each voice by level, panning, delay time with feedback, and pitch, (including the type of musical interval).
With very little tweaking, this powerful creative tool can turn a single vocal sample into a huge, spacious, hamonized vocal track.
---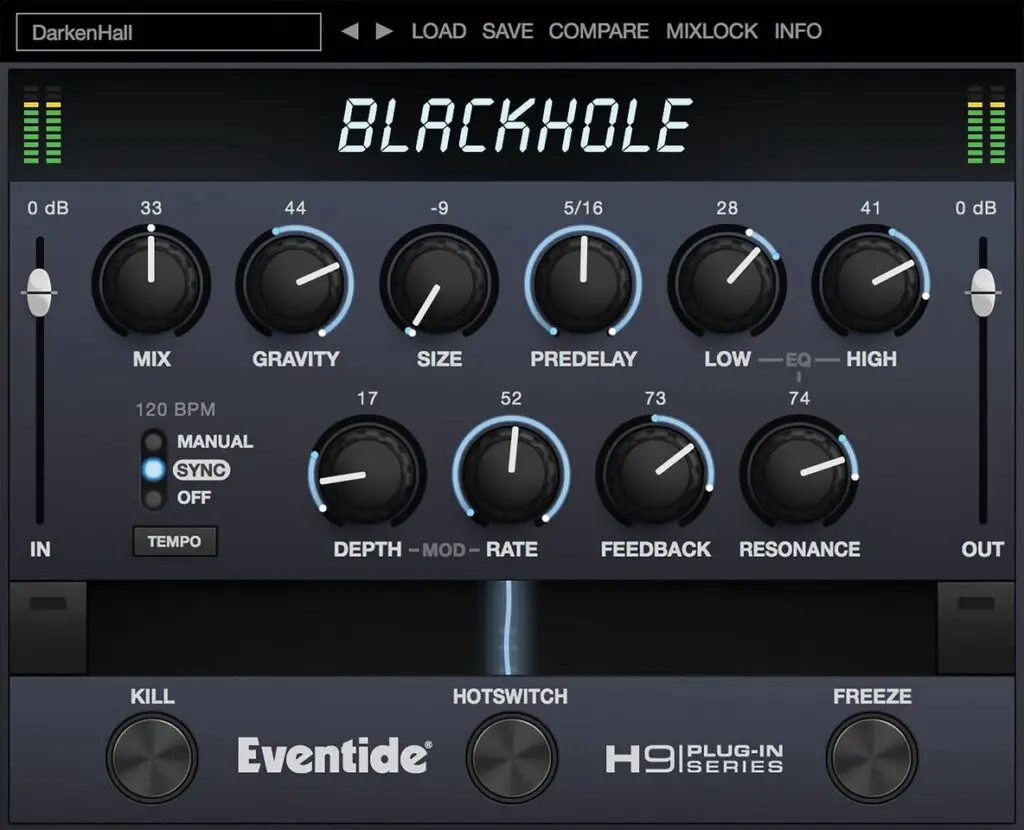 Blackhole
Blackhole is another classic plugin included in the Anthology XII bundle. It is an ethereal, weird and wonderful reverb plugin capable of creating truly unique sounds.
The majority of reverb plugins are designed to create clear, authentic plate or room reverbs, steering towards transparency and authenticity over anything else. Blackhole Reverb seems to want the exact opposite. This wacky reverb plugin is designed to create abstract, spatial reverb effects that would be near-impossible to create using a standard reverb plugin.
Blackhole Reverb has a dedicated Gravity knob, which seems to be the equivalent of decay time, while also switching the reverb algorithm from a standard reverb in one half of its travel to a reverse-envelope type in the other.
The plugin engine is extremely intuitive and easy to understand, allowing you to transform any sound into a huge, celestial, evolving landscape in minutes. I've had the most success using this plugin to create FX from basic sounds such as guitar and piano, and the sonic possibilities here seem almost infinite.
---
The Verdict
Overall, Anthology XII provides a staggering amount of versatility and powerful effect tools. Everything from the endless inspiring presets to the on-board plugin controls provide so many opportunities to level up your music production.
Anthology XII provides everything from unique, highly powerful reverb and delay effects, stunning pitch warping and manipulation tools, a truly innovative EQ tool and much, much more! If you're currently not incorporating any of these plugins into your production workflow, you are seriously missing out.
Anthology XII is currently $799 (down from $1999). For more information, check out this product on eventideaudio.com

Eventide Anthology XII | HONEST Plugin Review: Similar Articles
Tokyo Dawn TDR Molot GE | HONEST Review (2022)
sonible – Smart:Reverb | Honest Review