Tokyo Dawn TDR Molot GE | HONEST Review (2022)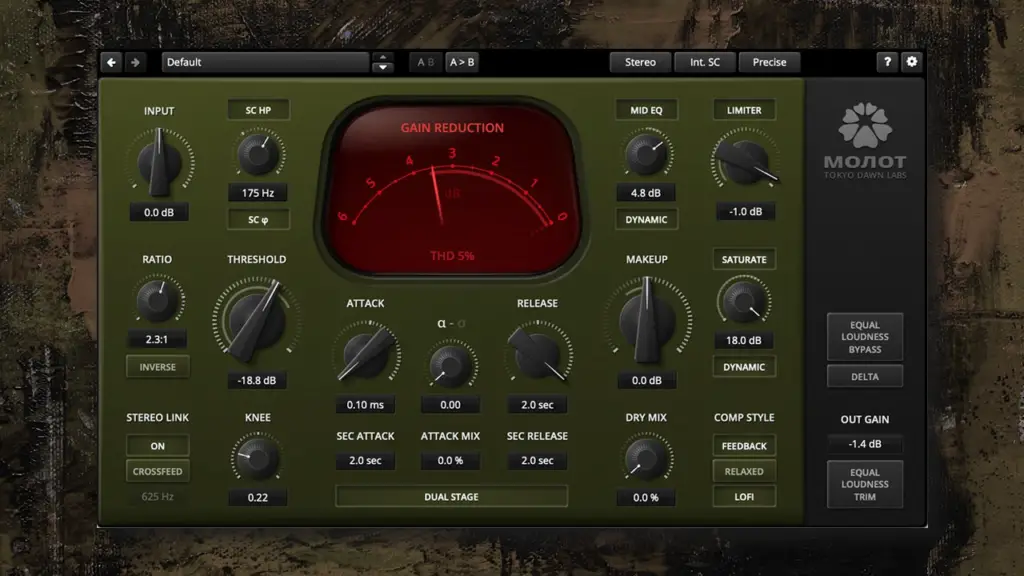 Tokyo Dawn are an audio software company and record label, who over the years have released some highly acclaimed, powerful VST plugins. For example, their classic TDR Nova EQ plugin is arguably one of the most popular free plugins of all time.
The latest addition to the TDR plugin roster is the Molot GE, an enhancement on their free Molot compressor. The original was a fan favourite, not only due to it being free to download, but also because of its beginner-friendly GUI and impressive sound quality.
Similar to other TDR plugins, there are two versions of Molot available to download. The TDR Molotok is free to download, and is essentially a stripped-down version of the full TDR Molot GE (currently €50). Both versions are available in VST2, VST3, AU, AAX for PC and MacOS.
So let's take a closer look at these new-and-improved compression plugins.
---
Molot (Молот) directly translates to "hammer" in Russian, which gives the impression this thing can pack a serious punch. Even the GUI itself looks like the control panel of a Russian tank. Like other TDR plugins, the layout is extremely intuitive, even with the additional functionality of Molot GE.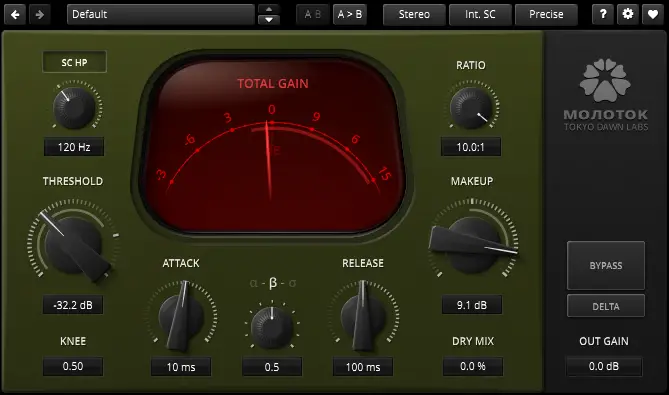 Molotok
Let's start with the free Molotok compressor. Even though it is a reduced version of the full Molot GE, this free download is much more than simply a watered-down demo. Molotok still provides full control over the Threshold, Ratio, Attack and Release of the sound, as well as a handy Knee control for finetuning the onset of the compression.
It also has a adjustable high-pass control for the sidechain, and several other valuable parameters. One thing that immediately sets Molotok apart from other free compression plugins is the real-time visual GUI components; the responsive central, VU-style gain-reduction meter as well as the input level display around the threshold, makeup and saturation controls.
Molotok also has an intriguing Mode control, allows you to switch between 11 compression "colours", each with it's own individual tone and character. The Mode control also affects how the compressor responds to transients in a subtle, nuanced way.
Given the fact this plugin is completely free to download, Molotok is an absolute no-brainer for any producer in 2022.
---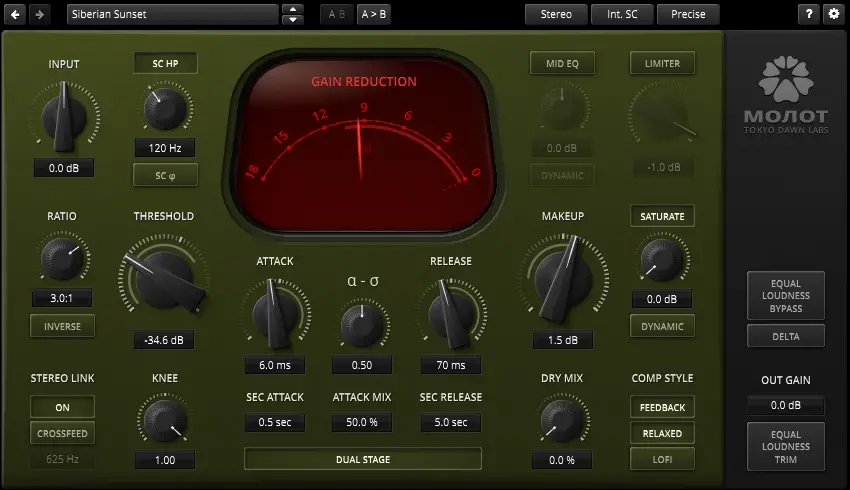 Molot GE
On to the main event. Molot GE's additional features and on-board controls take the versatility of the plugin to another level. While both use the same audio algorithms, Molot GE gives you an unparalleled level of control over the final output, especially when considering its low price tag.
For example, you can finetune the Mode control found in Molotok to a much higher degree of precision. Molot GE also features controls for EQ, a Limiter and Saturation.
Molot GE's EQ controls consist of a Mid-EQ knob, which controls the simultaneous boosting and cutting of fixed EQ frequencies. It also features a handy Dynamic EQ control, which when active connects the EQ gain to the compressor's gain reduction. The Limiter is a zero-latency, brick wall limiter that can be used to bring peaks under control when longer attack times are used. The Saturate knob drives the saturation circuit without changing the overall level, based on real vintage hardware device modeling. There is also a Dynamic Saturation option, which makes the saturation threshold depend on the compressor's gain reduction.
On top of this, there are several expert controls such as feedforward and feedback compression types, secondary attack and release controls, and detailed colouration features such as negative ratios, sidechain phase rotation, and even bit-crushing. These extra, more advanced compression parameters make Molot GE's a plugin tweakers paradise.
The on-board controls give a staggering amount of control and precision over the sound, and the level of detail is absolutely insane.
But importantly, how does the plugin actually sound?
---
The Sound
Given the aesthetic and name of the plugin, we were expecting a fairly one-dimensional "aggressive" compressor. However, both Molot GE and Molotok are capable of creating an expansive range of compression effects. From subtle, transparent leveling to heavy, dynamic compression, the Molot plugins always seem to have the answer.
The resultant tonality of the sound is also extremely flexible; from pristine, silky-smooth effects, to colorful saturation and even downright grungy effects for those days when clean compression just won't do.
If you're adding Molot to your drum tracks in particular, it's very hard not be impressed by the phenomenal sound quality.
---
The Verdict
Overall, Tokyo Dawn have pulled out all the stops with their newest addition to the TDR family.
The highlight of the plugin is undoubtedly its versatility, as this compression powerhouse offers a mind-blowing level of detail and precision. Its impressive functionality is also presented in a beginner-friendly, extremely intuitive way.
If you're a beginner or an intermediate producer, this plugin definitely offers an opportunity to seriously level up your compression skills. Whether you're looking to add heavy compression to your growling dubstep basslines, or simply touch up an acoustic guitar sample, Molot can handle pretty much anything you throw at it. Highly recommend!
Molot GE and Molotok are available now in AU, VST2, VST3, AAX for macOS and Windows.
Molot GE is currently €50. For more information, check out this product on tokyodawn.net

Tokyo Dawn TDR Molot GE | HONEST Plugin Review: Similar Articles
FabFilter Saturn 2 | An HONEST Review
sonible – Smart:Reverb | Honest Review