How To Make Electronic Music (BEGINNERS GUIDE 2022)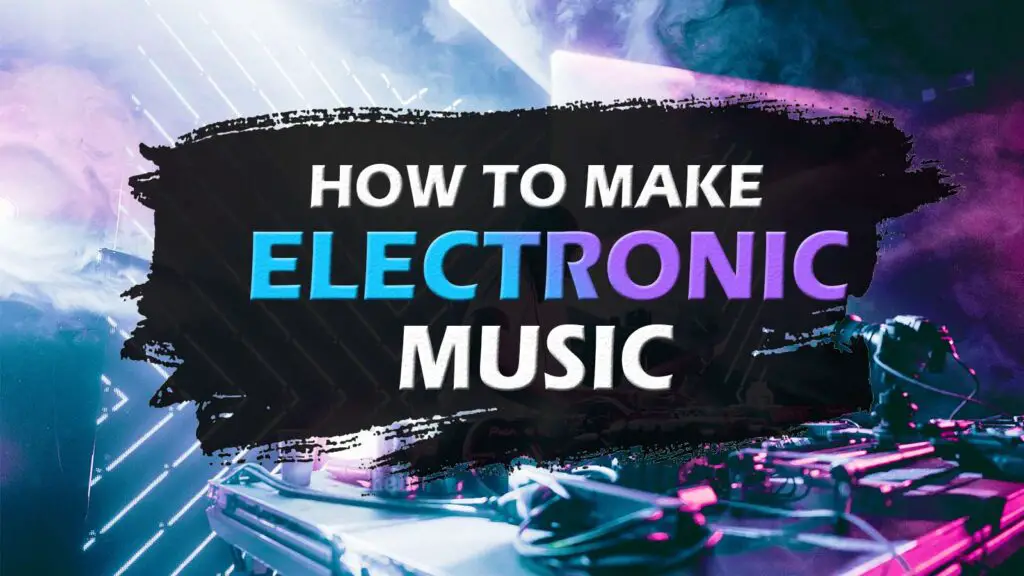 So you want to learn how to make electronic music?
In 2022, learning how to create professional-sounding electronic music is easier than ever. If we go back 40 years, you'd need a complicated array of physical hardware to even get started making your own electronic music. Now, you can create incredible tracks with almost no equipment at all!
The term "electronic music" can apply to many different genres, including house, techno, drum and bass, dubstep, future bass and more. These genres sound completely different, but are created using more or less the same software and production techniques.
In this article, we'll run through how to make electronic music in 2022, from a beginners perspective. This guide will apply whether you're looking to make smooth, deep house, aggressive dubstep or anything in between. Let's get started!
---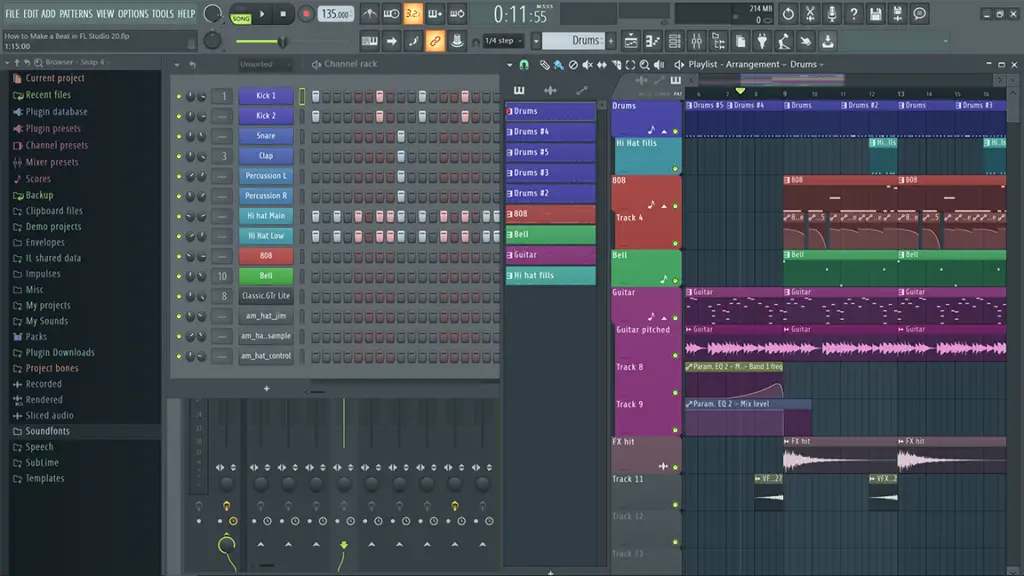 DAW
The very first you're going to need to start making electronic music from scratch is a DAW. A DAW (Digital Audio Workstation) is the main piece of software you'll be using to create sounds, edit and splice various sounds together, arrange your song, and eventually mix and master the entire track.
When creating electronic music, almost everything you do will take place inside your DAW software.
You may have heard of DAWs such as FL Studio, Ableton or Logic. These are arguably the 3 most popular DAWs (although please note that Logic is only available for MacOS).
Which DAW should I use?
When it comes to choosing the right DAW for you, there's a few important things to bear in mind.
Firstly, all major DAWs are capable of creating the same final output. No DAW is inherently "better" than the others. Many producers praise FL Studio as the best DAW for electronic music due to its sequence-based interface and beginner-friendly layout. However, at the end of the day no DAW is the clear winner.
Our advice would be to dip your toes in the water and try each DAW out for size. FL Studio, Ableton or Logic all have free trials that allow you to try out the main features of the DAW. After experimenting with each option, you'll have a better understand of which DAW feels like the best option for you.
If you want more information on which is the best DAW for you, you can read more here.
When you've made your decision, it's time to purchase your DAW. However, if you're not ready to make a purchase just yet, you can always experiment with some of the free DAWs out there. Granted these free DAWs won't have the same level of versatility and creative options as the paid equivalents, but they are a great way to learn the ropes of music production, completely for free!
---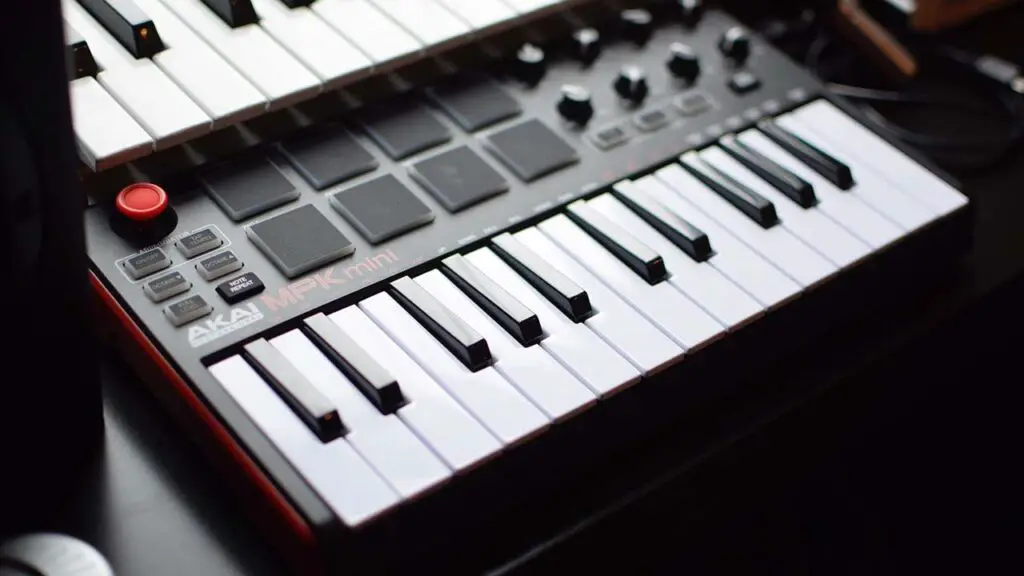 How To Make Electronic Music: a MIDI Keyboard
A very common we get asked is "do I NEED a MIDI keyboard to create electronic music?"
A MIDI keyboard is essentially a keyboard that allows you to play melodies, chord sequences or even drum patterns by sending MIDI information to your laptop or computer. MIDI keyboards do not create any audio, which is exactly what makes them so powerful.
By playing a sequence on a MIDI keyboard for example, you are sending information to your DAW on what notes where played, how long the notes lasted, how hard you played the notes and other signals. This means you can not only creates melodies and chords for any sound you have available in your DAW, but you can also edit and finetune your MIDI performance afterwards.
Therefore, MIDI keyboards are extremely useful when it comes to creating electronic music.
However, you can create electronic music without a MIDI keyboard. DAWs allow you to sequence melodies, chords and drum patterns within the software. For example, FL Studio has an incredible piano roll module that allows you to create sequences and custom note patterns with ease.
MIDI keyboards definitely speed up the process of sequencing your own patterns and composing melodies. Plus, in 2022 there are some very affordable, versatile MIDI keyboards out there. Click here for our rundown of the best MIDI keyboards for beginners in 2022.
It's worth mentioning as well that MIDI keyboards are compatible with any major DAW.
So overall, you don't need a MIDI keyboard to learn how to make electronic music, but investing in a high quality MIDI keyboard will definitely speed up your music production journey.
---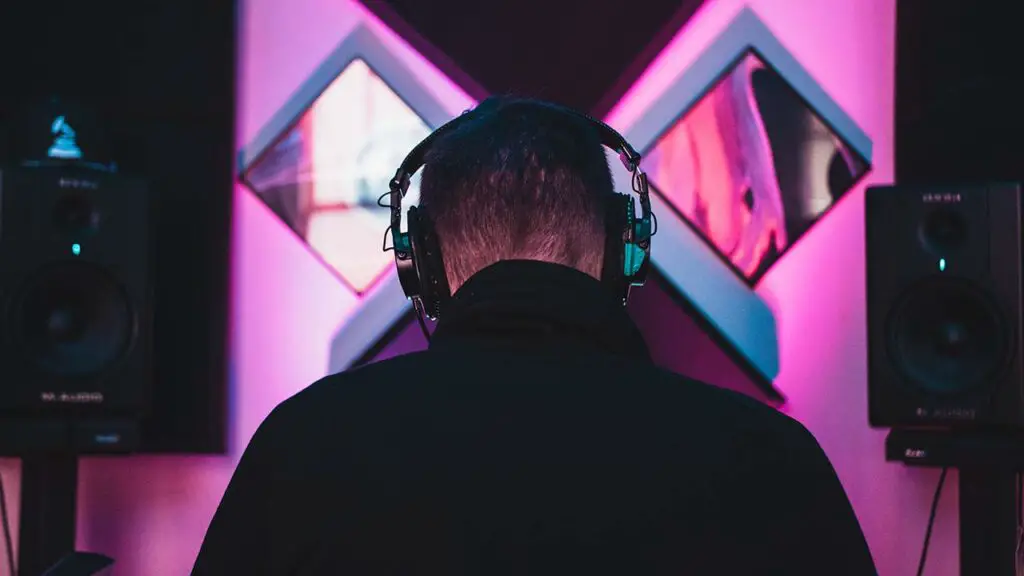 Decide on a genre
The next step is to decide what genre of electronic music you're going to focus on.
You can easily switch genre later on, or even produce multiple genres, however if you're a complete beginner it's good to choose an initial starting point and branch out from there.
For example, you may be interested in producing deep house. Deep house is a incredible genre for beginners, as it is based on a fairly simple 4-on-the-floor drum pattern and minimal synth chords and melodies. Alternatively, you may be interested in creating future bass or dubstep, which uses a completely different tempo, as well as completely different sounds and production styles.
Learning the basics of a genre
Once you've decided on a genre you'll like to focus on, learn the basics on that genre. For example:
• BPM/Tempo – One of the first things you'll need to know about a genre is it's BPM. To put it simply, the BPM is the "speed" of the song. For example, drum and bass has a very high BPM (165–185), whereas house and techno have a fairly mid-range BPM (115-130). When you know the typical BPM of your chosen genre, you can set your tempo within your DAW to match that value.
• The Sounds – Listen to popular songs in your chosen genre. What kind of sounds are typically used? Some electronic genres rely on heavy, aggressive synth sounds and effects, whereas others use smooth, minimal basses and pads.
• The Layers – Pay attention to how the sounds are layered. Some electronic genres have several sounds layered on top of each other (dubstep, future bass) to create a more intense final result. However, other genres such as house or techno often rely on less layering, creating a more minimal, uncomplicated sound.
Once you have a good understanding of the foundations of your chosen genre, it's time to find some sounds to work with.
---
How To Make Electronic Music: Finding the right sounds
In order to create professional-sounding electronic music, you're going to have to find some good quality sounds and samples.
If you want to start off simple, you can use the sounds found in your DAW. All commercial DAWs come with some pretty incredible stock VST plugins which include hundreds of patches for a wide range of music genres. All DAWs come with a selection of synths, pads, bass sounds, drums, keys and pretty much any sound you can imagine.
For example, Ableton's stock synth Operator has a mind-blowing selection of free presets covering a range of production styles. All major DAWs come with enough VST synths and effect plugins to get you started.
However, at some point you'll need to upgrade from your DAW stock plugins and download some third-party plugins as well as some high-quality sample packs.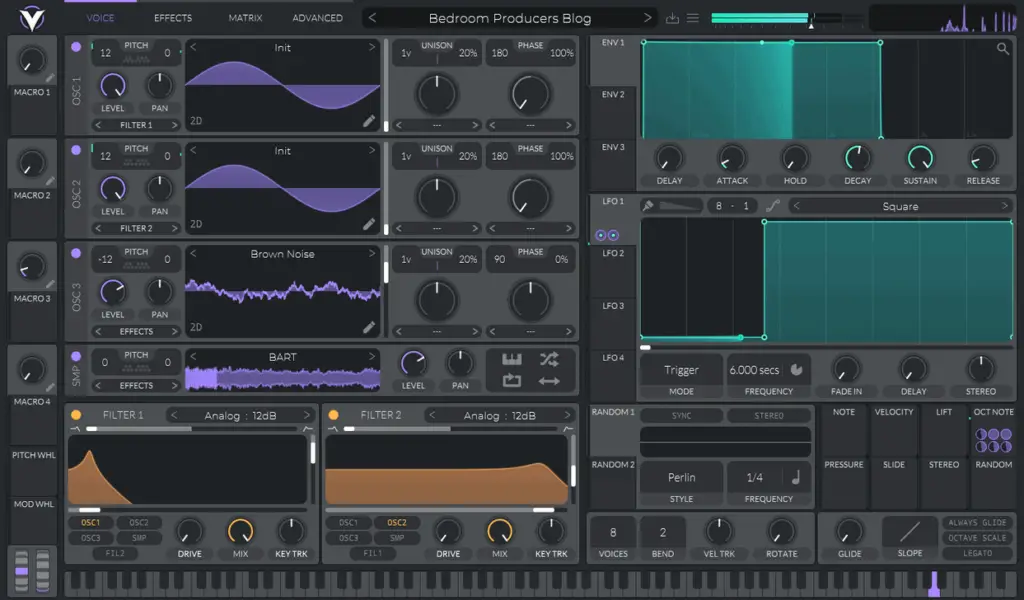 VST Plugins
VST plugins are a fundamental part of music production, and are used by music producers to create new sounds, OR add effects to existing sounds or MIDI sequences.
A VST plugins is an additional piece of software that can be opened within your DAW.
Luckily, there are hundreds of VST plugins out there, including everything from versatile synth plugins to faithful emulations of musical instruments. You can also download VST effect plugins, such as reverb, delay, autotune, compression and much more.
You can find many incredible commercial plugins out there, as well as countless free alternatives. We would recommend starting out by experimenting with some free VST instruments and effects, before investing in any paid plugins.
An example of a popular, highly versatile FREE plugin is Vital. Overall, Vital is definitely the best free synth plugin in 2022, and no other free plugin matches it's incredible design and creative flexibility.
Click here to check out our list of the best paid synth VST plugins in 2022.
---
Creating your first track
At this point it's time to learn the ropes of music production and start creating your first tracks.
It's incredibly important to remember that at this point in your music production journey your tracks are probably going to suck. Every successful producer out there started by making terrible music. It's important to embrace the process and don't expect too much from yourself early on. Remember to focus on consistency and practice, and eventually you'll start to notice huge improvements. Remember, when it comes to music production, consistency is key.
Learning how to create your first track goes far beyond the scope of this article, as it completely depends on which DAW you are using. For example, building and layering a song is completely different in FL Studio when compared to Ableton or Logic.
Luckily, these days there are hundreds of free resources out there to learn how to use each DAW.
If you're an FL Studio user, why not check out our free beginners guide to FL Studio, or our guide to making a beat in FL Studio.
If you're an Ableton user, why not check out our free beginners guide to Ableton, or our guide to making a beat in Ableton.
Youtube is also an incredible resource for DAW tutorials and guides, regardless of which electronic genre you are looking to produce.
---
How To Make Electronic Music: What Next?
At this point you can start creating your own music from scratch.
Now it's time to get to get to work. You should try to learn your DAW inside out, including the workflow, keyboard shortcuts, hidden features and more. It's important you become very comfortable with your DAWs interface so it doesn't get it the way while you're creating music.
From here, you may want to invest in some more home studio essentials, such as speakers or even an XLR microphone. You may even want to discover some more VST instruments and effect plugins. Whatever the case may be, your music production journey is only just getting started. Good luck!
---

How To Make Electronic Music 2022: Similar Articles
How to use FL Studio | Step by Step Tutorial for Beginners (2022)
Which DAW should I use? | 2022 Comparison Guide for Beginners
FL Studio vs Logic Pro X – Which DAW is Right for YOU?