How To Sell Beats Online | The ULTIMATE Guide (2022)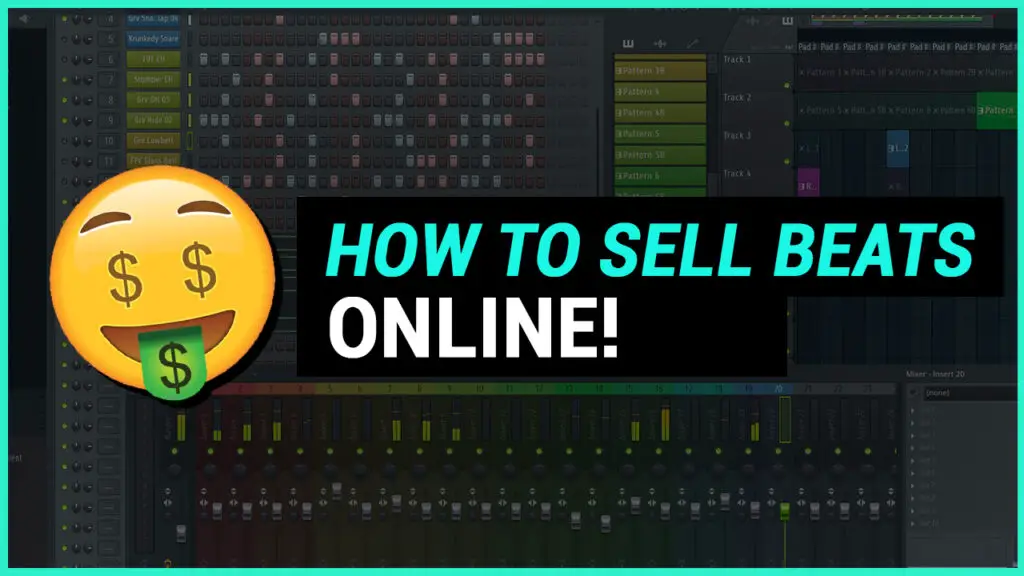 "How do I sell beats online? What are the best techniques to make more money selling beats?"
As a beatmaker, learning and mastering the music production process is only half the battle. Eventually you'll have to learn the art of selling your beats online.
Learning how to sell beats online can be an incredibly daunting process. The beatmaking market is very saturated, which means you have to find a way to stand out from the crowd.
This also means that creating a BeatStars profile, uploading your instrumental beats, and waiting for the money to roll in just isn't going to work anymore…
Can I Make a LIVING Selling Beats Online?
In short: absolutely!
There are countless beatmakers making a living from selling beats online. In fact, many beatmakers out there are making serious money selling beats.
For example, let's say you start selling standard leases for $30 / beat. That means if you lease 5 beats a day, you'd be making around $4650 a month!
Plus, getting to a point where you're selling 5 beats a day isn't even that difficult. You just need to understand the best techniques for selling beats online, and how to use them effectively.
So without further ado, let's take a closer look at how to sell beats online in 2022.
---
How To Sell Beats Online (2022 Guide)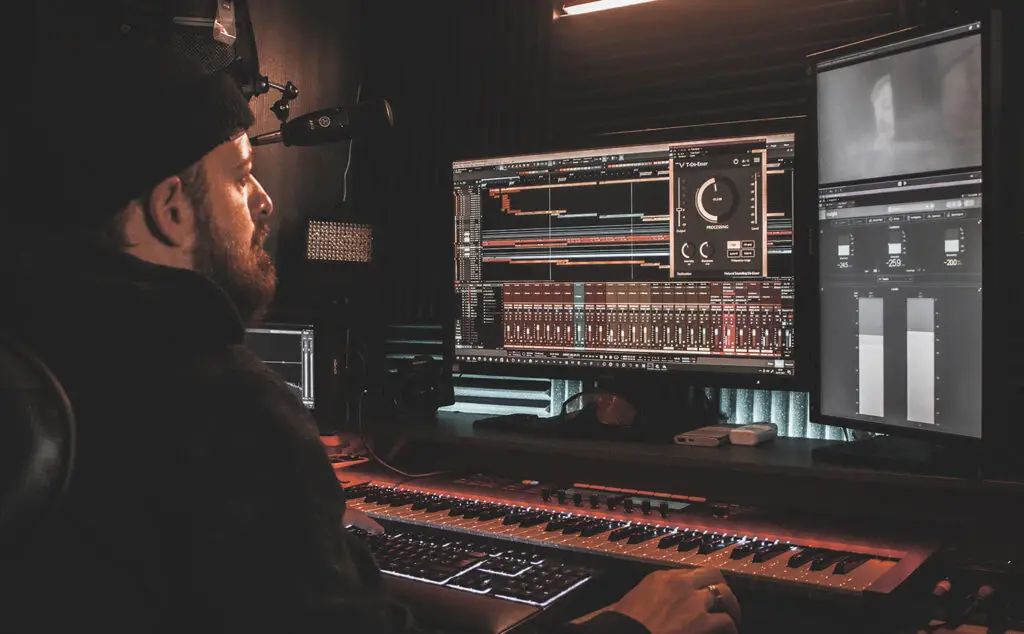 1. The Product
It's important to understand that, when it comes to selling beats online, your music is your product.
When opening any business, it's crucial that the product itself is absolutely incredible. For example, if you were opening a restaurant, and the food was terrible, you'd be out of business pretty quickly.
It's exactly the same when it comes to selling beats. The most important thing is making sure your beats sound professional, and instantly capture the attention of the listener.
If you have just started making beats, or are still learning the fundamentals, don't start selling them online. It's very likely you'll make no sales and end up frustrated and demotivated.
Before uploading your beats, ask yourself the following questions:
• Does your final mix sound PROFESSIONAL? Compare your final mix with other similar beats, and fix any mixing / balancing issues. Make sure your kick and snare cut through the mix, as well as making sure each instrument occupies it's own "space" in the frequency range.
• Does the beat INSTANTLY CAPTURE the listeners ATTENTION? When selling beats online, try to avoid long, drawn-out intros. Most potential buyers will skip your track if you don't capture their interest immediately. Therefore, try to bring in the most interesting elements of the beat as early as possible.
• Do all your beats fit into a similar "style"? Make sure your beats are within one sub-genre (e.g lofi beats, trap, etc). This will help to increase sales by incentivising customers to return to your page.
If you believe your music meets this criteria, you can move onto the next step. If you're unsure, ask your friends (or other online producers) for honest critique and constructive feedback.
Remember, if someone is going to spend money to buy your beats online, it has to be something pretty incredible. So perfect your craft first, then you can move on to selling your beats online.
---
2. Uploading your music online
The next step is a fairly simple one. Create online profiles for your music and begin uploading your masterpieces.
Firstly, create accounts on at least 4 major social media channels:
• Facebook
• Instagram
• Youtube
• Twitter
Note: Your main social media channels will probably be Youtube and Instagram, but other profiles can also be incredibly beneficial.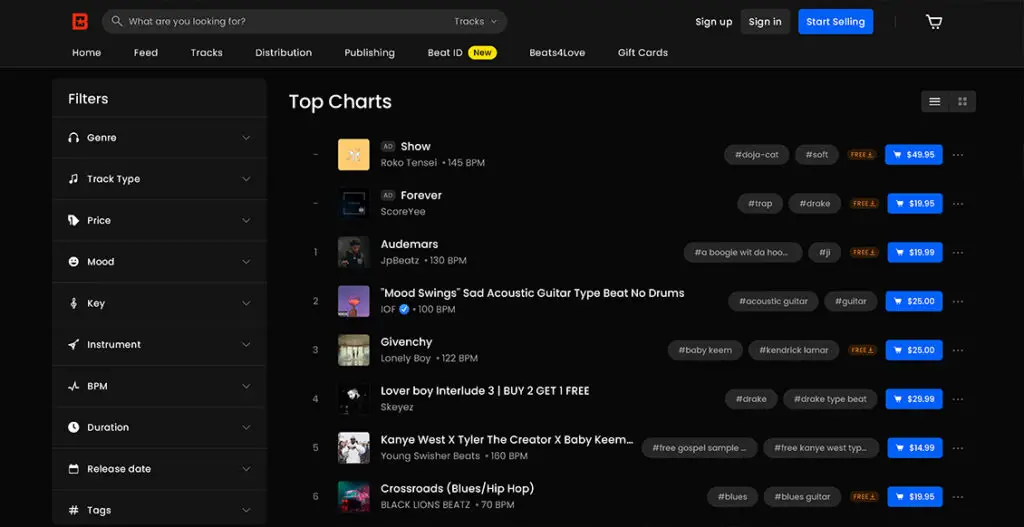 Next, create a profile on a beat-selling website. Several beat-selling websites exist that allow you to upload and promote your beats online, such as Beat Stars or Air Bit. If you're unsure which service to use, we'd recommend BeatStars simply because it is the most popular service out there, meaning a potentially larger reach for your music.
Make sure both your social media profiles and your beat-selling profile are visually interesting. Each beat you upload should have it's own unique, professional-sounding artwork that matches the sonic aesthetic of the beat. Imagine you're a potential customer landing on your profile for the first time – what would incentivize them to listen to your music and potentially purchase a beat?
Remember, try to make your profiles stand out. It's okay to take inspiration from other artists / beatmakers, but in order to set yourself apart from the thousands of other online beatmakers, you need to put together creatively interesting online profile that matches the quality of your music.
---
3. Reaching Out
Like I said, simply uploading your beats online isn't going to be enough to get consistent sales.
You need to use social media to reach out to potential customers on a daily basis.
For example, if you are a hip hop producer, you need to be reaching out to around 20 – 30 rappers / vocalists every day using platforms such as Instagram or Twitter. On top of this, you need to be liking / commenting on their posts to maximise your engagement and improve your chances of getting a response.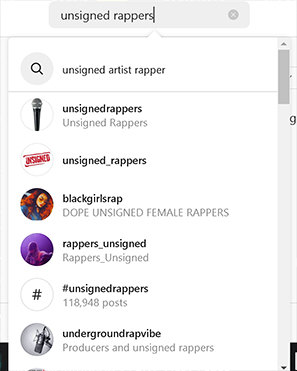 Let's break this down:
1. On Instagram, find profiles that thousands of underground hip hop vocalists will be following. For example, search "unsigned rappers" or "underground rappers", and find a popular profile promoting underground rappers. Next, go that profiles "followers". Here you will find hundreds of rappers that are potentially looking for beats to purchase.
2. Find potential customers. Work your way down the "followers" list. Each time you find a rapper with between 100 – 5000 followers that you think would sound incredible on your beats, like a few of their pictures, as well as commenting on a post. Make sure your comment isn't generic (e.g a flame emoji), and give them a genuine compliment on their music. Next, send them a direct message.
3. The DM. When DM'ing the rapper, it's important you approach them in the correct way. Do NOT send a generic "Hey bro check out my profile for 50% off beats!". That just isn't going to work. Artists are looking to build relationships with producers, and will almost never respond if the message seems spammy.
For example, you could use a message similar to this:
"Hey man! Just had a listen to a few of your tracks and they are insaaaane, especially _____________. Please release more music soon bro! I'm a producer and I think my beats would really suit your vocal style. Let me know what you think!"
I would advise against mentioning money or prices in your first message. Like I said, your main goal is to build a relationship with the artist.
Repeat these 3 steps on a daily basis, as well as replying to messages. Over time you will find artists that want to work with you, which leads us onto our final step…
---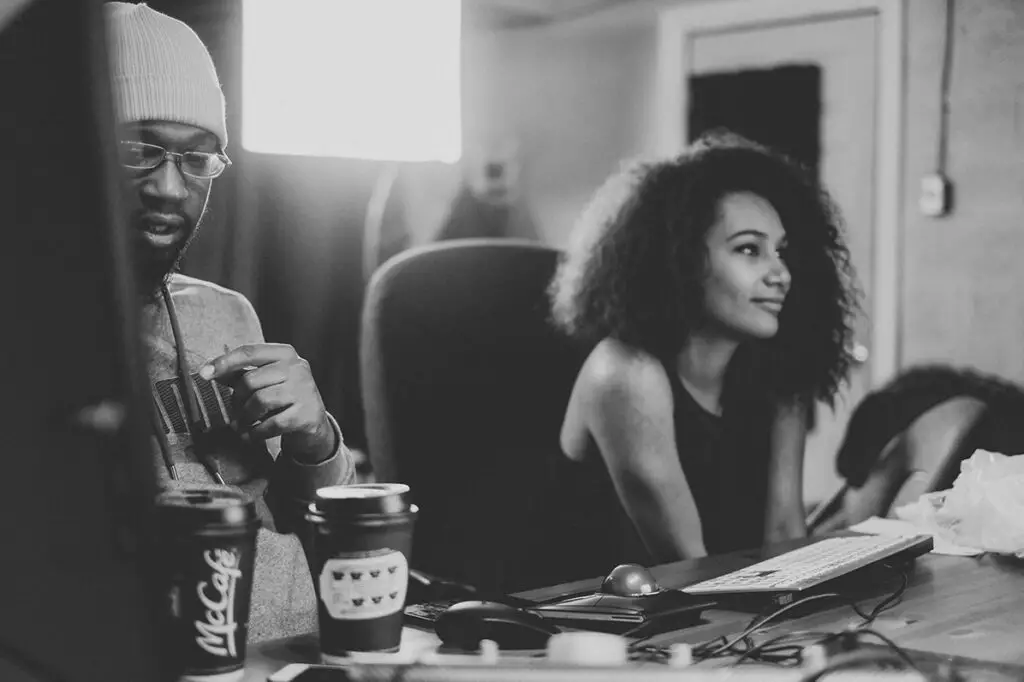 4. Building Relationships
The key to becoming a successful beatmaker is to build relationships with artists. I cannot stress this enough.
When you're an established producer, a huge percentage of your income comes from previous customers coming back and buying more beats. When you focus on building relationships, artists are significantly more likely to become repeat-buyers.
Once an artist buys one of your beats, make sure to keep in touch with them.
I've built relationships with rappers that have led to them leasing 10+ beats from me. However, I'm confident that if I hadn't built a relationship with them, they would have bought one beat and that would be that.
A great way to sustain a relationship with an artist is to genuinely support their music. Like their pictures, react to their stories, etc. Small artists really appreciate support from other musicians, as long as it seems genuine and not "spammy".
And who knows, maybe one day you'll actually meet them and record some music together.
---
… and there we have it! From my experience, this is the most effective way to build a successful career and make money as a beatmaker. Learning how to sell beats online can be a daunting process, but once you start selling your first few beats, it shouldn't be too long before you see some rapid growth in sales .
Hopefully you now feel more confident and prepared to start selling your beats online – good luck!
---


---
How To Sell Beats Online 2022: Similar Articles
The 8 BEST Ways To Make Money as a Music Producer (2022)
10 Tips on How To Finish Tracks FASTER in 2022
The 5 Best FREE Alternatives to Popular VST Plugins (2022)