Shreddage 3 Stratus | An HONEST Review (2022)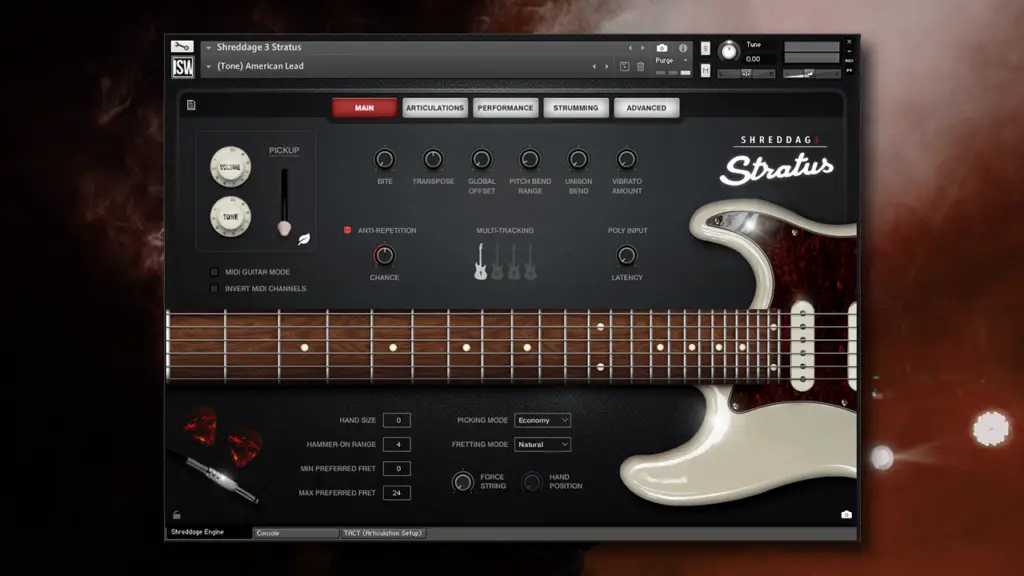 Shreddage 3 Stratus is an electric guitar Kontakt sample library that delivers everything from jazz-inspired, clean guitar tones to heavy, speaker-shaking overdrive, and everything in between.
Flawlessly recreating an electric guitar in the form of a virtual instrument is no easy task. The sound of an guitar electric contains many sonic imperfections and elements of humanization which are hard to replicate within a playable sample library. For example, if singular guitar notes are simply mapped across a MIDI keyboard, this results in a lifeless, robotic sound without the authentic character of a real guitar performance.
With Shreddage 3, Impact Soundworks have smashed down the barriers that separate sonic reality and the virtual world. This giant sample library gives you untethered access to countless beautifully-sampled guitar tones, with a ton of on-board functionality to allow for full control over the final sound.
So let's take a closer look at what makes Shreddage 3 so special.
The Shreddage 3 engine features several electric guitar libraries that are sold separately. For this review, we'll be focusing on Shreddage 3 Stratus, an edition based on (what appears to be) a classic Fender Stratocaster.
---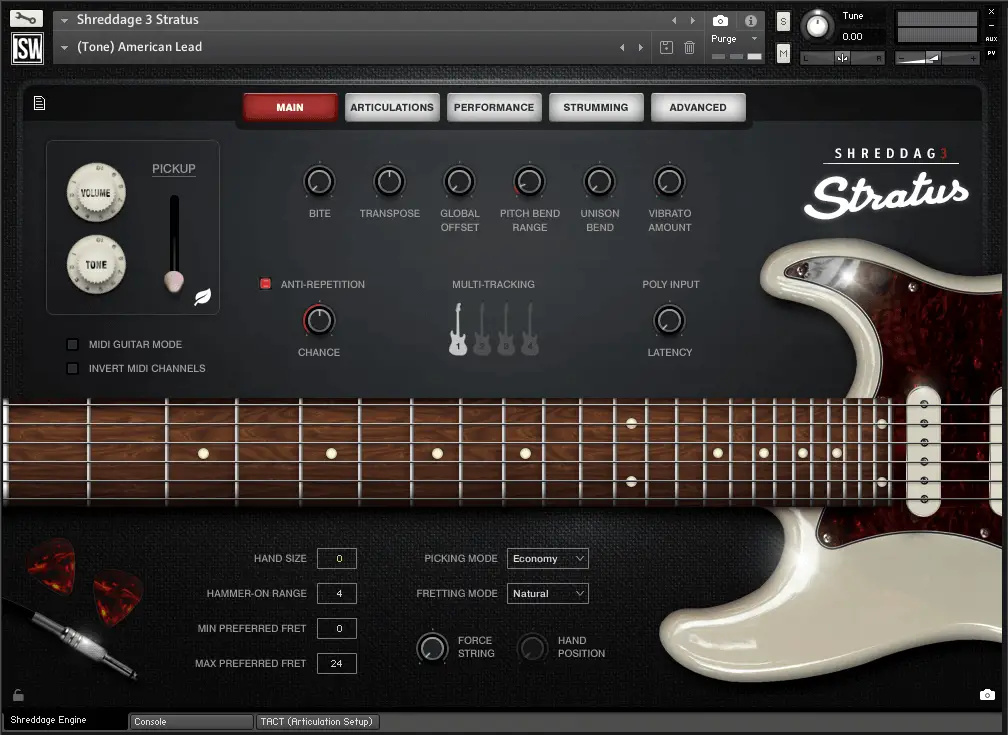 The Engine
The GUI for Shreddage 3 Stratus is sleek, compact and extremely easy to navigate. The interface is organised into 5 separate tabs; Main, Articulations, Performance, Strumming and an Advanced tab.
On the left side are Volume and Tone controls, visually reminiscent of the knobs found on a real Stratocaster. In this small section there is also a pickup selector for neck, middle and bridge options. Along the bottom of the engine are several Playback Engine Controls, including a useful Hammer-On Range control, which lets you choose a range where hammer-on/pull-off playing will be considered.
Within the Main tab are several handy features for adjusting the character, pitch and overall sound of the guitar. For example, the multi-tracking options allows you to emulate double, triple, or quadruple-tracked guitar samples. The difference this option can make to the sound is remarkable, and can be used to instantly create a spacious, pleasant stereo effect. Other notable controls in this Main section are Bite, which adds a bright "twang" to the sound, Pick Attack, for emphasising the transients of the samples and a Vibrato control.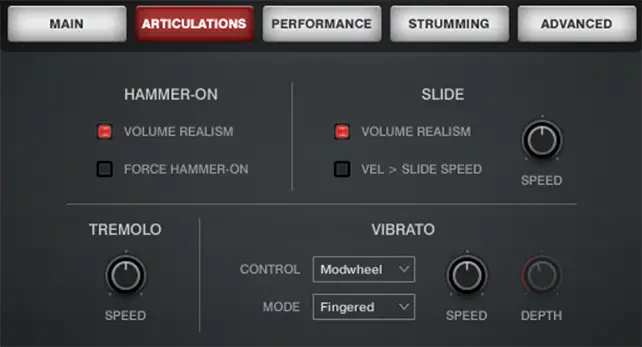 As for the Articulations tab, this section can really enhance the realism and authenticity of the final sound. For example, the Hammer-On Volume Realism switch decreases the volume of the hammer-on articulation when compared to picked sustains. The Slide Volume Realism switch relies on a similar concept applied to slide transitions. These small differences can create a much more natural-sounding guitar tone. This section also includes further customization controls for tremolo and vibrato, as well as a control for adjusting the speed of a slide transition.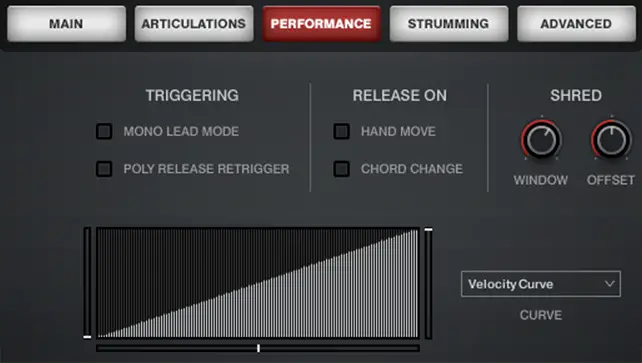 In the performance tab you can control triggering options (Mono Lead Mode), Release options (Hand Move, Chord Change), and Shred controls (Window, Offset). The Mono Lead Mode prevents the engine from holding multiple notes and is especially useful for searing lead guitar solos. These solos can be further enhanced using the Lead section, which can be used to reduce the energy of fast sustain notes to simulate smoother, quicker playing. In this section you also get a Min/Max Velocity Curve grid and a control to select either a Velocity Curve or a Strum Speed Curve.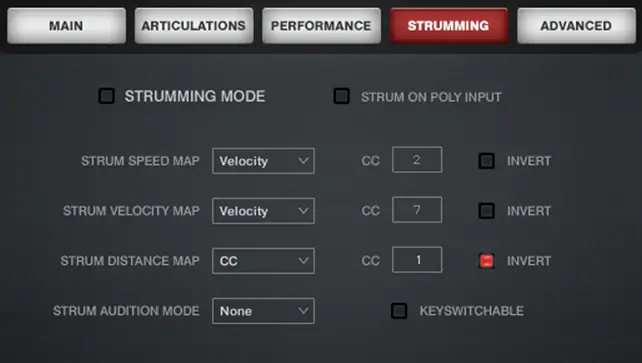 By now you're probably starting to notice the immense versatility of this sound library: but there's more. The Strumming tab allows you to edit how the Shreddage engine plays strummed chords. When Strumming Mode is activated, you can create chords by triggering the playable notes, and can then release the notes and continue to play the chord using the strumming keyswitches. It's worth mentioning that when it's activated, single notes cannot be played. This section in particular takes Shreddage 3 to another level, allowing you to create highly authentic strummed chord patterns as opposed to just single sequenced notes.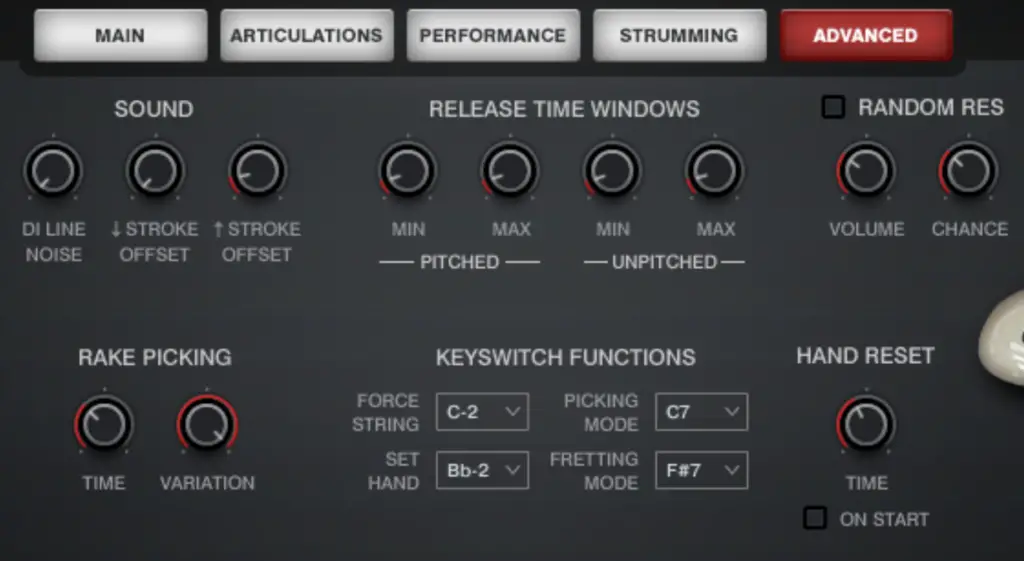 The final tab contains various Advanced parameters for adding the finishing touches to your sound. One particularly useful option in this tab is the Random Resonance options. When enabled, the virtual guitarist will occasionally 'flub' a note, touching an adjacent open string or two. You can set the Chance of this occurring per note, and the Volume of the resonance. It's a little CPU-heavy when activated, but it can really add an element of gritty realism to the sound.
---
Console / TACT Tabs
Along the bottom of the Kontakt interface, there are two further tabs to explore: a console view and TACT.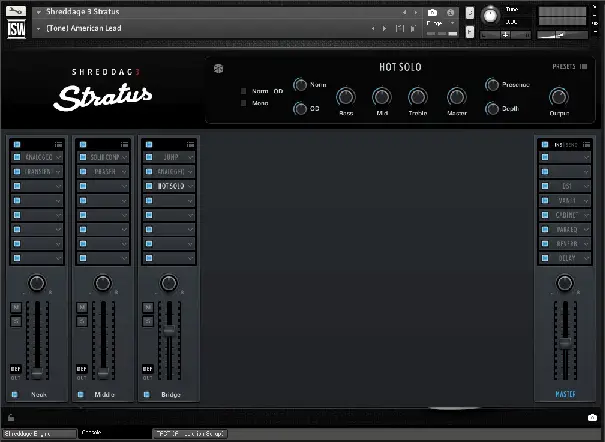 The console tab is a combination of a mixer, pedal board and a modular effects rack. Stratus 3 has separate channels for the Neck, Middle, and Bridge, and the console tab allows you to separately tweak and level these channels. Within each channel there are 8 effects slots and and 30 individual effects to choose from! These effects include multiple EQs (digital and analog-style), compressors, various amps, distortion pedals, reverbs, modulation and over 30 custom cabinet IRs recorded just for Shreddage 3. You can of course add these effects to the master if you wish.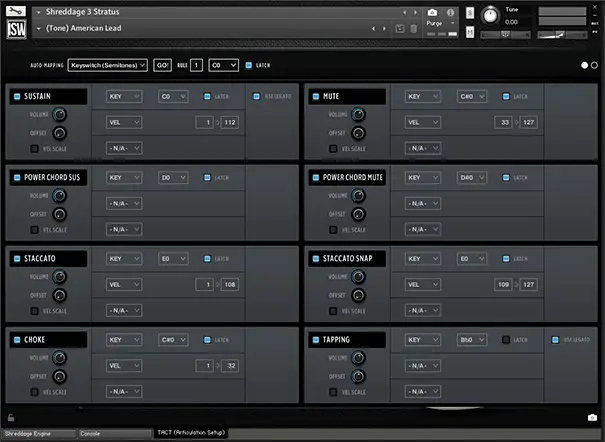 The TACT tab (Total Articulation Control Technology) is a dedicated interface for mapping and customizing articulations. Articulations include sustain / power chord sustain, staccato, choke, tapping, muting and much, much more. The tab allows you to select keyswitch controls, select min/max volumes for articulation triggering, select key ranges for each articulation and a plethora of further customization options. This results in a staggering amount of control over the final sound.
Overall, Shreddage 3 is overflowing with on-board controls for creating your perfect electric guitar sound. The level of detail and versatility is absolutely mind-blowing, with an incredibly accessible, intuitive engine to match. But more importantly, how does this thing actually sound?
---
The Sound
Shreddage 3 Stratus comes packaged with a generous range of presets, each with it's own distinct character and tone. These presets provide a gigantic variety of sounds, including spacey ambient effects, classic clean tones, funk-inspired effects and even heavy, thrashing lead guitar sounds.
The sound quality of Shreddage 3 Stratus is frankly stunning. It's evident that Impact Soundworks didn't cut any corners when it came to the sampling process for this creative tool. Each preset is vibrant and professional-sounding, making it incredibly easy to create authentic electric guitar tones.
Shreddage 3 Stratus is undoubtedly one of the most powerful, inspiring electric guitar libraries we've ever used, from its endless customization options to the phenomenal quality of the sounds themselves. Whether you're looking for a dirty lead solo for a heavy metal tracks, or mellow, jazzy guitar chords for a hip hop beat, Shreddage 3 should definitely be on your radar.
Shreddage 3 Stratus requires KONTAKT PLAYER version 5.7 or higher, which works in almost all major DAW's.
Shreddage 3 Stratus is currently $149. For more information, check out this product on impactsoundworks.com

Shreddage 3 Stratus Review: Similar Articles
Tokyo Dawn TDR Molot GE | HONEST Review (2022)
sonible – Smart:Reverb | Honest Review