Soundiron Voices Of Wind Collection | Review (2022)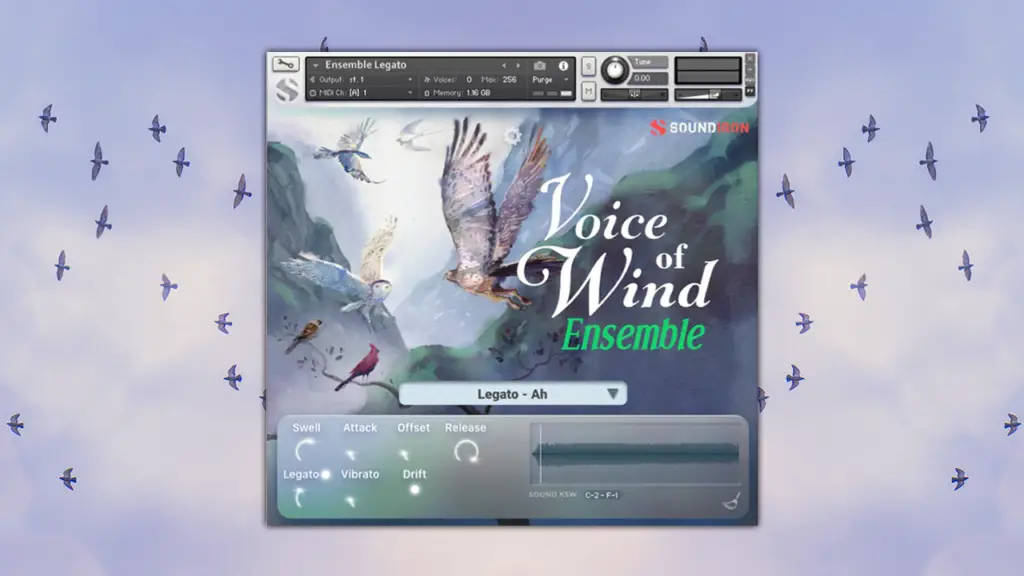 Soundiron have released the Voices of Wind Collection, a cumulation of their various cinematic vocal Kontakt libraries in the Voices of Wind series. This collection focuses on lush, hypnotic female vocals, sampled from 6 individual vocalists, each with a distinct vocal style. It can be used in the free Kontakt Player or the full version of Kontakt (version 6 or later).
When it comes to Kontakt libraries, there are certain instruments and sounds that are notoriously difficult to transform into playable, authentic-sounding libraries. One example is individual vocals or vocal ensembles, which in our experience can often sound "robotic" and overly-sequenced. This is usually due to inconsistencies in the tone and timbre of the individual notes that wouldn't appear in a real vocal performance.
For a vocal sample library to sound authentic, the samples must naturally flow and blend together. So let's take a look at Soundiron's Voices of Wind Collection, and find out whether this Kontakt library can deliver on its promises.
---
What's in the box?
The entire Voices of Wind Collection comes to a whopping 12.3 GB and includes over 20,000 individual samples packaged into an intuitive, highly versatile user interface.
The Collection features 6 female vocalists; Adey, Audrey, Connie, Kimba, Juliana and Phoebe. Each vocalist's sample folder includes Legato, Staccato and Sustained samples, as well as a plethora of unique melodic phrases organized by mood, key and tempo. The main vocal sets include articulations for 6 core vowels; Ah, Eh, Ee, Mm, Oh and Oo, which gives you a huge level of creative control over your final sound. The phrases for each vocalist are incredibly impressive, and include over 7000 stunning vocal melodies from bright, ethereal falsettos to dark, haunting minor melodies.
The collection also comes with Ensemble Sustains, Legato, Staccato, and 20 beautiful, unique ambiences, which effortlessly combine the timbre of the 6 individual singers to create a mesmerising ensemble effect.
All this amounts to a staggering amount of sonic possibilities suitable for a huge range of music genres. When exploring the collection, you can stumble across bold, powerful melodies that could easily be used in EDM, trap beats or other contemporary genres. You can also discover graceful, ambient vocal runs perfect for cinematic soundtracks or chill, downtempo music.
---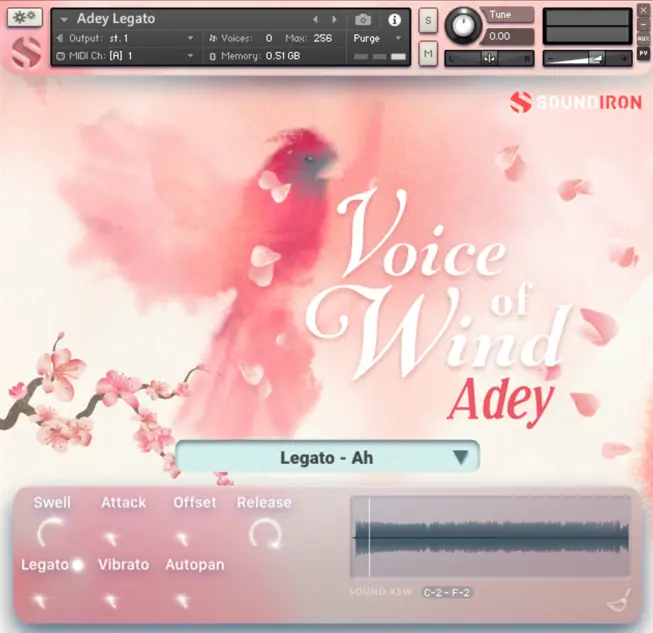 A Closer Look
Opening the Kontakt library, we are met with a gorgeous, highly usable interface with several handy parameters in the lower section of the instrument. As an example, the image above shows the GUI for the Adey Legato collection. The large blue drop-down menu can be used to select the preferred vowel of the legato samples. Using the bottom module, you can finetune several parameters such as Swell, Attack, Offset and even control the vibrato of the vocals. Voices of Wind also has a useful real-time visual wave-form display for every preset.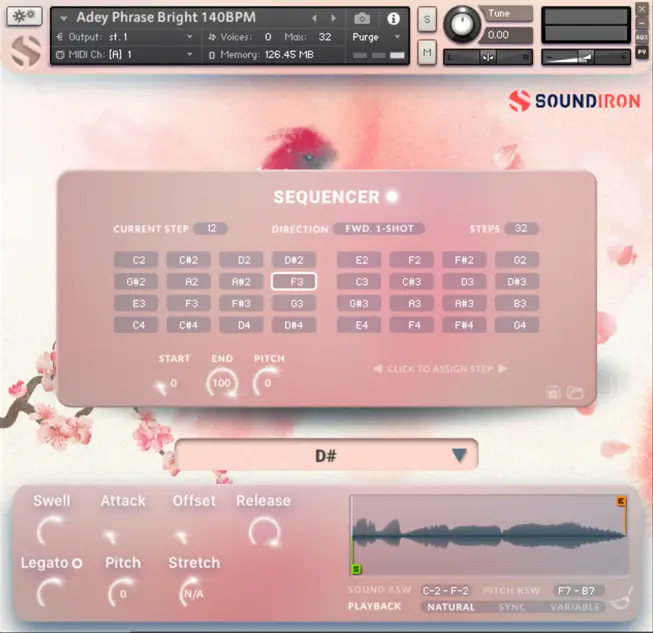 When you select the Phrases library, we are introduced to this Phrase Sequencer screen. This section is surprisingly versatile, and can be used to assign phrases to specific keys, edit the direction of the step sequencer and set the pitch for each step.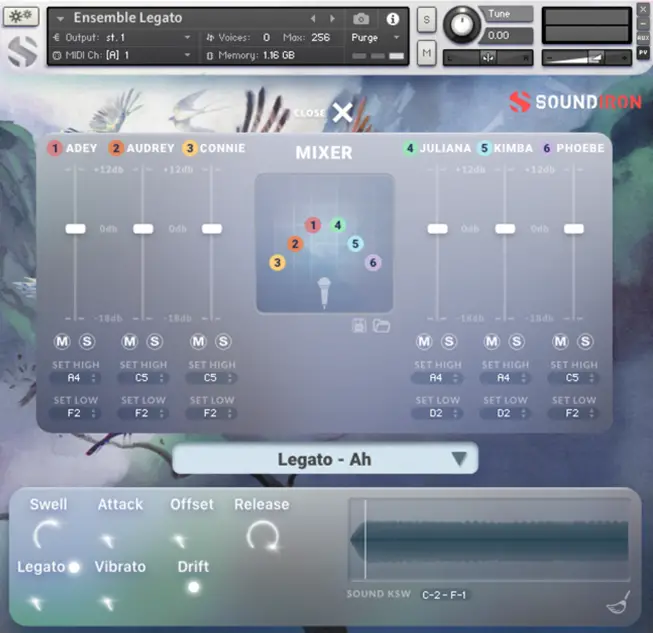 This Ensemble section is arguably the most impressive part of the Voices of Wind Collection, at least in terms of sonic flexibility and detail. This section allows you to finetune the volume and pan of each of the 6 vocalists, as well as their vocal ranges. You can even control the velocity of the vocal samples regardless of the incoming MIDI velocity. There is also a handy Drift option that means each vocalist starts the note at a slightly different time, enhancing the realism of the final sound.
Most importantly, the sound quality of each vocalist is absolutely stunning. The samples are clear and detailed with a clean dynamic range. When experimenting with the various vocalists and articulations, it is immediately clear that a huge amount of care and perfectionism went into the sampling process. The vocals have a wonderful clarity and presence that can be attributed not only to the quality of the recordings, but to the incredible talent of the singers themselves. Plus, having the option of 6 vocalists to choose from opens up a world of creative potential for layering and perfecting vocal melodies.
Voices of Wind Collection also has an FX rack built into the Kontakt library. The FX Rack tab gives you direct access to 18 of Kontakt's built-in special effects and dynamic processors, including reverb, delay, chorus, skreamer and more.
---
The Verdict
Sampling vocals is one of the most reliable ways to inject character and intrigue into a track. With Voices of Wind Collection, Soundiron are giving producers access to an ethereal universe of pristine, mesmerising female vocals. This stunning library also includes various controls and FX to precisely tweak and finetune the vocal samples.
The library can be used to create shimmering, otherworldly choral sounds, or to sample clean, intimate vocal phrases (and everything in between!). So if you're a producer looking to expand your female vocal sample collection, we guarantee Voices of Wind has something for everyone.
Voices of Wind Collection can be used in the free Kontakt Player or the full version of Kontakt (version 6 or later).
Voices of Wind Collection is currently $199. For more information, check out this product on soundiron.com

Soundiron Voices Of Wind Collection | Review: Similar Articles
FabFilter Saturn 2 | An HONEST Review
sonible – Smart:Reverb | Honest Review
Trikit – KrushPro | HONEST Review